Let's be real. Despite what some might tell you, jewellery is not a need, but a want.
But due to their price and longevity, they can symbolise much more—wedding rings, couple necklaces, and cherished gifts from a loved one to another.
Considering that value we may ascribe to them, it's a disheartening that the millennial wage range tends to exclude us from enjoying this small luxury, and to own jewellery that might actually last—jewellery that also has longevity besides just style.
Prior to her startup journey, co-founder of Jeoel, Jiayueh, has always worked in jewellery, one way or another since her graduation from the University of Melbourne.
Both in their mid-twenties, Jiayueh and her co-founder noted Malaysians did have an interest in gemstones other than just diamonds.
But Malaysians found options to own a genuine gemstone lacking—well, at least genuine gemstones at rates they could afford.
"Even with mid-level traditional jewellers, the prices that used to be accessible to our parents are no longer accessible to this generation's beginner to mid-level working class. On the other hand, international premium brands which catered to the younger generation did not carry any natural gems or real diamonds."
Basically, Jeoel attempts to make jewellery that's accessible to your average millennial, selling offerings that range from RM50 to RM350, more or less.
Thanks to their prices, Jeoel told us that most shoppers walk out of their stores having dropped an average of RM300 each trip.
One of their strategies to keep prices lower is their use of sterling silver, instead of gold or platinum.
"We understand that Asians like clean and non-tarnished looks for their jewels. Hence we decided to plate our premium quality 925 sterling silver jewellery with rhodium (a component of white gold) to protect from tarnishing and for a cleaner, gleaming finish."
This, to Jiayueh, was an added advantage compared to their "bigger name competitors".
They also offer rose gold plating which they market as a modern and subtle finish that is still luxurious, but less loud than yellow gold (the fact that Rose Gold was one of the most coveted colours for an iPhone a while back certainly doesn't hurt).
Jeoel also offers replating services at what they characterise as "minimal charges", at their local factory.
"To gain this level of balance, our profit margins are low by industry standards, because with the cost at hand, we also look at what is a fair price that young consumers are able to get without much hesitation."
With their experience trading gemstones, they had the advantage of understanding what was worth paying for gems that suit their customers.
"A lot of time is taken to filter through business partners who we can work with to gain excellent quality materials for the prices that we work within."
Despite this, the gems remain as pure, genuine gems. 
While there is jewellery that is sold as just bands or designs without gems, Jeoel takes their namesake seriously by only selling at gem-quality, and they select gems that are more colourful and vibrant for their fares.
Gems come in two standards:
Industrial quality: to be used in manufacturing tools, aka diamonds used for polishing, etc.
Jewellery quality: which meet international standards for use in jewellery.
"Rarity comes from the fact that real gems are not grown by man, but they form naturally in the Earth without man's interference from millions, if not billions of years ago. This means that your sapphire, or rose quartz is older than humanity itself, because the youngest gemstone takes at least a million years to form."
That being said, Jeoel does not necessarily utilise gemstones that are the "rarest of the rare". However, Jiayueh considers their real gemstones, like rubies and sapphires, for under RM500 a rarity in itself in the current market.
"Last year, we launched a natural and ethically sourced diamond collection that was under RM350," said Jiayueh. "The entry price of RM159 for a pendant received encouraging response."
Okay, but they could have just put in fake gemstones, right? 
If they did, they definitely wouldn't be the first company to be caught doing so.
When we posed with question to Jiayueh, she informed us that, "It is not hard convincing clients that we use legitimate gemstones, as they trust in our brand as a sister company of DeGem and Diamond & Platinum, renowned for their quality craftmanship and beautiful gems."
In fact, both co-founders consider the company to be something of a family venture.
They've never been proper employees of DeGem Group, but they spent much of their childhood immersed in the family business operations.
Having helped out in inventory, marketing and gemstone procurement, the pair had a healthy appreciation for the standards of craftsmanship in jewellery.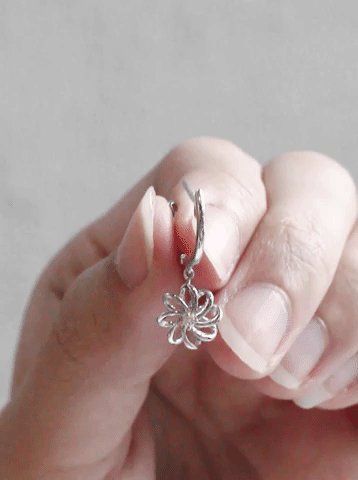 The team told us that customers are often surprised by their prices, but Jiayueh thinks that quality speaks for itself.
"Our customers tell us that it makes a difference trying on our jewels in-store—what wins them over is that they see the jewels are solid, luminous and easy to wear."
This is why while the team started out selling online—which initially helped them keep costs low—they've eventually expanded into a retail presence spanning 3 high-traffic malls in Klang Valley.
The 'keeping prices low' mentality extends to more than just their jewellery.
In their third year, Jiayueh thinks that they're in a good place, as their lean startup mentality keeps everyone working closely together. Only 7 members strong, they are also able to save costs by sharing factory resources with the DeGem group.
"It helps that we have a right mix of people with a determined attitude to work together towards a same goal and a customer-centered focus. We all believe in the product, and the potential of our people. The rest is continuous hard work."
Despite all of this, their goal is to become a one-stop shop for any and all jewellery, and even now their wares range from pendants, earrings, bracelets, bangles and rings.
"The retail scene is unpredictable, but if anything this year has proven to us is, when our prices are right, we have a consistent flow of new and returning customers who bring their friends back."