Being a regular Singaporean in your mid to late-20s often entails a few things.
One of these is being fully immersed in the 'working adult' life – cue guttural groaning every time income tax season comes around…and whenever you step on the weighing scale.
But perhaps the most apparent and stressful one is watching as friends get proposed to, and eventually, married.
Personally, with each proposal and wedding that I witnessed, I had similarly become more educated about the various costs involved in each milestone.
I've learnt that weddings can easily come up to be 5-figure affairs, and I've learnt that wedding ang bao amounts differ from venue to venue (and also that they're rising every year).
I've also learnt that many Singaporean guys who have proposed could probably quit their day jobs and become diamond salesmen.
Having assumed that rings are picked based solely on how impressive they looked, thus exponentially increasing the chances of the girl saying "Yes/Ok/You'll do", it wasn't until I found out that there are hours, if not days, of research behind their final choices.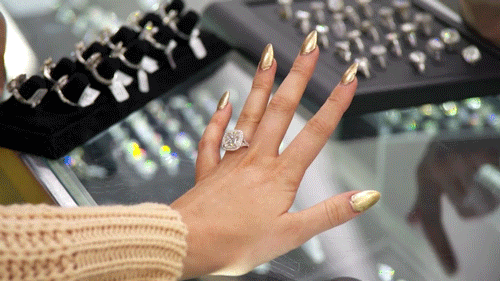 "The hours that guys put into research for engagement rings – that information is expert level ok," quipped my colleague, who recently got married to the love of his life.
Another conversation pointed me to a particular thread on popular local forum Hardwarezone.
Innocuously named "Proposal Ring – Part 3", what I stumbled upon was a treasure trove of guys offering their knowledge of where to buy the 'best' rings, and what to look out for before making the purchase.
After I got over how utterly wholesome the thread was (in light of how forums often take a toxic slant) I began scrolling through the pages, and found that the name 'JannPaul' kept appearing in the discussions.
I immediately recognised the name from 3 separate friends who mentioned that their rings were from there.
I also recalled that in each account, they all mentioned an intensive crash course in diamonds conducted by the staff – something that I found particularly interesting.
Won't a class make customers more discerning and eventually, more difficult customers?
Curious, I began researching more about the company and found out that it was actually opened by 3 young Singaporeans.
I also found out that it was, in 2014, embroiled in a defamation scandal, where competitor Vivo Diamonds bought forum user accounts and used them to cast JannPaul in a negative light.
With my interest piqued, I got in touch with the JannPaul team, and found out more about how they've played a part in helping Singaporeans say "I do".
2nd-Gen Businessmen Who Realised "How Un-Transparent The Industry Was"
First of all, yes, "JannPaul" is an amalgamation of the names of 2 of its co-founders – Jann Tan (31) and Paul Hung (32).
But what about Casey Lai (32), its 3rd co-founder, and the one who corresponded with me for the interview?
Casey laughs, "Many people have asked why [my name] isn't included. There's actually quite a funny story behind this!"
"We found that no matter how we included 'Casey', it just didn't sound right. CaseyJannPaul, JannCaseyPaul…[in the end] we found that having 2 syllabus in the brand would sound better. Also, JP tends to stick better in the people's minds."
What many customers might not know is that co-founder Paul is the son of the owner of long-standing jewelry business House of Hung, established in 1970.
"When Paul graduated, he starting helping his dad's jewelry business. [I was helping] with my family jewelry business while growing up as well," shared Casey.
Childhood friends with very similar backgrounds (both also studied Business and Finance), what Paul and Casey realised while working for their respective family businesses was "how un-transparent the industry was".
Profit margin was way too high in the jewelry industry. On top of that, consumers were receiving jewelry quality way too low for the price they were paying.
"There was a lack of transparency and diamond dealers were [solely] driven by profits."
Thus, the duo and their friend Jann got together to create a new business for a sole purpose – "to revolutionise the way the industry works and bring customer satisfaction to a whole new level".
And one of the most significant ways that the trio had done it was by educating customers on how to pick a good diamond.
By empowering consumers with knowledge, they will be able to make a more informed decision.
"Some of our clients became so passionate that they became diamond experts themselves!"
For the trio, their passion comes from putting themselves in the shoes of their customers – (a large majority) men looking for the best diamond for their future wives.
Shares Paul, "Every marriage has its ups and downs."
"When the going gets tough, both of you look at the diamond ring and think back to the day he proposed, and why she said 'yes'. This helps a couple get through toughest of times."
"That is why we place such a high importance on our diamond rings."
"We Received A Lot Of Rejection In The Diamond Industry"
When JannPaul was launched in 2009, they started out at a small unit space at Far East Shopping Centre.
However, as their business inevitably expanded, they borrowed space from Paul's dad and eventually settled there.
If their storefront seems unassuming, it's mainly because the trio decided to let their products and service speak for themselves – sans gimmicks and fancy marketing.
"We believed that […] we will eventually get clients though word-of-mouth, and that was exactly what happened," shared Casey.
It was a true test to find out if our product was the best. This was also a way to cut our costs.
Throughout the interview, I also noticed that the 'Super Ideal Cut' variety of diamond was constantly mentioned.
Priding themselves on their supply of these 'Super Ideal Cut' diamonds, they had actually run into problems procuring a sufficient number of these diamonds from suppliers.
"The diamond industry was not geared to cut our high light performing diamonds. Back then, for every 200-300 diamonds Paul went through, he could only find 1 that is a Super Ideal Cut quality!"
Casey explains that in general, diamond cutters are geared to cut out normal 'Triple Excellent' diamonds – "as they were driven by profits and not quality".
"Diamond cutters didn't want to deal with us as we were too strict with our requirements."
In fact, even one of them told us off and said our business model was doomed to fail.
Fortunately, they found a saviour in the form of a diamond cutter who shared the same views as them, and the trio grew their inventory of 'Super Ideal Cut' diamonds from 10, to 50, to 100, and eventually over 1,000.
But it wasn't just profit-driven diamond cutters who shunned them – they faced rejection among peers in the diamond industry as well.
"Making the industry transparent and opening it up forced others to do so too. Many competitors could not adapt, which resulted in a lot of negativity towards us."
"However, till today, we shrug it off because we believe that we only have one focus in our mind, which is the satisfaction of our clients."
Their dedication paid off, and business grew "very fast".
"People could get better quality diamonds and at lower prices from us. In addition, they were very appreciative of what we were doing by sharing our knowledge […] even revealing the tricks of the trade."
With competitors blatantly exploiting the unregulated nature of the industry and selling sub-par diamonds as 'Super Ideal Cut', they also hope that their tips help consumers to be more discerning when they make their next purchase.
In 2013, as a testament to what they were doing, JannPaul won an award for SMEs, conferred by the Trade & Industry Association (and Asia Business Journal.
Dealing With Competition And Defamation
Inevitably, their popularity also drew the ire of competitors – one of whom went to the extent of buying Hardwarezone user accounts to post negative comments about the company.
"This was a very troubling period for us", sighs Casey.
During this period, we even considered suspending our operation to investigate the root cause – Paul actually took a month off to investigate this himself.
With the help of digital forensic specialist RP Digital Security, previous clients, and Hardwarezone users, the case was eventually cracked, and the culprit identified.
Revealed to be competitor Vivo Diamonds, the guilty party was ordered to pay $85,000 in damages and costs by the High Court.
"This told us that we're still delivering the best quality products and that other jewellers are viewing us as a threat."
"Like all revolutions, people can be resistant to change."
Nevertheless, we strongly believe that this is for the better, and businesses need to focus more on consumers and protecting them, rather than seeing as just a 'sale'.
"There was, and there is no secret to our company. We simply had the mindset of customers first, profits later – a very simple rule that many competitors don't seem to understand."
Over 50,000 Rings Sold Since 2009
Casey reveals that since beginning operations in 2009, JannPaul has sold over 50,000 rings (including bands) to happy couples.
He laughs, "We believe [we have] somewhat helped the marriage and population growth rate in Singapore!"
But as impressive as the figures are, what keeps them going is the joy that they're bringing to clients with their creations.
"For each customer, we dedicate about 2 hours of our time during their first appointment to listen and help them as best as we can. It's heartening to see them showing their appreciation to us, and how we have personally affected their lives."
However, Casey states that the true hero of each proposal is the partner who purchases the ring:
"It is actually our clients that do most of the hard work. It is not easy for them to sit through 2 hours of a gruelling education session, and do their own research online."
But when you see in their eyes on how important this ring is, you'll realise what love really is.
"Every marriage is once in a lifetime."
"We are humbled yet proud to be an important part of each and all of our clients' lives. Thank you for allowing us to be a part of your journey."
E-Commerce, Overseas Expansion, And Advice For Those Looking To Buy Rings
Not surprisingly, Casey reveals that there are concrete plans for going down the e-commerce route this year.
With an aim to allow interested parties purchase diamonds online and also open the brand up to the international market, the website will also include full-scope images of the diamonds.
For those who prefer a peace of mind, video consultation services would also be available so that clients can have a live view of the diamond without leaving home.
Not wanting to keep the diamond knowledge to Singapore and Singaporeans, JannPaul is also in the process of expanding overseas.
And perhaps to end off the article with the question on everyone's mind – what should one look out for when getting a ring?
"What's most important in a diamond is for it to be cut well and look great on your finger."
"Another advice is to set aside a budget."
With that budget in mind, we will […] learn more about your partner's lifestyle, fashion sense, and hand shape, to recommend you suitable diamond sizes and designs that will best fit your partner.
"Most importantly, we will try to keep everything within or under your budget. We never want clients to overspend on a ring."
We'd like to thank Casey for his time!
For more information on their rings, check out their website here.
JannPaul
545 Orchard Road, Far East Shopping Centre
#01-23, Singapore 238882