Malaysian studio Persona Theory's dark fantasy adventure game, Kabaret, is finally out.
One of my most anticipated releases of the year, I first got to experience this game last year through a demo. Those who have read my demo review will know of my love for the game, from its premise to its animation to its sound design.
But for those who haven't, not to worry, as you'll now be able to learn a bit more about the folklore-inspired game with fresh eyes.
Beware, the following review will have some spoilers, but no major ones.
With that out of the way, it's now time to delve right back into the familiar monster realm of Alam Bunian.
A slow burn if I've ever seen one
Kabaret is experienced through the lens of a 24-year-old boy named Jebat, who was introduced in the demo in his monster form. However, he was once a human, a pretty miserable one at that, if the game's first chapter is anything to go by.
Having played the two versions of the demo, I've come to really like Jebat's character. I love his humorous quips and natural banter with other characters, most notably Raden, a sentient tea pet that's likely inspired by the Jin Chan (golden toad).
But Jebat as a human? Oh God, I can barely stand him. Is this the effect of pretty privilege?
As a human, Jebat is a little pathetic, to say the least. (To say the most, he is a lot pathetic. Kidding, kidding…)
It's not because he's working as a deadbeat delivery rider or treats his mother and others around him really, really rudely, but it's his internal monologue that really makes him annoying.
He's pretentious, with an r/niceguys demeanour whereby he acknowledges how supposedly useless he is, yet he thinks this self-awareness makes him better than the rest.
Thankfully, though, Kabaret follows a change of his mindset, catalysed by his near-death experience, which transforms him into a monster.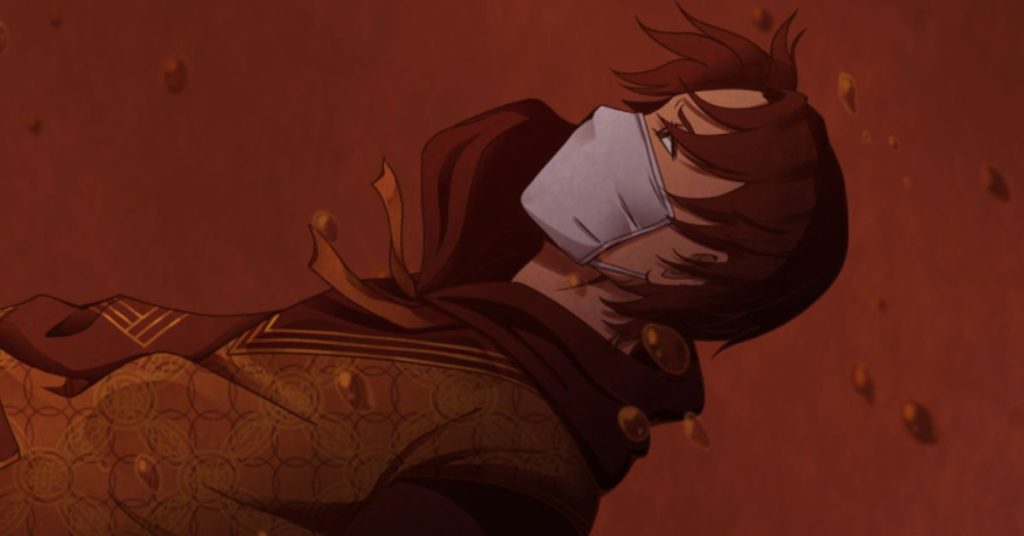 Before that, though, we have to experience a traumatic incident involving Jebat's mother. Shocked, Jebat had left her hanging as he rushes out to fulfil a delivery order, seemingly working on autopilot.
One thing leads to another, and the next thing he knows, Jebat's being cursed by a winged man (whose identity will later be revealed). He drowns, but when he awakens, he's on a sampan (this is where the demo had originally started).
The opening was a lot slower-paced than I imagined. In fact, the whole game's pacing is on the slower side, so if you're looking for something more action-packed, keep in mind that Kabaret is very dialogue and narrative-heavy.
As such, it's a pretty lengthy game. It took me around eight hours to finish the game, so don't expect to finish it in one evening (like I foolishly thought I could).
Meet the cast
I love the monsters of Kabaret. Nuanced and well-designed, each brings something to the plot and progression of Jebat's story.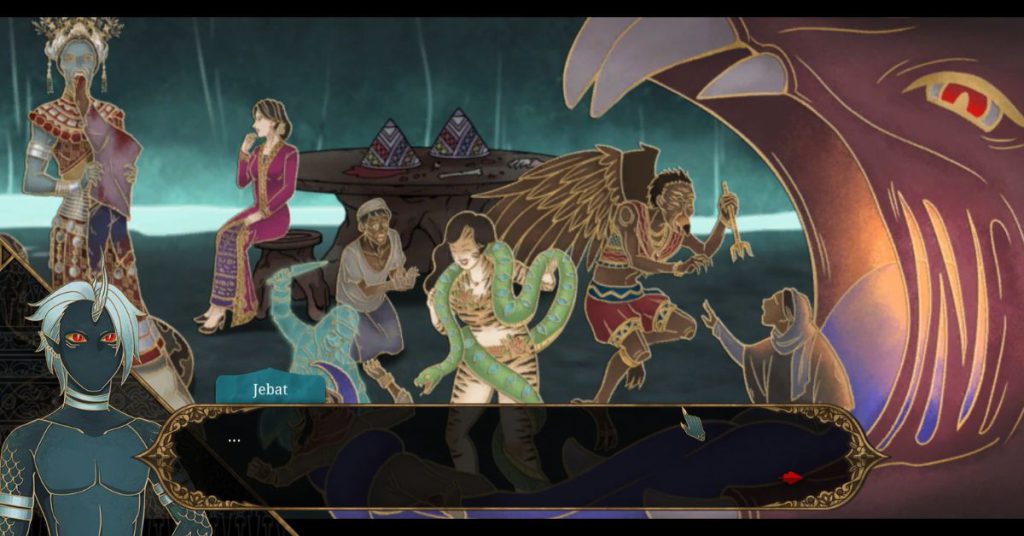 Some memorable characters for me were the Caretaker (a were-tiger), Pontianak, Mayang, Nabau, and Rangda.
Rangda (a demon queen from Balinese folklore) was one of my most surprising favourites as I didn't think she was important. But I felt her sharing as a mother who had lost her child had really healed some of Jebat's trauma.
All of the characters are somewhat morally grey, including Jebat himself. I enjoyed this a lot, as it allows players to make difficult decisions that might challenge Jebat's humanity.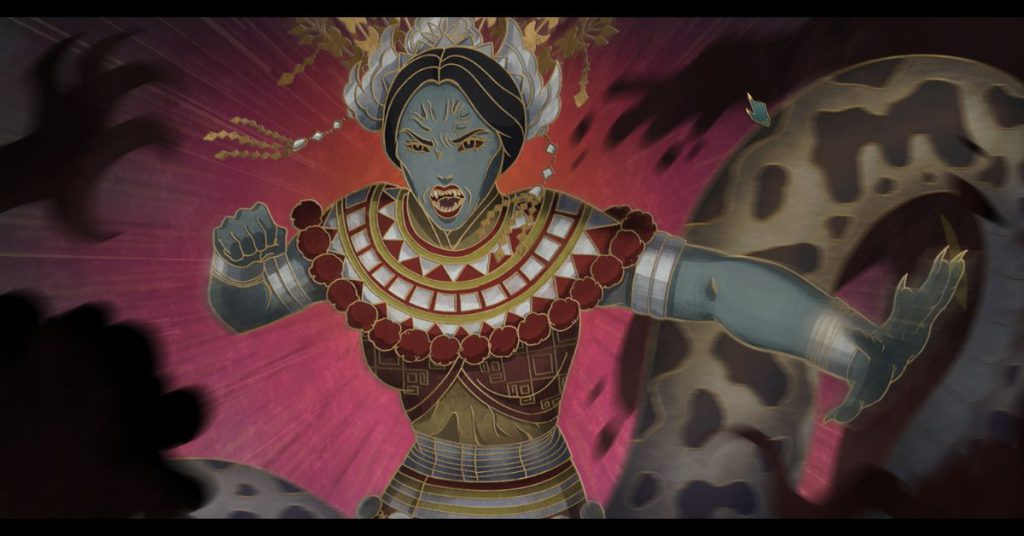 The only one that I steadfastly believe to be a Good Person™️ was Mayang, and you can fight me on that. She calls Jebat Cowfish and yeah, okay, maybe that sounds insulting but it's endearing, alright? She's just such a lovely person (goddess?). Like, look at this scene: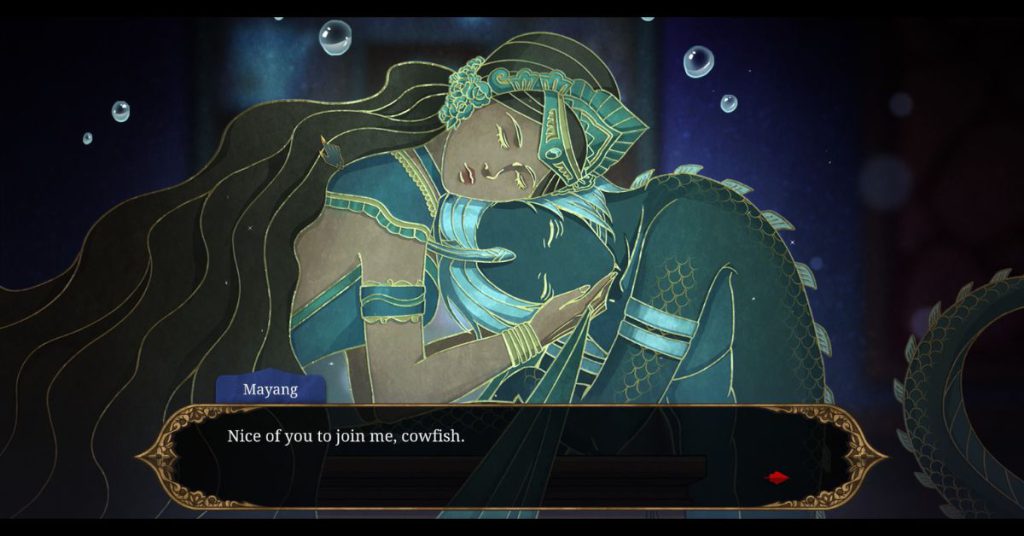 If Kabaret was a dating simulator, she's my first pick. Speaking of romance, though, the game does sprinkle in a little of that, and I don't mean just Raden and Jebat goofing around and making innuendos or horny comments.
Gamer elements
Dialogue with characters aside, Kabaret uses a few local games to help progress the plot. Namely, those games are guli and congkak.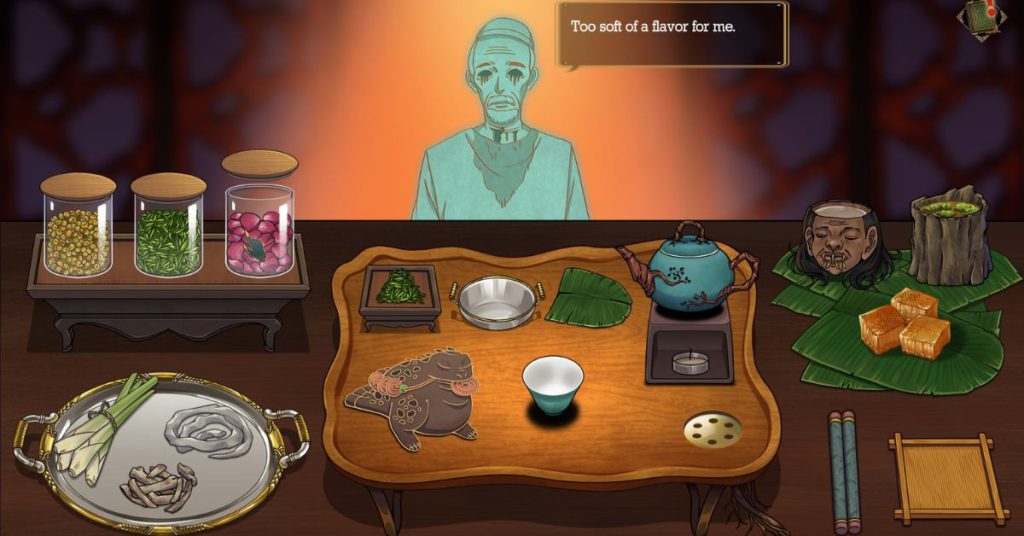 I really enjoyed both minigames and the light they shine upon Malaysian traditions. The guli was a bit challenging, but that's what makes it fun.
There's also the performance mini-game where we work as a stagehand to Nabau, a serpent monster, who sings her heart out.
One of the biggest parts of Kabaret, though, is the tea ceremonies. Here, we must carefully select the right ingredients to appease our "client". Through these tea ceremonies, we get to learn more about other monsters and explore their lore.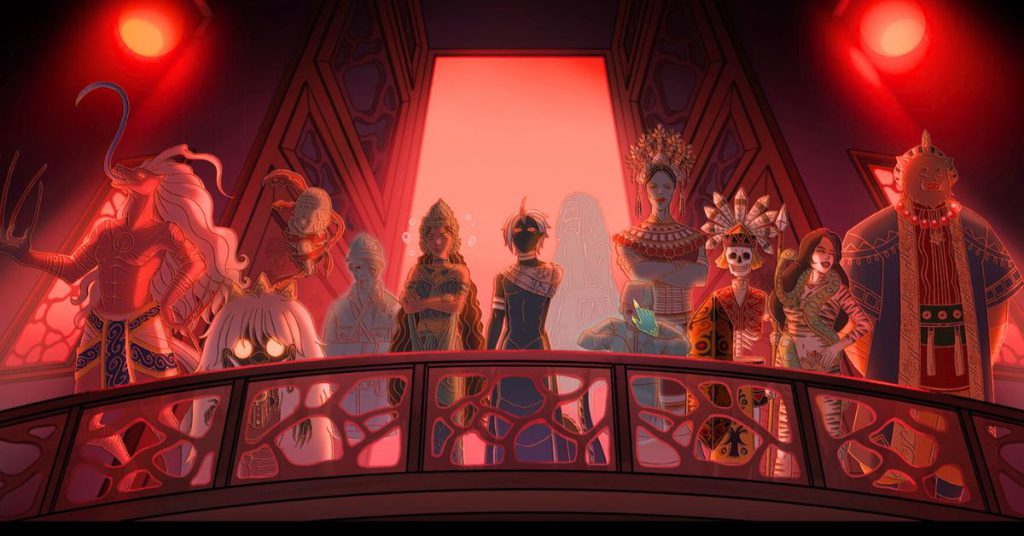 A tale of redemption, grief, and morality
Throughout the game, we get to witness Jebat grow more confident and shed his negative mentality. This redemption of Jebat was one of my favourite things about this game, maybe because of how obnoxiously annoying his human characterisation was.
As much as I enjoyed the experience of Kabaret, I do have some quality-of-life suggestions.
During dialogues, players can hit the space bar to continue. But if you want to use the mouse, you have to precisely hover over the arrow to skip to the next line.
I also wish there was an option to auto-play the dialogue as well as skip cut scenes, especially the tea-heating scene that repeats every single time we make tea. It drags the game's playtime out quite a bit.
The game auto-saves fairly often, but a manual save feature would've been nice too. Plus, I wish there was a way to go back to certain save points so we can relive special moments.
One of my fave local titles
The stunning visuals and amazing soundtrack aside, I really love this game for what it's trying to achieve.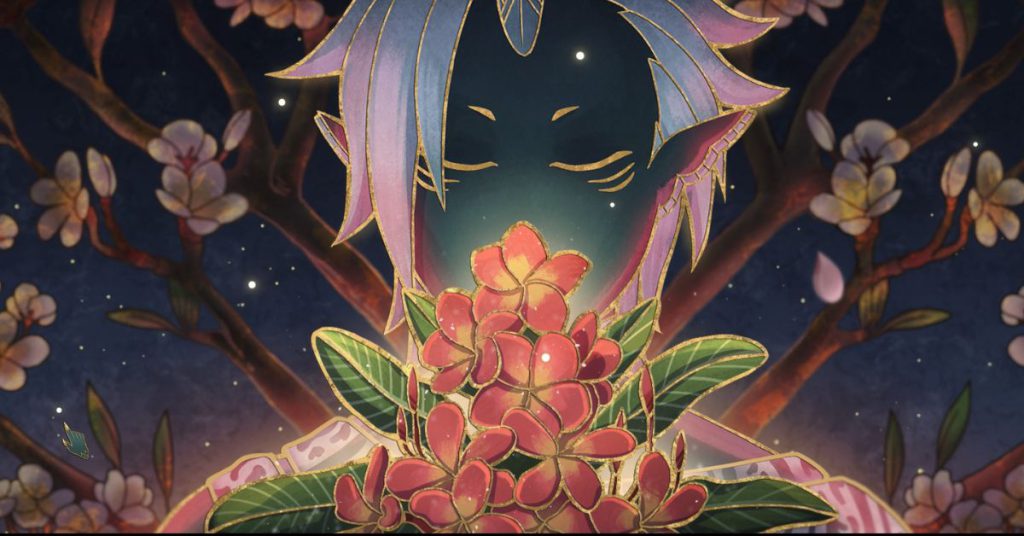 Featuring a proudly Malaysian setting, Kabaret touches on racial tensions and our country's history of colonisation in a way that doesn't feel too heavy-handed. The fantastical element helps to make the game more palatable, especially to non-Malaysians.
Speaking of which, Kabaret makes use of Malay terms from time to time and has a glossary of non-English terms.
All in all, it's just a darn beautiful game with such a well-written story. I admit, at times it did feel really slow, but then again, I was also slightly rushing to finish in order to write this review.
But if you're willing to invest a good chunk of time and have the patience for a slower-paced narrative game, I promise Kabaret is worth your while.
The game is now available on Steam for RM49. It's also available on Epic and Xbox consoles.
Featured Image Credit: Kabaret