At a media briefing on Tuesday (April 25), Charles Wong, CEO of GXS Bank, shared some updates on the digibank following its official launch in August 2022, shedding light on their commitment to providing innovative solutions to the financial needs of their target segments.
During the last quarter, GXS Bank successfully unveiled its ecosystem. This integration allows Grab and Singtel Dash customers to conveniently view their account balances and utilise GXS as a mode of payment for various services such as ride-hailing and food delivery, and enjoy more rewards.
By leveraging the data acquired from the ecosystem, GXS Bank has continuously improved the overall customer experience, not only within their app, but also across the broader ecosystem.
Impressively, GXS Bank has reached significant milestones in terms of its financial growth. As the end of the first quarter draws near, Wong shared that they are closing their deposit cap of S$50 million, demonstrating strong customer confidence and trust.
Furthermore, the invitation spots for GXS Bank have been oversubscribed, leading the company to temporarily pause further sign-ups. On top of that, they have a significant waitlist of customers as well.
But how are they able to achieve these with very little acquisition costs — which is close to zero dollars — and very little amount of marketing?
Wong reasoned that the success of this approach can be attributed to GXS Bank's integration within the Grab and Singtel "powerhouse ecosystem", which grants them access to millions of customers on a daily basis.
He admits that having "two wonderful parents" is indeed an advantageous aspect, which grants them the opportunity to leverage their capabilities and resources effectively.
"Unlike digital banks without an ecosystem, we don't need to invest a significant amount on acquiring customers. By leveraging our ecosystem and engaging our customers at various touch points, we can provide them with the right product at the right time. This strategic approach will definitely help us achieve our path to profitability," said Wong.
GXS Bank's focus on the underserved remains unwavering, and by addressing the pain points of their target segments, GXS Bank aims to fulfil their financial needs comprehensively.
Commenting on their customer profile, he said that it's diverse, with 85 per cent of their clientele comprising everyday consumers. The majority 70 per cent fall into the Gen Z and millennial categories, characterised by their digital fluency and native understanding of technology. Furthermore, 10 per cent of GXS Bank's customers are self-employed individuals, highlighting the bank's dedication to serving a broad range of customer segments.
The bank's initial focus has been on offering deposit options, incorporating features such as daily interest crediting and no lock-in periods. These features have resonated with customers, enabling them to save and achieve their financial goals effectively.
While deposits have been successfully launched, GXS Bank aims to tackle another critical pain point that they have identified — the dissatisfaction with the loan process.
Their research indicates that half of customers who have previously taken out a loan expressed discontent with the existing procedures. To address this issue, GXS Bank is introducing the FlexiLoan, a new personal loan product that is designed to give individuals more control and flexibility when it comes to managing their finances.
This marks the second product launch for the bank, following its GXS Savings Account, a savings account that is currently open by invitation only.
Making loans fairer and flexible for consumers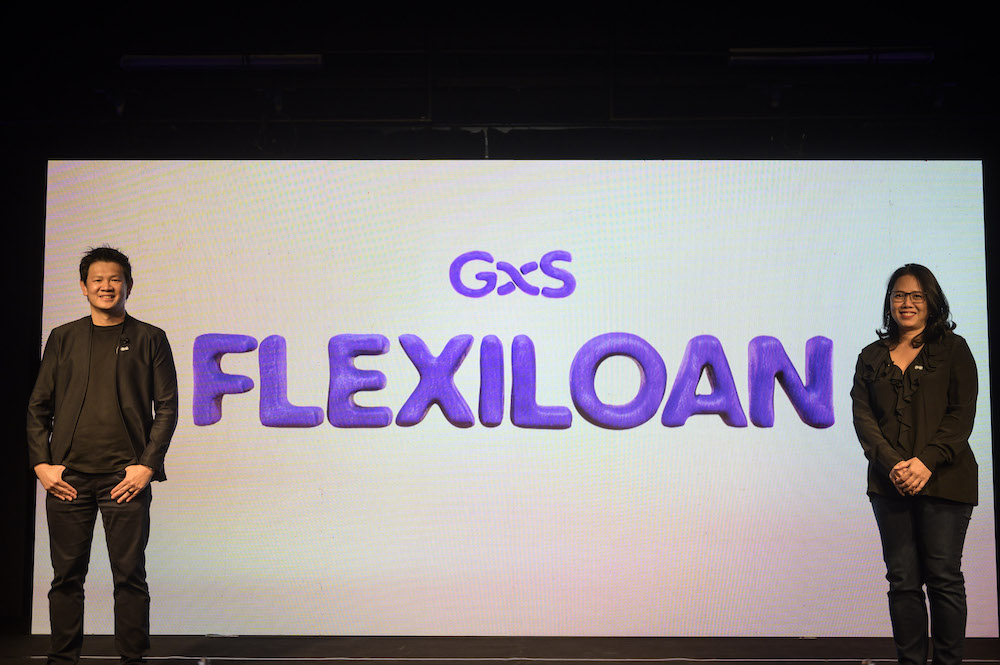 GXS FlexiLoan aims to bridge the gaps that hinder people's access to credit, addressing the pain points that consumers face when taking up a loan.
It brings together features of a credit line and a personal instalment loan, giving customers the ability to make multiple loan drawdowns without having to go through underwriting and approval each time. Customers can choose repayment terms that are most convenient for them, such as selecting a monthly repayment date that aligns with their salary being credited.
What sets this loan apart is that it's the first unsecured term loan offered by a bank in Singapore that enables customers to pay off their loan partially or in full without any early repayment fees, with the additional perk of interest savings.
According to Wong, GXS FlexiLoan reaffirms the bank's commitment to uplifting banking standards for individuals who want more out of financial services in Singapore.
He added that GXS starts every product design by looking at the pain points that the everyday consumer experiences in banking and how they can solve them.
"GXS is built on the premise that if our customers win, we win," he remarked. This philosophy is evident in the design of the GXS FlexiLoan, which empowers customers so that they can take control of how they want to bank.
But is there a need for another loan product in the market?
When it comes to loans, many of us may question their true significance. After all, a loan is simply about borrowing money and paying it back.
The perception of loans as a stigma often discourages public discussions and limits the sharing of vital information. However, it is crucial to take a step back and reconsider the role loans play in our lives.
GXS Bank understands the need for a fresh perspective on lending. Through extensive surveys across different segments of society, they have gained valuable insights into the financial needs of individuals. It acknowledges that borrowing is sometimes unavoidable, but believes that loans should be empowering rather than burdensome.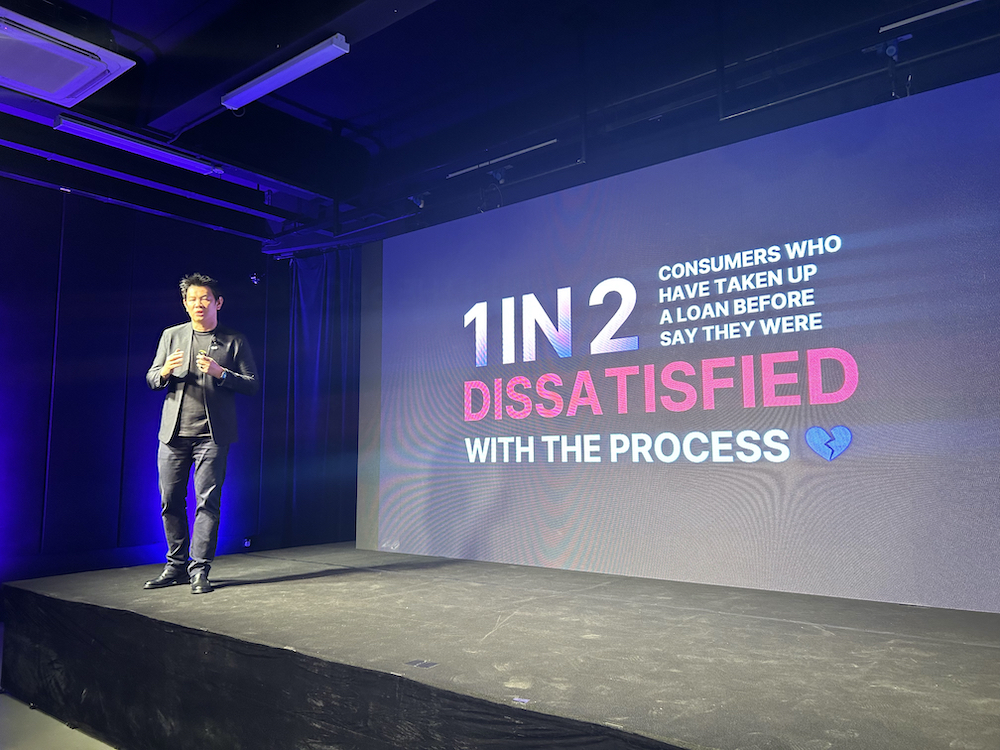 In Singapore, the conversation surrounding lending products is predominantly centred around interest rates. While interest rates are undoubtedly important, there are other crucial factors that consumers tend to overlook.
Fees, for instance, often go unnoticed, or even if they are known, they fail to make a significant impact in the decision-making process. Borrowing inherently comes with a sense of urgency, and consumers primarily focus on obtaining a loan quickly.
Therefore, penalty fees, processing fees, and other additional charges often slip under the radar. It is only when borrowers are deep into their loan journey that they realise the hidden costs, which can substantially affect their overall financial well-being.
GXS Bank seeks to change this narrative by developing a lending service that is not only meaningful, but also genuinely beneficial to consumers. They believe in tearing down the traditional framework and establishing a new standard for lending products in Singapore.
The primary objective is to provide borrowers with a loan experience that prioritises their needs.
"As consumers, we resort to loans because we are financially constrained. However, there are instances when we find ourselves with spare cash and the desire to reduce our borrowing. Unfortunately, market practices often do not allow for such flexibility. GXS Bank recognises this limitation and aims to offer an alternative solution," said Jenn Ong, Head of Credit Products, GXS.
The disparity between market practices and GXS's lending approach
One common pain point experienced by borrowers is the inability to adjust their loan tenure.
Consider the scenario where a borrower takes out a S$5,000 loan to cover a medical emergency. Initially, they may opt for a longer tenure, such as six to 12 months, to provide a safety net in case the financial need persists. However, after six months of diligent payments, they realise they can repay the remaining balance in full.
In the prevailing market practice, such early repayments incur an early repayment fee of three per cent of the outstanding approved amount or S$150, whichever is higher, leaving borrowers feeling frustrated and financially burdened.
However, with GXS Bank's Flexi Loan, there are no penalties for early repayments. Recognising that customers may have changing financial circumstances, GXS Bank eliminates unnecessary fees that can hinder borrowers from paying off their loans.
This means that customers can make a full repayment without incurring any penalties, saving money in the process. In fact, the difference in repayment costs between GXS Bank and other banks can be significant, with potential savings that can make a real difference to customers.
Furthermore, GXS Bank acknowledges that loan sizes can vary based on different segments and life stages. Some borrowers may only require a small loan to bridge a cash flow gap, such as gig workers who experienced hardships during the COVID-19 pandemic. However, traditional banks often offer loans with lengthy tenures and higher amounts, making it challenging for individuals in need of smaller, short-term loans.
Recognising this gap, GXS Bank aims to be inclusive by offering a product that makes sense for all borrowers with the understanding that a one-size-fits-all approach is inadequate.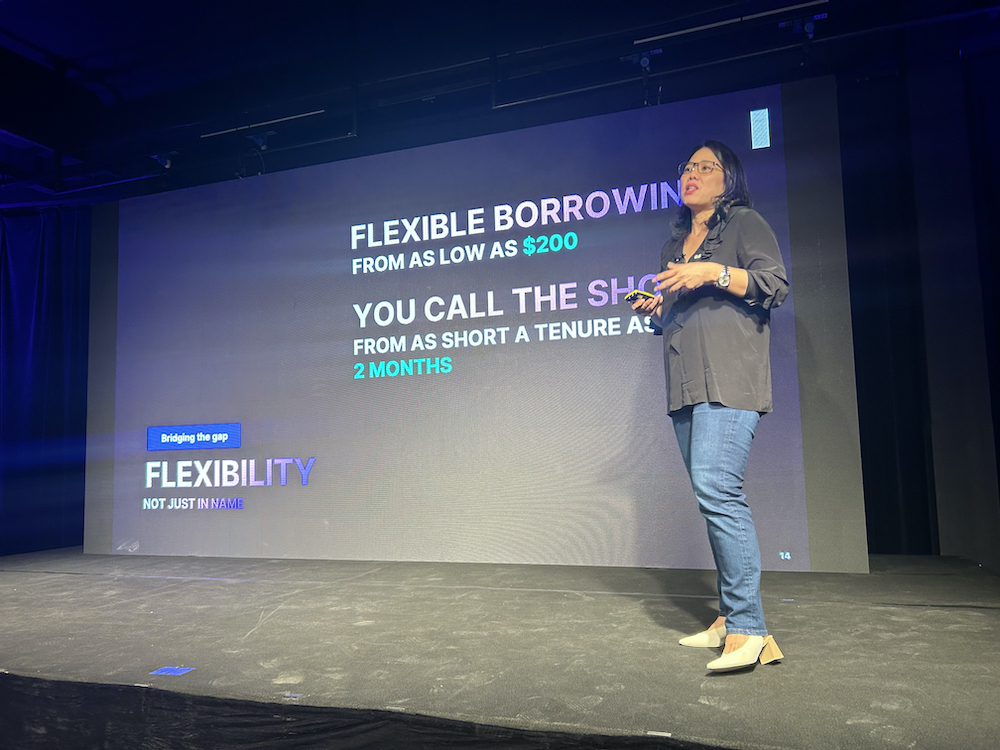 With GXS FlexiLoan, it allows borrowers to loan as little as S$200 and choose repayment periods ranging from two months to five years, depending on the loan size. By providing this level of flexibility, GXS Bank empowers borrowers to tailor their loan terms to their specific needs, creating a more customer-centric lending experience.
This is also in line with the finding of a GXS survey, which found that one in two respondents said they would prefer to take up loans with a tenure of under 12 months.
Alongside bigger-ticket items such as home renovation and paying for education, survey respondents also said they have taken up short-term loans for smaller expenses such as daily household necessities. These may not necessarily require a large credit line, and that's why GXS has designed the GXS FlexiLoan with the flexibility for consumers to take up just the loan amount that they need.
The GXS FlexiLoan is available to all eligible individuals who meet the regulatory requirements in Singapore, including having a minimum annual income of S$20,000.
Additionally, as mentioned earlier, consumers often focus on the interest rate as a key factor in their decision-making process when considering loans.
However, what lies beneath the surface of interest rates is equally crucial and can significantly impact borrowing costs. GXS Bank understands this and has developed an innovative interest methodology that puts more money back into the pockets of borrowers.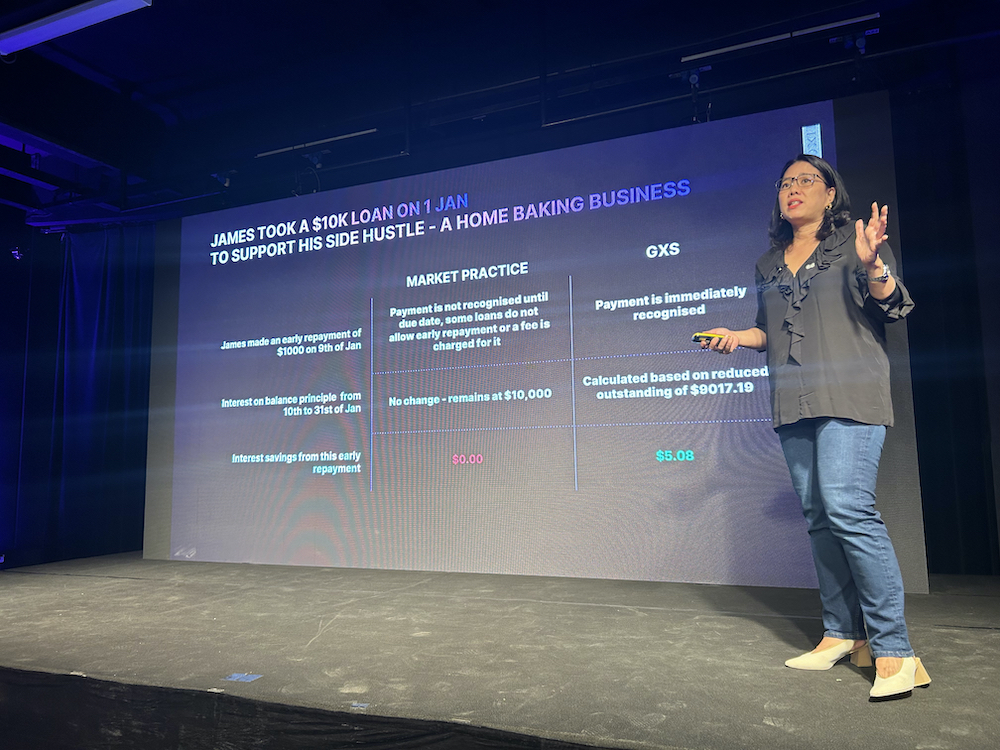 To illustrate the difference, Ong cites an example of James, a home baker who took out a S$10,000 loan on January 1 to support his side hustle. A few days later, James finds himself with some extra funds and decides to make an early repayment of S$1,000 on January 9.
In the conventional market practice, this early payment would not be immediately recognised. Instead, it would sit as a pending deposit until the due date, typically at the end of the month, to be deducted from the loan balance.
However, GXS Bank takes a different approach. As soon as the payment is received, it is immediately recognised and applied to the outstanding loan balance.
The significance of this difference lies in the interest calculations. By recognising the early payment, GXS Bank reduces the interest accrued on the remaining balance. This means that customers who choose to make early repayments can enjoy substantial interest savings.
Imagine a scenario where customers consistently make early repayments over three or four months. These borrowers would soon realise that their interest savings with GXS Bank far surpass what they would experience with traditional market practices. In fact, traditional practices offer no interest savings at all.
"For better understanding on this interest calculation, the market practice typically use the 'monthly rest' method, where interest is calculated on the month-end principal balance. In contrast, GXS adopts the 'daily rest' method, calculating interest based on the previous day's principal balance. With that in mind, customers know that every time they make a good payment behaviour and pay off their loan early, they get to save more money with GXS," explained Ong.
She added that GXS Bank's product design philosophy revolves around making loans work for the consumer. They strive to remove any unnecessary hurdles and ensure that borrowers can easily navigate the borrowing process.
After all, the GXS survey revealed that a significant portion of consumers (77 per cent) expressed a desire to repay their loans ahead of schedule, either partially or in full. Unfortunately, nearly one-third of these individuals encountered obstacles, such as penalties for early repayment and the absence of interest reduction.
With GXS FlexiLoan, customers have the freedom to customise their repayment date based on their preferences and financial capabilities. By opting for early loan repayment, borrowers can reduce the overall interest accumulated.
The interest rates for the GXS FlexiLoan start from 3.8 per cent per annum (effective interest rates from 7.15 per cent per annum), which are determined based on an individual's credit risk scoring assessment.
To further support borrowers, GXS Bank has included features in its app to help customers keep track of their repayment schedules. Customers can set up reminders and prompts to stay on top of their loan repayments. The app also incorporates incentives to motivate customers to repay their loans early, enabling them to avoid unnecessary long-term loan commitments.
This approach aligns with GXS's commitment to creating products and features that foster positive financial management habits among its customers.
Ultimately, GXS FlexiLoan is designed to accommodate the diverse needs and circumstances of customers, and empowers them to decide how much and and how long they want to take up a loan for.
Over the coming months, customers can expect a series of ongoing improvements to the GXS experience, driven by customers' feedback and usage patterns. Additionally, it will also introduce new solutions that address existing banking challenges, ensuring a continuously evolving and improved banking experience.
Featured Image Credit: GXS