The COVID-19 pandemic caused a shutdown in the world and left us all looking for things to do whilst stuck at home.
As a result of it, plenty of Malaysians turned to baking in order to knead their woes away and to find something new to experiment with.
Such is the story of Choy Ee Ling, who pivoted from her corporate and freelance background in copywriting, PR, and marketing, to fuel her obsession with coming up with the perfect focaccia recipe. This resulted in her starting Ling's Focacceria.
From writing to baking
According to Ling, she spent the early years of her career in the Sunway Group in the areas of PR, marketing, and business development before becoming a self-employed copywriter/ghostwriter for over 10 years.
"I have a mix of corporate and self-employment experience, which has laid a good foundation for me to start my own business," shared Ling.
She added that she had no prior experience in the F&B industry but simply found her way in it after she had become obsessed with baking during the lockdowns.
"The moment something piques my interest, I become obsessed and set out to learn all I can about it. I made my first decent loaf of bread during MCO and became focused on perfecting it," she explained.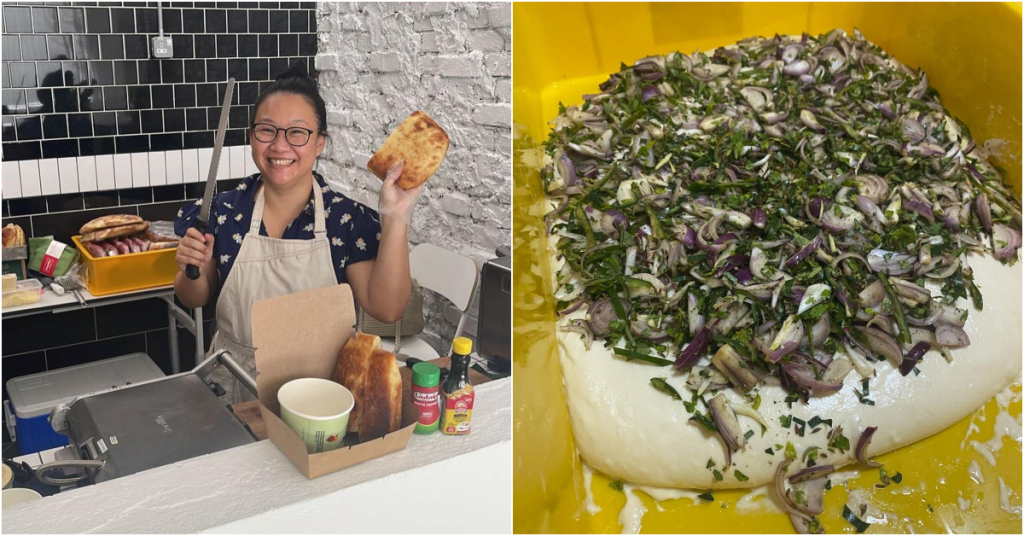 "So, whilst everyone else was fighting over the last loaf of Gardenia on the shelf, (my partner and) I were eating all my test breads, some good, some not so good."
Ling stated that as she was burning the candle at both ends, so she made the decision to settle on just one venture.
"When I daydreamt about the future, I had bigger dreams for the microbakery. I didn't want to manage an agency and I didn't have the inspiration to write the next 50 Shades yet," she joked.
She shared that her experience in copywriting has also helped her run the business, and that creating engaging content to keep customers interested in the products and brand is very much up her alley.
In fact, Ling said that sometimes it feels like she spends more time creating content than making bread.
"I can mull over a single word choice at length because it changes the nuance of the entire sentence, and it's not dissimilar to me pondering the right ingredient and how it completes the loaf of bread or sandwich," she added.
A fresh start
With the help of her partner who is an F&B consultant, Ling developed her passion for making various types of bread until she eventually found her own recipe.
"My partner has many food-related books and in the midst of my fevered experimentations, he left out 'Ken Forkish's Flour Water Salt Yeast: The Fundamentals of Artisan Bread and Pizza for me'."
She explained that after reading this book, she learnt how to incorporate the use of biga (another type of starter besides sourdough and traditionally used for Italian breads) which proved to be a real game-changer.
Her dedication to her experiments proved to be finally worthwhile as she found a way to make focaccia that has a crunchy crust, but also a fluffy and airy interior with just a nice level of chewiness.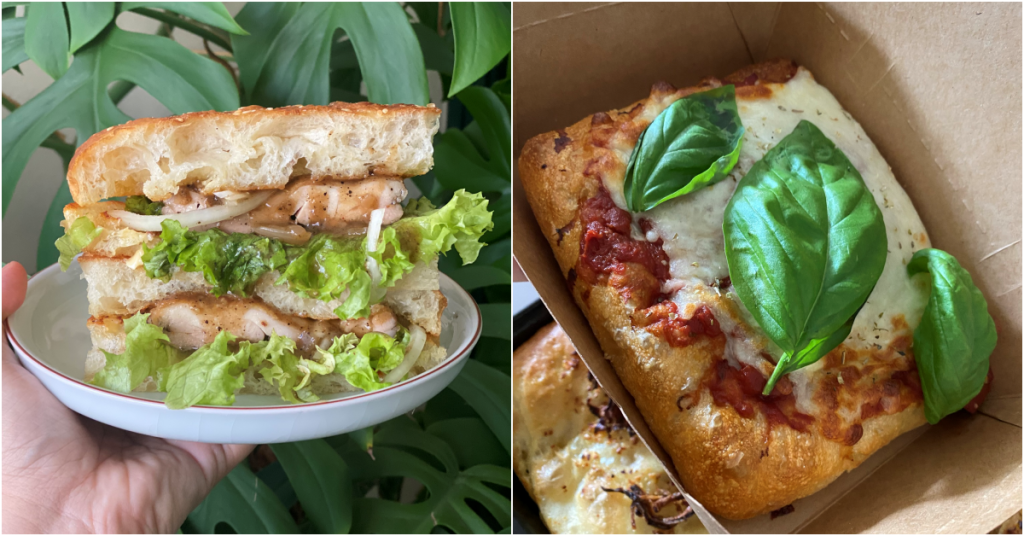 "European breads such as focaccia have a harder crust and drier crumb, but Asians like breads that are light and soft. I have married the two, so, may the gods of Italian bread forgive me but I did it for my people."
Ling also draws inspiration from local and Asian ingredients to pair her focaccia with such as Sarawak black pepper, otak-otak, kimchi, and miso.
Ling's Focacceria's current menu has focaccias such as jalapeno and cheese, miso butter, toasted sesame seeds and honey as well as a range of focazzas (focaccia pizza) and sammiches (focaccia sandwiches). Their prices range from RM18 to RM29.
They also offer special limited edition focaccias such as a vadai focaccia, kimchi grilled cheese focaccia, and otak-otak focaccia sammich.
On her business model for Ling's Focacceria, she shared that it could be described as Aunty Anne's meets Pret a Manger.
For production and business aspects, she looks to Auntie Anne's.
"They are essentially using one type of dough to make multiple SKUs, meaning streamlined ingredients and production processes, easier inventory control, and less wastage, and they occupy small retail spaces, which means lower rental and fewer employees," she explained.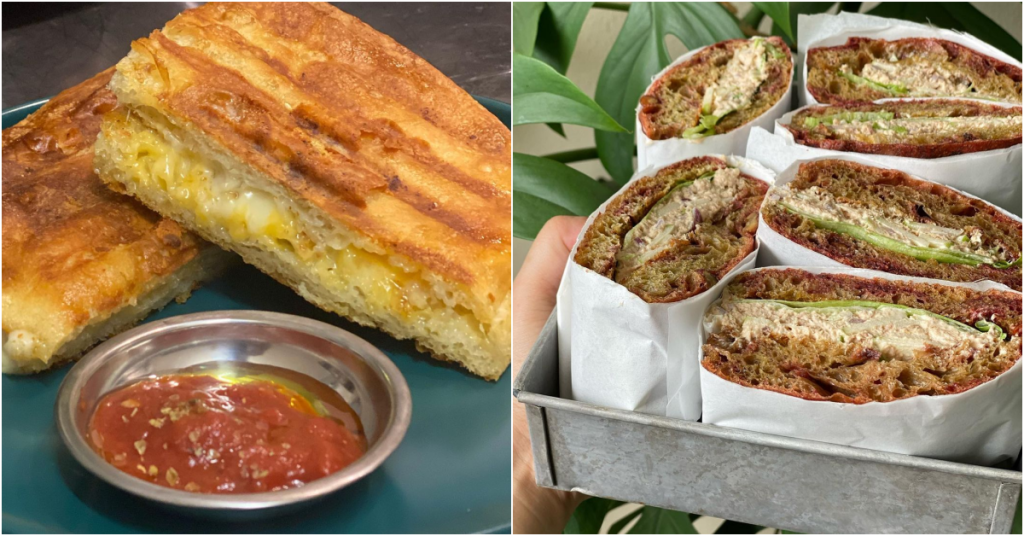 However, what she would like to offer with Ling's Focacceria are more substantial and fulfilling meals beyond just bread, hence why she has started including sandwiches, soups, and dips in her menu.
"I want to offer food that you can grab-n-go or that can be prepared quickly, like Pret. So, fast 'fresh' food?"
As of now, Ling runs the business herself with the help of her partner who steps in to help in between his F&B consultancy projects.
"He is my consultant, quality controller, idea contributor, new product tester, kitchen helper, driver, and ingredient-shopper," shared Ling.
"My partner is an endless fountain of food-related ideas and I will often pick his brains for free what he charges others good money for."
Waiting for the dough to rise
Ling's Focacceria is currently subletting a space at Swtchbck Coffee, a cafe in Sri Hartamas, and Ling is producing the bread at home.
Prior to this, Ling shared that she has done a pop-up at Bijou, Ara Damansara.
"These experiences have been fantastic and both café owners are wonderful people who are dedicated to the art of coffee-making."
Moving forward, she hopes that Ling's Focacceria can work with cafes specialising in beverages to either share the space or supply RTE (ready-to-eat) products to them. Currently, she is supplying on a very small scale and is keen to build upon this part of the business.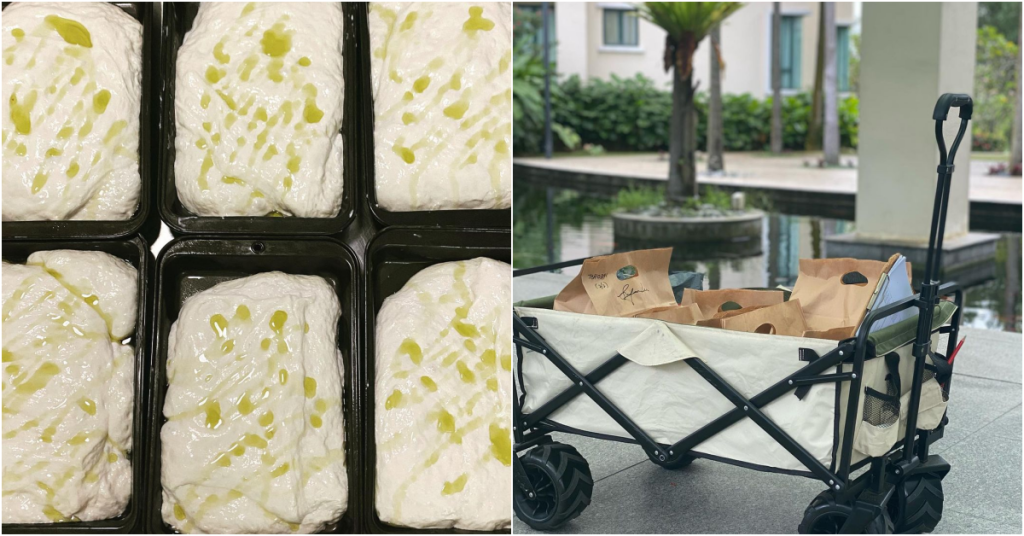 "I am eagerly looking for a suitable space that's affordable to set up a production kitchen now so I can scale up production, expand Ling's physical presence, and supply to other cafes. Then I can start building my team," stated Ling.
She also eventually plans to set up kiosks or small outlets in high traffic areas near offices or inside shopping malls.
At the moment, her sales alternate between online and dine-in depending on the day. This is because she has just transitioned from selling via online delivery/self-pickup and only on the weekends to now being at a physical location that offers dine-in and operates six days a week.
Ling's Focacceria does anything from RM200 to RM2,000 in sales in a day, depending on the season. 
On a mission to educate Malaysians
On her biggest challenges and how she deals with the competitive industry of baking in Malaysia, Ling shared that actually, production-wise, the greatest obstacle is the Malaysian climate as the ambient heat affects the dough.
Meanwhile, in operations, managing deliveries is her number one headache as factors such as rider availability, reliability, and weather can all affect whether the order is delivered in a timely manner. 
Another challenge is to educate customers on the proper storage and reheating of artisan breads and on what sourdough really is.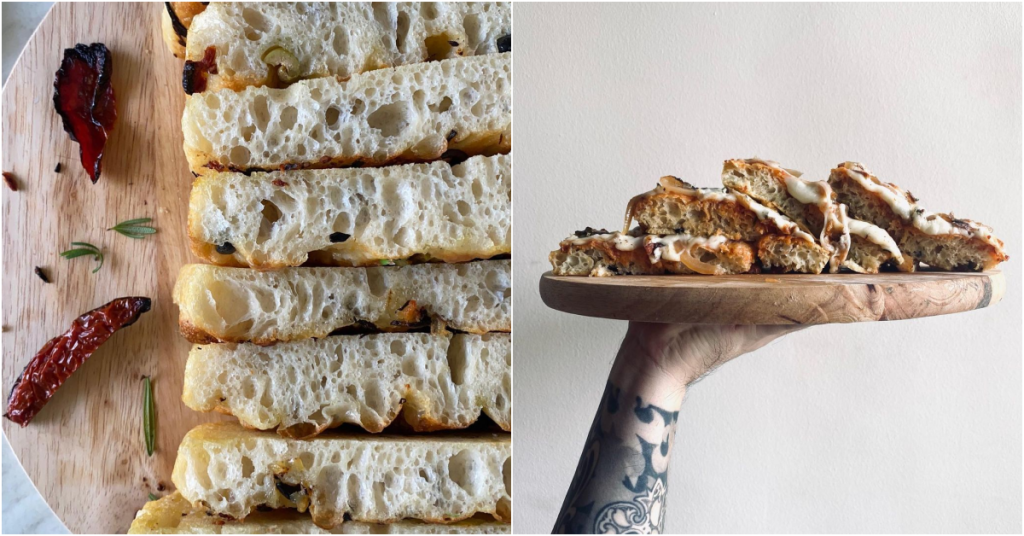 "Many people will microwave or refrigerate the breads, which makes them tough and dry. Please freeze your breads to store and use a toaster, oven, or airfryer to reheat them!"
On how she handles the business despite the headaches, Ling said, "I'm very much a 'banana', but there is a Chinese saying in regards to approaching new business ventures, that is to 'cross the river by feeling the stone'.
"I subscribed to that till today. In any new experience or venture, I take one step at a time, carefully and thoughtfully, before I decide on the next one."
Learn more about Ling's Focacceria here.
Read other articles we've written about Malaysian startups here.
Featured Image Credit: Ling's Focacceria