Most of us, I believe, will probably be standing in front of your closet ever morning, flipping your clothes, mixing and matching, spending minutes to plan your outfit of the day.
You may not be noticed but we spend a lot of time on tiny little details in our life. Does the color of my clothes match? Is my hair tidy? Is there any spots on my shirt? There is nothing wrong with spending extra time on taking care of your looks. However, unknowingly we have wasted much time thinking about our appearance with these minute details that do not have any harmful effect to the world.
Well-known Italian painter Leonardo da Vinci once mentioned 'simplicity is the ultimate sophisticated'. To put it simply, avoid making your life complicated and focus on the big picture. There are many successful people in the world who have adopted this mantra in their outfits.
One of them is of course Mark Zuckerberg who in a public Q&A this month revealed that he wears grey T-shirts all the time because it simplifies his life and he can focus his attention on other things. One can argue that he doesn't need to dress up because he's no actor or model, he's just a famous CEO of a huge company; so take a look at these people below who have made it big in the entertainment business, but still don't go to the extreme just to dress to impress.
Shailene Woodley
The lead actress in The Fault In Our Stars (2014) and Divergent (2014). This Hollywood rising star has many upcoming movies and lots of red carpet events to attend. That is probably why she keeps her luggage simple and light.
"In my own life, I am not into heels and still not into dresses, but I respect the creativity behind it," Woodley said in InStyle that she has not bought a piece of clothing in a year or two. Her inventory in her single carry on bag only contains seven short sleeve shirts, three long sleeves shirts, two tank tops, a few pairs of leggings, jeans, and overalls. She is definitely looking glamorous on the red carpet, but during her downtime, her rule is to dress comfortably.
Kristen Stewart
Besides being well known for her role as Bella in the Twilight saga, she is also famous for her simple yet unique fashion sense. Despite being the face of Balenciaga and Chanel, still she prefers her casual attire. She was often being seen to take off those designer high heels into sneakers from Vans or Converse. She definitely does not fit into the common Hollywood glamour look. Sneaker, hoodie, jacket, and baggy shirts are her staple look.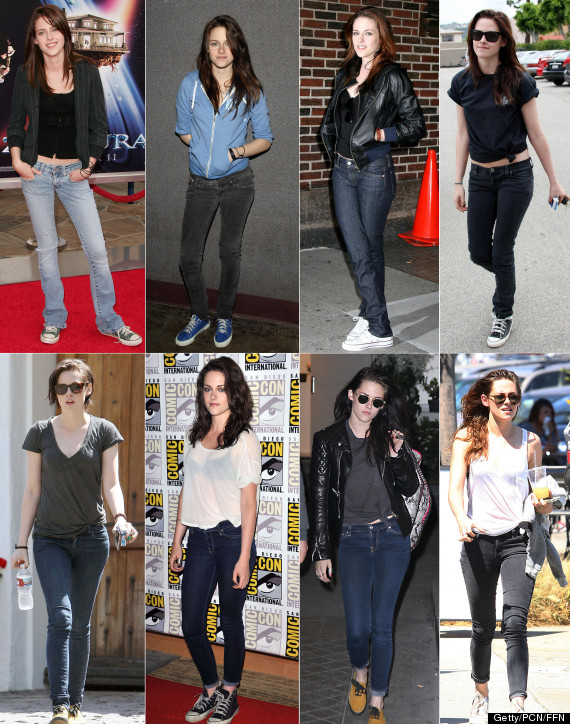 Emma Watson
After portraying as the sensible Hermione Granger, Watson continued her film career and played a teenage thief who steals designer clothes in The Bling Ring (2013). However, she is not so much of a fashion girl in reality.
As an actress, she has access to different pairs of designer shoes. Despite her fame and huge fortune, she revealed that she only own eight pairs of shoes in her interview in Radio Times. "I have about eight pairs of shoes and that is it." She also condemned the celebrity lifestyles as 'consumerism as a form of kleptomania'. Watson was pictured wearing flat shoes when she is not on the red carpet.
Also read: 5 Things I Have Learned From Ronaldo Vs Messi
Janelle Monáe
You may know Monáe as the female singer in the music video "We Are Young".
Black and white is a timeless combination. Monáe style is perfectly simple and her signature looks always have been her black and white tuxedo. During an interview with Huffington Post, she mentioned the meaning behind her style.
"It's a dedication to uniformity and I'm a minimalist by heart, but a lot of it had to do with me wanting to have a uniform like the working class, like my mom and my grandmother," said Monáe.
You may feel happy and confident when you purchase new clothes or shoes for a short while but it will not make any big difference in your life in the long run. You might even regret buying so many clothes that you might not even wear anymore after a while.
Therefore, to avoid additional complications in life, these that female celebrities decided to simply their wardrobe to make life easier and more comfortable. Simplicity is the new 'in'.
Also read: Tim Cook's Confession: Helping Hand or Reality Check?