[This is a sponsored article with PayNet.]
Imagine a day when Malaysians can simply stroll around without carrying cash in hand; every hawker aunty accepts e-wallet payments, and even grandparents are digitally savvy at transacting with their phones.
The push for getting Malaysians to use digital payments daily is ramping up, and Payments Network Malaysia Sdn Bhd (PayNet) wants to expedite this.
Did you know: PayNet is the national payments network and shared central infrastructure for Malaysia's financial markets. As the national provider of financial market utilities, PayNet aims to build inclusive, accessible and efficient payments, as well as financial ecosystems for Malaysia.
With the objective of accelerating Malaysia's digital payments ecosystem and a grand prize of RM20,000 up for grabs, PayNet has called for Malaysians to develop innovative solutions via a 24-hour hackathon.
Called PayHack 2023, it took place between May 27-28, 2023.
But first, a summit on the digital payments landscape
The hackathon was a part of PayNet Digital Payments Week 2023 (PDPW), a week-long digital payment industry event that happened between May 24-29, 2023.
PDPW was PayNet's first event bringing together payment-focused experts, investors, startups, and academia to talk about everything digital payments.
Its aim was to converge Malaysia's digital payments ecosystem with that of those from the international scene through the latest insights, opportunities, and global trends that are reshaping Malaysia's digital payment landscape.
Speakers at PDPW included PayNet's Group CEO, Farhan Ahmad, along with various senior regulators and leaders in state governments, large banks, digital banking, e-wallets, and accelerators.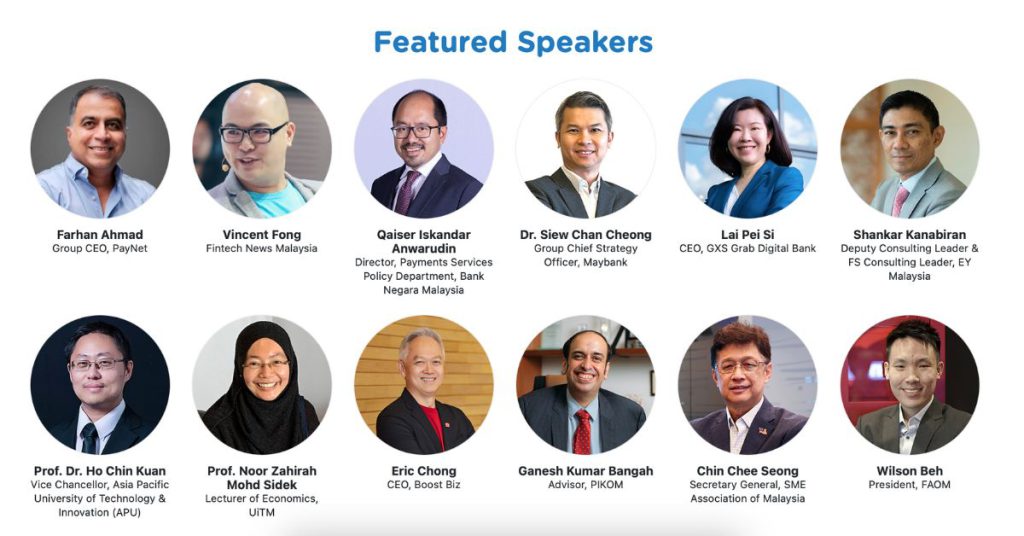 On May 27, the 24-hour hackathon kicked off at the Asia School of Business in Kuala Lumpur, which attracted 440 participants.
A total of 220 participants were shortlisted to showcase their talents; they represented 50 teams of three to five individuals.
The competition comprised university students, working professionals, freelancers, along with startup teams, who were tasked with hacking solutions that could accelerate Malaysia's digital payments ecosystem.
PayHack 2023 circled around four key challenges:
Security and fraud: Address security issues related to e-KYC, secured authentication, identity theft, payment fraud, e-payment security, or the like
Efficiency: Optimise the performance of digital payments via automation or technological improvements, or better use of human capital
Sustainability: Contribute towards environmental conservation or any of the Sustainable Development Goals 2030 through the digital payments space
Financial inclusion: Expand access of e-payment services in underserved areas or communities
On May 28, Vulcan Post attended the finals of PayHack 2023 and saw the top 10 impressive, albeit sleep-deprived, teams persevere through the final challenge.
They had to present their working prototypes to a panel of grand judges, and each team was only given five minutes to demonstrate their ideas.
The judges were:
Farhan Ahmad, Group Chief Executive Officer at PayNet
Teh Lip Guan, Chief Technology Officer at PayNet
Gary Yeoh, Chief Commercial Officer at PayNet
Ruslena Ramli, Director, Digital Finance and Islamic Digital Economy at Malaysian Digital Economy Corporation (MDEC)
Karen Puah, Advisory Board at Fintech Association of Malaysia (FAOM)
And the grand prize went to…
Team Make1tFeature, who took on the fourth challenge on financial inclusion.
Called EveryPay, their solution intends to help senior citizens adopt digital payments, especially those who are intimidated by the ever-changing advancements in technology.
Make1tFeature explained that digitally illiterate individuals can get overwhelmed when they open up payment apps because there are too many features being presented on the user interface.
"They're not sure what to click on and may be afraid of choosing the wrong functions, and they think that they'll accidentally transfer out all their money in an instant," the team elaborated.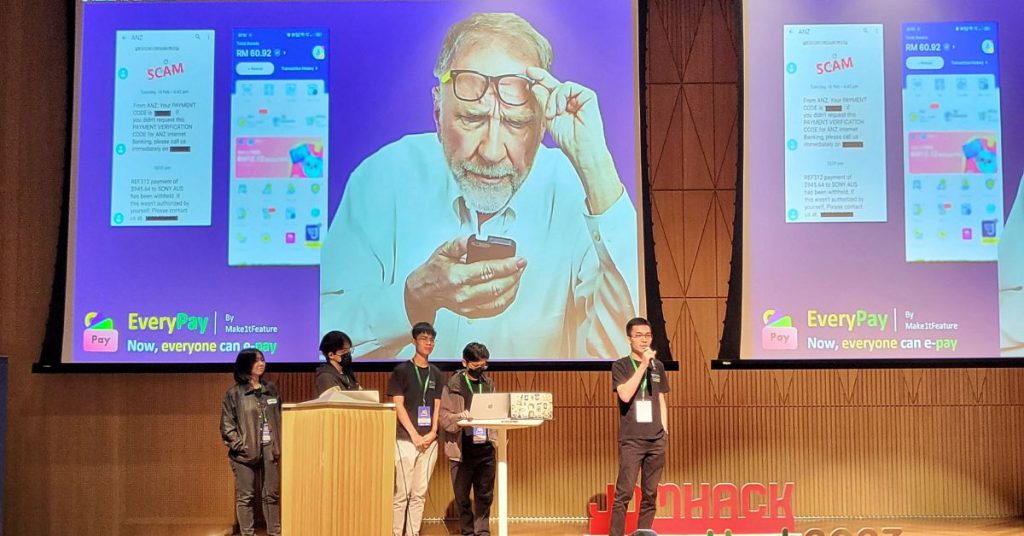 On top of that, plenty of fraud and scam cases circulate in the news, which incites fear in those reading them, validating their concerns about adopting e-payment technologies in the first place.
To solve these challenges, Make1tFeature's idea is to create a compressed, or "lite" version of digital payment apps. It will strip down the number of functions available, and only keep core ones like making reloads and payments.
"So there'll be fewer steps for them to perform a transaction, therefore fewer chances for them to mess up. They'll be more likely to use [this app] because it will be more approachable to them," stated the team.
There will also be a guardian system, where the children of these elders can link their accounts and oversee all transactions. For example, the guardian will receive notifications whenever their elderly parent (dependant) makes payments or reloads.
"You can think of it like parental controls, but flipped," they mused.
With the guardian's ability to monitor their parent's transactions, they can also flag any suspicious activity happening in their dependant's accounts.
Through EveryPay, the silver-haired community can be more confident in adopting digital payments, knowing that their children are keeping an eye on them from a distance.
The Make1tFeature team were crowned the champions for their solution, earning them a cash prize of RM20,000.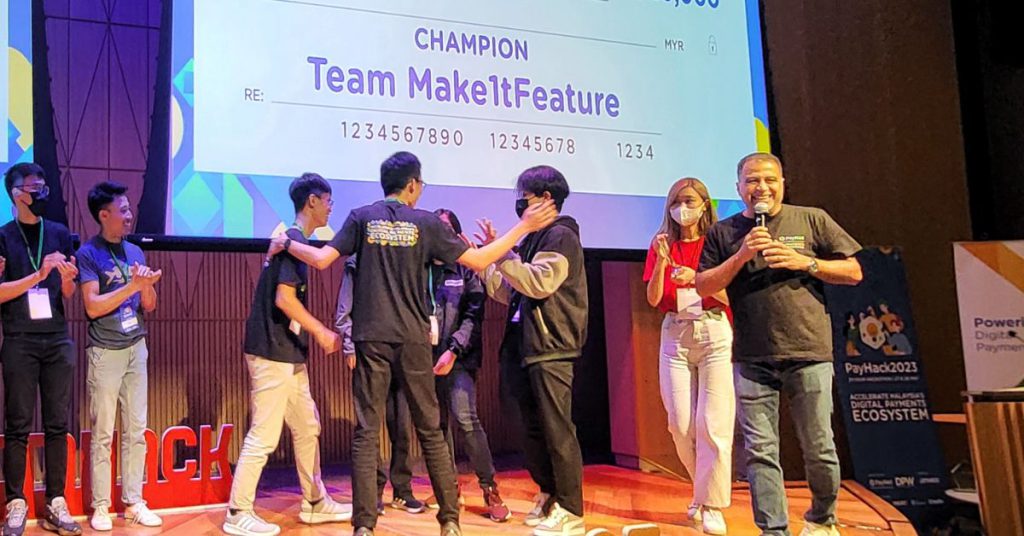 As for the first and second runners-up, their solutions tackled the second challenge on efficiency, as well as the financial inclusivity challenge, respectively.
Team Say came in second place with their solution, Snap N Go, winning them RM15,000.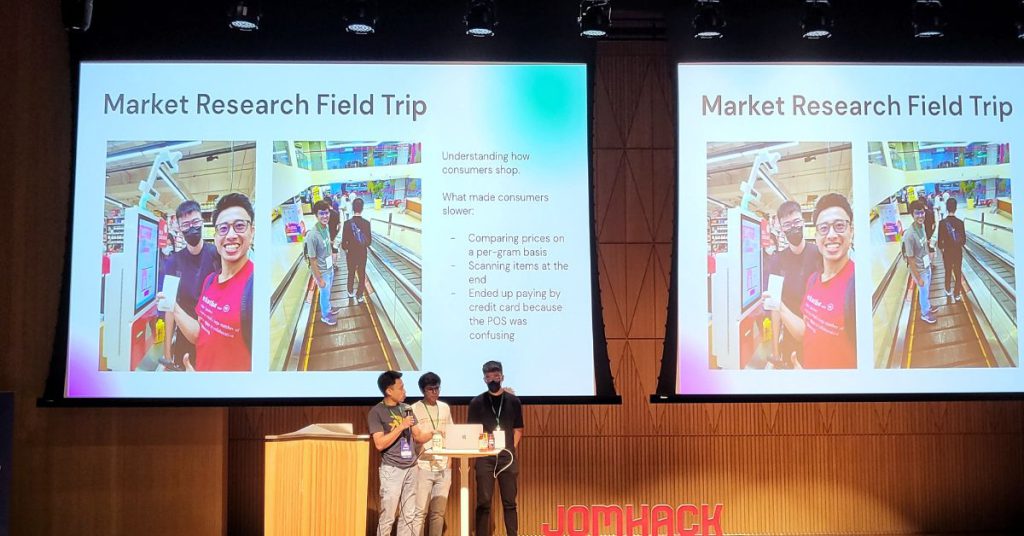 Snap N Go is an app that allows shoppers to scan products in a grocery store, and the app will come up with price comparisons of similar items based on their per-gram costs, and even caloric count.
Customers can subsequently add these items to their digital and physical carts, then easily checkout and make payments via the app, negating the need to queue at the cashier.
In third place was Holy Pandas, who took home RM5,000 for their solution of helping less digitally literate individuals navigate payments, via an AI voice assistant called FixerPay.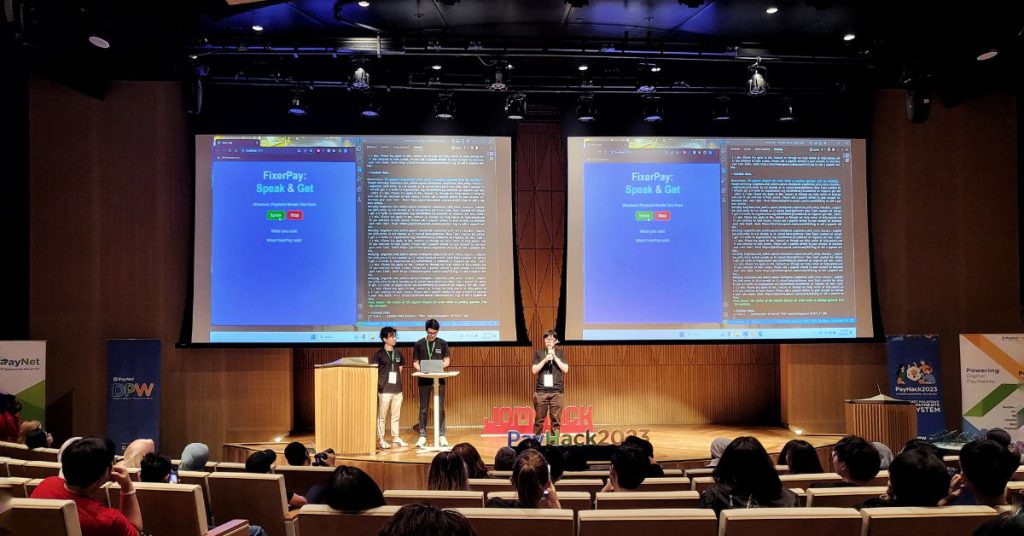 FixerPay can be thought of as an Alexa for performing any function that can be done on an e-wallet, like applying for a refund from Grab.
Utilising ChatGPT's free API, the language model simplifies the steps required to perform activities on an app that may be difficult for users like elderly parents to navigate.
-//-
Other than the three winning teams, the seven others who made it to the finals each brought home a consolation prize amounting to RM1,000.
Ultimately, PayHack 2023's judges were impressed with the winning teams' abilities in utilising existing solutions and tech in the market to build complementary solutions.
Following the hackathon, the teams have gained invaluable insights into the opportunities their working prototypes could pose in society.
Should they choose to develop their ideas into real-life apps and services one day, Malaysia's digital payments market may soon see the solutions that were birthed from this hackathon.
Featured Image Credit: Vulcan Post