When I think about spas and facial treatments, I usually think of something very luxurious with a befitting price tag, typically set in some dark room with classical music playing overhead.
Going against that norm, though, is a new business in Malaysia called Kimino Beauty.
I first came across the business, which currently has an outlet in Sri Petaling, on Instagram. The concept was fascinating.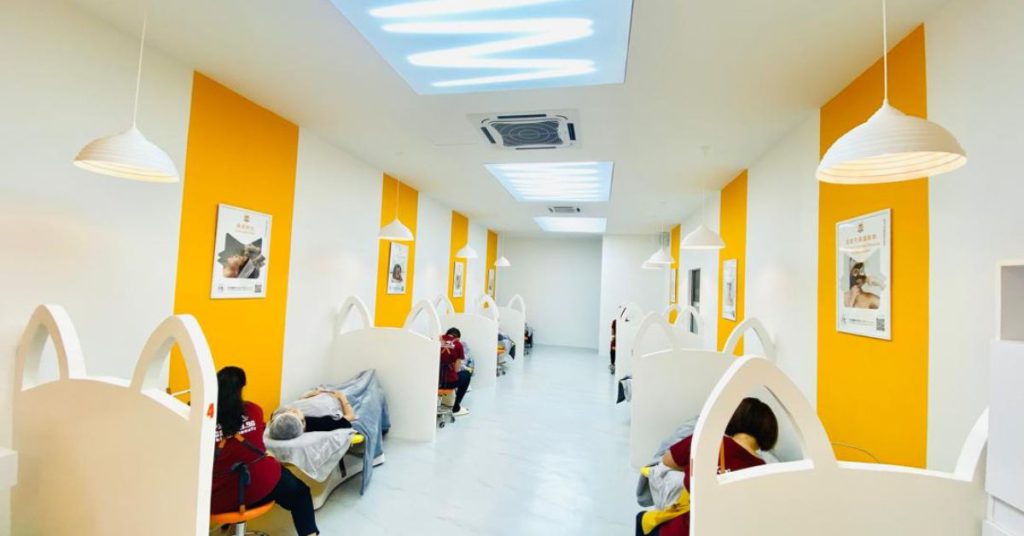 Instead of having individual and private rooms, the store was lined with beds that are separated by dividers, which made sense considering that the services are designed to be fast.
More than that, though, the services are designed to be affordable, with prices starting at just RM19.90.
Hailing from Taiwan
While the Kimino Beauty name is first used in Malaysia, the concept and services actually originate from Taiwan.
Called He & She, the brand claims to be the first hundred-dollar (approximately RM14.40) fast beauty centre in Taiwan.
Its journey to Malaysia, though, was due to one Eva Han and her friends. According to her, they all wanted to improve their skin conditions but didn't have much time to go for facial treatments.
"Coincidentally in November 2022, I met the founder of He & She in Taiwan through friends," Eva shared with Vulcan Post. "After this encounter, I resolutely decided to create a new beauty model in Malaysia."
However, none of them have backgrounds in beauty. Rather, they all had different educational backgrounds, from advertising designers and computer programmers to corporate and enterprise managers.
"It was precisely because the founding team has no rich experience in the field of beauty that it allowed us to create a unique landscape from the perspective of consumers," Eva pointed out.
Using technology and services created and authorised by He & She, Kimino Beauty officially launched in June 2023.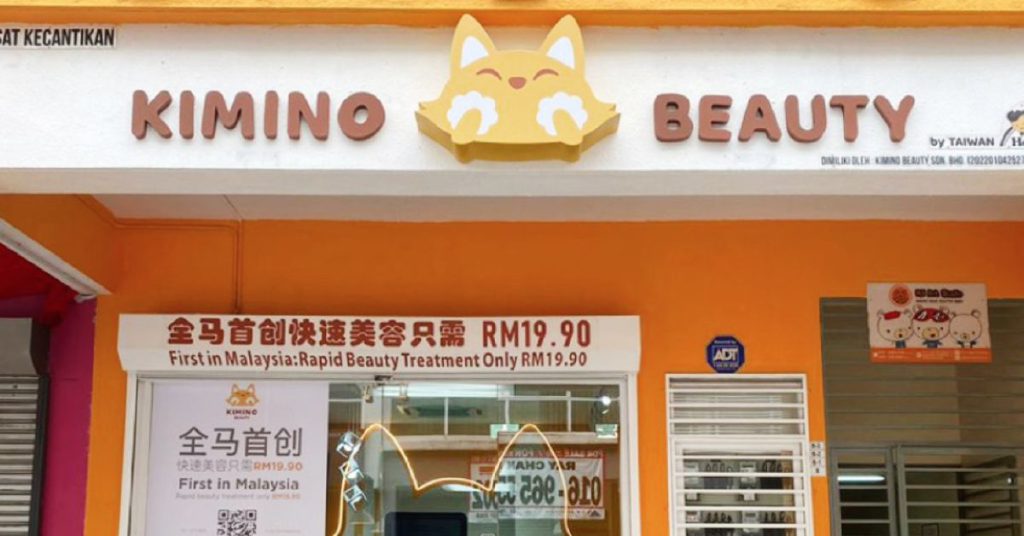 However, we were curious why they didn't continue with the He & She brand name in Malaysia.
"The name of He & She has been registered by others in Malaysia," Eva explained. "Due to certain circumstances, the founding team had to build a totally new brand."
There's something for everybody
At RM19.90, Kimino Beauty's basic package, called the Rapid Beauty Treatment, covers cleansing, eyebrow shaping, low-temp tech, exfoliating, and a mask—all in 20 minutes.
For those who do want more, though, there are also add-ons available.
These include a variety of massages, including an eye massage, head massage, neck and shoulder massage, and neck gua sha. Each option is RM9.90 for six minutes.
Other than that, there are also some specialised services available for specific skin types, with the most expensive add-on being the service to improve enlarged pores and firm skin (RM109.80).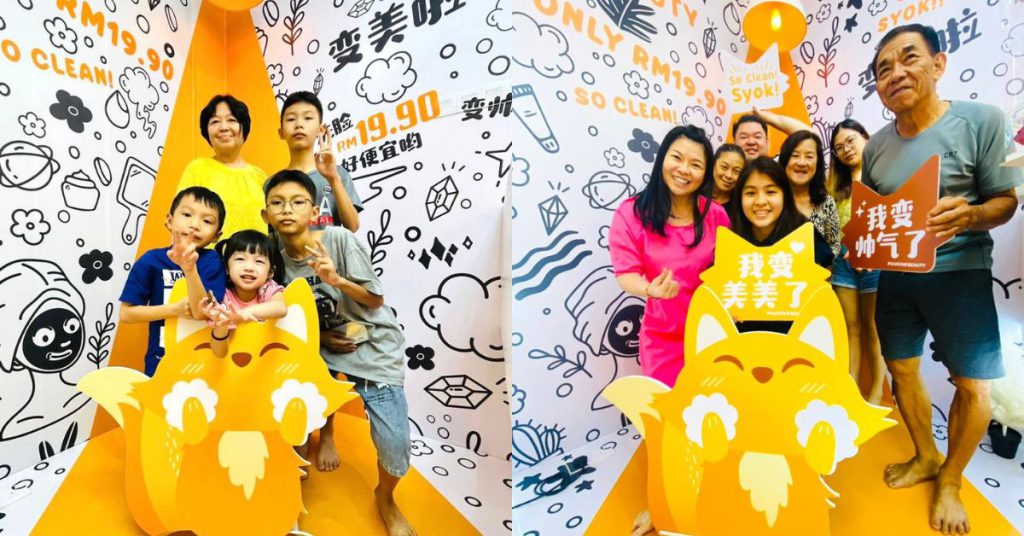 There are also ear candles, a variety of masks, blackhead removals, and more.
While Kimino Beauty may seem like it suits younger audiences who don't have much time or money, Eva shared that the services cater to a wide audience.
She claimed that even children as young as five years old can enjoy the kid massages at Kimino, which include eye and abdomen massages supposed to help with intestinal problems regarding constipation and digestion.
"Whether you are a child, student, man, or those who do not want to spend too much time on beauty, Kimino Beauty has tailor-made beauty services for you," she shared.
A unique offering
Just because the RM19.90 service is inexpensive doesn't mean that it isn't inclusive of "good" treatments.
In fact, some may find it to be far from basic, with the ultra-low temperature service being something that seems hard to find.
Based on videos reviewing the brand, it appears to involve dipping cotton into something gaseous to apply a cooling effect on the skin.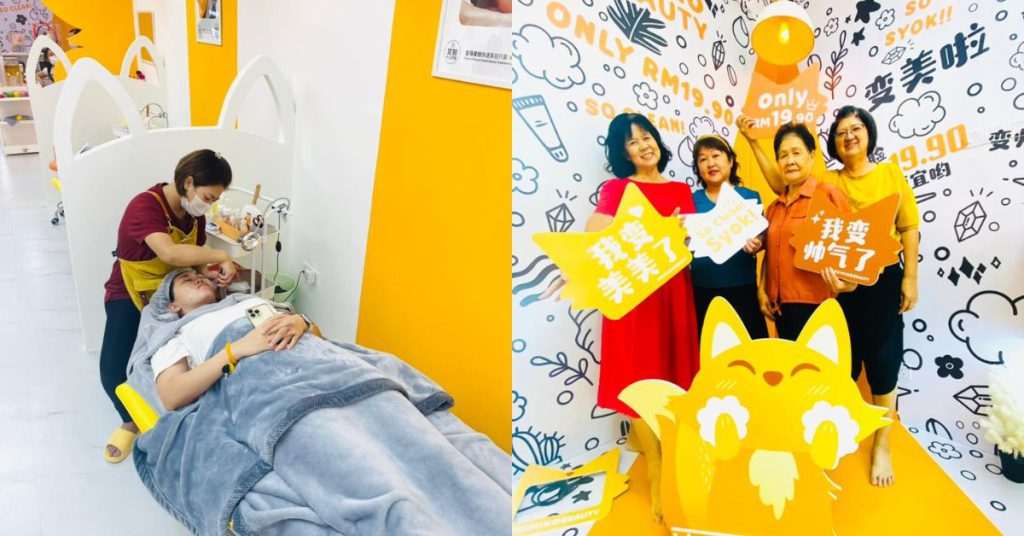 Eva shared that this provides effective solutions for the health of the skin and has a firming effect on the skin.
"This technology is particularly beneficial to acne-prone skin, as it can eliminate inflammation and swelling as well as shrink pores," she elaborated.
Compared to the usual beauty clinics I've been to, it doesn't seem like Kimino Beauty offers packages of multiple sessions, but rather just sells one session at a go. This might help to reduce the burden on busy professionals who don't want to schedule multiple sessions at a go.
Beauticians at Kimino Beauty are also given a two-week in-house training to ensure they're up to speed and adept at providing all the services available.
"In Kimino Beauty, we do not need beauticians to sell specific packages or products, but we still set up a commission system to motivate and reward their performance," Eva said.
"Because Kimino Beauty plans to open a branch on a large scale, beauticians have broad opportunities for promotion. Our ultimate goal is to enable each beautician to be partners and share success together."
Making self-care more accessible
Just two months into their establishment, Eva said that the brand is already actively planning to open more branches in Malaysia to provide customers with more extensive services.
More than outlet expansions, Kimino Beauty also aims to continually expand its range of services to provide more options for the public.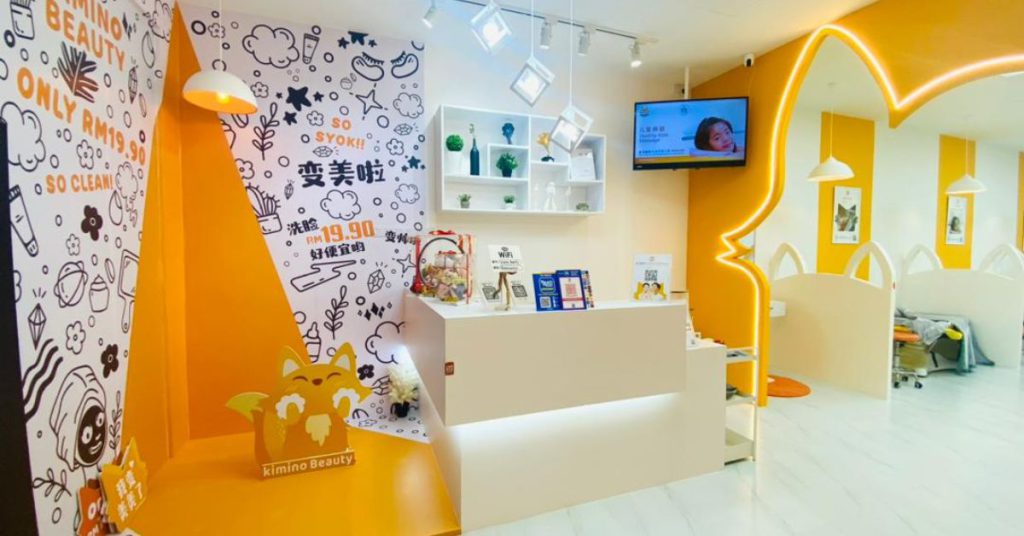 "In order to meet the changing beauty needs, we will update every quarter with more beauty service items," Eva explained.
Personally, I do enjoy the occasional pampering session. Plus, like Eva and her friends, I do care for my skin and would be willing to go for facial treatments.
However, the ones I come across are often in the RM50 to RM100 range. If I wanted something cheaper, I may have to sign up for packages—something I can't really commit to.
On top of that, I'm not free on weekdays, and weekends are often spent doing other personal errands or resting at home.
With that in mind, perhaps some quick and affordable self-care might be just what the local market could use.
Learn more about Kimino Beauty here.
Read other articles we've written about Malaysian startups here.
Featured Image Credit: Kimino Beauty