Stumbling upon an Instagram account with some 200 followers by the name of The Swim Societe, I was surprised to find a very put-together page and website offering a "private swim experience", but not as surprised as I was to find out who the people behind it were. Or rather, their accolades.
The founding members are Yannie, Jackie, and Chi Kei—three young women who have over three decades of combined experience in the local and international aquatic scene as well as multiple SEA Games and Malaysia Games medals.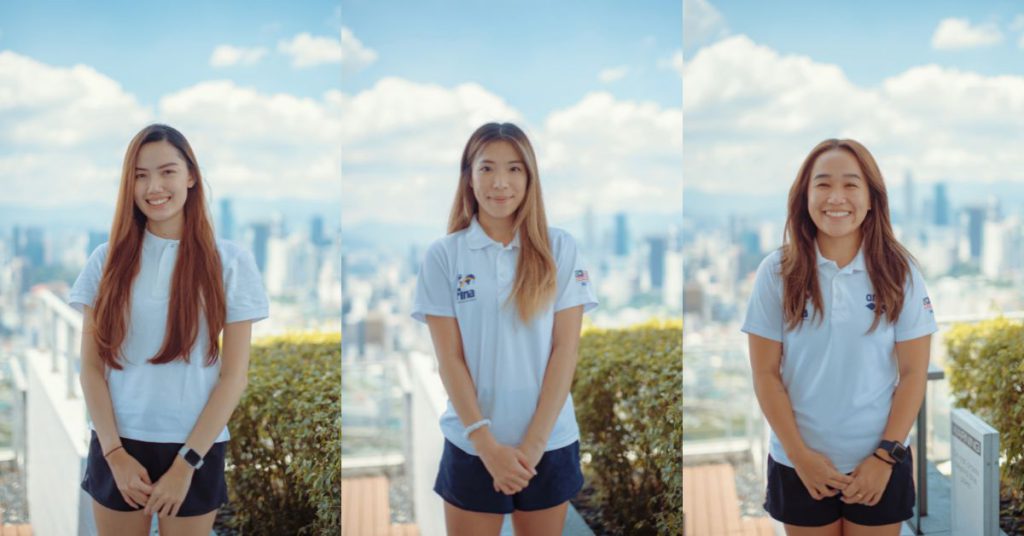 Sharing about the brand's story with Vulcan Post is Yannie, who started swimming in school and has loved it ever since.
She went on to train and compete with the school's swim team, and was then introduced to join artistic swimming. From there, she earned her spot in the national team, representing the country for five years at international stages such as SEA Games, Asian Games, and the World Championships.
"It wasn't an easy journey but my passion was what kept me going," she said. "After retiring from being an athlete, I knew I still wanted to be involved with the water, so I made it into a career."
And that she did by starting The Swim Societe.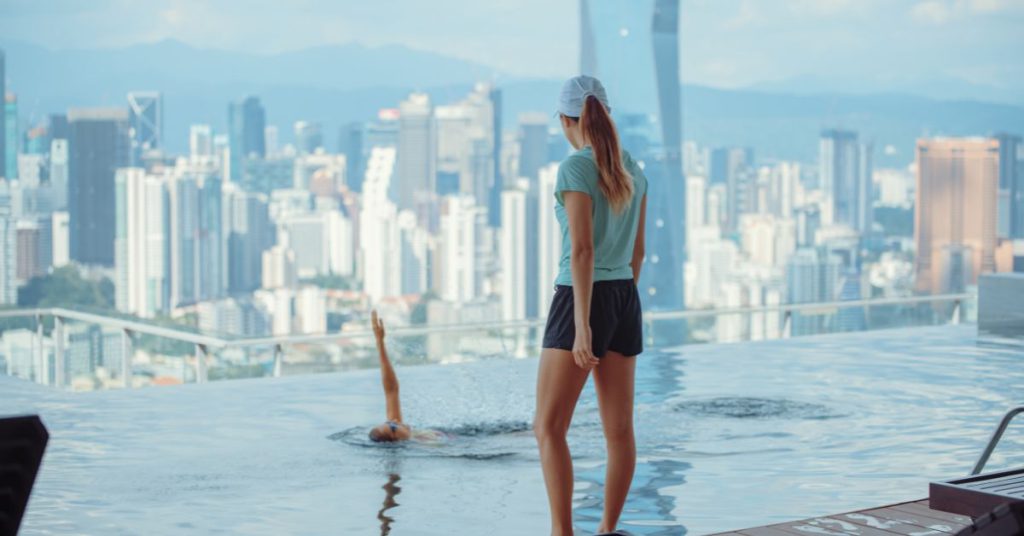 From friends to business partners
The story behind how the business came to be is arguably quite anti-climactic. According to Yannie, one morning last year, she just suddenly felt like she had to start the business now, so she did.
"I called up my friends Jackie and Chi Kei, and they came on board," she recounted. "Each bringing their area of expertise into the business, the founding team was established last year, and we launched in May this year."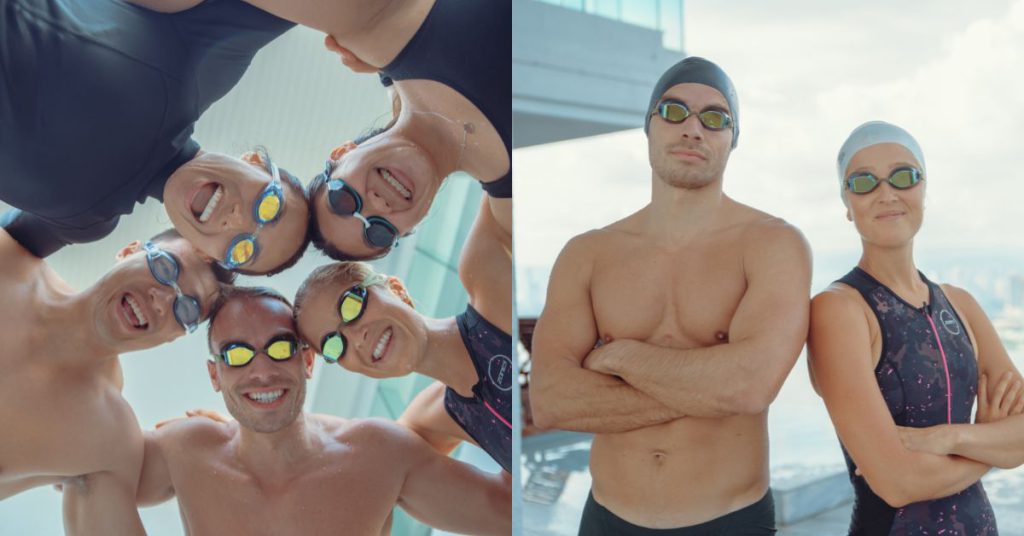 Like Yannie, Jackie has been a competitive swimmer and has multiple medals from Malaysia Games. Meanwhile, Chi Kei started her swim career under a swim school seven years ago.
The Swim Societe was launched as an agency that connects swimmers with coaches to swim at their own pool location.
"We aim to spread awareness of the importance of swimming as an essential skill for water safety across all age groups," Yannie explained. "We teach four strokes and beyond, where swimmers can expect to learn multi-dimensionally when they swim with us."
More than just focusing on the clients, The Swim Societe also serves as a platform to share experiences and exchange knowledge with coaches. It offers training and guidance to coaches and even a certification subsidy for new coaches.
From competitive swimming to coaching
As a competitive swimmer, becoming a coach or teacher has always been something that was expected.
"Even so, I did not want to limit myself to just that," Yannie said.
That's why she took up sports and exercise science for her degree and acquired a personal trainer certification. She also took up physio and rehab training. All the lessons she's learnt from these avenues have been applied into The Swim Societe's programming.
While she is able to incorporate her skills and mindset into The Swim Societe now, it wasn't always the case when she was growing up.
"Throughout my competitive career, I was incredibly competitive and was blind towards my own progress," she opened up. "I could only ever see the glass half empty because I was busy chasing perfection, and that was one of my biggest regrets in life."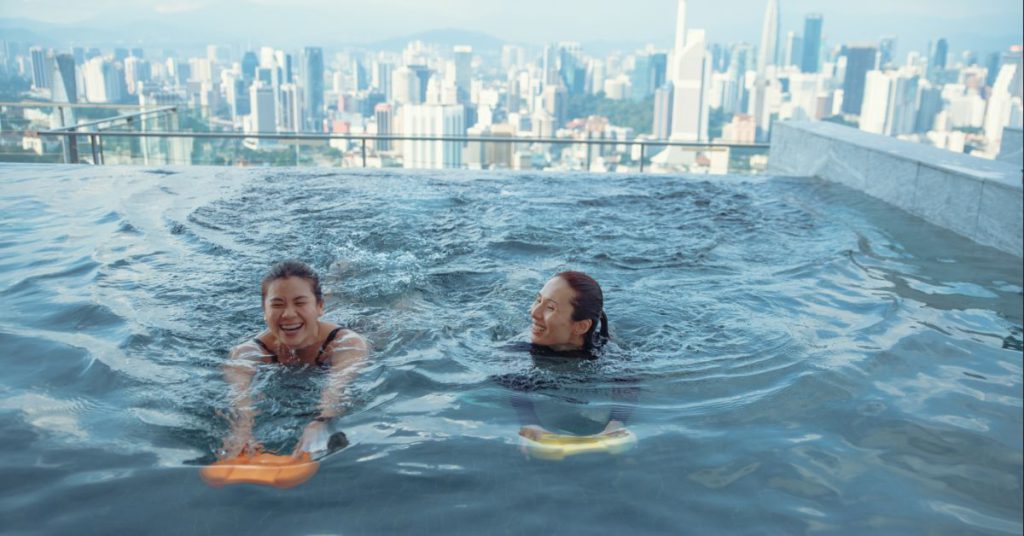 Having experienced that, Yannie and her founding partners believe it's important that their clients do not fall victim to that same pattern, which could lead to a lot of frustration and demotivation, and ultimately dropping out.
"What we want is to create long-term participation based on positive development," Yannie shared. "And the coaches play a big part in that by providing a positive experience for the swimmers."
"We create swimmers that will be independent in swimming and will continue to swim either with or without us; all while cultivating a mindset of tenacity, discipline and independence."
From children to adults
The Swim Societe comprises a team of six coaches at the moment. Prices for group classes (up to four pax) start from RM72 per pax, while one-to-one starts from RM175. Each class is 60 minutes.
Lessons are conducted at the clients' own pools. While pools are relatively accessible in the city, Yannie said that The Swim Societe has options for clients who don't have pools. However, she said that it's not ideal since the client will have to bear the entry cost for the coaches and themselves.
According to Yannie, The Swim Societe's classes are very much tailored to clients' needs. After all, a personalised program is one of the biggest advantages and appeal of private lessons.
Clients' goals are always established in the first session to set expectations. From there, the coaches programme the sessions according to their needs.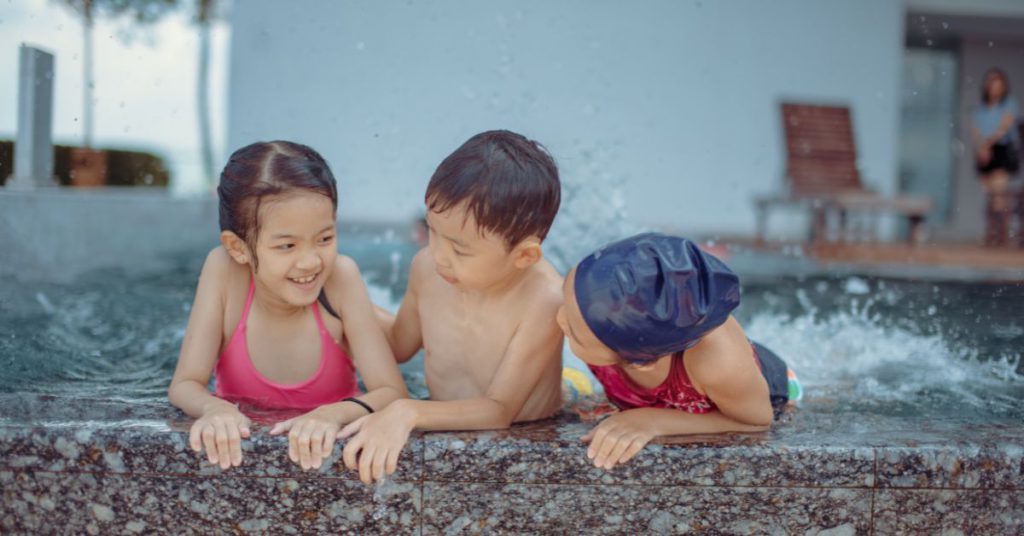 Yannie gave an example, "If their goal is to join their first open water race, their main focus will be on the freestyle and an endurance programme."
"We have many clients coming to us to overcome their fear of water too, and we have specific activities to help them build or rebuild their water confidence."
While personalised classes sound great, a quick search will get you numerous hits of private swimming lessons available in the Klang Valley.
When asked about how The Swim Societe differs, Yannie shared that it's the quality that sets them apart.
"Our swimmers learn beyond the four strokes," Yannie reiterated. "Meaning, swimmers can gain/improve complementary skills such as communication, self-motivation, discipline, which will set them up for life."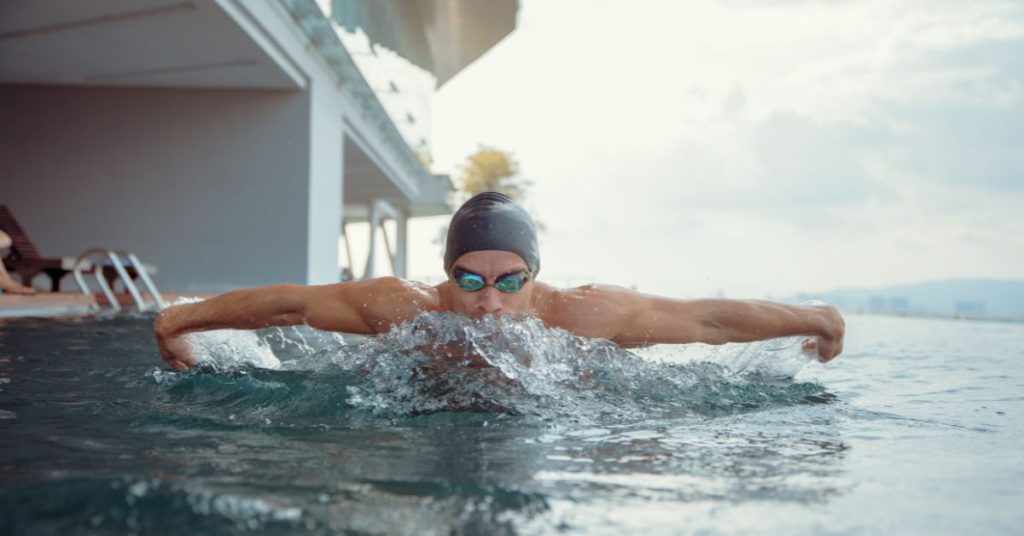 "This is possible as our coaches go through a selection process and training to ensure that they can be a positive influence and role model to the swimmers."
The Swim Societe also offers free lessons with their co-founders, which originally were intended to be private training sessions for coaches. Later on, they felt it was a good idea to offer it as an opportunity for anyone that wants to try out lessons or test their readiness with them.
"We've done two free lessons for kids so far, and it was a great success," Yannie said.
From perfection to progress
Rather than worrying about competition, Yannie believes that one of the biggest challenges is the perception of worth for swimming lessons as a whole.
"We noticed that because of popular culture, people tend to value personal training, Pilates, or spinning much more over swimming," she said. "But that is because most do not realise that swimming is not just another hobby, it is an essential life skill."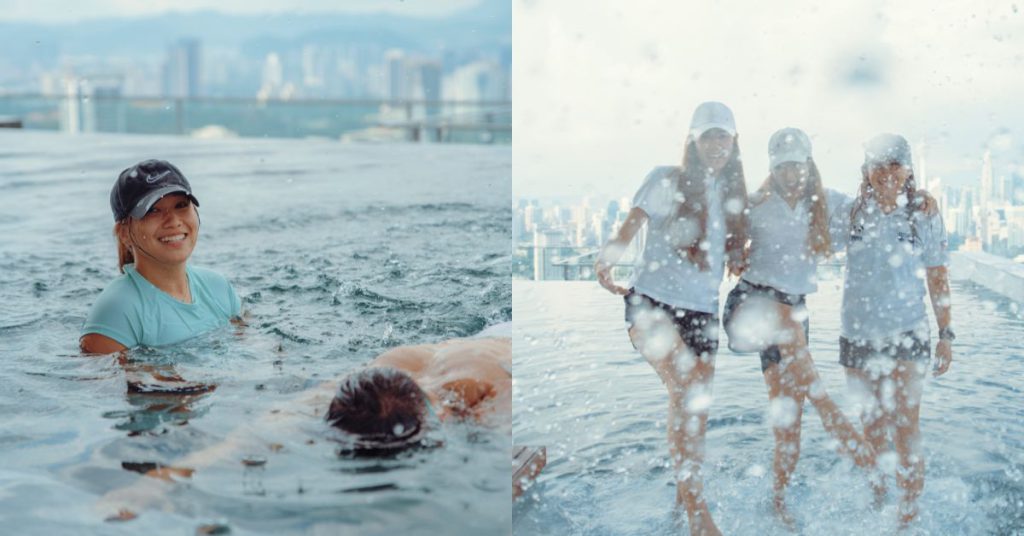 That said, she is aware that there still is an abundance of options for swimming lessons out there. In tandem with what The Swim Societe is doing, hopefully swimming may find a resurgence of interest.
As such, the team aims to grow to 15 to 20 coaches within a year, then expand to other areas in the future. Ultimately, they also hope to have their own base.
More than just growing the industry, though, there seems to be a desire to change and improve it.
"I think in any industry, perfection was what used to be the standard, but the world is evolving and so are we," Yannie pointed out.
"We are very aware that what we do has an impact in other people's lives, and we want to use this opportunity to build healthy mindsets through swim lessons—which is why we use progress instead of perfection as a measure of success for our clients."
Learn more about The Swim Societe here.
Read other articles we've written about Malaysian startups here.
Featured Image Credit: The Swim Societe