"Rocky's Cat Club is really a club not just for cats but cat owners. Imagine going to a recreational club where we do spa, relax, gather with friends, enjoy food, read books, or attend activities. [That's] exactly what we want to create at Rocky's Cat Club," Hazlina Hazani, the founder and executive director told Vulcan Post.
That's not what you would expect to hear from her considering that she was the only one out of her family of five who used to dislike cats. "Extreme level," she reiterated.
But then everything changed when her daughter, Allysha, decided to get their then-four-month-old cat called Rocky. Three months later, Hazlina became a converted Cat Mom.
The number of cats slowly increased until they had nine at home. That's when the idea for a cat club came to mind.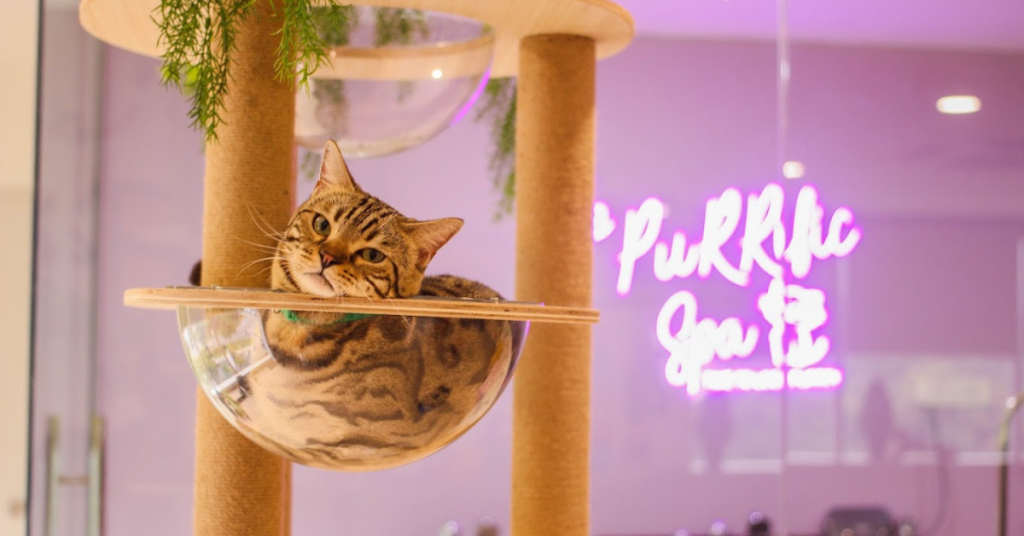 "At that time, we had to go to Wangsa Maju to send our cats for grooming. The place had limited parking space, no place for us to hang out, so we ended up going back to our house in Ampang," she explained.
"When we travelled, we could not even see the hotel rooms. We dropped the cats at the reception and that was it. Quality cat kibbles were hard to find, most cat shops carry mainstream products. Few cat shops that sell premium cat foods that we like were either too far in Shah Alam or always out of stock."
Hence, the idea to start a cat club providing a one-stop centre for cats in Ampang just made sense.
An all-encompasing spot for cats and cat lovers
From the start, Hazlina's vision for Rocky's Cat Club was very clear. She wanted it to be located in a three-storey building with the aim of creating a lifestyle brand revolving around her family's cats.
So not only does it have products for cats (like 100% halal kibbles) at its D'Cat Shop, the brand also provides cat grooming services at its Purrific Spa, cat boarding services at its Paw Seasons Hotel and PawGoda Inn, and it has its in-house RCC Cafe for people and pets to hang out at.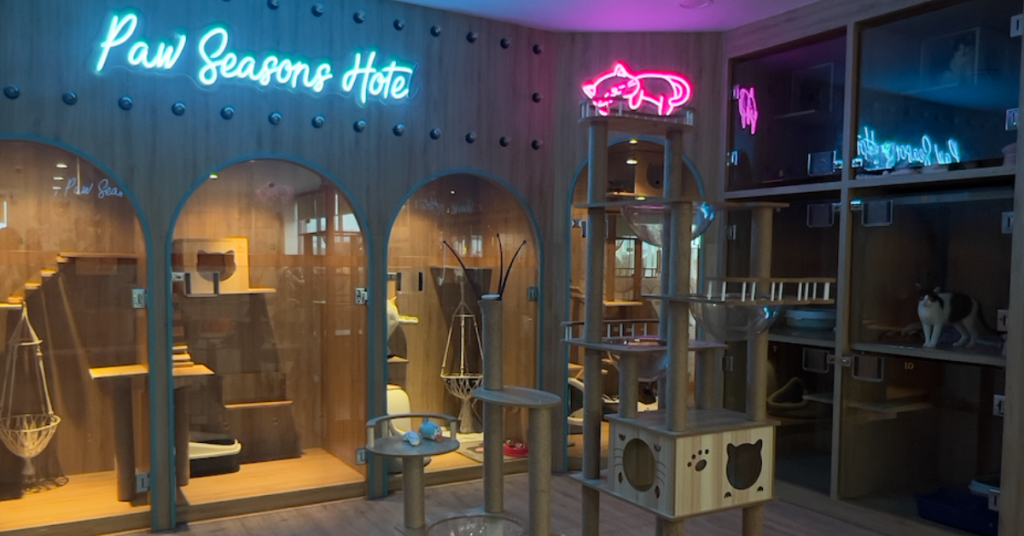 Sharing with Vulcan Post, the founder stated that the boarding rates at Paw Seasons Hotel (its five-star cat hotel) ranges from RM50 to RM150 per night. On the other hand, PawGoda Inn (its more economical hotel) starts from RM35 to RM100.
Rocky's Cat Club Cafe also hosts various cat-related activities and events. Some of its past ones include:
Cat Crafty, an art workshop
Feline and Friends, where children aged seven to twelve get to interact and learn more about cats
RCC Junior Apprentice Programme, a cat grooming programme for children
But one of its more interesting activities that caught my eye is Yoga with Cats, or "Yogcats" as the brand has affectionately named it.
"The presence of cats provides a calming and soothing effect, helping to reduce stress and anxiety during the yoga session. It also encourages mindfulness and being present in the moment as we interact with our feline companion," Hazlina explained.
"Surprisingly, Yogcats inspire the participants to improve their own flexibility and mobility as cats demonstrate their natural flexibility."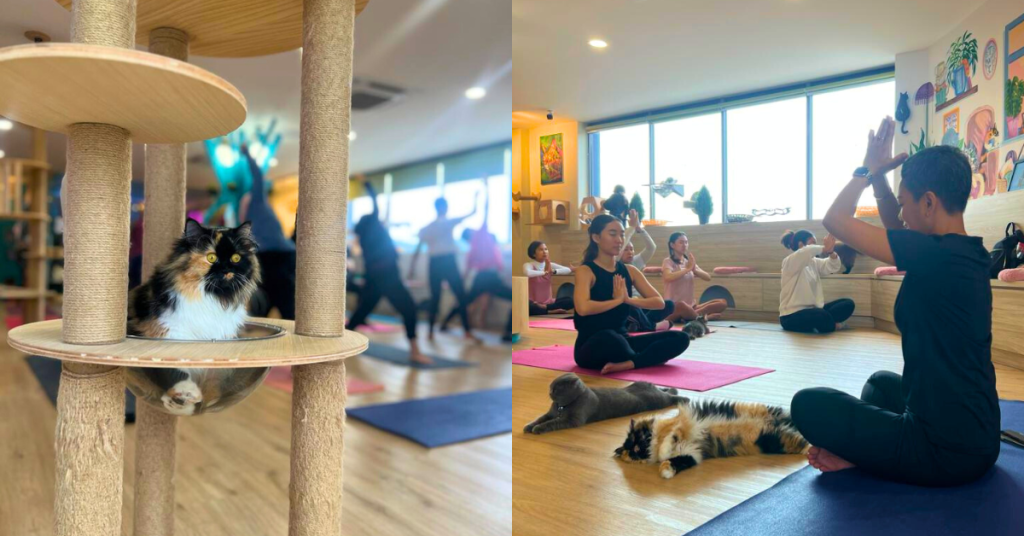 Spicing up your fitness routine in a furry and fun way
So far, Hazlina shared that Yogcats' participants share the same views as her and found that the playfulness of cats added an enjoyable element to the fitness activity.
"Basically, the whole idea is to educate people that if you have a cat at home, you can still do your yoga perfectly. And Yogcats provides you with the experience that this can be done," she said.
"Our participants change every session as we want to give everybody at least one time to try it out. We do have tourists from Indonesia, Singapore etc. who were willing to wait and register for the Yogcats (as spots are limited and on a first come, first served basis)."
The activity is held on most Saturdays and is guided by certified yoga trainer Atilia Haron from Hippie Hub (a yoga studio).
Registrations are usually posted on the brand's Instagram page upon confirmation of Atilia's availability. And yes, if you're a cat owner yourself and would like to bring your furbaby along, you're welcomed to.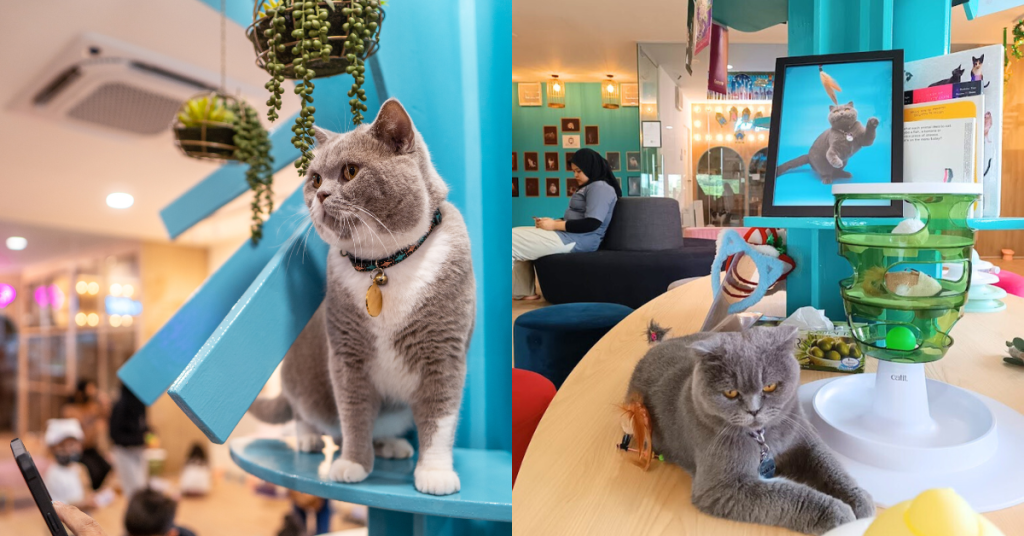 But do note that this is subject to the assessment by Rocky Cat Club's in-house Cat Care Consultant. So it's best to ensure your cat is neutered/spayed, has its vaccinations up-to-date, and is free of fleas, fungus, and flu.
Only the best of the best will do
"Our ultimate goal is to provide the best of everything for our cats, to create trust and value creation with the cat owners on the quality of our services and products. [And] last but not least, [it is] really about creating awareness to the community about cats," Hazlina shared.
In line with that, Rocky's Cat Club has been conducting free seminars in collaboration with Dr Tan, the co-founder of PetFIT. Hazlina shared that so far there's been two seminars, the most recent one on September 10, 2023, was a talk on cat fleas, ticks, lice, and mites.
"We have a few more seminars and education series in the pipeline that we are planning to do with the Department of Veterinary Services (DVS)," she said.
Fun fact: Paw Seasons Hotel is licensed by DVS. Some of the requirements for the certification include cleaning the litter three times a day and having good ventilation around the cat hotel area.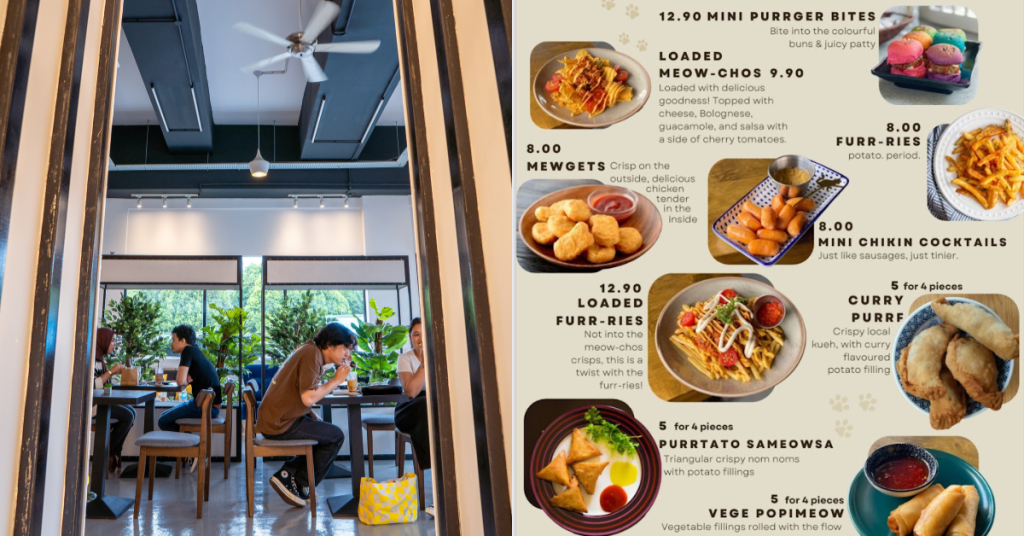 All that said, Hazlina explained that despite having many customers requesting for Rocky's Cat Club to be opened in areas like Damansara, Putrajaya, and Cheras, the expansion won't be happening anytime soon.
"This (opening new branches) requires a great deal of investment and commitment," she shared. "Maybe in the next one to two years when the business has matured, I may consider."
"The reason why RCC is successful the way we are now is because I'm fully involved in the operation and activities. Having another outlet would mean I have to split my time and at the moment, I do not want to take that risk as quality may be compromised."
It's not surprising that Hazlina is particular about the quality and how RCC is received, seeing that she and her husband, Zailani Ali (whom she named as her advisor and sparring partner), have invested close to RM1.5 million in the business through their own savings.
With such dedication to the business, on top of working full-time as Senior VP at a local bank, it seems that Hazlina has her work cut out for her. But as the saying goes, passion is the soul of success.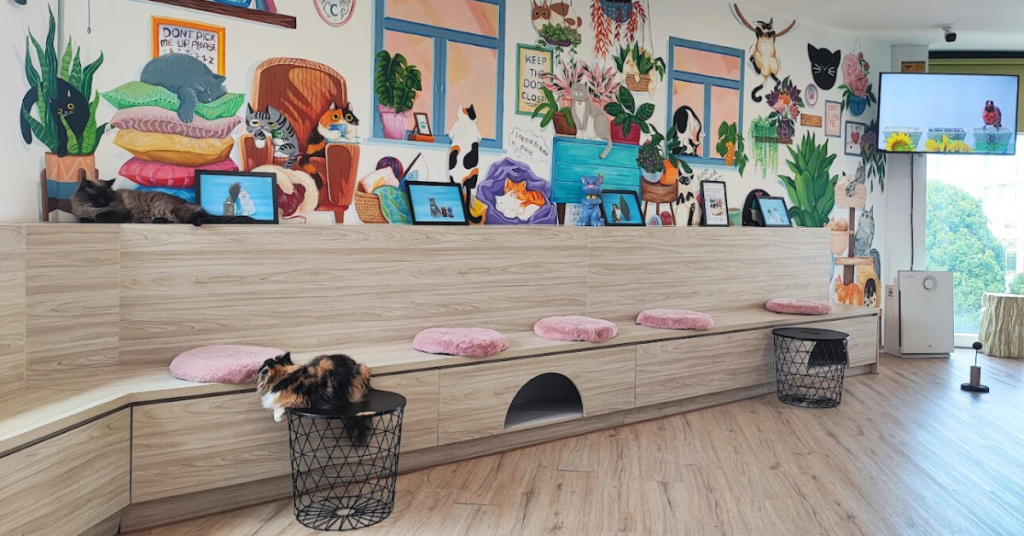 Featured Image Credit: Rocky's Cat Club