The year was 2014 and Edwin Chan was in his home kitchen. Self-proclaimed to be young and naive at the age of 24, he challenged himself to master one of the hardest desserts—macarons.
Beat your egg whites too little or too much and you're left with flat macarons. Fold in your powdered sugar and almond flour a few too many times and the tops crack or "feet" don't appear.
Its notorious reputation was exactly what prompted Edwin to master it. "I mean, everything else becomes easy by comparison," he explained to Vulcan Post. "That's when I realised, after getting the hang of macarons, desserts are really fun and could bring smiles to many more people in a celebration."
And what would you know, luck was on his side. This was the period when the demand for dessert was booming, and people were on the lookout for good-tasting and visually appealing treats.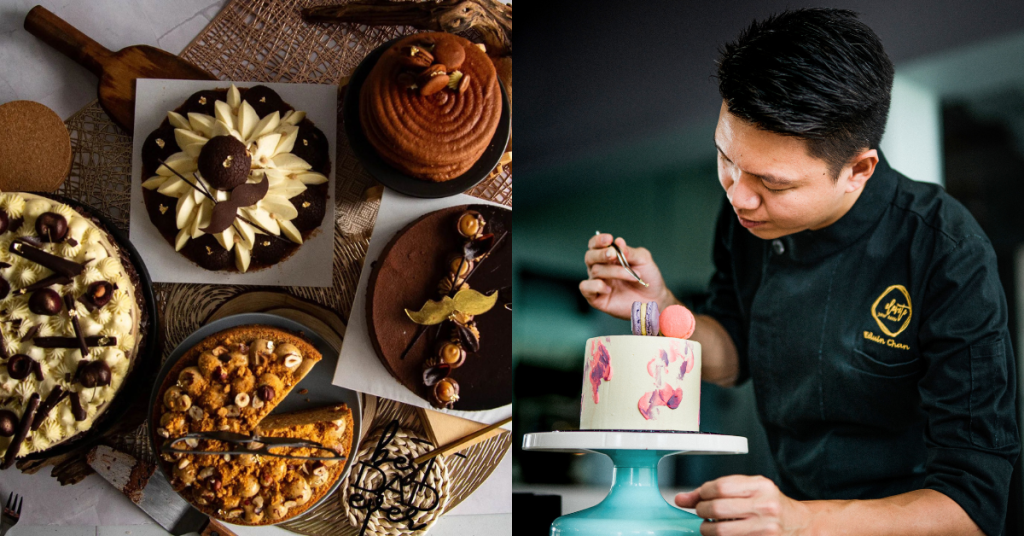 So with a KitchenAid mixer and oven, Edwin started Elevete Patisserie and didn't look back.
It's been six years since we last spoke to him, so we caught up with the founder after learning of the brand's recent halal certification.
Developing customer relationships is crucial
"Dessert is a good business to start from home and it creates good engagement with customers face to face. People will always need desserts and that is why this industry is here to stay," Edwin stated.
The now-33-year-old chef shared that he started off relying primarily on word-of-mouth marketing. Customers would recommend the dessert shop to others they knew, and the brand's name would spread from there.
To this day, he still credits these positive feedbacks for being Elevete Patisserie's strongest marketing tool.
But of course, in order for that to happen, your products need to speak for themselves. In his case, the brand prides itself on serving up "comfort and adventure on a plate" without the use of artificial flavouring.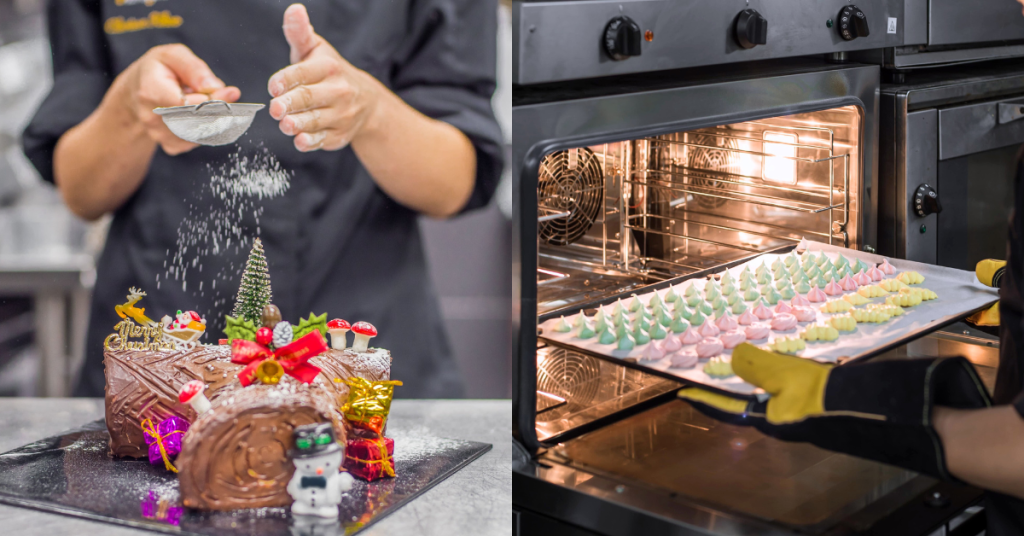 So whether it's one of their artisanal cakes, tarts, macarons, or brownies, he assured that the brand uses real and natural ingredients.
Yet, the pricing is kept at a rather standard rate for desserts. It ranges from RM69 for a Box of 12 Assorted Macarons, to RM688 for a Luxe Dessert Table Package (inclusive of a designer cake, 50 pieces of cupcakes, and a tower of 50 assorted macarons).
"I always believe in affordable treats that still taste amazing using top-notch ingredients. Because the more folks we can serve, the more they'll keep craving those delectable desserts. And in a whole, it would improve the industry by the demands for better quality desserts," he shared.
Growing in products, size, and reach
The name "Elevete" is a blend of the word "elevate" and the founder's initials. Deriving from Edwin's desire to take modern day desserts and put them on a pedestal, he's also incorporated his spirit for challenges into the brand as well.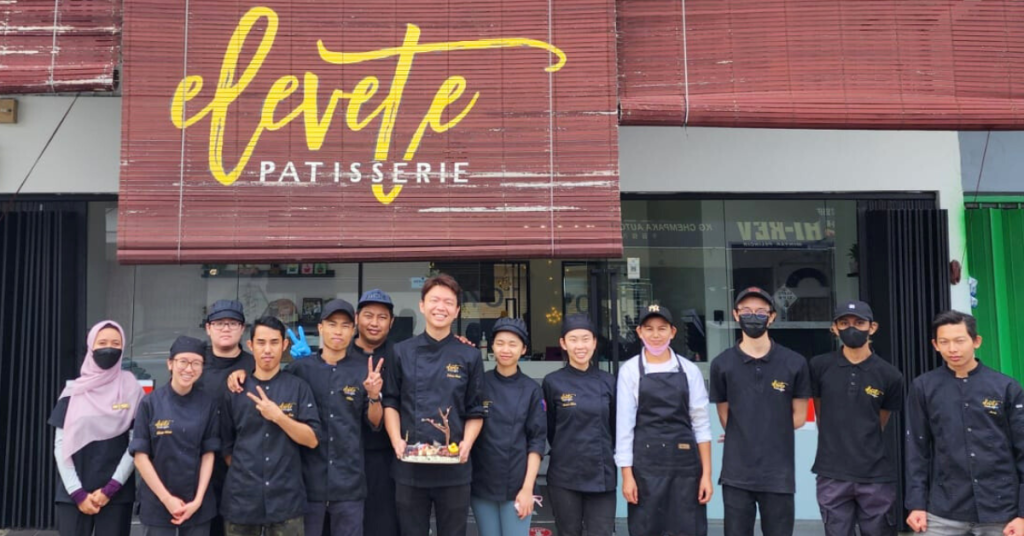 The founder explained that this is especially highlighted in the brand's continuous pursuit of new baking methods and ingredient combinations to "catapult taste buds" to new heights.
From a one-man show to a now 30-man team, the KL-based dessert shop made a conscious decision to stay lean. Whilst some businesses would expand in the form of cafes, Edwin was focused on creating artisanal desserts.
"Since day one, the focus is in the kitchen and we stuck to our strengths," he stated. The brand leveraged the internet to gain customers instead of offering a dine-in space. First through social media, then they grew to running a full-fledged ecommerce website.
This allowed them to grow their services even more. Customers no longer have to wait too long to satisfy a sweet-tooth craving. You can order a treat from their platform and have it delivered to your doorstep within the same day.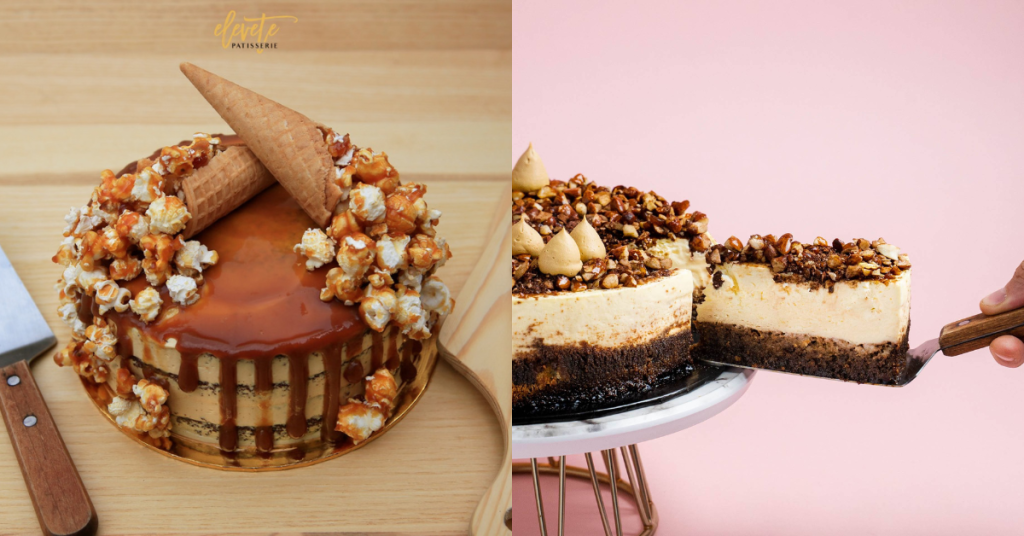 What's more, the dessert brand has gained entry into AEON IOI City Mall, as well as expanded into Singapore.
"We're thrilled to announce that in December 2023, you can find us at IKEA Singapore too!" Edwin proudly exclaimed. "And we're gearing up for even more expansions. Our goal is to be in all 35 AEON outlets (in Malaysia)."
But of course, it hasn't always been breezy
Speaking candidly to Vulcan Post, the founder shared that the brand has had its fair share of hiccups.
Back in its early days, Elevete Patisserie's lack of experience meant that its macarons didn't quite meet the mark for store shelves.
"I can still recall the owner's candid feedback, which was tough to swallow. They essentially told me our macarons were less appealing than dog food (meaning dogs also don't want to eat!)," he confided. "I won't lie, I went home feeling pretty defeated and cried."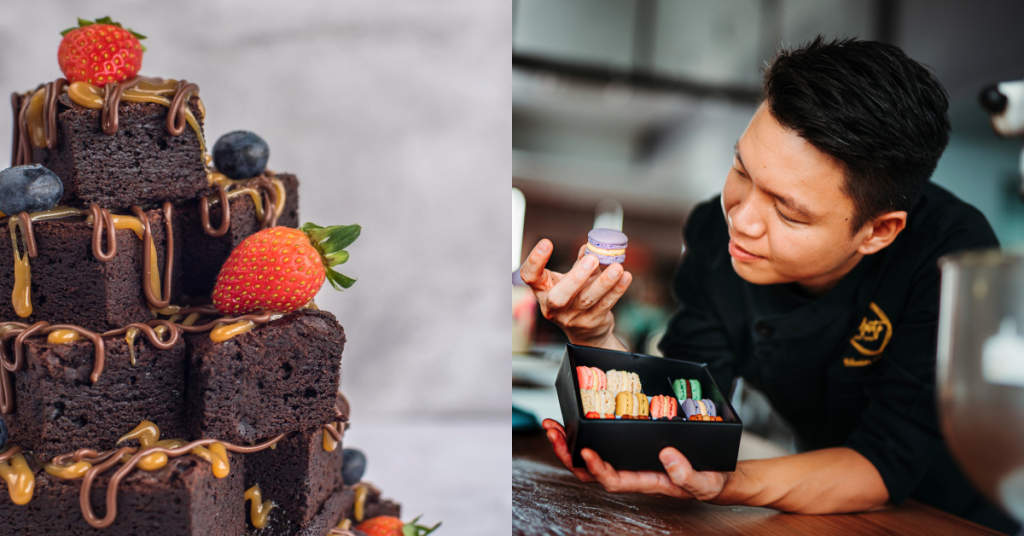 However, instead of giving up, he took the harsh critique to heart and went on a mission to improve the brand. "And guess what? Our biggest breakthrough came when we had the most challenging customer as the first few customers to please. That's when our inner Spartans emerged," he declared.
On a more personal note, Edwin's biggest lesson throughout Elevete Patisserie's 10 years might be controversial to some—​​the customer may not always be right.
That said, he emphasised that it's crucial for businesses to understand how to filter and prioritise feedback effectively.
"For us, feedback from our main customer demographic (women aged 25 to 45) carries more weight. They're the ones who can provide the most valuable insights, especially when it comes to sweetness levels, portion sizes, and overall value."
With such data, the brand is able to fine-tune its offerings to match what customers actually desire.
They have much bigger plans in store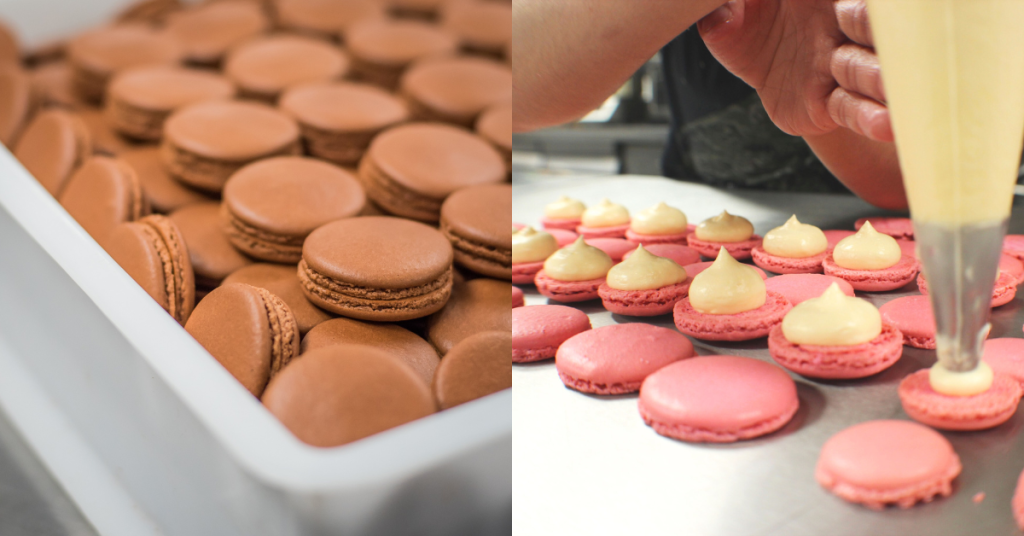 In terms of Elevete Patisserie's future, Edwin stated that the brand's roadmap is quite aspirational. With international expansion topping the list and an increased focus on exporting its products.
Having secured its halal certification to be more inclusive, the brand wants to further elevate its production standards through ISO and HACCP certifications. At the same time, they're looking to diversify the business, with plans for kiosks, new products, and fresh concepts like private dining experiences.
"Team growth is vital to us [as well]. We're not just expanding externally but nurturing intrapreneurs within our ranks," the founder said.
Currently approaching the RM10 million revenue milestone with their sales over the past year, Edwin and his team have their sights set on increasing it up to five folds or higher. 
"We're committed to maintaining this profitable trajectory as we work towards our ambitious expansion goals."
Learn more about Elevete Patisserie here.
Read articles we've written about Malaysian startups here.
Featured Image Credit: Elevete Patisserie