Lately, there's been a rise in the number and variety of pet cafes in Malaysia. Aside from the usual cat and dog ones, there's also a reptile cafe, a duck cafe, and an alpaca cafe.
They're all quite attractive, offering customers a chance to spend time with furry, feathery, or even reptilian animals. But one thing we've noticed is that many of them focus more on the animals, where the food and drinks offered come secondary.
However, Poppy Kat isn't like that. At this KL-based cat cafe, Peggy the founder shared with us that their main priority will always be F&B. "F&B is our job, our cats are our family members, simply put."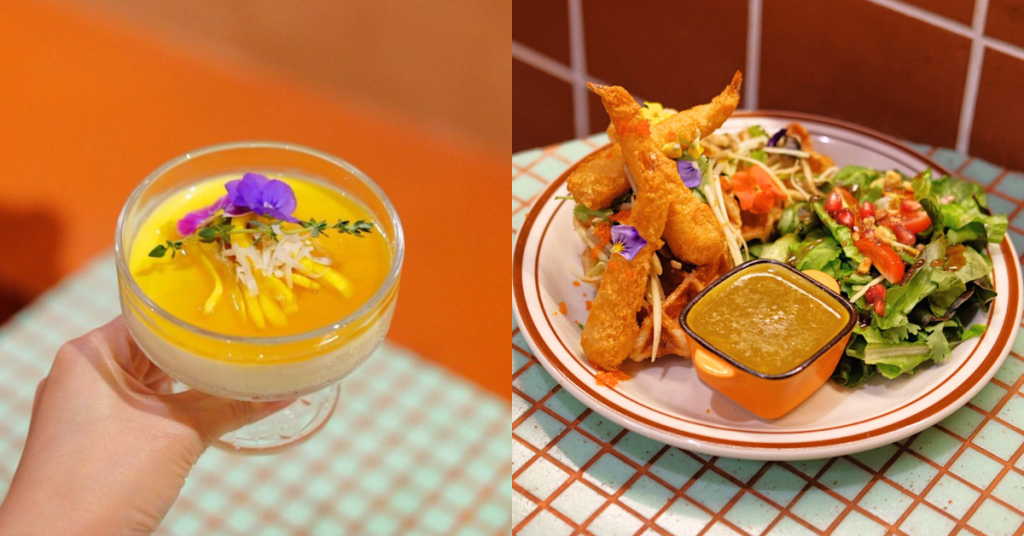 And most of the 330 Google Reviews Poppy Kat received seem to agree with this. Our boss, Sarah, who's visited several times before, also described it as a cafe that just so happens to have cats.
This shouldn't come as a surprise, though, as Peggy explained that it hadn't been her intention to open a cat cafe.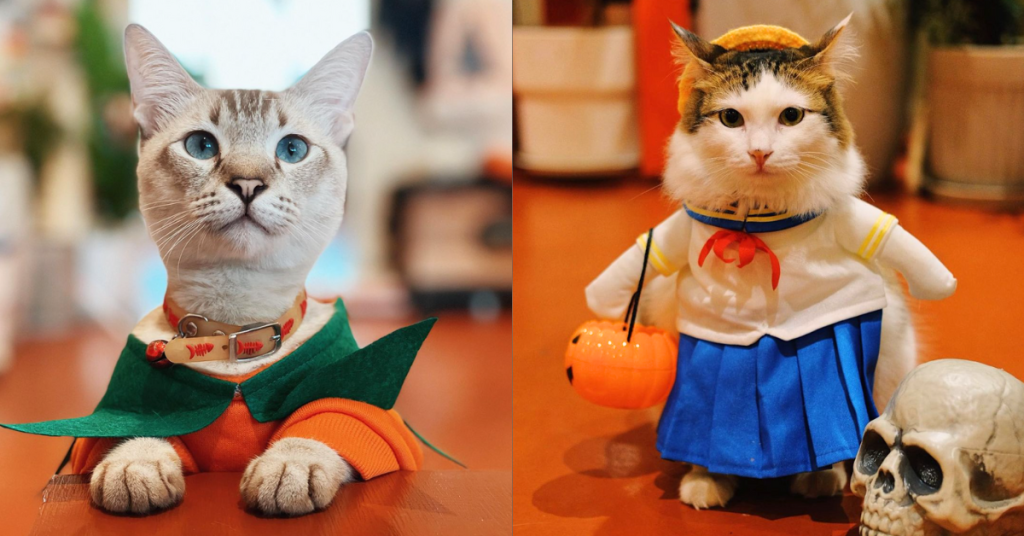 Born out of a love for coffee
Peggy had always been interested in coffee. First having it at the tender age of 12, coffee later played a big part in her dreams. So much so that when she had the chance to live in Melbourne, her main aim was to work as a barista.
She worked her way up from a regular wait staff to eventually learn all there was to know about coffee. That is, until her visa ended and she returned to Malaysia at the end of 2017.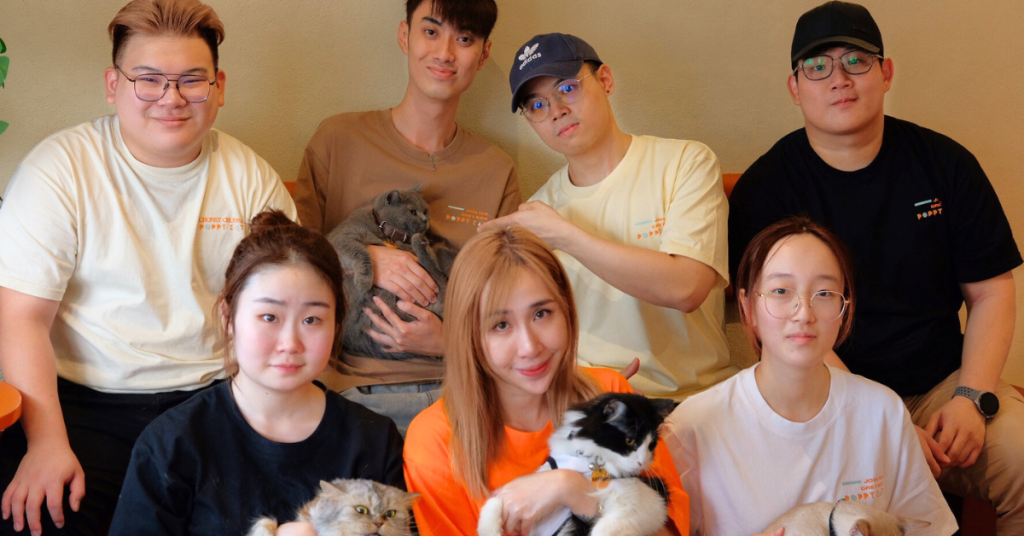 But that didn't stop Peggy from pursuing her coffee passion. Throughout 2018 to 2020, she opened up coffee pop-ups until right before the pandemic. And not long after, she decided to start Poppy Kat cafe in 2021 with her younger brother, Vincent.
It was in the midst of renovating the cafe's space that she stumbled upon a litter of five kittens in the alleyway. A day later and with no cat mum in sight, Peggy decided to rescue the furbabies and brought them home.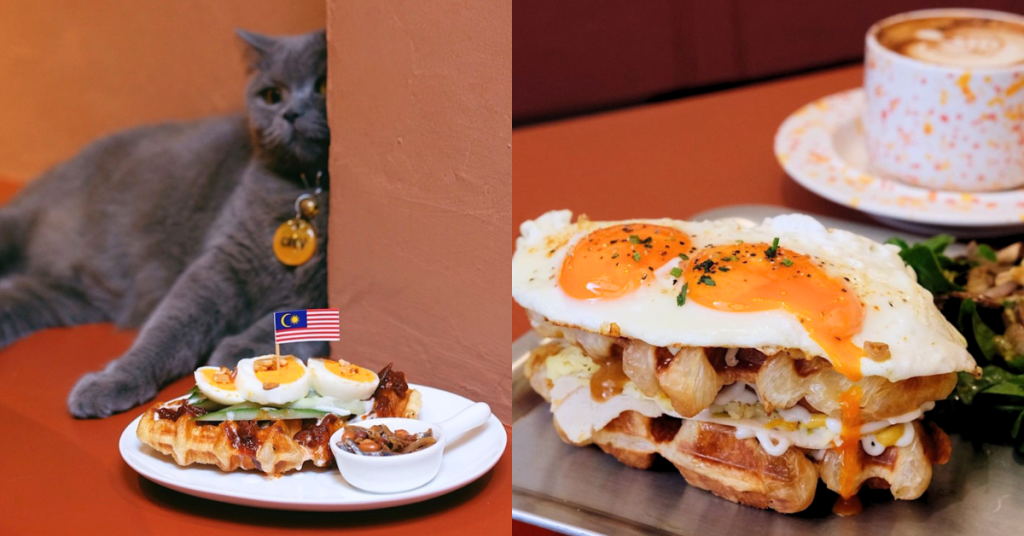 "My mum requested that I not put them at home and put them in the cafe instead," Peggy said. Hence, a cat cafe was born.
From two to nine furbabies
Out of the five kittens, the now-35 year old founder shared that she adopted two of them and named them Mimi and MeowMeow. They're now retired back at her home and no longer "come to work", as Peggy affectionately put it.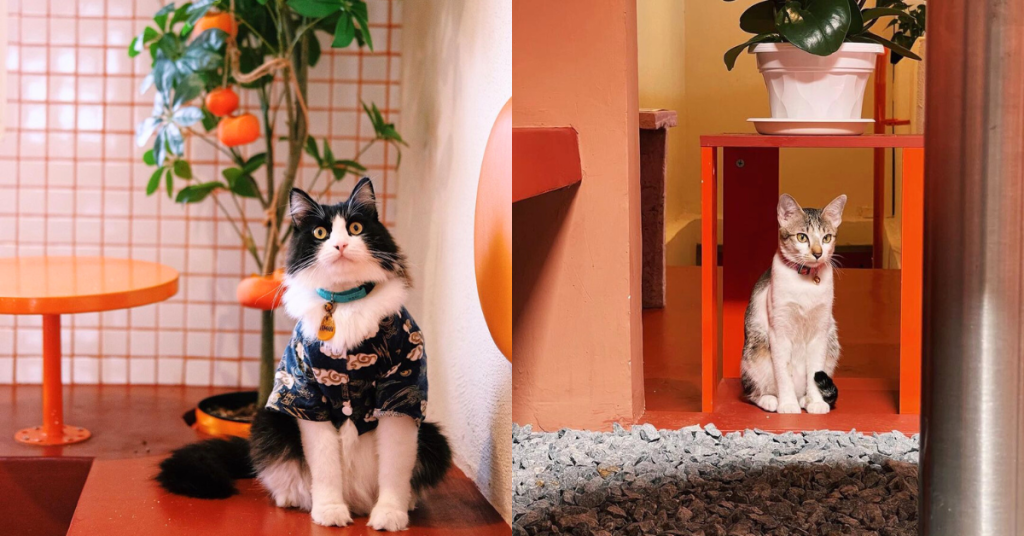 Instead, the resident felines at Poppy Kat have grown to nine other adoptees. All of them were either saved from the streets or sent to Peggy through the "cat distribution system", which ranged from a chance meeting at the vet to a literal fall-in through the cafe's ceiling.
To ensure that all the cats are comfortable and not stressed, however, they've limited the intake to just 10 cats. The last spot is reserved for a special guest to come in. "Our cafe is orange-themed but we do not have an orange cat in our cafe. [We're still] waiting for the special one."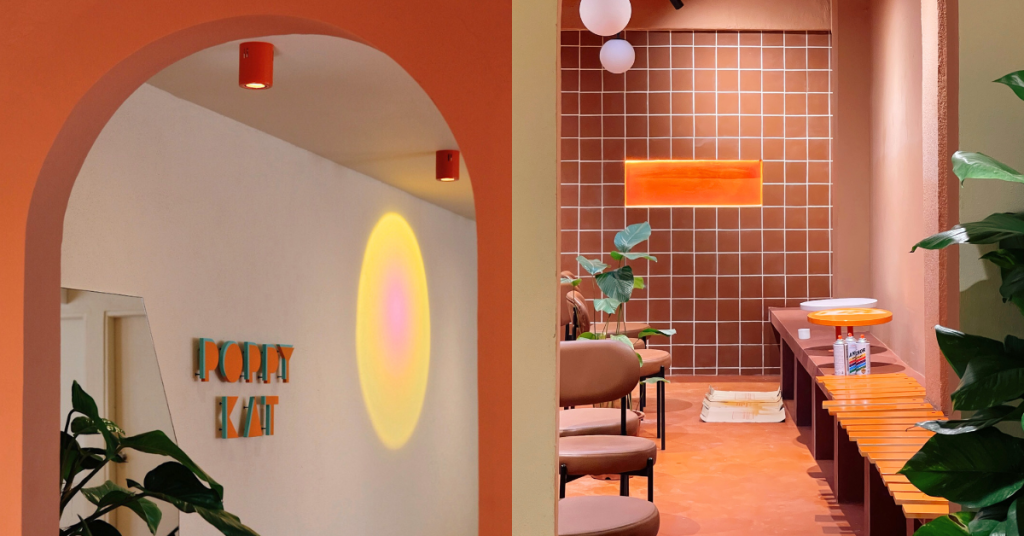 So for now, customers can visit to spend time with the nine cats they have. And if you're feeling generous, you could even buy the cat treats sold in-house to feed them, or even bring some back for your own feline friends.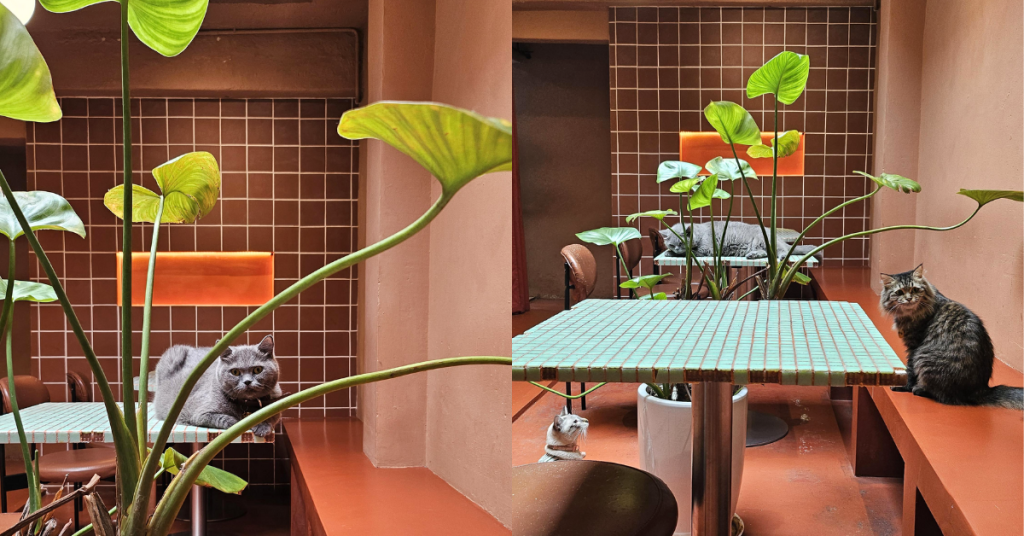 There are no entrance fees at Poppy Kat and no time limit imposed on customers (unless there's a waiting list on weekends). But do note that there is a minimum one order per person policy. Peggy explained that this is to ensure that the cafe can sustain itself and give the best life to its fluffy residents.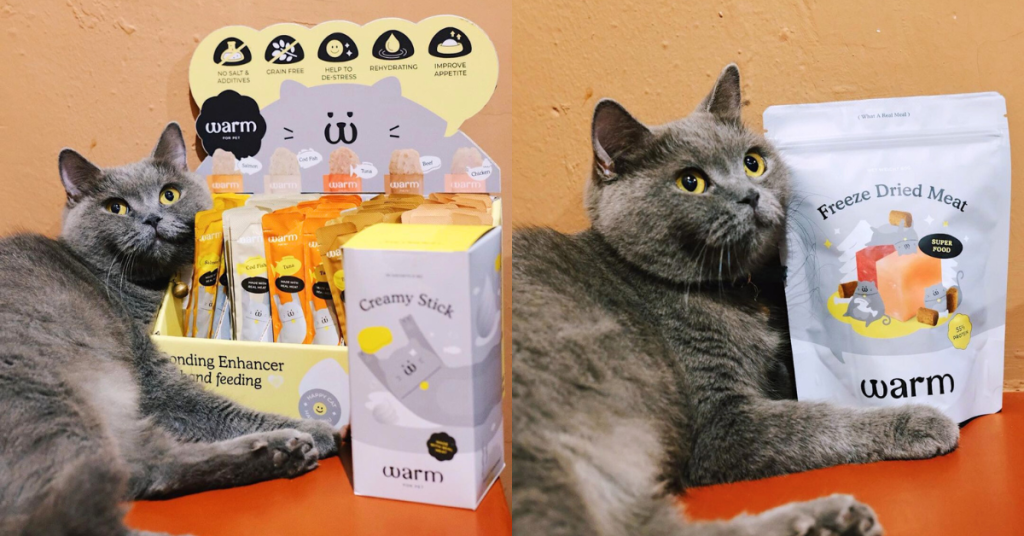 Good food and good company
Despite their regular appearance on Poppy Kat's social media pages, you could say the main stars of Poppy Kat aren't the cats. The cafe actually heavily emphasises its food offerings. "We want to change the misconception that pet cafes generally do not sell good food and drinks," Peggy shared.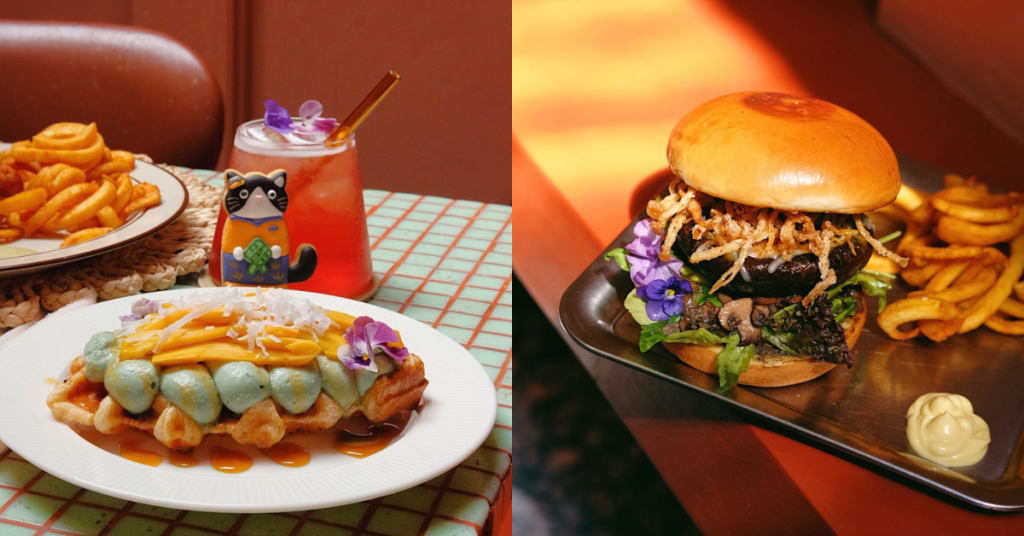 "We're unsure of other pet cafes' business approach. But for us, we never had the idea of earning money through cats. Everything just fell into place and by fate they became our cafe's family members."
There, you can find an array of fusion dishes to choose from. This includes its Brioche Bun Burgers that come with various fillings (like Green Curry Soft Shell Crab and Mentaiko Fried Chicky), as well as its savoury and sweet croffle series.
The founder shared that part of their must-try menu items are the Japanese Curry croffle and Bubu Chacha drink. "Fusion is what we focus on because as Malaysians, I feel that anything too Western will make us feel jelak (bored)," she confided.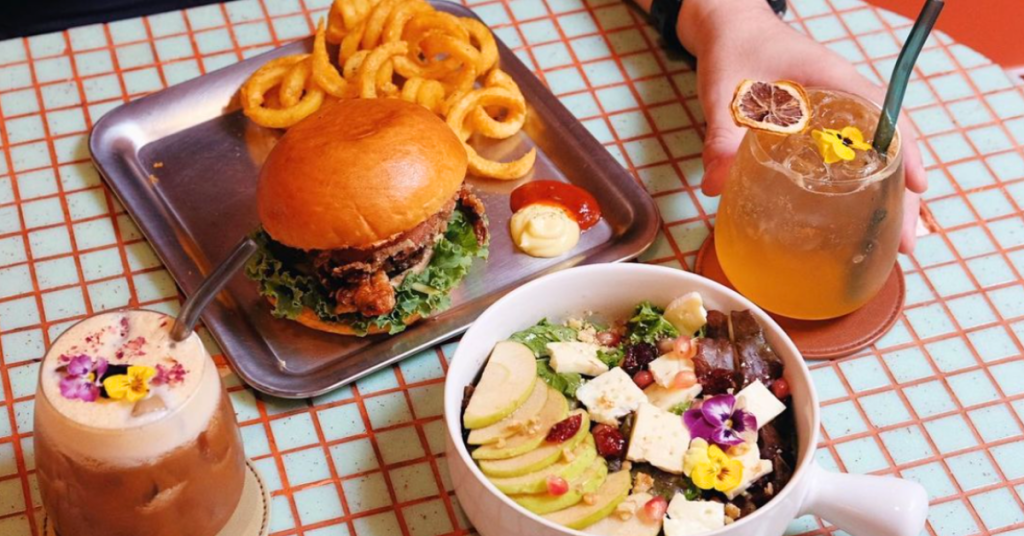 Advocating for the welfare of strays
When asked what her goal with Poppy Kat is, Peggy stated that it's to introduce people to the quirky attitude of cats. "They have a bad rep of being cold and evil, but that's a misconception we would like to change."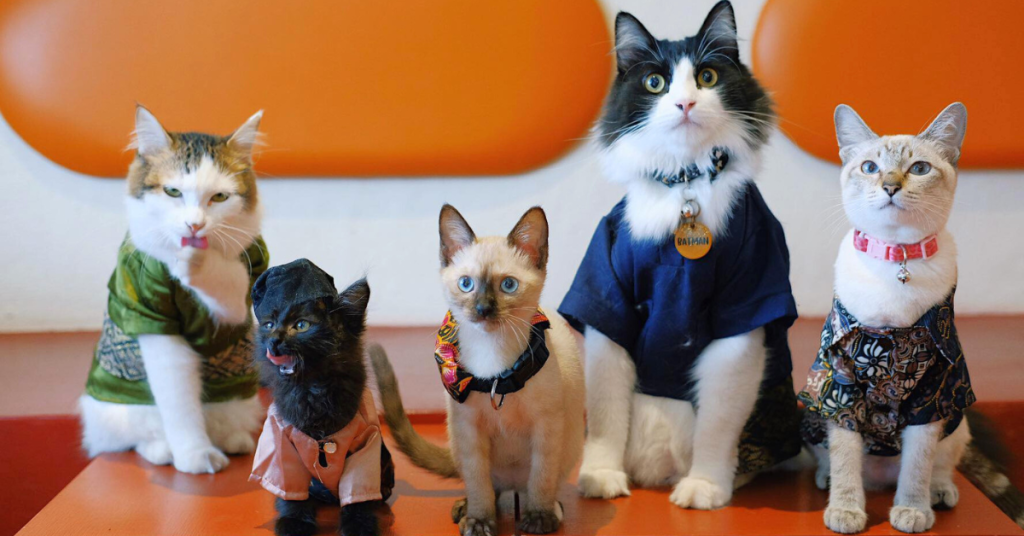 "We often get surprised reactions (from customers) that our cats are all adopted. Through this, we want to let people know that as long as we show cats the love they deserve and take good care of them, they will thrive."
In this manner, the cafe wants to encourage people to adopt as we have too many strays on the streets. At the same time, they hope that providing a space for people to interact with felines could help boost their mental health.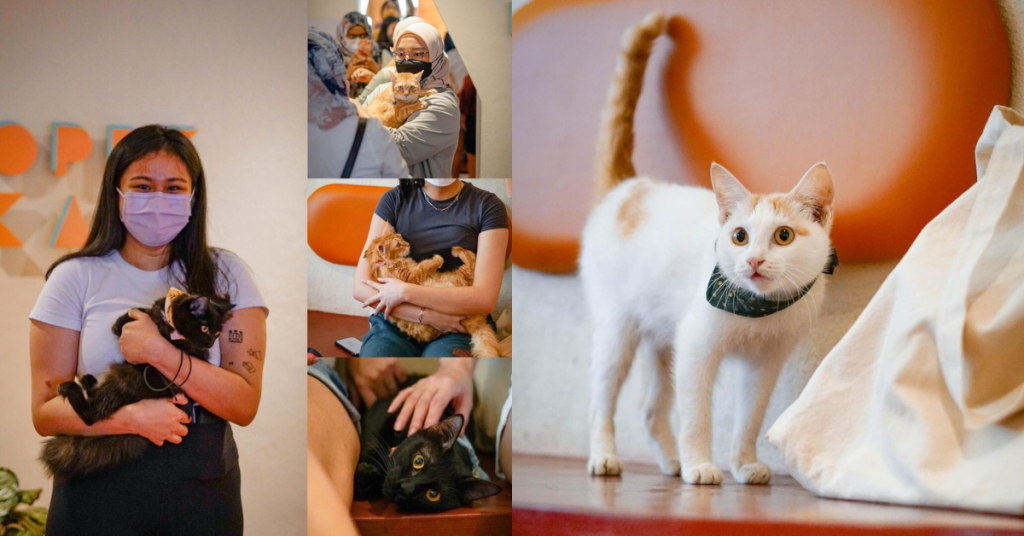 Even though the cat cafe was not her plan at the beginning, Peggy confided that she has never doubted the decision. In fact, every so often, she shared that she would feel very happy about it. "This is really the best of both worlds."
With pet cafes mushrooming around the Klang Valley, it's heartwarming to see a brand setting an example by paying close attention to the wellbeing of the pets while also still offering good food.
If more businesses were to follow this lead, I believe the pet cafe scene would change for the better and be more welcoming to both people and pets.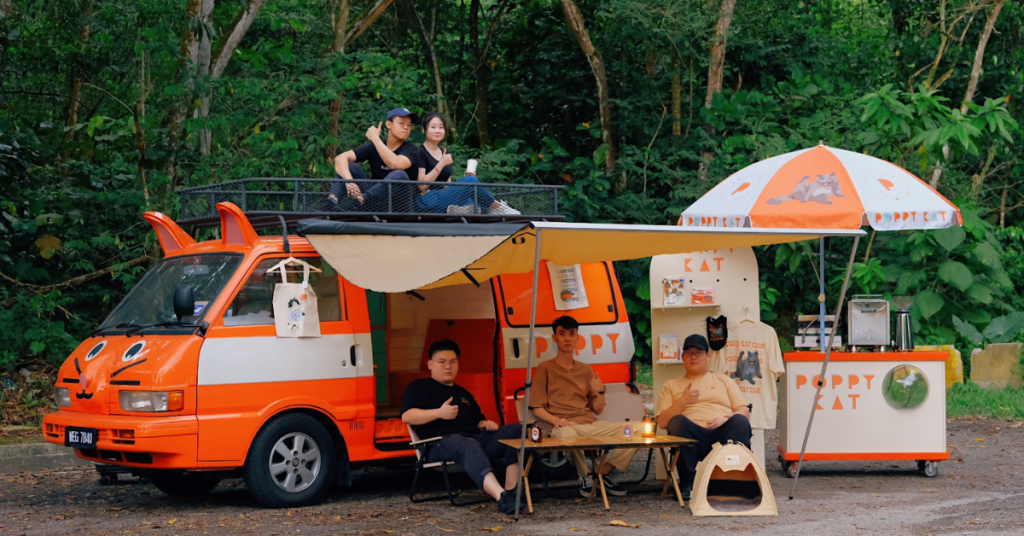 Featured Image Credit: Poppy Kat