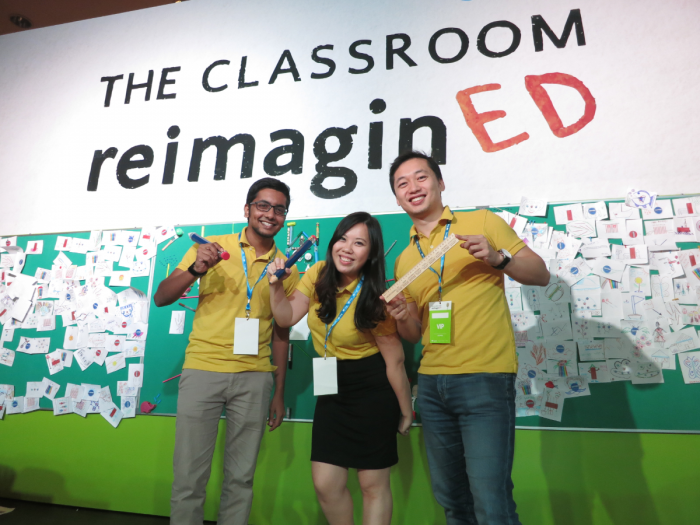 A young teacher from Sekinchan recently found himself in a tight spot where he lacked in a huge sum of money. Nigel Sim's students had just invented all sorts of useful thingamabobs like vacuum cleaners and automatic recycling bins. Hence, naturally the 26-year-old had wanted to showcase the kids' inventions to the world, and he had found the perfect platform, the Kuala Lumpur Engineering and Science Fair.
However, with a perfect plan in place, Nigel knew he still needed RM2,500 to fund the accommodation, transportation, food, and team T-shirts for the trip. All in all, he just wanted to provide an experience for the students that they won't soon forget, and that was when the Teach For Malaysia Fellow reached out to 100% Project.
After 5 days, Nigel found himself with RM3,005—far more than he had initially expected—all thanks to the crowdfunding platform for primary and secondary level education.
A Platform Aiding Students Financially
[caption id="attachment_449701" align="alignnone" width="700"]
Image Credit: 100% Project[/caption]

100% Project has been helping teachers just like Nigel achieve funding for their student-related projects, since their inception in October. The startup first sources for passionate teachers who need the money to improve their classrooms, organise field trips or implement some of their more innovative teaching ideas.

Following that, the startup will engage the public and connect them to these teachers, so we can all have a chance to contribute. Though 100% Project are new to the startup community, they have already seen two projects being fully funded within the first few days, and by two weeks, half of their projects were completely covered financially.

[caption id="attachment_449702" align="alignnone" width="700"]
Image Credit: 100% Project[/caption]

Money is an important aspect in many people's lives and they don't seem to part with it very easily, but 100% Project had been very convincing with their idea, so much so that they actually had to hold back their marketing efforts at one point, because they were quickly running out of projects to fund.

Andrew Yong, co-founder of 100% Project shared, "We've been surprised and encouraged by how supportive the public has been—it's really affirmed how we Malaysians have always been strongly supportive of education and our teachers, it's just that we've lacked, until now, an easy channel through which to help these teachers."

Also Read: 150k M'sians Still Live In Darkness, Here's How You Can Light Up 2 Villages This X'mas
Gaining The Trust Of Society
[caption id="attachment_449711" align="alignnone" width="700"]
Image Credit: Andrew Yong[/caption]

However, it isn't just a case of take the money and run with it, because public trust is something very sacred to the team consisting of fellow co-founders Amelia Tan and Karthik Karunanithy. They take the responsibility very seriously and have committed early on that 100% of donors' contributions will go directly to classroom projects and every disbursement to their projects will be open for public review.

What that means is that there will be a public Google spreadsheet where anyone can see every transaction receipts out of their accounts to the project recipients. To ensure that the funds are not abused, the three are backed by their own team who will vet teachers and observe project budgets closely.

It does not stop when the projects are fully funded as well, for the team will still be tracking the execution of funds and subsequently reporting the impact made on the students. This is because the ultimate goal for the startup is to keep the quality of teachers and projects high and that is a non-negotiable criteria for them, even though they wish to grow their platform at a quick pace.
Partners In Support Of Education
[caption id="attachment_449741" align="alignnone" width="700"]
Image Credit: 100% Project[/caption]

Thus, it helps that 100% Project has managed to rope in several partners to aid in their pursuit of helping educators fund well-meaning projects. Andrew said, "We proposed a win-win partnership whereby startups such as FoodPanda and KFIT can increase traffic to their websites and help teachers raise funds at the same time."

Partners can use 100% Project as a platform to market their services by offering contributors' perks in the form of discount vouchers to their services.

Besides achieving success in garnering partners, 100% Project also became a a social enterprise that is supported by the Malaysian Global Innovation & Creativity Centre (MaGIC). This is because they were chosen as the pioneer group for the MaGIC Accelerator Program in South East Asia.

Andrew said, "There's a lot of genuine people in our cohort—do-ers and change-makers—and it's a great and supportive vibe. MaGIC is doing a great job building the ecosystem and has really helped us by connecting us to a network of mentors which is incredibly valuable when you're new to the scene."
Bright Lights Of The Future
[caption id="attachment_449721" align="alignnone" width="700"]
Image Credit: Andrew Yong[/caption]

Though being a platform whereby students will be able to achieve something significant with their lives, takes a lot of planning and connecting people to the right campaigns, the three are enjoying every step of the way.

With teachers like Nigel Sim, there are plenty of other heartwarming success stories such as underprivileged children scoring a field trip to the city, and broken water coolers being fixed so students can have clean drinking water to consume. It is these stories that breaks the team's heart and fuels them to continue doing what they are.

"We believe we've found a way for Malaysians to contribute and make a difference, one classroom at a time. These teachers are the unsung heroes of Malaysia. They've done and sacrificed so much but we hardly hear about them. We believe it is time for these stories to be shared with the rest of Malaysia," Andrew added firmly.

Also Read: Students Can Crowdfund Expensive School Fees Thanks To This Brilliant Startup

https://www.facebook.com/vulcanpost/posts/749073585236533