Popular chatting app LINE knows the importance of connecting people with their loved ones, and because of that, it is giving 247 of its lucky users free flight tickets to visit their loved ones.
Between December 24th 2013 and January 5th 2014, LINE will be randomly selecting 247 users who made international voice or video calls to their loved ones with LINE, and giving them a flight ticket all for free. Here's another good news, it is not just a one way ticket, but a set of return tickets to be won!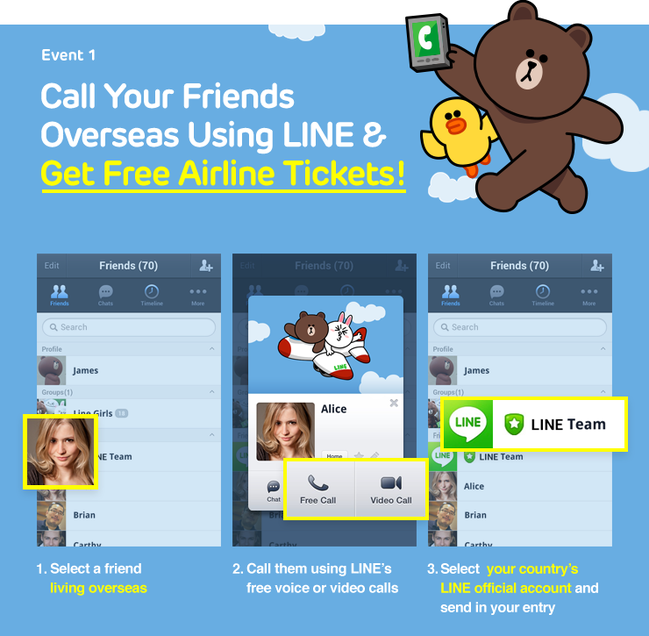 How do you be part of the consideration by LINE? Simply fill in a participation form which comes in the form of a 6 questions survey:
1) What is your LINE ID?
2)What is your email address?
3)What is your registered phone number?
4)What is your full name?
5)What is the country of residence of the person you are calling?
6)What is an interesting story about two of you?
Couple of things to note though: Calls made to people in the same country will not be counted for this event. It does not matter if you have the same nationality as long as the person you are calling is in another country. Simply making a call to someone in another country will not enter you into this event. You must fill out the required information in the participation form and send it in.
The winners will be announced tentatively on the 20th January 2014.
As of 24th December 2013 11.47pm Singapore time, over 180,000 LINE users in Singapore has submitted their information and is participating in the ticket giveaway. As a comparison, there are over 300 million total users on LINE right now.
So if you are thinking of being part of the contest, you should get started now! After all, calling someone from LINE is free!
Read also: Believe it or not, there are 300 million users on LINE right now