Instant noodles – it has always been a part of our lives.
From the late and hungry nights we spend studying for our exams, to the tortuous OT we do at work, instant noodles in packet and cup form has always been like a warm hug to our cold, empty stomachs.
Coming in the form of springy noodles in a salty broth – sin has never tasted so satisfying.
While it's common knowledge that the delicious soup is mostly MSG-ridden, and our worried mothers have continually warned us about premature hair loss which will come with our addiction, they might be even more toxic than we ever imagined.
Even Higher Risks Of Metabolic Syndrome
A study of the diets and health of 11,000 South Koreans was conducted, and participants were made to report what they ate. Researchers then categorised the diets according to if they consumed more traditional (and thus healthier) food, or fast food. It also took into account the number of times they ate instant noodles.
What the studies found was that women who consumed instant noodles twice a week or more had a higher risk of metabolic syndrome, which usually leads to high blood pressure or high blood sugar levels. What make metabolic syndrome dangerous is that it also raises your risk of heart disease, diabetes and even stroke.
And if that's not bad enough, the condition also dictates that regardless of how much exercise one does, the risk of heart disease, stroke and diabetes is not lowered.
This also means that all those Yoga sessions might go to naught if you're an instant noodle fan.
Asians, and thus most Singaporeans, are also more susceptible to accumulating more body fat at a lower body weight or smaller waist circumference due to their relatively small builds. In fact, the prevalence of metabolic syndrome has been reported consistently to range from 10 to 40% in most Asian countries.
However, men in the study who consumed instant noodles in a similar fashion did not seem to be at any risk of developing metabolic syndrome, and researchers guessed that 'biological differences' between them and women might explain the (unfair) difference.
This is not to say that we need to start throwing out all instant noodle rations, though – New York University professor Lisa Young has stated that control is key, "Number one, don't eat it every day. Number two, portion control."
Men, Don't Get Too Smug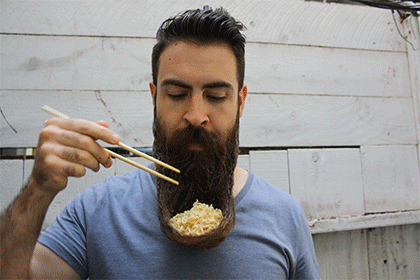 While the study revealed that men seem to be spared from the more detrimental effects of instant noodle consumption, individuals of both genders can afford to exercise more prudence in their noodle slurping.
Instant noodles are well known to be an unhealthy choice of food, mainly because of the amount of fat (if noodles are fried) and sodium (in the tasty, tasty soup) they contain.
Tertiary-butyl hydroquinone (TBHQ), a byproduct of the petroleum industry, is also added to instant noodles and processed food in general as a preservative. While the amount of it in each packet is not very high, there is no doubt that it will have detrimental effects in the long run.
If you're worried that the next packet you consume has overly unhealthy levels of a certain ingredient, though, you can rest safe knowing that the Agri-Food & Veterinary Authority (AVA) screens products for food safety, with "food products that fail tests [not being] allowed for sale".
In an index released by World Instant Noodles Association, Singapore also clinched the 32nd spot in demand for instant noodles, below the rest of its Asian counterparts. Perhaps efforts from the Health Promotion Board to get Singaporeans to eat healthier have worked? 
Regardless, just like any other not-so-healthy foods, moderation is key to both men and women, so a short walk to a nearby food centre for a healthier option definitely does you good in the long run.