In a recent International Labour Organisation (ILO) study on over 4,000 companies in ASEAN nations, it was revealed that while rapid technological advancements might bring about more opportunities for certain jobs, some might not survive in the future.
The study looked at the impact of technology on five key sectors -automotive and auto parts, electrical and electronics, textiles and footwear, business process outsourcing and retail, and estimated that about 56% of jobs in Cambodia, Indonesia, the Philippines, Thailand and Vietnam are at a 'high risk of displacement' due to technology.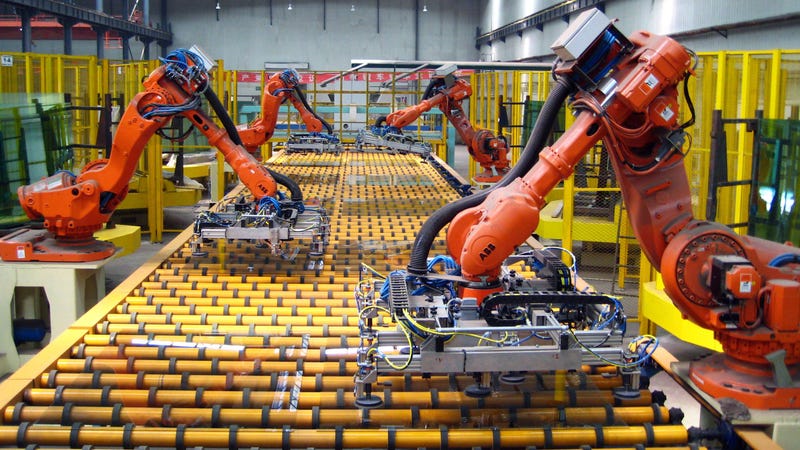 Even the workforce in Singapore, with a larger proportion being highly-skilled, have the risk of being displaced by certain technologies – in particular, robots.
For example, the higher accuracy rate of robots in accessing financial markets and working out mathematical equations make them a viable replacement for Singaporean workers.
Think about it, robot workers would also mean minimal work hours lost, given that they won't need medical or annual leave.
40% of the 507 Singaporeans companies surveyed for the study also cited the lack of high-skill workers with STEM (science, technology, engineering and mathematics) know-how as one of their biggest threats for the future, so getting equipped and educated in these areas could very well boost your employability status.
Global Trends and the "Fourth Industrial Revolution"
In a report by the World Economic Forum (WEF) revealed in January called The Future of Jobs, a trend of "business model change often [translating] to skill set disruption almost simultaneously and with only a minimal time lag" was observed, and "across nearly all industries, the impact of technological and other changes is shortening the shelf-life of employees' existing skill sets".
The report also declared that "we are today at the beginning of a Fourth Industrial Revolution".
With developments in technology creeping into so many aspects of our lives, rapidly affecting the ways in which we shop, travel, work and even live, to say that we have the luxury of time to upgrade our skills and evolve is a glaring understatement.
Mobile internet and cloud technology was also listed in the survey as the highest driver of change, with more than half of its impact already being felt.
To look out for are those with high predicted growth from 2015-17, so getting yourself familiar with, or at least, prepared for them would be the best thing you can do for yourself now.
Will Our Labour Market Be Ready?
While it's easy to take the news as a sign of worse things to come for us with our current skill sets, it simply means that we need to evolve along with the changes in the Revolution.
Labour Chief and Minister Chan Chun Sing had addressed the future of the Singaporean workforce in the face of highly advanced technologies taking over certain jobs.
He remained optimistic that Singaporeans would not lose out, but that is also not to say that complacency has room to settle in.
"People are fearful of being displaced by technology, but technology creates many new jobs. But be mindful that it depends on a whole chain of people upgrading themselves for those at the bottom to be able to move up; it means that people in the middle cannot be comfortable. If they don't move, the lower, first person cannot move. There are 2.5 million people and 4 million jobs. The problem is not total jobs, it's the fit."
Earlier in April, he also revealed that a lot more effort would be put in to provide career guidance and counselling to workers, and we can expect an announcement with regards to this at the later end of the year. There would also be added incentives for 'second-skilling' of workers, especially those past 40, to ensure that they have relevant skills even in the face of retrenchment.
What Can We Do For Ourselves?
While the initiatives promised are ones we can only wait with hope to be meted out, there are also ways in which we can help ourselves.
The SkillsFuture incentive was created to ensure that Singaporeans of all ages are able to adopt and develop skills which are relevant to the future via a wide range of courses. As a push to encourage more to take up the programmes, $500 worth of credit was deposited into the accounts of Singaporeans over 25, with periodic top-ups announced to be given out from time to time.
Local employers have also seen the importance of keeping their workers upgraded, especially in the face of change. For example, Singtel gives their workers 2 additional days of leave a year to attend SkillsFuture courses, while DBS and OCBC tops up their employee' SkillsFuture credits.
For the rest of us, our $500 base isn't that bad either.
Scouring through the long list of courses available if you don't have a fixed idea of what you want in mind is tedious, but using terms from the graph provided by the WEC study above, like "mobile", and "big data" might be a good start.
So, are you ready for the Revolution? – Vulcan Post
Feature Image Credit: digitaltrends.com