[This is a paid article with Samsung Malaysia.]
Despite flagship prices going above the RM5k line nowadays, some people in the market are still willing to pay the premium price because they want the best and the latest devices they can get their hands on.
When you think about it, a mobile phone is something that we use daily, so it could be worth the money to some. But, a pricey flagship does have its advantages and uniqueness. And that's what the Samsung Galaxy Note20 Ultra 5G offers.
Priced at RM5,100, you would expect a phone that is as powerful as a laptop and in this case, it can be. In fact, the Galaxy Note20 Ultra 5G can be your laptop, tablet, and camera all squeezed into a rather large mobile device.
An amazing display? Check. An upgraded S Pen? Check. And a decent battery with a powerful processor? Check and check. But instead of going through the regular list of specs, here are a few reasons why I like the Galaxy Note20 Ultra 5G.
1. Take Notes Like A Pro
Depending on your profession, the Samsung Notes app can be a very useful feature. Even if you're not a note-taker, having the option to do so could just convince you to pull out the S Pen and start jotting down notes and ideas.
The app got an upgrade in the form of note-straightening, writing-to-text and voice notes capability built into it. If you're like me and struggle with writing straight notes or even recognising your handwriting, these could be useful for you.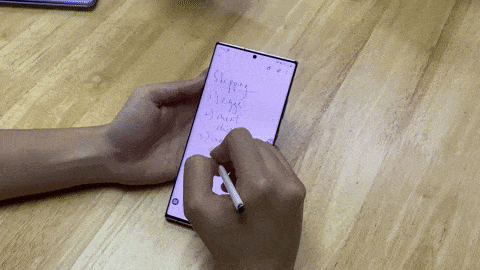 On top of that, let's say you're in a business meeting and you're recording audio and taking notes on the Samsung Notes app. The new voice notes feature allows you to go through the recording later and pinpoint exactly when you made any notes during the meeting.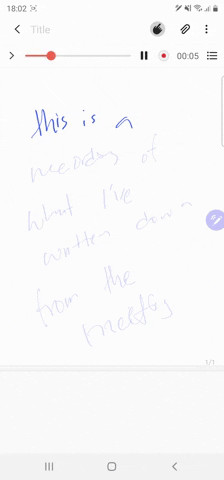 2. Reduced S Pen Latency
The 9ms latency of the new Galaxy Note20 Ultra 5G S Pen now rivals the Apple Pencil. It also provides a more intuitive and natural writing experience.
This means that the 'ink' that you're trying to draw with on the phone is reflected as close to the nib of the S Pen as possible. The difference is noticeable compared to the S Pen on the Galaxy Note8.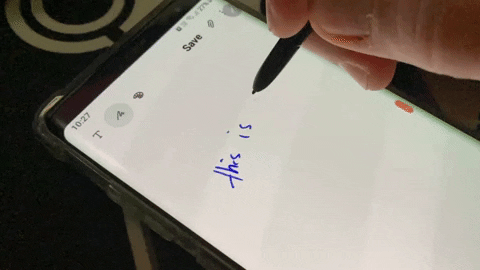 3. Use Your Phone Without Pulling It Out Of Your Pocket
Born from the collaboration between Samsung and Windows, you can now seamlessly link your phone to your Windows.
Note: The 'Your Phone' is an app present in the Microsoft Store on your PC, but it comes with some new features and it even allows you to access other apps on your phone thanks to the collaboration between the two companies.
To link your phone to your Windows, all you have to do is fire up the 'Link To Windows' feature on your phone, sign in to your Microsoft account, then go to the 'Your Phone' app on your PC and link them together.
Once that's done, you can launch mobile apps via the 'Your Phone' app. And this means that you can reply to WhatsApp messages, fire up Instagram, copy and paste photos from the phone into the PC and vice versa in a simple and easy manner.
And this brings us to the next addition.
4. Connect Wirelessly To Smart TVs
Depending on the make and model of your Smart TV and monitor, you can now pair your phone wirelessly via Samsung DeX. The benefit of this is that you no longer have to be tied down by the length of your HDMI cable.
You don't even have to get up to bring out your laptop.
Just connect your phone to your Smart TV via Samsung DeX and control it using your phone. Alternatively, once linked to your Smart TV, you can play mobile games or even watch Netflix mirrored onto a bigger screen.
5. A Display Brighter Than My Future
The display is one of the best that I've used for a while now. Without sounding too cliched, the blacks look darker and the colour reproduction is superb to my eyes thanks to the new Dynamic AMOLED 2x display.
The display on the Galaxy Note20 Ultra 5G also comes equipped with 1,500 nits of brightness, so you can easily use it under direct sunlight.
Not to mention, with the Galaxy Note20 Ultra 5G, you can get up to 120Hz of refresh rate on the display. Going through menus and playing high refresh-rate capable games has never looked smoother on a Galaxy Note series device.
6. Shoot Better Photos
As per usual with Samsung phones, the Galaxy Note20 Ultra 5G is capable of taking amazing shots that are crisp and clear.
But because of the large 108-megapixel rear main camera, you'll have to readjust yourself accordingly. For example, instead of going up close to shoot a close-up shot, you just have to take a step back, shoot the picture and then zoom in post-shot.
Another added advantage to the Galaxy Note20 Ultra 5G, like the previous Notes, is the benefit of using your S Pen to shoot wefies and selfies too, so your pictures will look more natural.
Samsung Galaxy Note20 Series Launch Promotion
If you do purchase the Samsung Galaxy Note20, Samsung Galaxy Note20 5G or Samsung Galaxy Note20 Ultra 5G at launch, you are entitled to these free gifts worth RM508:
Samsung UV Sterilizer with Wireless Charging (RRP: RM299)
Samsung Wireless Charger Convertible (RRP: RM209)
Do note that these gifts are on a first-come-first-serve basis, so if you do purchase it from any participating outlets, make sure you redeem these gifts.
But if you're like me and just want an upgrade from the current phone, you can trade-in your preloved devices and get instant rebates of up to RM4,005 for you to purchase the new Samsung Galaxy Note20 series devices.
For more information on the Samsung Galaxy Note20 series, click here.
The Samsung Galaxy Note20 series launch gifts are limited, so get it while it lasts and the trade-in program ends on October 31, 2020.