Sea Limited, the parent company of Shopee, was founded in 2009. It started out as online gaming company Garena, and it didn't jump into e-commerce only until 2015.
Shopee was launched in 2015, and Lazada was already a leading e-commerce platform in the region when Shopee first entered the market.
However, Shopee quickly went from being a new entrant to taking the crown as the most-visited e-commerce platform in Singapore by the second quarter of 2020.
Rank
E-commerce Platform
Q1 2020
(Visits)
Q2 2020
(Visits)
Percentage Increase (%)
1
Shopee
5,963,300
10,879,900
82%
2
Lazada
7,786,700
8,570,000
10%
3
Qoo10
6,646,700
7,447,400
12%
4
Amazon.sg
2,833,300
3,653,333
29%
5
Ezbuy
1,031,900
1,681,800
63%
Figures from Statista
The company saw an 82 per cent increase in the number of users from the first to second quarter of 2020, gaining nearly an additional five million in average visitors.
The surge in the number of visits was also potentially driven by its strong promotional efforts through initiatives such as the 4.4 flash sale and Super Mart Month during the circuit breaker period.
Although Shopee was a latecomer to the game, we take a look at how it has managed to overtake Lazada and climbed its way to be the top in Singapore.
A Mobile-First Approach
Shopee took a different strategy early on by launching as an app first to tap on Southeast Asia's (SEA) high mobile penetration rate.
According to a study by Google and Temasek, SEA's average usage of mobile internet is the highest among regions (3.6 hours per person a day).
Shopee also noted that mobile — not desktop — is the main battleground for e-commerce in the future. Moreover, app users tend to be more loyal and spend more money per order than web users.
In fact, Shopee observed last year a 40 per cent increase in the time users spent in-app per week. This is a testament to Shopee's ability to provide more than just transactional shopping experiences.
In the third quarter of 2020, Shopee continued to record strong momentum, as it ranked first in the Shopping category by downloads, average monthly active users, and total time spent in-app on Android in SEA and Taiwan, according to App Annie.
Campaigns Featuring Relatable Icons
Shopee's 9.9 shopping event in 2019 featuring Cristiano Ronaldo and Baby Shark saw three times more orders than the year before.
The soccer star was seen dancing to a remix of the viral children's song while swiping on Shopee's mobile app in the company's advertising campaign.
It may be cringe-worthy for some, but it turned out to be a viral hit with thousands of people sharing the video all across the region.
Last year, Shopee's campaign featured mascot Phua Chu Kang, with his familiar Singlish accent as he banters with viewers and urges them not to miss the good deals on the campaign's online and offline channels.
It's clear that Shopee's campaign strategy is to use relatable brand ambassadors in order to stand out from other e-commerce players, thereby drawing more traffic and sales to them.
Shopee Adopted Lazada's Tactics And Did Even Better
Lazada saw the success of in-app entertainment features by parent company Alibaba and rolled out 'Laz Live' in June 2019, allowing sellers and invited hosts to conduct live streaming shows to engage with their users.
Termed 'Shoppertainment' by Lazada, this feature was launched in Thailand, the Philippines, and Malaysia.
In the same month, Shopee also launched the same feature. Theirs is called Shopee Live, and covered the same markets as Lazada as well as other markets.
Shopee did not stop there. Taking it a step further, they launched 'Shopee Quiz' together with their livestreaming function.
An interactive game show, 'Shopee Quiz' is hosted by familiar faces of local influencers.
To gain more traffic, they gave away Shopee Coins and multiple products from participating brands as well as allowed users to invite participants.
Subsequently, they also introduced Shopee Feed, which replicated the 'Instagram experience' on Shopee, allowing brands to hold giveaways, and enabling users to comment and 'like' posts.
The user interface is well-designed and user-friendly, featuring specially curated posts by brands and gave more credibility to the site.
Lazada had also launched a similar feed function back in early 2019, but it did not gain much traction. The user interface was not as intuitive, and the posts seemed like they were AI generated.
This, as a result, could have deterred customers from using the function.
Hyperlocalised Approach
In order to build brand loyalty and create memorable experiences for users, Shopee's business model focuses a lot on hyperlocalised activities to cater to the demands of each market.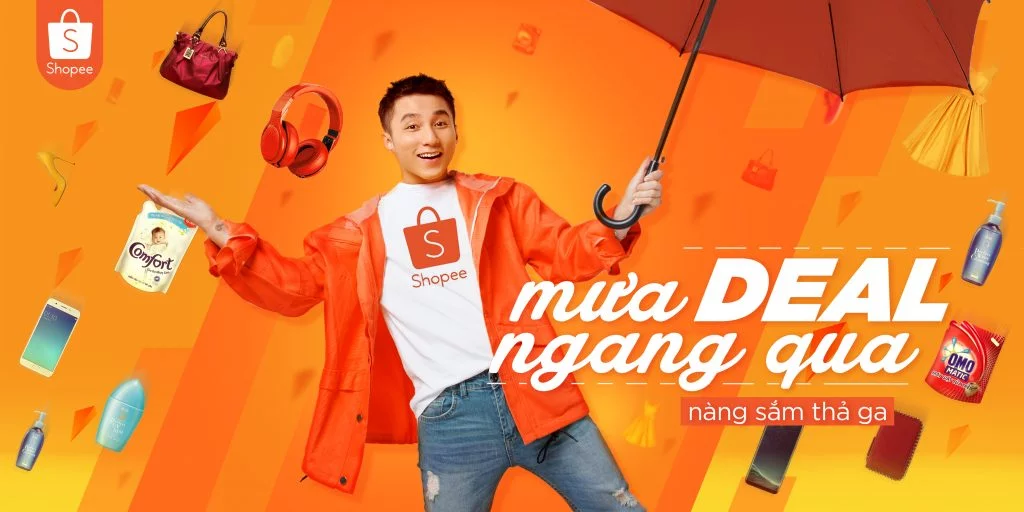 For instance, Vietnam's large millennial population of 30 per cent, or 27 million, rely on their mobile devices and demand a more personalised shopping experience.
To engage this segment, Shopee launched month-long sales campaigns and chose a popular Vietnamese actor as its brand ambassador.
Thais also view celebrity endorsements favourably, as 60 per cent of respondents in a survey affirmed that they trust celebrity endorsers.
Some of the most popular celebrities in Thailand are of mixed ethnicity, hence Shopee Thailand has selected Thai-Norwegian actress and Thai-Austrian actor/model as endorsers for their multi-faceted campaign.
Meanwhile, Malaysian online shoppers are most receptive to discounts and flash sales.
Shopee Malaysia launched a daily campaign called "Shocking Sale" which covered Lowest Price Guarantee, as well as free shipping with a minimum purchase.
In Singapore, they appointed "culture icon" Phua Chu Kang, played by Gurmit Singh, as its first Singaporean brand ambassador.
On live streams in Singapore, Shopee extended their coverage to approach local universities students and micro influencers as hosts, besides featuring celebrities and artists in their campaigns like Lazada.
By engaging less 'distant' icons, it increased the familiarity of the app to users and allowed them to associate the app as something closer to their hearts.
Shopee's personal marketing tactic also saw a more effective and long-term result.
On the other hand, Lazada tried to bring to Singapore what works in China for Alibaba. The China playbook at Lazada remains unproven in SEA.
Some strategies include temporary halts to free shipping in some markets which drove merchants to other sites, and attempts to promote bulk buying, sources said.
What has worked for the mainland Chinese market did not have the same effect in SEA.
The E-commerce Potential In SEA
With a young and large population of 650 million people, SEA is known to be the world's fastest-growing internet region in recent years.
A joint study between Google and Temasek Holdings last year predicted that SEA's digital economy will triple in size by 2025, reaching US$240 billion.
As a key driver of this economy, e-commerce is expected to be valued at US$102 billion in gross merchandise in the year 2025 as well.
In spite of the growth in e-commerce in the region, online retail constitutes less than 2.5 per cent of SEA's entire retail and accounts for only one percent of the total retail sales.
Considering the size of SEA's market, this is quite low when compared to Europe and North America, where online retail accounts for about six to eight per cent of the total revenue generated from retail.
There are also three main challenges that hinder the region's e-commerce market from reaching its full potential: limited logistics, excessive reliance on cash on delivery payments, and a lack of customer familiarity and trust.
Being in the early stages of the shift from offline to online purchases, the market is still largely under-penetrated.
Therefore, it doesn't come as a surprise when many corporations — both local and international such as Amazon or Tokopedia — are competing intensely for a lead in the game.
Shopee currently still takes the lead over Lazada while Lazada is said to be stepping up on their digital innovation and commercial development and has appointed a new CEO to drive its growth this year.
Featured Image Credit: Shopee