In a strategic move by Singapore's largest Flash Deal site, DEAL.com.sg has created a new portal, D'Luxe, for consumers to gain access to a wider range of luxury goods digitally. This latest launch appears to be an attempt for the e-commerce site to capture the growing market of online shopping but yet makes a distinction from the services provided on private retail sites such as Qoo10 and popular "blogshops" such as LoveBonito.
Instead, D'Luxe targets the demand for premium brands like Longchamp and Prada among customers and aims to provide them with the best price in the market.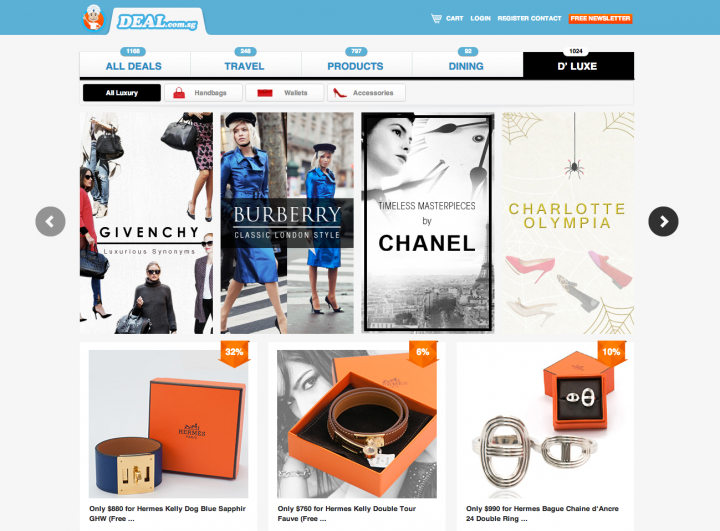 Whether D'Luxe will prove to be popular remains to be seen but there are some main obstacles for it overcome.  One of the more glaring problems will be that while it certainly provides a different shopping experience, it does not necessarily provide a better one.  The attractive attention to details found in original outlets of these luxury brands may be quite hard to be replaced by that of the images on a computer screen.
Also read: The Ecstasy and Perils of Online Shopping at Q0010
Entering to any Chanel store, one will definitely agree that the stylistic arrangements of its items on the shelves are indeed, a feast for the eyes. Hence, for some customers that derive pleasure from the actual experience of going to the mall, inspecting their goods before purchase whilst admiring the rest of designs of any luxury brand, it is unlikely that D'Luxe will be able to meet their expectations.
Nonetheless, there are plenty of benefits that cannot be ignored as well. For instance, an indecisive buyer can now take his time to scroll through an entire list of goods without facing the hassle of moving from one place to another in shopping malls.  More time can be saved and additionally, if you have already decided on a particular item beforehand, purchasing it online might be able to get you a better bargain.
The issue with price though, is rather tricky. Are consumers going to be comfortable with the idea of discounted luxury goods? It probably does not matter. After all, when you see someone holding a Prada bag on the street, it is unlikely that you will bother about where it comes from. Instead, usually one goes straight into brand identification and silently exclaim, "Oh wow, it's Prada!"
Also read : Lazada is the latest online shopping site in Singapore, and it has ambitious plans!