Building a small business from the ground and up is a fulfilling endeavour – and a profitable one, too.
Getting there however, is a tough act to pull off.
According to Forbes, 8 out of 10 startups fail within the first 18 months, and this translates to an 80% failure rate! In an analysis of 101 startup failures, CBInsights found that "running out of cash" is the second biggest reason why new businesses crash.
But if a new startup is to survive the competitive landscape, the business should not only make more money, it should also spend less than what it's making.
Here, we have compiled a few ways for startups and small businesses to save costs while staying competitive:
1. Don't Go For Traditional Office Spaces
Renting a private office space in Singapore usually accounts for more than half of business expenses, and it requires a long-term lease of at least 2 years.
If you are a startup and cannot yet predict the future or the manpower growth of your company, making such a commitment might not be the best option for you.
Instead, startups should look at alternative options such as co-working spaces and incubators which are more affordable and flexible in terms of arrangements.
You can think of co-working spaces as business-oriented cafés, and they have everything a small team needs to operate in – without having to break the bank.
Moreover, these open offices bring you closer to other independent professionals, entrepreneurs and startups, giving you ample networking opportunities. It's not uncommon for small talks in co-working spaces to lead to new startups, partnerships, and work opportunities.
However, if you find co-working spaces too limiting for your growing team, or perhaps if you want to have your own office right off the bat, small business incubators are worth a serious look.
Like co-working offices, small business incubators offer affordable office space. However, the aim of business incubators goes beyond providing workspaces at rock-bottom rates.
Business incubators offer services you won't find in your average co-working office, like hands-on management training, office facilities, marketing support, mentorship and financial advice, and even a stipend (especially for university-based incubators).
And since incubators are run by the local government, universities, or reputable business development groups, startups that graduate from such a programme are more likely to secure investment, or start new ventures thanks to the added credibility through association.
2. Treat Hiring As A Sales And Marketing Strategy
Recruitment is akin to sales and marketing because with the former, you are selling your company as the ideal workplace for the job candidate (the customer).
There are two sales and marketing mantras that are just as applicable to recruitment: "go social" and "encourage word-of-mouth."
The use of social networks to advertise job openings and recruit top talent is commonplace for businesses – and for good reasons.
Social recruitment is a proven money-saver, slashing recruitment costs by up to 50%. Even better, 59% of recruiters discovered that candidates found from social networks are of the "highest quality'.
Word-of-mouth marketing is another tactic that suits recruitment like a glove, and there are no better ambassadors and marketers for your business' job openings than your employees.
LinkedIn's Global Recruiting Trends 2016 survey found that 32% of over 3,000 corporate HR decision-makers consider employee referral programs as a leading source of quality hires (like social media).
Not only do employee-referred candidates take less time to get on board, they also stay in the job longer. This saves business owners from squandering thousands of dollars in lost time and productivity due to poor staff retention.
3. Lease Instead Of Buy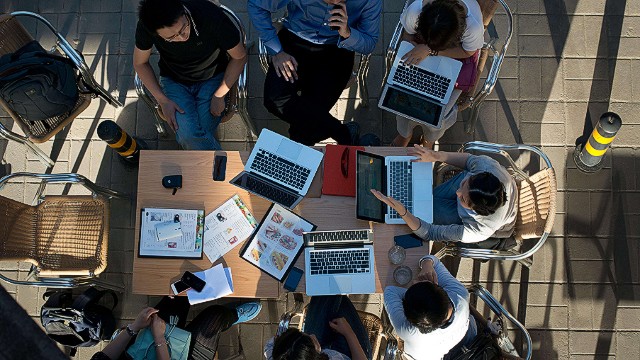 Buying tech equipment is a straightforward process: go to a brick-and-mortar or online shop, find the stuff you need, pay for it, and that's it.
But while buying is a no-frills process, the initial outlay for getting the tech equipment a team needs may prove too much for a startup.
Obsolescence is another problem. A desktop computer, for example, has a short average lifespan of 4.6 years.
Sure, a piece of tech can still be in working condition despite being outdated. However, if your business relies on having the best equipment available to stay competitive, you may find yourself stuck with an obsolete piece of hardware in "working condition", all while you are struggling to raise enough purchasing power to get a newer and better model.
So here's an alternative: lease tech and office equipment.
Leasing office essentials like computers, printers, and networking tools often end up costing more than buying in the long run, but leasing will cost nothing upfront. In addition, the total amount of the long-term rental agreement (including interest rates) are divided into predictable monthly expenses.
For new businesses struggling with cash flow, leasing can be an attractive option to get the equipment they need without bleeding their bank accounts dry.
4. Outsource Specialised Areas
The odd menial tasks aside, startups should consider outsourcing for more specialised areas, such as building the website or finding new markets that can help you reduce your costs.
The reason? They will get the job done quicker than you will, and you won't have to go through the expense and time of hiring your own teams.
Let's say you are doing a full campaign across a whole host of marketing channels such as display ads, Facebook, and even some content marketing thrown in. To do that would mean that you would have to hire three experts.
However, choosing the right online marketing company means that you can get it all done in one easy payment.
It's not just marketing that you can outsource either. If you do a lot of printing, you could use a company to help you maximise your spending on paper and ink, while reducing your environmental footprint.
The Low-Cost Solution
As you can see, a little wise investments in the right places can help reduce running costs.
In the business world, lower operating costs mean startups have more opportunity to thrive in challenging markets. It also allows for better service and broader selections for consumers.
This list is by no means exhaustive. Do you have other money-saving tips for new business owners?
Featured Image Credit: Shazni / Vulcan Post