When it comes to revamping hawker food, Melvin Chew's Jin Ji Teochew Braised Duck is one that has taken an age-old recipe, and made it appealing for the younger generation.
For example, switching the traditionally hard-boiled egg with a lava egg, a well-loved variation thanks to the pervasiveness of Japanese ramen in the recent years, is something that has given the dish a novel refresh.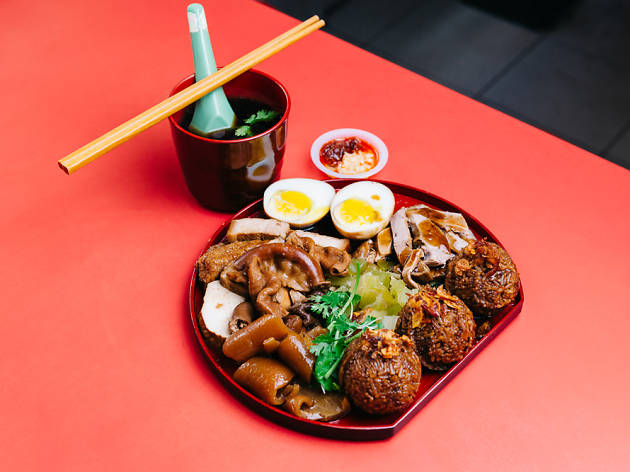 Melvin is quick to admit, though, that he drew inspiration for them from Makansutra's KF Seetoh and ieatishootipost's Dr. Leslie Tay – the former inspiring the duck rice bento sets that he peddles.
"I've had the idea of revamping the presentation of my food to make it more Instagram-able, so that I can attract the younger generation of customers. Braised duck and kway chap is so-called 'uncle food', so I knew that I had to do something interesting to attract the younger crowd."
As compared to the usually simplistic nature of signboards at hawker establishments, his is fully in English and lists out the ingredients in his kway chap – something that tourists especially might not be familiar with.
"They Were Against The Revamping Of The Stall"
A 2nd-generation hawker, Melvin took over the reins of his father's 34-year-old stall after the older Chew passed away suddenly from brain haemorrhage three years ago.
"I took over the stall because my mum couldn't manage the stall on her own…but it was also my intention to bring this stall to greater heights."
Having helped out at the stall since he was a young boy, the 39-year-old was determined to not just retain, but elevate the brand that his parents painstakingly built up over the years.
"It fed us 3 kids (Melvin and his siblings), [and] ever since I attended the Makansutra Street Food Pro 360 course, it made me understand that our local food culture needed to be preserved too."
The Street Food Pro 360 course is conducted and curated by Makansutra associates and founder KF Seetoh with the support of e2i to teach F&B professionals the complex ins and outs of running a business.
Having worked in an accident car workshop and helped his elder brother to run his maid agency, his longtime wish to switch take over the store and revamp their dishes was something his parents, especially his mother, objected to.
"They think that it's a very tough job. They were also against the revamping of the stall, because my mum felt that (after 34 successful years of operation) nothing needed to be changed."
"It was after quite a lot of explanation, and realising that business became better after the change that her mind started to change."
Coverage on food blogs and social media posts of his photogenic creations only helped to spur on business, enticing not just young Singaporeans, but even tourists to pay a visit to his stall.
And it's not just new customers that have fallen in love with his spin on duck rice and kway chap – longtime customers also love the concept, something that Melvin cites to "lady luck being on [his] side".
In fact, he sells out almost daily, and has observed a 30% increase in overall sales after the revamp.
Expanding To Philippines, Meeting Anthony Bourdain
Last year also marked his (somewhat) expansion into Philippines, when Makansutra's KF Seetoh approached him during the World Street Congress.
"The Filipinos love Singapore street food, so when KF Seetoh invited me to join (Makansutra Manila), there was no reason for me to reject his offer."
It was also via Makansutra Manila that he got a chance to meet chef, author and tv personality Anthony Bourdain – an experience that Melvin describes as "amazing".
"Everyone was crazy [over] him. When I served him my plate of braised duck, he told Kf Seetoh that this is what they want in Bourdain Market," chirped Melvin.
For Melvin, bringing his duck rice to Philippines is just the beginning, and he harbours the wish to "bring [his] beloved Teochew dish around the world".
"I hope there will be a day when everyone in the world will mention Singapore's Jin Ji Teochew Braised Duck & Kway Chap."
He maintains however, that the most important thing to him while expanding is maintaining the standard of his offerings.
"As a new hawker, the challenges are usually about how are we're going to get more customers to know about our food, [and then] how we're going to maintain the quality when we have very good business."
Giving Hawker Culture A Modern Spin
Not just busy with his store, Melvin is also very active on social media, using his Facebook page post photos of happy customers who patronise his store, alongside promoting other F&B establishments and keeping our hawker culture alive.
And it's not just clicking on the 'Like' and 'Share' buttons – he is also taking his time out to help fellow hawkers. Most recently, to raise funds for cancer-stricken Mr Tan Boon Teck, the son of Mr Tan Chong Chia, the founder of Armenian Street Char Kway Teow.
He had helped 10-year-old Phoebe Lim to produce her fundraising chilli, and participated in the second edition of Timbre+'s Open Stoves event, which saw him collaborating with Chung Deming of Kush to create a limited edition Crispy Skin Braised Duck Burger.
Proceeds for the sale went to help fund Mr Tan's treatment.
One wonders where he gets the time and energy to do all of these on top of running a brisk business, but to Melvin, this is all part and parcel of his personal mission.
"Being a hawker you need to have lot of passion for food. We need to respect the food and the customer."
"It is very important for us to protect our local food culture."
Jin Ji Teochew Braised Duck And Kway Chap
335 Smith Street #02-156 (Chinatown Complex)
Singapore 005335
Featured Image Credit: Miss Tam Chiak, Camemberu