With its regulatory efforts to explore the potential of blockchain technology, Singapore has emerged as a crypto hub over the past few years.
Some of the world's biggest crypto companies are headquartered here, offering plenty of opportunity for local talents to find their footing in the industry.
Even through the market downturn, these companies are continuing their hiring efforts. From investment analysis to social media management, the blockchain vision seems to have a role for everyone.
1. Binance
Founded in 2017, Binance is the largest cryptocurrency exchange in the world, when ranked by daily trading volume. At its peak, it has recorded over US$70 billion worth of trades in a single day. As of October 2021, the platform had an estimated 28.6 million users according to Business of Apps.
Binance allows users to trade between a selection of over 500 cryptocurrencies. It also has its own cryptocurrency, Binance Coin (BNB) which is currently the fifth largest in the world by market cap.
In February this year, Binance stopped providing its services in Singapore, however it continues to run a part of its operations locally.
Currently, the company has over 60 job openings at its Singapore offices. These span a range of fields including Business Development, Communications, HR, Finance, Marketing, and Product Design. Most of the roles offer employees the flexibility to work either on-site or remotely.
2. Crypto.com
Singapore-based crypto exchange Crypto.com has grown its user base to over 50 million in the past six years. It's one of the world's most recognisable crypto companies, thanks to its range of sponsorship deals with sports organisations.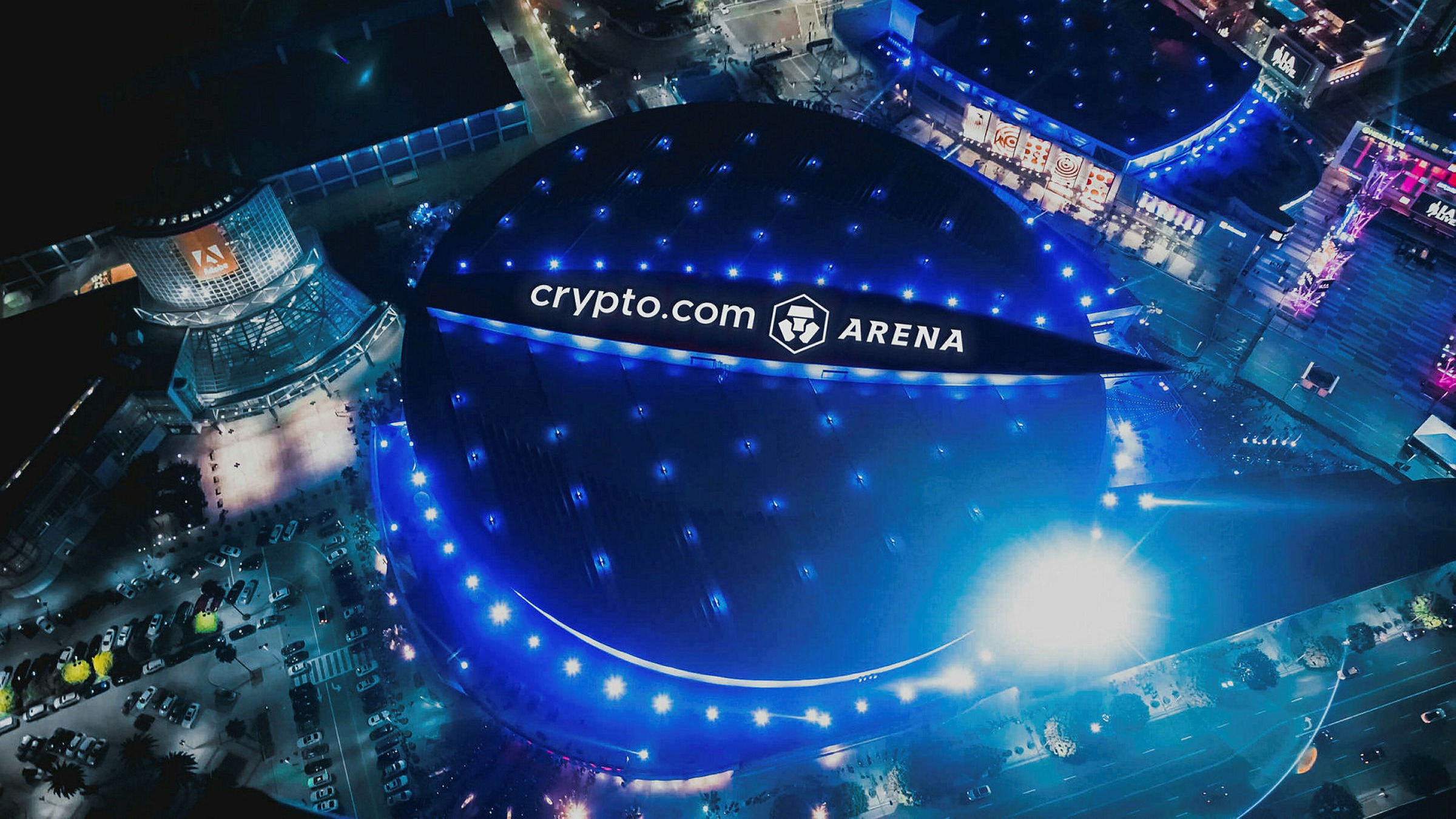 In 2021, the company acquired the naming rights to Los Angeles' iconic Staples Center. Valued at US$700 million, the deal sees the stadium renamed to the Crypto.com Arena for the next 20 years. Crypto.com also sponsors Formula 1, UFC, and the Serie A football league.
With offices in almost 40 locations across the world, Crypto.com continues to run operations primarily from Singapore. It has over 100 job openings at present, mostly in the following four areas: Engineering, Trading, Security, and Marketing.
According to Nodeflair, Crypto.com has starting salaries between S$5,000 and S$8,000 for junior software developers and mid-level Android and iOS developers. For cybersecurity roles, salaries start from S$7,500.
3. Okcoin
Headquartered in California, Okcoin claims to be one of the fastest-growing crypto exchanges in the world. It offers its services in 192 countries and has over a million users at present.
Along with its exchange, Okcoin offers over-the-counter (OTC) trading as well. Users are able to buy or sell large amounts of crypto quickly while trading with the platform's OTC desk. These trades don't appear in the order book or affect the market.
Okcoin has offices in six countries including Singapore. Currently, the company is primarily hiring in its Design department. This includes roles such as Product Designer, Content Designer, and Design Operations Manager.
As per Comparably, the average salary of employees in Okcoin's Design department is US$102,000 per year. In addition, employees also receive perks such as a comprehensive insurance package, paid parental leave, and referral bonus paid out in Bitcoin.
4. Alchemy Pay
Since 2018, Alchemy Pay has been working to make online and in-store crypto payments easy. The company works with merchants, e-commerce platforms, and blockchain networks to enable the use of crypto as a medium of money transfer.
Alchemy's partners include traditional companies such as Shopify and Arcadier and crypto companies such as Binance, Polygon, and Avalanche.
Founded in Singapore, Alchemy offers a number of payment solutions. Most notably, it has built an all-in-one system which enables businesses to accept both fiat and crypto payments.
Alchemy Pay is actively recruiting for Investment Analysts and Business Development Managers in Singapore. The roles offer hybrid working and a chance to engage in a fast-paced start-up environment.
5. Coinbase
The largest cryptocurrency exchange in the US, Coinbase records billions in trading volume every day.
This year, the company announced plans to launch crypto futures and derivatives trading on its platform. It acquired FairX, a licensed derivatives exchange in the US, in an effort to make this a reality.
Coinbase operates without a physical headquarters and takes a remote-first approach. Most of its 3,000+ of its employees work from home. For those who've grown accustomed to this during the pandemic, a job at Coinbase might be the perfect fit.
In Singapore, Coinbase has openings in its Engineering and Customer Experience departments. According to Indeed, the average pay for Software Engineers at Coinbase is US$181,000 per year.
6. BTSE
In 2021, Taiwan-based fintech company BTSE achieved a US$400 million valuation in its Series A funding round. The company has operated its crypto exchange since 2018, and is continuously building products to empower financial freedom through crypto.
BTSE offers both spot and futures trading with over 1,200 trading pairs. Users are able to convert between fiat and crypto instantly and without any fees. The platform also offers staking services and allows users to earn interest by lending out their crypto holdings.
BTSE is recruiting for high-level positions in Singapore such as Head of Exchange Operations, Head of Project Management, and Head of Crypto Strategy. Most of these positions require at least a decade's worth of experience in their respective fields.
7. Kraken
Kraken emerged as one of the earliest Bitcoin trading platforms in 2011.
Since then, it has grown to offer over 65 cryptocurrencies and futures trading. Kraken allows users to maintain a multi-collateral futures wallet which allows a variety of coins to be used as collateral, removing the need to move funds around.
This year, Kraken CEO Jesse Powell announced that the platform might soon offer stock trading as well. He proposed the idea of a super wallet on Decrypt's gm podcast, where users would be able to store cryptocurrencies, NFTs, and stocks.
In the past, we've seen stock trading platforms such as Robinhood venture into crypto, but it hasn't happened the other way round just yet.
90 per cent of Kraken employees work remotely, allowing the company to hire talent from around the world. Its Singapore-specific jobs are limited to the fields of Finance and Recruiting, however, locals may also apply for remote positions in Research, Content Production, and Product Design.
8. Coinhako
Singaporean company Coinhako was one of Asia's first digital asset wallet providers. Established in 2014, the crypto exchange has over 100,000 users today.
It has also received an in-principle approval from the Monetary Authority of Singapore (MAS) to provide digital payment token services as a major payment institution.
This May, Coinhako raised US$10 million in funding from investment firm Peak Capital and crypto fund Mirana Ventures.
Following the funding, the company is hiring for a variety of roles for its Singapore office located at Marina Boulevard. These range across fields such as Security, Engineering, and Marketing.
9. Zilliqa
Zilliqa is a Singapore-based blockchain company which allows developers to design and build decentralised applications (dApps).
The platform has given rise to an immense ecosystem, made up of almost 200 projects today. These include a variety of dApps built for staking, mining, gaming, and metaverse utilities, among others.
Binance, Coinhako, and Chainlink are some of the known companies which are a part of Zilliqa's ecosystem. Zilliqa operates using its own ZIL cryptocurrency, which boasts fees that are up to 200 times lower than that of Ethereum.
Currently, Zilliqa is hiring for senior Engineering roles as well as positions such as Head of Finance and Head of Quality Assurance. According to Indeed, the average salary for a Software Developer at Zilliqa ranges between S$6,000 and S$7,200.
10. Cobo
According to its website, Cobo is Asia Pacific's largest crypto custodian and asset management platform. The platform offers an all-in-one wallet which supports crypto assets from over 40 different blockchains.
Cobo focuses on long-term security, reliability, and convenience, making it easy for users to store and manage their digital assets.
In September 2021, Cobo raised US$40 million in Series B funding to expand its DeFi-as-a-Service (DaaS) offerings. The funding was led by DST Global, A&T Capital and IMO Ventures.
Cobo is hiring for over 20 different positions in Singapore with roles ranging from Crypto Copywriter to Chief Marketing Officer.
Featured Image Credit: Binance / Zilliqa / Crypto.com / Coinbase