Following Google's announcement of its incoming artificial intelligence (AI) language-model to be used with Google search, called Bard, Microsoft applied the gas pedal and officially launched new Bing search and its Edge browser with AI-powered assistant.
They incorporate the latest ChatGPT-based AI which was trained in most recent topics (unlike OpenAI's still free bot, whose knowledge so far extended only to 2021).
You can preview the functionality on www.bing.com/new and join the waitlist there, as it is not open to everybody yet (probably to manage traffic and computational resources — last thing Microsoft would want is the chat crashing).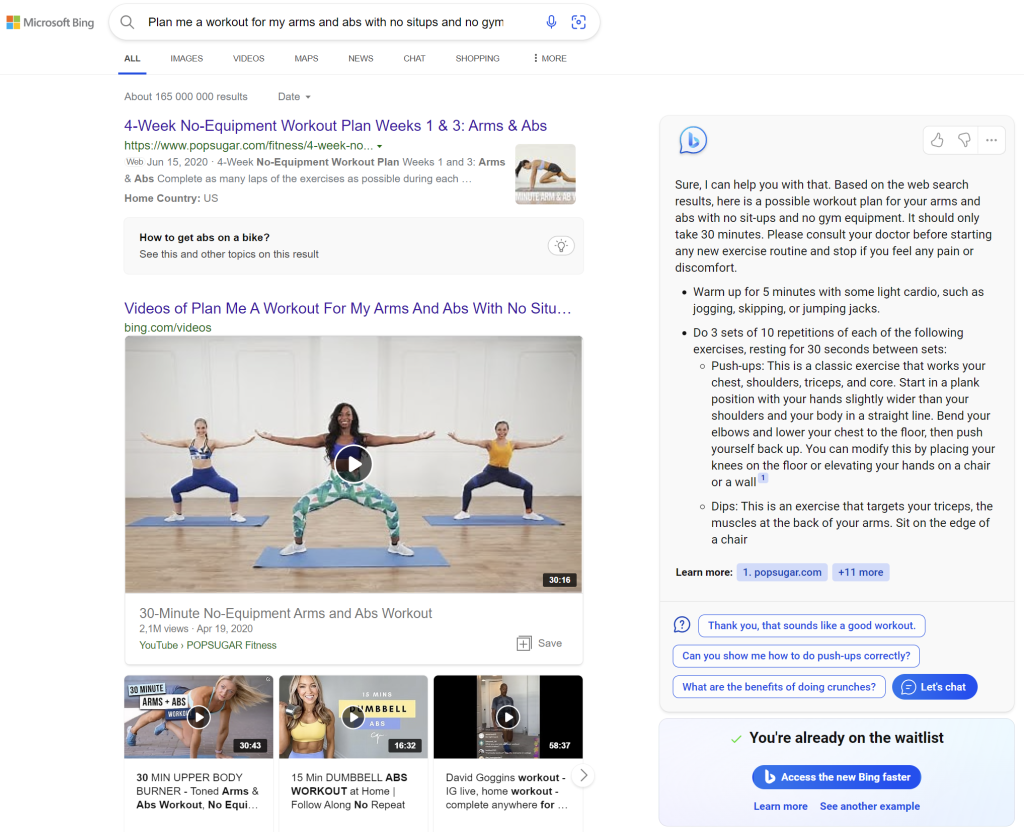 As you can see, the search results page is quite reminiscent of the old one with the addition being the chat box on the right hand side, where you can see the AI bot giving more direct suggestions and allowing you to continue to the conversation with it instead of browsing the links below.
Its implementation on mobile, where it sits at the top, above all results, is likely to draw more attention as it gives priority to the AI bot over the links below.
But we all expected that — it's just a chatbot that answers your questions like ChatGPT.
What we did not know is what's coming to Microsoft's web browser, Edge — thus far typically used only to download Google Chrome by people who bought a new PC or reinstalled Windows.
Well, the habits may now reverse, because it's a real sucker punch that I'm not sure Google was expecting, or has an answer to.
Pushing Chrome to the Edge
It's in web browsing, not specifically 'search', where OpenAI-powered features really come into their own.
While the bot is useful in providing answers to your search queries, it is really ground-breaking as your ever-present creative assistant.
It can help you compose emails or entire articles, write a summary of whatever you type and read in your browser window, or even help to review your code or answer questions you may have about it.
All without ever having to browse away from the page you're currently focused on.
You can have somebody to talk to, somebody to ask questions, somebody to help you do your work for you, present solutions or even come up with some witty responses to someone who annoyed you on the other side of the screen.
The opportunities are endless and it's the real gamechanger for how we interact with the web and everybody else in it.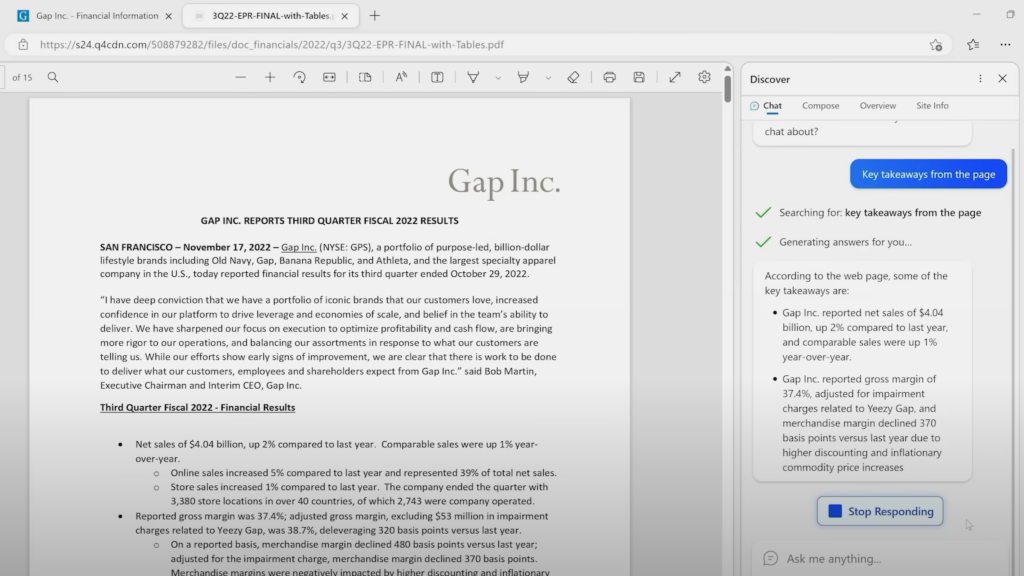 Please consider, if you will, the examples from Microsoft's launch presentation. Here you have Gap Inc. financial statement in a PDF file.
You don't have to dig through it yourself. You can ask the Chat to summarise the document for you or extract specific information you're looking for — all within the Edge browser.
But that's not all. What if you wanted to compare these results with another company?
Well, without leaving the window, you can ask not only to have it compared to for instance Lululemon, but also arranged in a table, side by side.
Your Edge assistant will simply search the web for information, compile it for you and present it in a format you want, without you having to go anywhere.
Just think of the time savings compared to if you had to do it all yourself!
The AI "copilot" as Microsoft calls it, can help you write just about anything in mere seconds. Once you found what you needed you can then head to your email, social media, or your blog and ask it to prepare a draft on the topic.
You can even instruct it to use a specific tone, depending on your goal — whether it's a short, enthusiastic blurb on Facebook or LinkedIn, or a long-form, serious, informative article.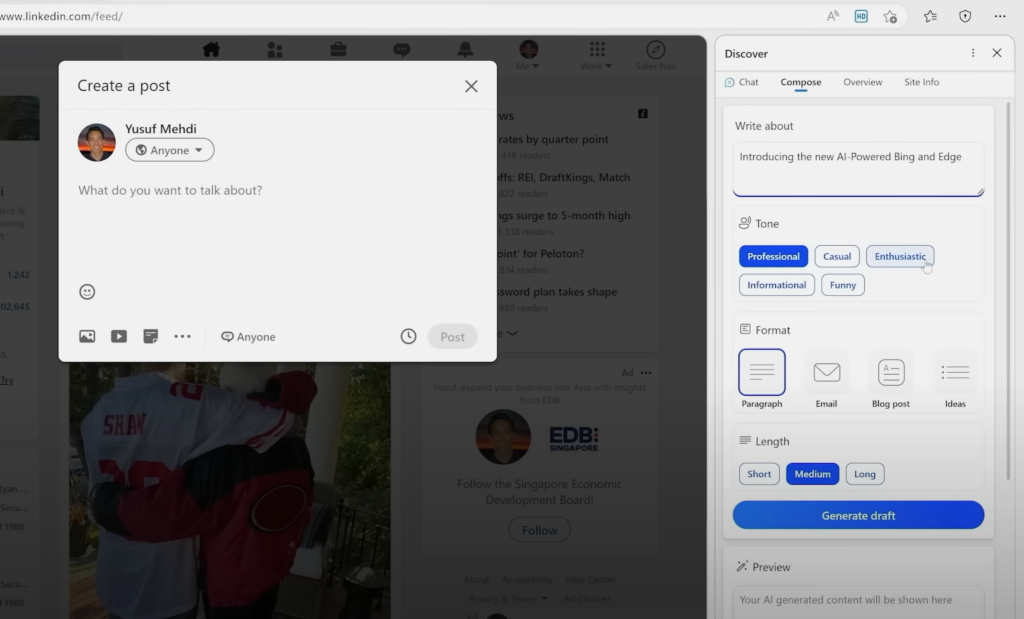 And then just click to get a complete AI-generated draft in a split second, which you can then edit to add a few final touches: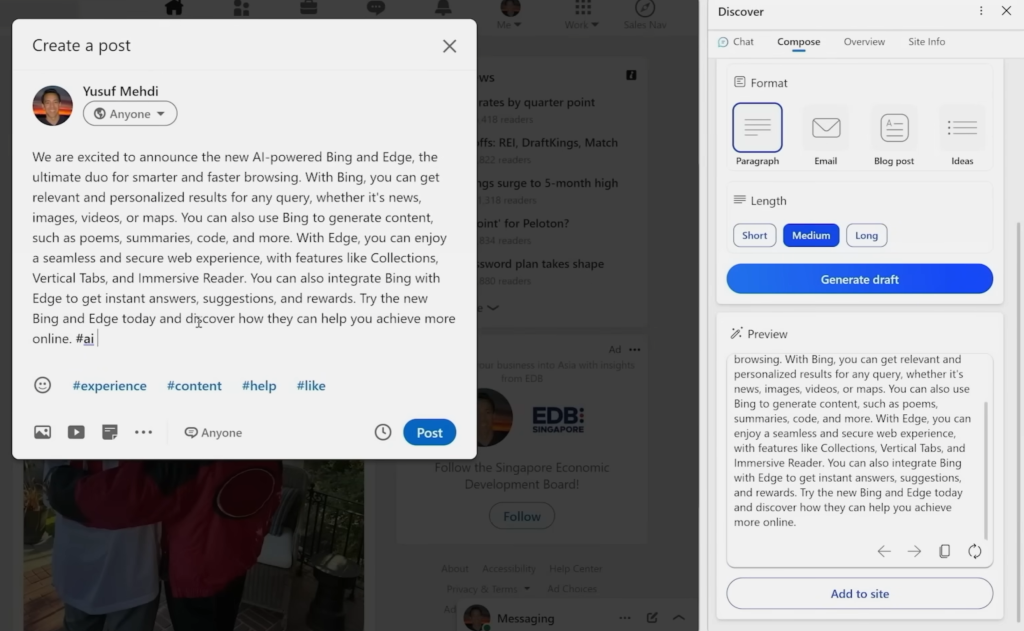 Not impressive enough?
What if you're a programmer looking for tips on Stackoverflow? Well, your new digital assistant can not only help you find the answers, but adapt or rewrite them to your needs, including in a different language.
Again, without you ever having to leave the browser window.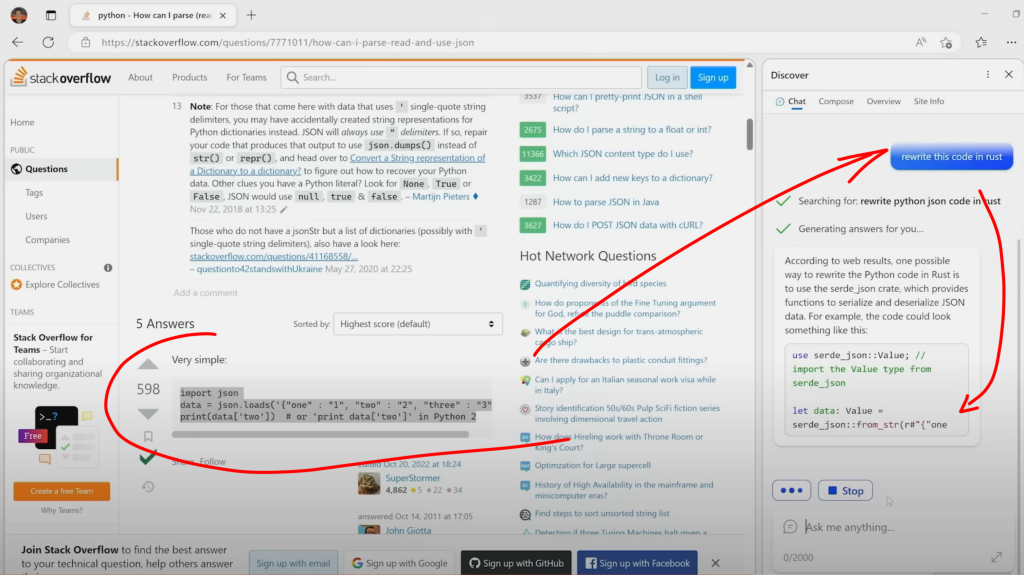 If Google doesn't come up with a solution that is both as accessible and robust within Chrome, it might be a good enough reason for millions of users to leave the browser and move to Edge instead.
I will, if that's the case.
When Sundar Pichai, Google's CEO, announced Bard two days ago, he focused on search. This is how the company makes most of its money and, understandably, it is concerned about the challenge to its core business (as I wrote before, it's an existential threat to Google).
But this AI-powered shift extends not only to how answers to search queries are provided on the internet, but across how we use the web as a whole. I'm not convinced Google has predicted it.
Yes, it has spent several years investing in AI, developing its own language models and incorporating some of its solutions into the current search engine, but what Microsoft has presented is a completely new way of using the internet.
It's an amalgam of curiosity and creativity at the same time, giving birth to a digital partner capable of doing so much more than just throwing out human-sounding answers.
Unless Google is able to at least match what Microsoft has shown, its market share in both search and web browsing may collapse quite quickly.
Featured Image Credit: Microsoft