OCBC Bank, Tech Talent Assembly, and the Banking and Financial Services Union announced today (March 2) its partnership to introduce a new training programme. 
According to OCBC, the partnership is in line with the government's goal to strengthen the training and placement ecosystem with the newly-announced Jobs-Skills Integrator Initiative.
During Budget 2023, DPM Lawrence Wong said that in order to better optimise training and job placement for workers in Singapore, the government would train intermediaries, or 'Jobs-Skills Integrators', to work with industry, training, and employment facilitation partners. 
The programme aims to provide infocomm and tech (ICT) professionals with better employment outcomes in the banking industry.
The programme will target job seekers and NTUC union members with a background in general technology. Around 50 to 100 workers are expected to complete the first round of this programme, and workers who do so could land themselves a job at OCBC.
Commenting on the new agreement, Praveen Raina, Head of Group Operations and Technology at OCBC Bank, said that at the speed at which technology disrupts, and given that technology skills are always evolving, "close collaboration between the industry and the training providers helps enhance the matching of skills and job requirements, leading to better outcomes for both the employers and the employees."
Over the past few years, OCBC has embarked on its digital transformation journey, with an announcement last March that the bank plans to hire 1,500 tech talents over the next three years.
OCBC has also partnered with Ngee Ann Polytechnic for a customised tech internship programme called OCBC IGNITE, offering students the opportunity to gain practical work experience.
They have also encouraged their own staff to upskill with the Data Certification Pathway, which close to 300 of their staff have completed, and many others are also being retrained and redeployed into new or enhanced roles within OCBC.
NTUC has announced support for the initiative
NTUC Assistant Secretary General Patrick Tay expressed support for the new agreement, saying that "the Labour Movement remains steadfast in our commitment to protect and enhance jobs and the livelihoods of our workers".
The new partnership "marks a step further to improve the work prospects, wages ,and welfare of ICT workers… and to future-proof their careers and achieve a progressive career growth," he added.
In a new report released today, NTUC noted that Singapore faced a skills mismatch between the demand and supply of ICT skills, with the top three gaps being in cybersecurity and personal data protection, cloud, IT Infrastructure and support, and Enterprise Risk Management and Business Continuity.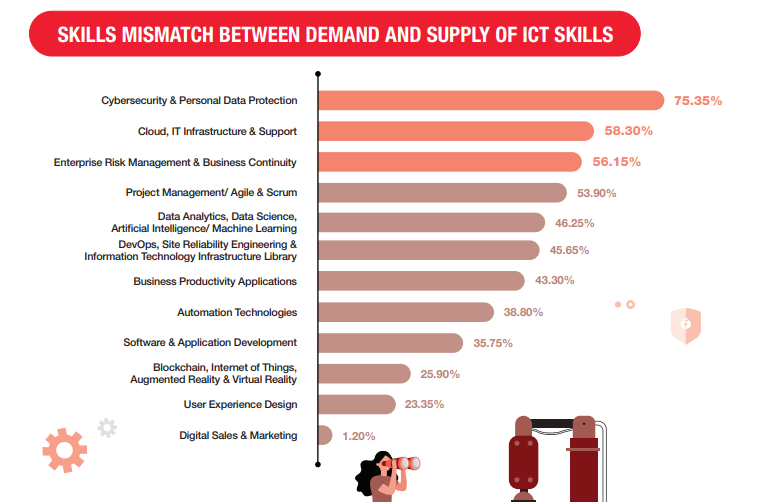 These gaps emerge as a result of shifting market conditions, and the use of new, sophisticated technologies that result in a mismatch of skills over time, meaning that even ICT professionals can fall behind without consistent training.
In today's fast-paced economy, digitalisation and workplace transformation is inevitable as it continues to impact the way we work.

Therefore, it is important to not only be well-equipped with the relevant skills to meet the demands of the workplace today, but we also need to prepare for the future of work. The right skills training will enable workers to remain agile, embrace transformation, and even adapt to future disruptions.

We need to equip the workforce with industry-relevant vertical skills for the future of work in the digital economy, supplemented with horizontal skills such as critical core skills (soft skills) and tech-lite skills to help them transition into new and better job roles.

– Jeremy Ong, CEO of NTUC LearningHub
NTUC has also provided several recommendations to uplift the ICT industry and its workforce, including tapping on ICT professionals who have retired or are nearing retirement to contribute to the development of the next generation of workers.
The report also recommends that companies identify higher-value tech job roles that mid-careerists can potentially move into, and to leverage training programmes even from outside of the company.
Featured Image Credit: NTUC