Disclaimer: Opinions expressed below belong solely to the author.
Sea has just posted remarkable results for Q4 2022, beating expectations by a huge margin, finally recording a profitable quarter (when all analysts expected a loss), making a net income of US$422 million versus a loss of over US$600 million last year and close to US$570 million just last quarter.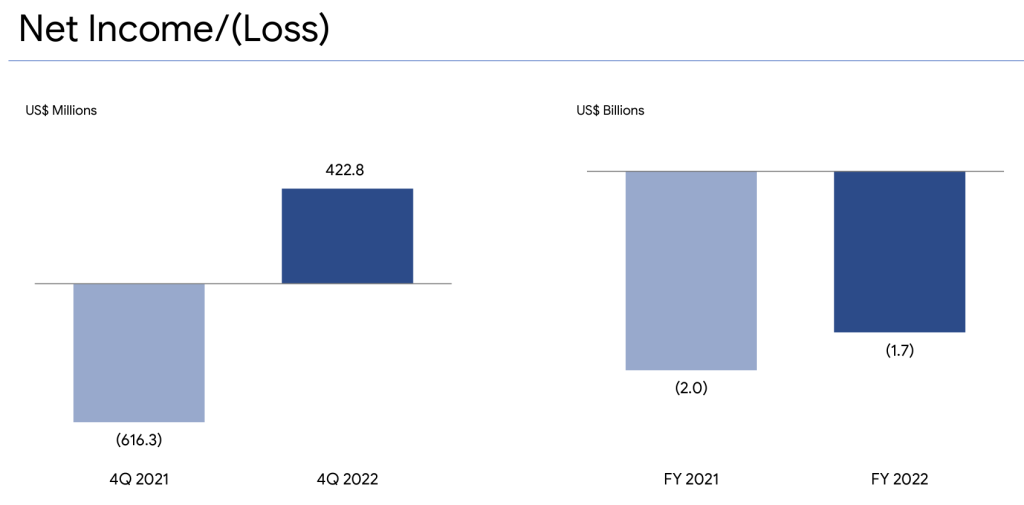 The company did, indeed, promise to focus in profitability in 2023 during its earlier earnings calls, but I don't think anybody quite expected it to hit it in the last quarter of 2022.
This huge achievement did not go unnoticed in the stock market, with Sea's shares rallying by over 20 per cent in a day, rising above US$80 for the first time since they moved in the opposite direction in August 2022.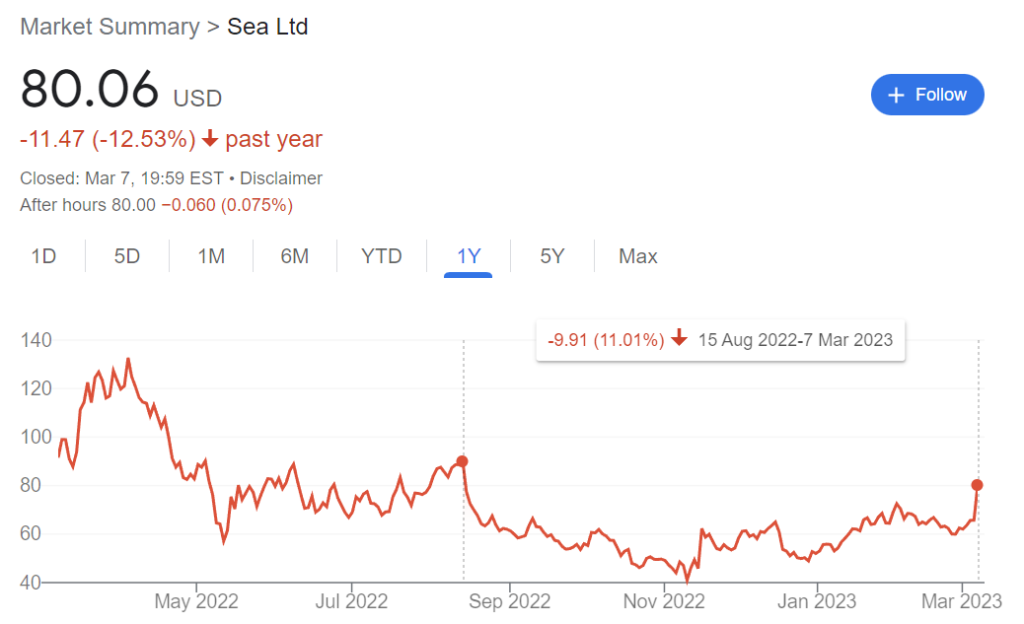 What is even more remarkable, perhaps, is that it has managed to pull it off while recording a general drop in business (some of it self-inflicted, due to necessary cuts) — including its usual moneymaker, the digital entertainment arm Garena.
Less is more
Ever since Shopee's launch in 2015, Sea has relied on its thus far profitable gaming business, which effectively bankrolled its e-commerce expansion.
After the company was able to secure additional billions in funding, digital entertainment helped to prop business' performance figures, sagging under the burden of expenses needed to fuel competition with other shopping platforms (like Lazada).
But today, Garena is in free fall after the pandemic was largely extinguished and people have returned to work.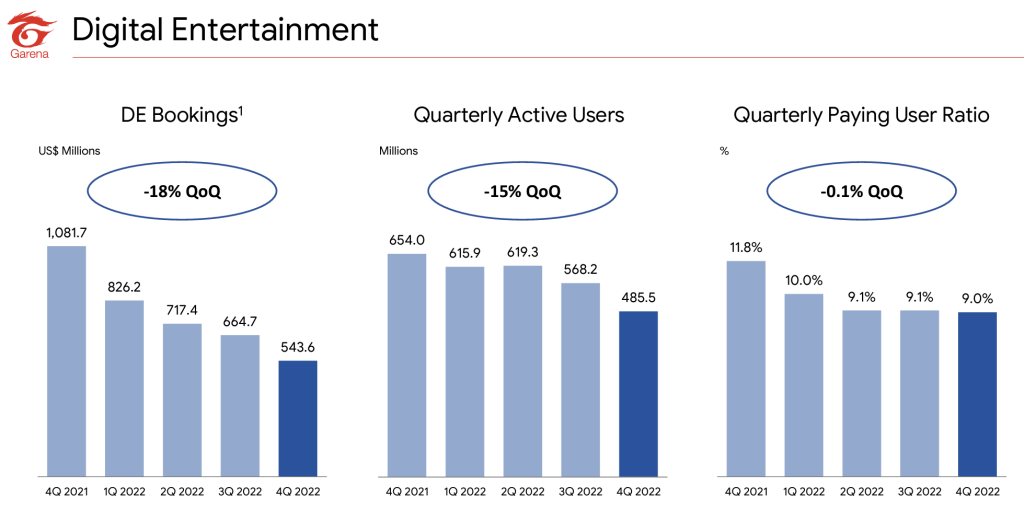 The business has seen 170 million users depart, while a smaller portion of the rest is spending money — and much less of it as well.
It's no surprise then that, on the whole, operating profits are down by more than half in Q4 and by nearly a quarter across the entire year (with EBITDA in both periods considerably below 50 per cent of what it was in 2021).

If you thought that it's e-commerce that's booming now, given that the pandemic anxieties are over, then well, you're in for a surprise too, because it isn't quite so: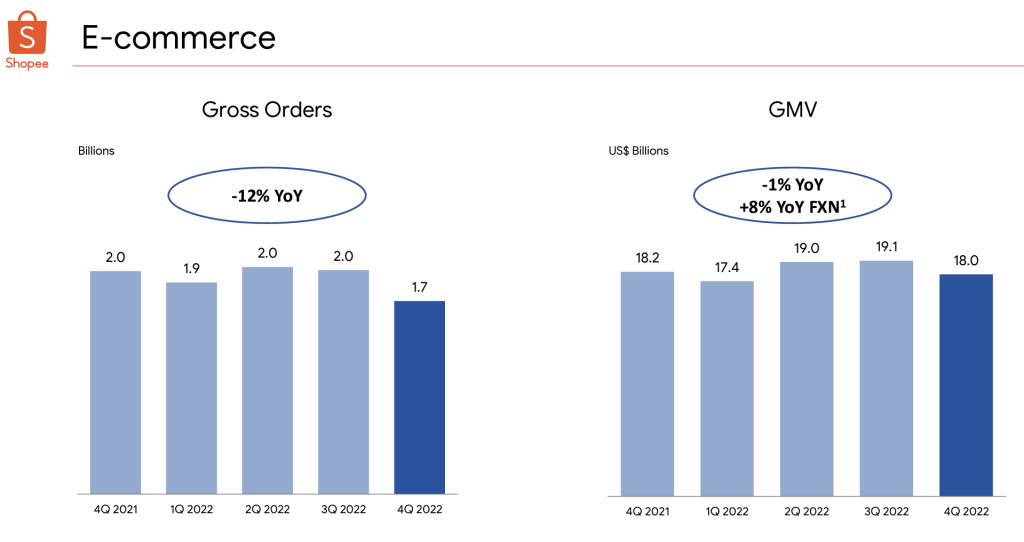 The number of orders placed on Shopee dropped by 12 per cent compared to Q4 2021 — and that is despite the fact that it it is the busiest sale and holiday period in the entire year.
Partial explanation is, of course, the fact that the popular app shuttered its operations in several Latin American countries last September.
But given its overall growth trajectory and bump in orders that is expected each year on the back of Christmas, Black Fridays, Singles' Day and so on, it means the company may have lost a total of half a billion orders — very nearly a quarter — of what it otherwise could have expected.
Gross Merchandise Value may have stayed roughly the same, but we do have to take inflation into account, as it pushed prices of many goods up, and such synthetic, nominal figures may not be a great reflection of reality.
At the end of the day, however, Shopee started squeezing the most of what it has already achieved.
What a difference a year makes…
…from a net operating loss of US$941 million in 2021, to a profit of US$109 million in 2022.

Despite reporting fewer orders, of no greater value than in 2021, the company basically found a billion dollars somewhere.
This is a really impressive turnaround, accomplished in a very short period of time. Between closures of its branches in several countries and thousands of people laid off, the biggest change came in its Sales & Marketing expenses, which were cut by over US$740 million.

This explains why Shopee lost millions of potential orders in a busy holiday quarter — but also shows that they likely would not have been enough to justify the expense.
It also proves that the app has become a brand that users don't have to be constantly nagged by advertising to use.
It has managed to establish itself well enough to be the default online store for millions — and not a moment too early, as it needed to achieve self-sustainability in the face of less favourable economic conditions and the stock market slump which precludes raising any external funding.
Just like pandemic allowed Sea to blossom and attract millions of users around the world, stuck at home playing games or doing their shopping on the internet, the trust Shopee has built in that time enabled it to leap towards self-sustenance just as it could no longer finance its operations with borrowed money.
And as it is growing its third arm — digital finance, which has already reported a profit as well — it's now clear that many sceptics, predicting Sea's collapse once the money stash it raised runs out, have surprisingly quickly been proven wrong.
Featured Image Credit: Michael Petraeus