Green technology solutions provider Yinson GreenTech, through its subsidiary Yinson EV Charge Pte Ltd, and LHN EVCO Pte Ltd announced a joint venture today (March 29) to deploy chargEV services and operate fast charging hubs in Singapore to provide cross-border charging capability.
ChargEV is Malaysia's largest electric vehicle (EV) charging network and charge point operator.
Through the agreement, users of the chargeEV app will now have access to chargEV hubs in Singapore, starting with its newly deployed charger in Ang Mo Kio, as well as its extensive network of 300 charging points in Malaysia with just one-step payment activation.
By the end of 2023, Yinson GreenTech and LHN EVCO Pte Ltd aim to deploy five more charging points consisting DC chargers across Singapore, including at Kallang Bahru, Bukit Timah Shopping Centre, Mount Elizabeth Link and 43 Keppel Road. The cost of charging an EV at these points is S$0.60 per kWh.
By partnering with LHN in launching the first cross-border charging network, we are reducing range anxiety for travel across Singapore and Malaysia, making the transition to electric vehicles easier.

EV drivers from Singapore and Malaysia will now be able to travel seamlessly across the border using the chargEV app to access our rapidly expanding network of fast and reliable charging stations.

– Eirik Barclay, CEO of Yinson GreenTech
They will jointly develop public EV charging infrastructure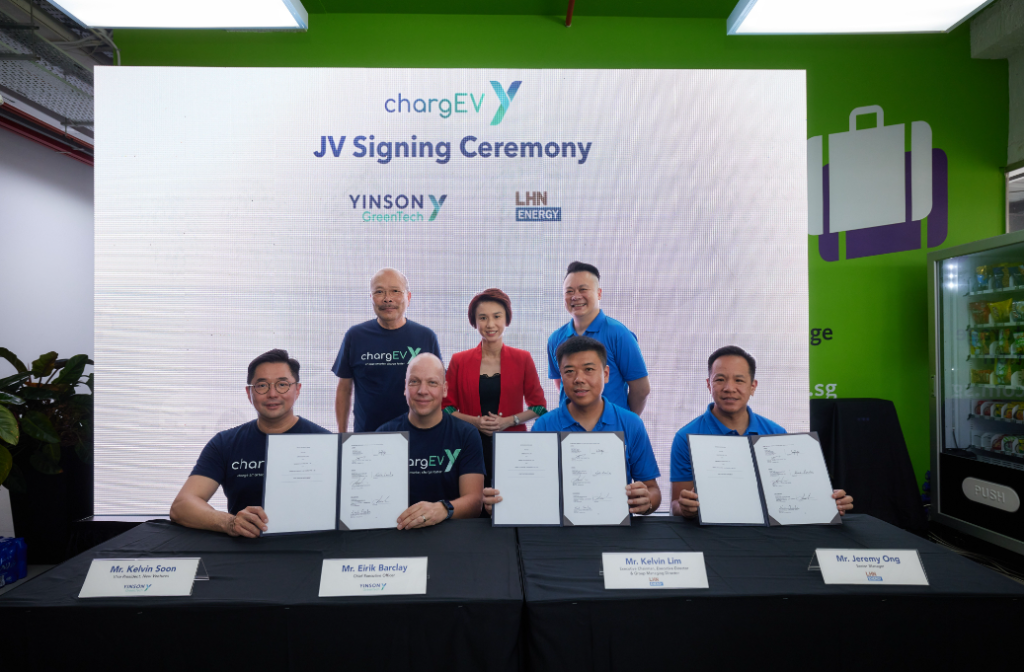 The joint venture between LHN EVCO Pte Ltd and Yinson GreenTech marks a significant milestone in the integration of EV charging infrastructure across borders, allowing for easy and accessible charging infrastructure in Singapore and Malaysia.
Under the agreement, both Yinson GreenTech and LHN EVCO Pte Ltd will jointly develop public EV charging system infrastructure by exploring new locations in Singapore for the installation of chargEV stations, in order to provide easy and accessible charging infrastructure.
Yinson GreenTech will handle the commercialisation, procurement, operation and development of the EV charging infrastructure. The company, which is a majority shareholder of chargEV, will leverage its in-house capabilities to oversee the back-end support system, as well as chargEV's integrated mobile app.
Meanwhile, LHN EVCO Pte Ltd will handle the installation and maintenance of the EV charging system, as well as provide customer assistance. The company specialises in the integration of space optimisation and sustainable energy solutions such as solar panels and EV chargers.
LHN Group, which manages over 70 carparks in Singapore, will focus on developing and managing the newly added high-speed charging stations at its carparks, as well as explore the expansion of these stations to more suitable locations across its carpark network.
It will also provide the necessary manpower for the operation and maintenance of these charging hubs.
This joint venture serves as an excellent opportunity to strengthen relations with likeminded organisations, as the LHN Group and its subsidiary, LHN Energy, and further commit ourselves to building a sustainable Singapore for our future generations.

We are excited for the future of this partnership and the potential for renewable energy projects to actualise the Singapore Green Plan 2030.

– Kelvin Lim, Executive Director and Group Managing Director of LHN Group
Featured Image Credit: LHN Group