In recent years, there has been a growing trend towards impact-driven businesses – companies that prioritise making a positive impact on society and the environment, alongside profitability.
These businesses are often seen as agents of change, capable of addressing some of the world's most pressing challenges while creating value for their stakeholders. However, they often face significant challenges in securing the necessary funding to scale their impact.
This is where DBS Foundation comes in. As a leading champion of social entrepreneurship in Asia, the Foundation has been providing support to social enterprises across the region since its inception in 2014, and impact-driven small and medium enterprises (SMEs) since 2022
From now until June 15, social enterprises and SMEs that are developing innovative solutions to address social and environmental issues can submit their proposals for a chance to receive funding and support.
The DBS Foundation Business for Impact Grant Award, now in its ninth year, aims to recognise and catalyse the growth of businesses that have successfully integrated social or environmental impact with financial profit in their business models.
It also seeks to empower entrepreneurs who share DBS Foundation's vision of being a force for good in uplifting lives and livelihoods in the community. 
Helping to fuel growth of over 800 businesses across the region
Over the years, DBS Foundation has played a crucial role in supporting businesses for impact in Asia. More than 800 such enterprises have received assistance, with 100 of them having been awarded grant funding totalling more than S$13 million through the annual Grant Award.
DBS takes pride in having helped to spot "diamonds in the rough" over the years, empowering them to achieve their potential. Despite the high failure rate of early-stage startups, over 90 per cent of the Foundation's grant awardees continue to operate successfully to this day.
In particular, among its 100-odd grant awardees, 15 enterprises have shown exceptional growth and have become industry leaders in their respective fields.
One notable example is homegrown startup TreeDots, which redistributes surplus or imperfect food at discounted prices. While it primarily aims to tackle food loss, the platform also connects suppliers with buyers – including caterers, restaurants, cafes, cafeterias, cloud kitchens and small food stalls – that are looking for cost savings.
It had started out small, but with the initial support and seed capital from the DBS Foundation, it has since scaled up and gone on to secure Series A financing.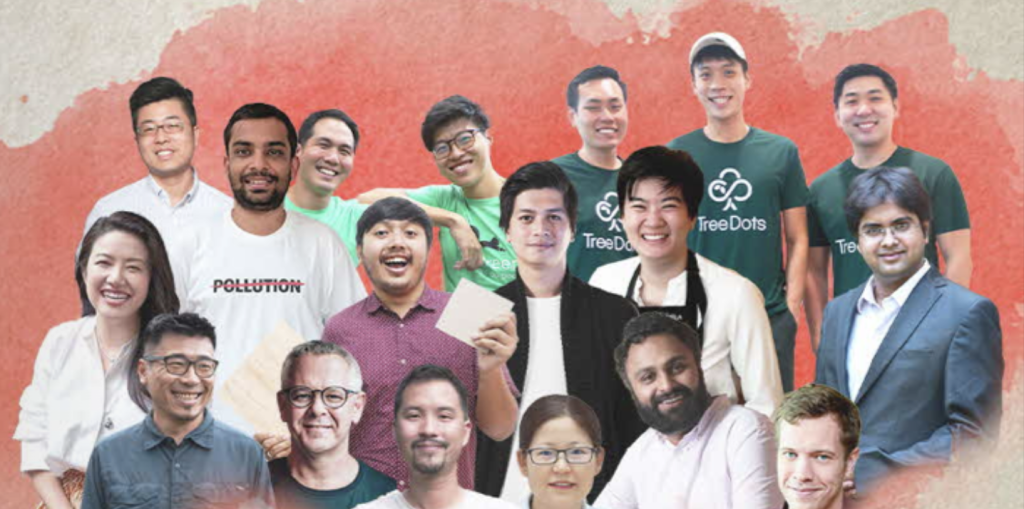 These 15 enterprises, known as DBS Foundation Fellows, have collectively raised close to US$100 million in funding to date.
Karen Ngui, DBS Group Head of Strategic Marketing and Communications, and Board Member of DBS Foundation, emphasised the significance of the Grant Award in supporting impact-driven entrepreneurs.
"Through the DBS Foundation Grant Award, we aim to empower the next generation of impact-makers by providing them with patient capital and broad-based support. We believe businesses can do well and do good, and hope these purpose-driven enterprises will be able to thrive and achieve their full potential."
As mentioned earlier, DBS Foundation expanded the mandate of the Grant Award to include an SME category last year, encouraging such businesses to transition towards more sustainable business models. The response was overwhelming, with over 250 SMEs applying for the award in its inaugural year, reflecting the growing awareness and interest in the sector. 
Why businesses should sign up for the Grant Award
Through its grant award, the DBS Foundation provides financial assistance, mentorship, capability-building and access to networks to help these businesses achieve their goals.
For impact-driven businesses, the benefits of applying for a DBS Foundation grant are numerous. Firstly, the grant provides much-needed financial support to help businesses scale their impact.
The grant provides each awardee with funding of up to S$250,000. This funding can be used for a range of purposes aimed at helping them to scale up, including product development, market expansion, and hiring talent, among others.
In addition to financial support, DBS Foundation provides awardees with a wide range of resources and expertise across DBS Bank.
For instance, they can get access to preferential banking packages, skills-building and mentorship programmes, and access to a robust ecosystem of like-minded businesses, investors and enablers. This comprehensive support has enabled past awardees to accelerate the growth and development of their businesses, while deepening their social and/or environmental impact.
Perhaps most importantly, the DBS Foundation grant is a powerful endorsement of the business' impact and potential. Being recognised as a grant awardee by the Foundation is a testament to the quality and impact of a business' work and can help attract further funding, partnerships and customers.
One such success story is reach52, which aims to provide essential healthcare access to half (52 per cent) of the global population who are currently living without it.
With the support of DBS Foundation's grant funding and market insights from the bank's regional network, reach52 expanded into India and Indonesia within two years. Despite the challenges posed by the COVID-19 pandemic, reach52 overcame obstacles and connected over 680,000 residents to affordable healthcare services and products.
Since receiving the grant award in 2019, reach52 has expanded its workforce, tripled its revenue, and increased its footprint to six countries.
Ngui expressed her belief in the transformative power of businesses for impact, which are focused on achieving a dual bottomline and playing a significant role in addressing key societal gaps.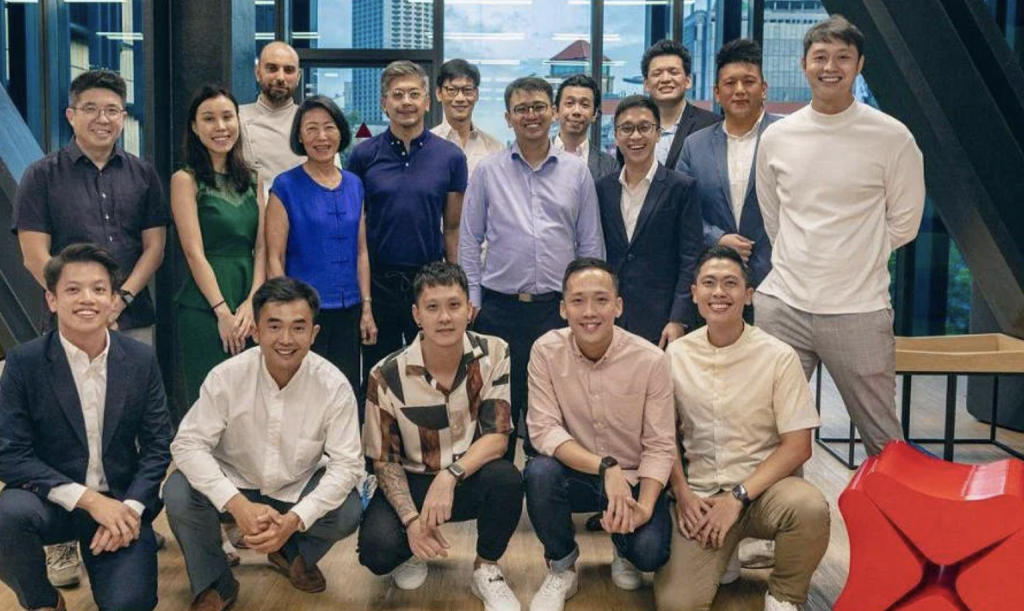 Last year, the Foundation announced 23 grant awardees. The impact of these recipients is expected to benefit more than two million lives and livelihoods in the region, reduce over 100,000 tonnes of food waste, and abate 300 tonnes of greenhouse gas emissions by the end of 2024. 
How to apply for the grant? 
The Grant Award is open to social enterprises and SMEs registered in DBS Bank's six key markets in Asia, namely Singapore, Hong Kong, China, Taiwan, India and Indonesia.
Applications will be evaluated based on several criteria, including a strong leadership team committed to being a business for impact, a robust business model with a clear value proposition and market traction, detailed plans for deploying the grant funding to commercialise and scale the solution, and measurable impact targets with the ability to track progress.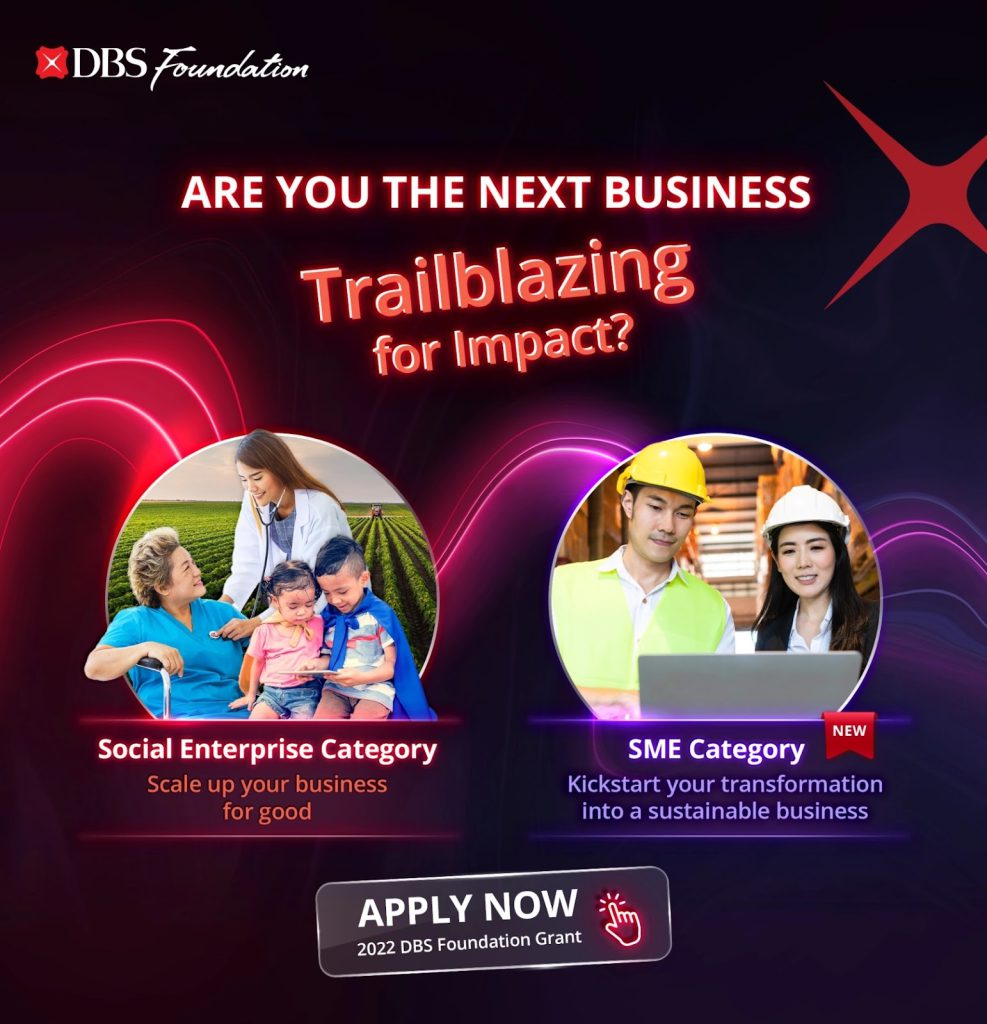 Entrepreneurs and organisations seeking to make a positive difference in society and the environment are encouraged to submit their applications before the deadline of 15 June 2023, 11.59pm. Applications received thereafter will be considered in the next cycle of evaluations.
If you are keen to join its growing community of impact-driven businesses, check out its application page here. 
Featured Image Credit: DBS Foundation