As part of this year's Singapore Week of Technology and Innovation (SWITCH 2023), tech giant Google and consultancy firm Bain & Company took to the stage to present the main findings from their 2023 e-Conomy SEA report on Wednesday (November 1).
Samuele Saini, the Director of Apps, E-commerce and Entertainment (AECE) for Southeast Asia (SEA) at Google and Dr Willy Chang, partner at Bain & Company presented the main takeaways of the report, which outlined the advancements of the digital economy in Southeast Asia, as well as the trends, future opportunities and challenges and forecasts of the sector.
Investors are changing expectations
The global economy has been riddled with many challenges, from increasing inflation to low interest rates, hence adding many layers of complexity for startups and investors alike.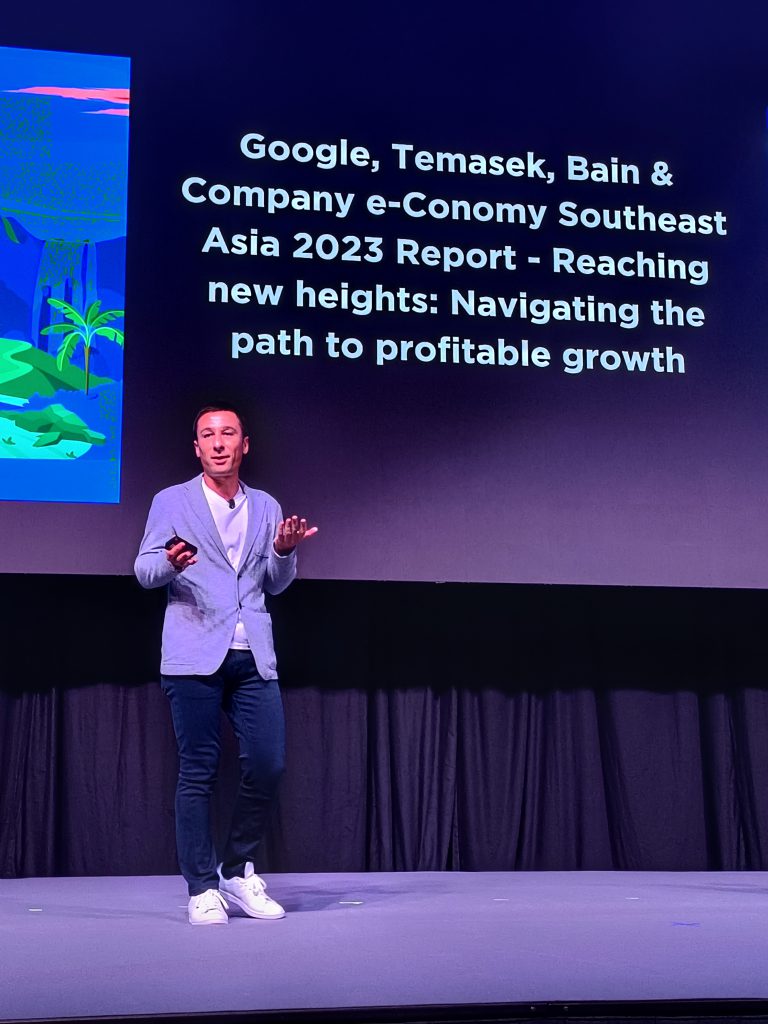 Despite those challenges, the digital economy in Southeast Asia has performed better than other regions, as markets in the region are seeing a come down in inflation and increase in interest rates post-COVID 19. Saini stated that the digital economy in the region is in transition and has tremendous potential for growth and setting new standards.
But this does not mean that Southeast Asia was immune to the funding winter. According to the report, investor funding has hit a new low from 2017's US$9 billion to a private funding value of US$4 billion in the first half of 2023, along with the number of deals. This presents a funding decline of over 50 per cent.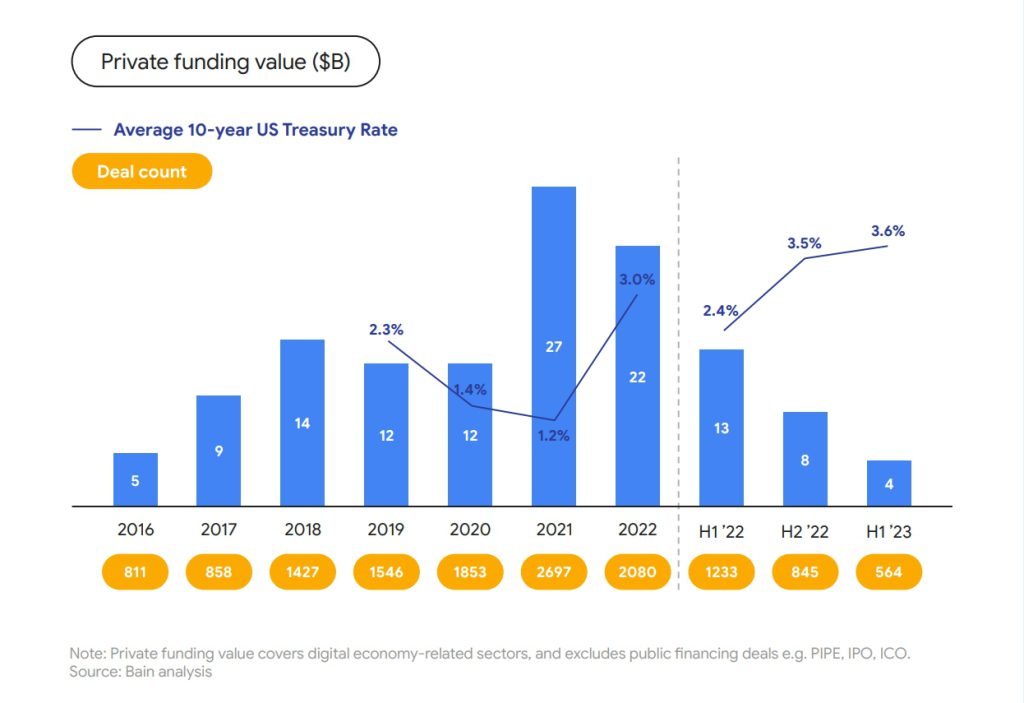 While these numbers may be depressing at first sight, it is producing some positive behaviours in the ecosystem and more companies are becoming more realistic and productive in how they approach their mission.

Samuele Saini, AECE SEA Director of Google
Saini shared that while most of the funds put into established sectors such as e-commerce and digital financial services have decreased along with the overall funding values, more investments have been put into developing industries like Education and Agriculture as investors have reset their expectations.
He also noted that the investment behaviours need to change to encourage more funds to be raised. Firstly, entry valuations need to be realigned following the shift in expectations from investors. Secondly, easier exit pathways and a dependable monetisation model that ensures trust from investors into the business is key.
Monetisation is the name of the game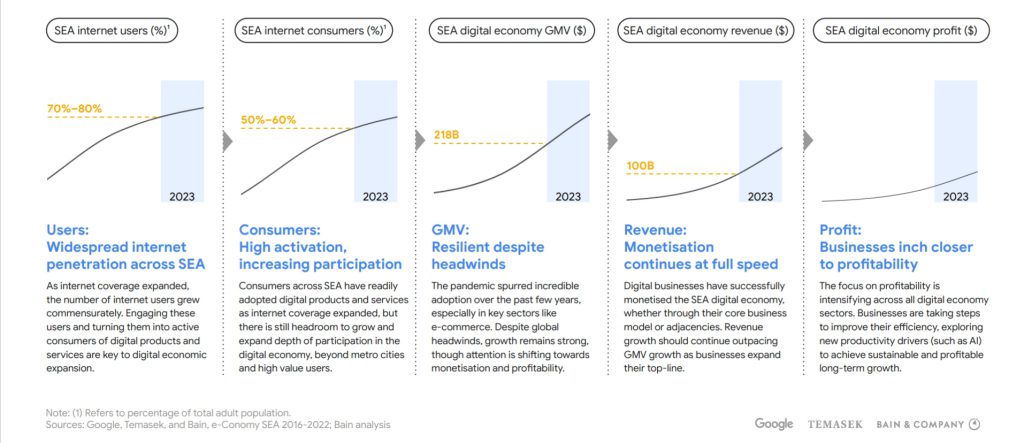 In the past, Southeast Asia was seen as a emerging market in the digital economy sector, where getting more people to get connected online was the main priority of many startups. Fast forward to a decade later, 90 per cent of consumers in Southeast Asia are connected online, shifting the focus to developing sustainable monetisation plans to achieve greater profitability in the future.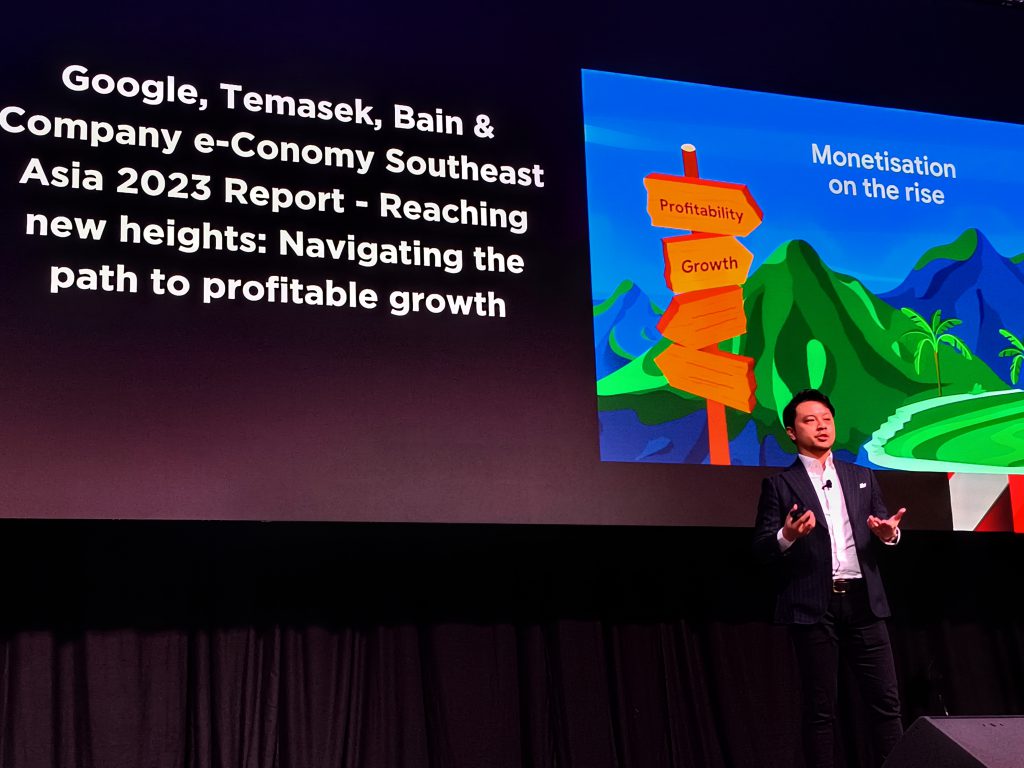 "Monetisation is the name of the game," stated Dr Chan, adding that the Southeast Asian market has achieved an incredible feat of US$100 billion in revenue in 2023 despite pessimism from investors and a challenging economy.
Along with the increased adoption of technology, it is safe to say that cash is no longer king as more are looking for digital financial services in the region. Digital payments and lending services continue to be in demand, while wealth and insurance management has yet to gain as much traction online.
Ultimately, this has increased the competitiveness within the ecosystem in Southeast Asia, with pure-play fintech players at the front of the race, with their offerings for the underbanked and solidifying their position in the market.
Traditional banks are not falling behind with their digital banking payment platforms and services, while consumer tech platforms are met with mixed success. Dr Chang added that the launch of e-wallets has increased traction and drove them to offer other financial products and services. On the other hand, digital banks still remain nascent as they have yet to overcome restrictive regulations set in place. Nonetheless, there is still a large potential for growth in the region.
Expanding reach to the underbanked and unbanked
According to the report, high-value users are often users who have higher spending powers and have lifestyles that support the integration of digital financial products and services. Saini shared that although high-value users make higher contributions to the revenue of these companies, finding them is not necessarily straightforward.
"Companies should not forget that while [acquiring] high-value users may be a solution in the short term, it may not be a solution for the long term," said Saini. He added that although majority of the population are not high-value users, companies should not neglect the possibility that they may become high-value users in the coming years as digital financial services have become more mainstream.
Despite majority of the SEA market are connected and are interested to purchase digital products and financial services, the short supply continues to be a hurdle yet to be conquered.
[How do we] continue to extending our services into the rural areas, the underbanked and the unbanked? [Not only is] this a challenge for internet economy players, it is a challenge for businesses.

Dr Willy Chang, partner at Bain & Company
Dr Willy was quick to clarify that by no means the Southeast Asian region should solely focus on profitability and not growth. He stated that there is still a large room to grow in the digital economy and regulators and government organisations in the ASEAN region play important roles to facilitate greater advancements.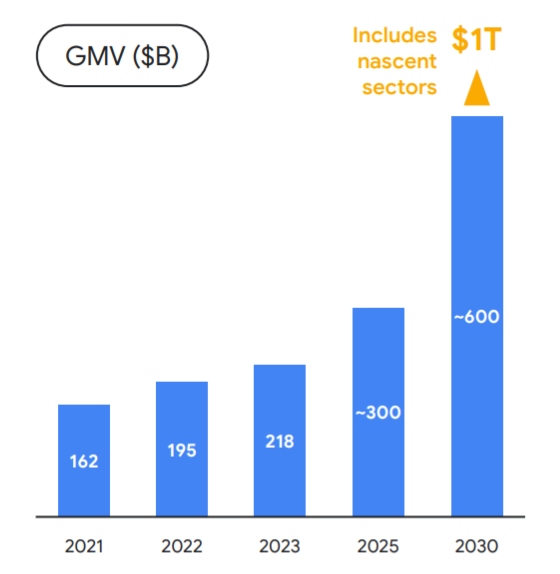 Ultimately, it seems that the prospects of digital businesses continue to remain strong despite all odds. Will it become a game changer? Based on this report, the answer is a 'yes'.
Featured Image Credit: Vulcan Post