When Jonathan Tan started PRISM+ in 2017, he faced a daunting challenge: breaking into the highly competitive gaming monitor space dominated by global electronics giants.
However, Jonathan was undeterred. With a vision to disrupt the market and offer consumers better value for their money, he launched PRISM+ with a price point that was a fraction of what competitors were offering.
The 35-year-old first recognised that popular gaming titles like Battlegrounds and Fortnite required high visual demands from gaming rigs — particularly the high frame rates that were only available on high-end gaming monitors at the time, which were often placed in the premium price range.
As such, PRISM+ was established to address a gap in the gaming market for affordably priced high-quality monitors that were accessible to a younger audience.
Over the years, the company has expanded beyond the gaming segment, although the core identity of the business remains the same. Their aim is to make premium technologies accessible to the masses through their direct-to-consumer (D2C) e-commerce business model.
"PRISM+ did away with unwanted costs such as retailers and distributors, allowing the brand to have better control of overall cost-efficiency and customer experience, while translating overall cost savings to its users," Jonathan, founder and managing director of PRISM+, told Vulcan Post.
Today, PRISM+ is a leading consumer electronics brand in Singapore with a growing regional presence, and a reputation for innovation, customer service, and affordable pricing.
Building consumer trust and expansion are some key challenges
According to Jonathan, PRISM+ initially had a very niche target audience, but their launch was well-received overall. Even though they were not as established as they are now, consumer sentiment was largely positive, acknowledging their value proposition.
Their price point was particularly noteworthy as it disrupted the gaming monitor market.
Jonathan explained that they were able to achieve affordable pricing through its D2C business model, which allowed them to develop in-house logistics capabilities at scale and eliminate middlemen costs. Manufacturing abroad also helped to lower their costs.
When it comes to business challenges, he cited gaining the trust of consumers as their first hurdle.
At the time, we were roughly priced at a third of what competitors were offering, and understandably, we were met with some skepticism. This is part of the reason why we place such a huge emphasis on customer service.

Our 24/7 omni-channel customer service, with its 60-second response time, was designed to assure the customer that they would be able to reach out to a real-life brand representative regardless of the time or place. In addition, we were the first in the market then to offer three-year warranties on monitors. The industry has since caught up, but all these contributed greatly in building our brand reputation back then.

– Jonathan Tan, founder and managing director of PRISM+
However, PRISM+ faced an unexpected challenge in 2020 with the onset of the COVID-19 pandemic. Jonathan admits that the company was unprepared for the widespread global impact, but felt that they were luckier than most.
As a manufacturer of consumer electronics goods focused on home entertainment and productivity, PRISM+ saw a marked increase in demand for their products as people shifted to remote working and schooling.
The company's e-commerce model, combined with its next-day fulfilment and affordable pricing, proved to be a huge draw for consumers who were quarantined at home during the pandemic. Ultimately, Jonathan said he sees the pandemic as more of a business opportunity rather than a threat, as it allowed PRISM+ to showcase the value of its products and expand its reach.
However, scaling up has also been a challenge for PRISM+, given its D2C model. The company had to develop its operational capabilities from the ground-up, with minimal use of middlemen such as retailers and distributors.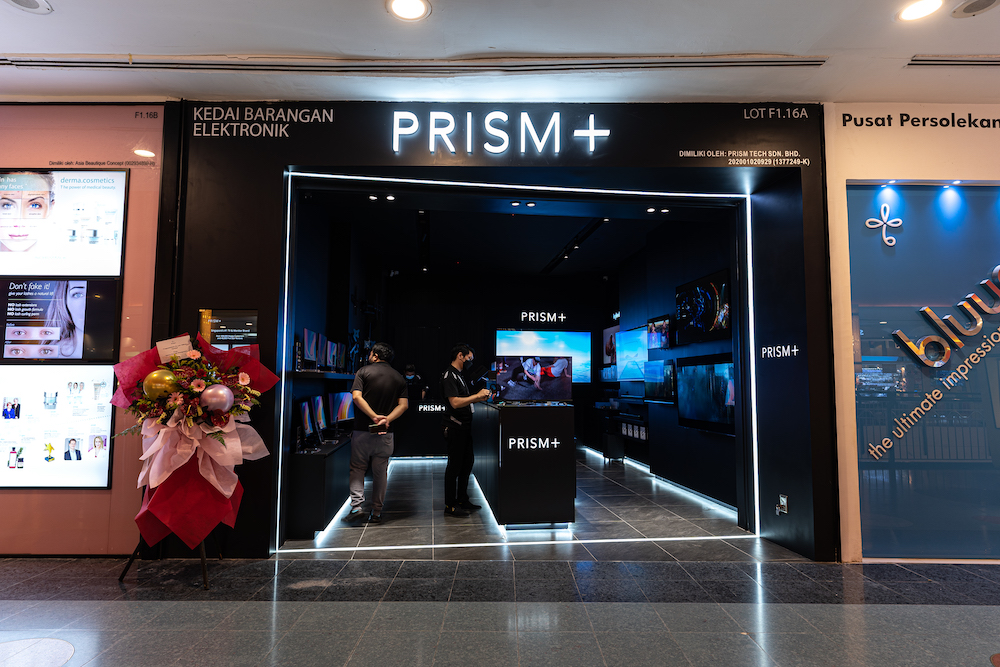 PRISM+ approached its expansion beyond Singapore in a sustainable way, ensuring that it remained profitable without stretching itself too thin. Today, the company has an established presence in Malaysia and is continuing to grow in Australia.
Additionally, PRISM+ has expanded its channels by launching into new marketplaces such as TikTok Shop. The company has also made strides in expanding its product categories, launching a soundbar and a smart home ecosystem that includes a smart air conditioner system and smart ceiling fan.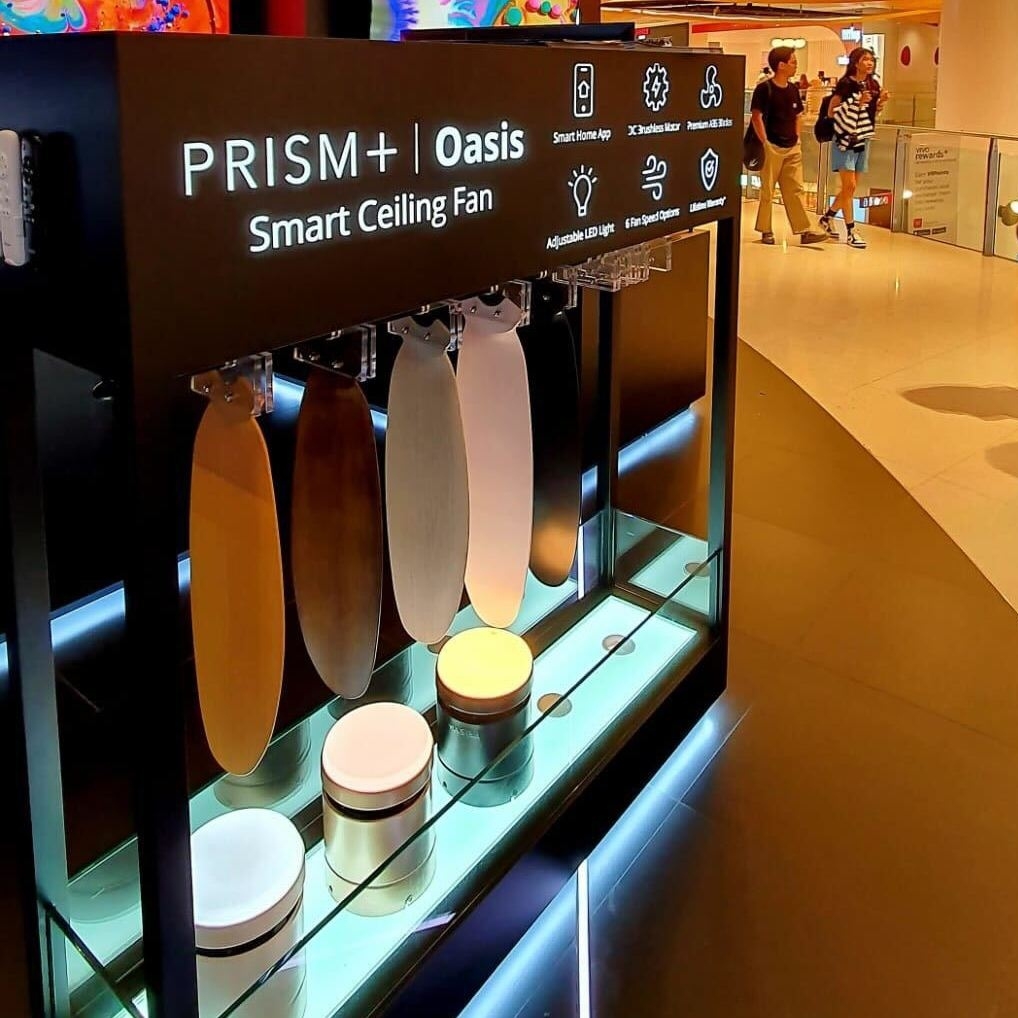 While we had our roots in e-commerce, we expanded our channels offline this past year as we sought to reach out to the crowds as they returned to shopping malls post-Covid. We knew consumers would want to physically experience our products when restrictions were eased, especially with our entry into smart home appliances. The foresight has given us a competitive edge, and has had a real impact on the growth of our revenue.

– Jonathan Tan, founder and managing director of PRISM+
He added that the company has much more planned this year in terms of new product categories, including further expansion of its smart home ecosystem to enhance user experience.
Diversifying its product portfolio
PRISM+ has been expanding into new spaces, and most recently, into the smart home appliances market. This move was motivated by a desire to build an ecosystem of products that offer value to consumers.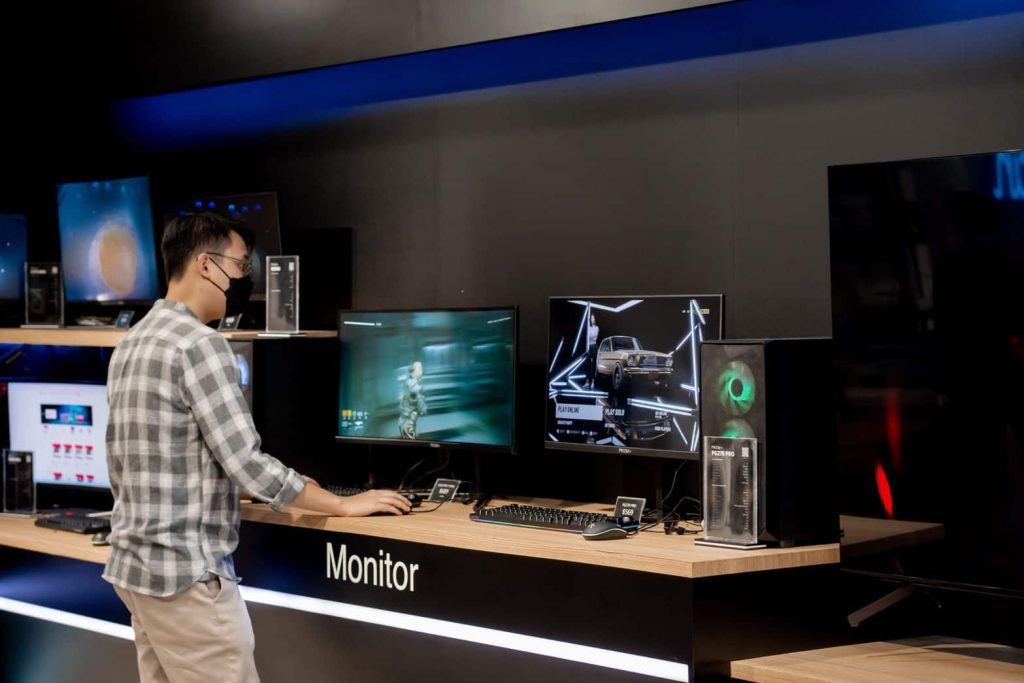 Their journey began with gaming monitors in 2017, followed by smart TVs in 2019 and Android TVs in 2020. In 2022, the brand expanded its product line to include OLED TVs, soundbars, smart air conditioner systems, Google TVs, and smart ceiling fans.
Jonathan reasoned that the smart home appliances market has a "large potential for disruption", and PRISM+ is well-positioned to do just that.
When it comes to developing new products, he said that PRISM+ looks at the latest market trends, as well as consumer needs and wants.
"As a consumer technology company, our goal is to essentially provide solutions to the problems that Singaporean households face in their daily life," said Jonathan.
For instance, PRISM+'s newly-launched smart air conditioner system, the PRISM+ Zero series, comes with smart features such as Routines and Usage Insights that redefine the way consumers use an air conditioner.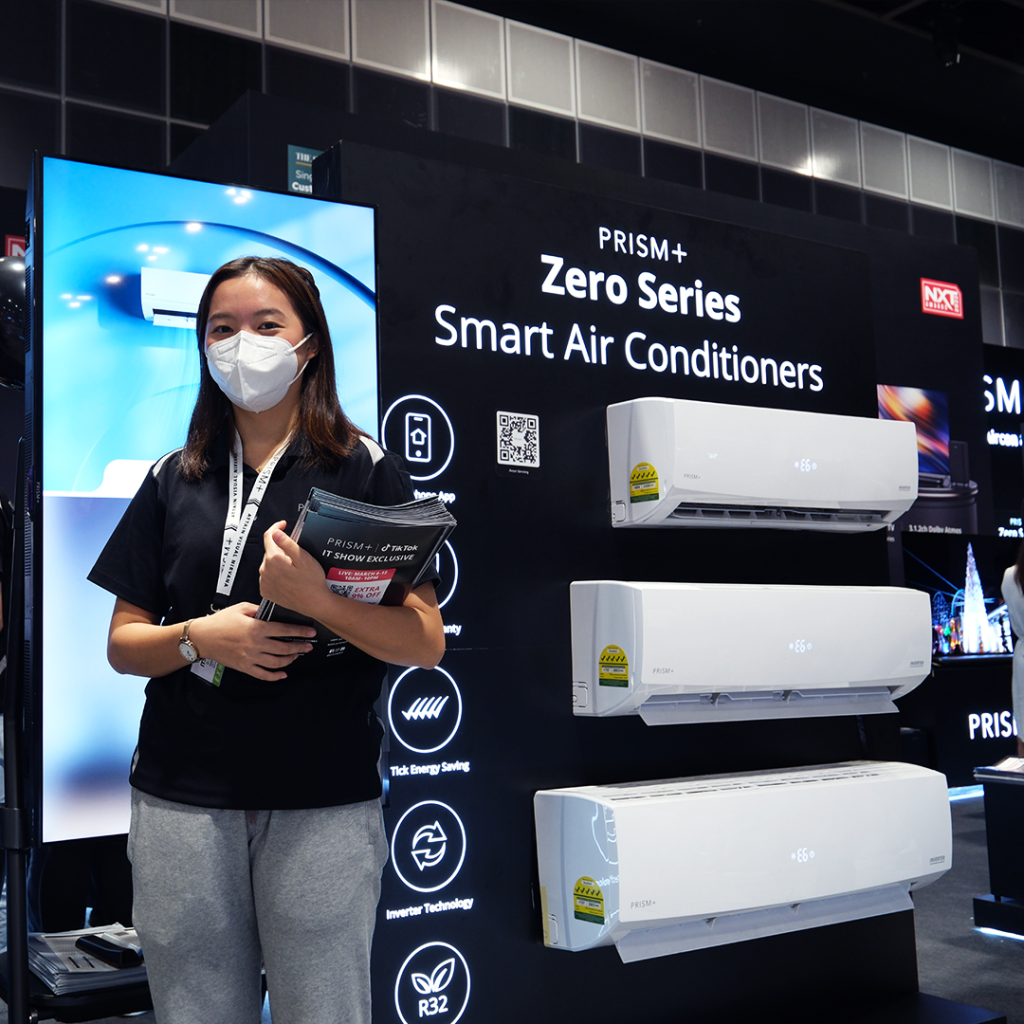 It is touted as the smartest aircon on the market, which Jonathan attributes to the PRISM+ Connect app that accompanies the system. The Google Assistant-enabled app enables users to monitor usage and adjust settings through home automation options, including voice control.
Users can track usage patterns to save energy costs, and set timed routines for turning the system on/off and adjusting room temperature. Beyond these, PRISM+ has plans to add motion sensing and energy tracking features at a later stage.
In addition to assessing market demand, the company also looks at its own internal capabilities and feasibility when introducing an entirely new product segment.
In particular, the development of PRISM+'s smart air conditioner systems took a year of intensive market research and preparation given the complexities of installation that involved manpower and technical know-how of its staff.
The brand has also developed its own in-house aircon services team to ensure a smooth installation and any servicing needs that consumers will have in the future.
PRISM+ is also offering a comprehensive eight-year warranty that covers all electrical and mechanical faults for its smart air conditioner systems. According to Jonathan, this is "unheard of for current industry standards", but it allows consumers to make large-ticket purchases with a peace of mind.
Beyond warranties, PRISM+ also offers onsite repairs or replacements, which collectively address real issues that consumers have when purchasing such products.
In short, our strategy to win consumers over is simple. Offering premium value as we always have, and as new players on the market, ensure peace-of-mind via our in-house customer service capabilities and an unbeatable warranty assurance.

– Jonathan Tan, founder and managing director of PRISM+
Moving from online to offline
PRISM+ was founded with a commitment to sustainable growth, and to this day, it remains a profitable business.
While PRISM+ is primarily an online brand, it has recently adopted an O2O (online-to-offline) approach to expand its physical retail presence, fuelled by its latest S$45 million funding.
As they say in marketing, be present where your customers are at. Our O2O approach has allowed us to remain competitive and capture potential customers who are transitioning from online to offline as our countries open up, [as] we anticipate the return of crowds to physical stores post-Covid.

– Jonathan Tan, founder and managing director of PRISM+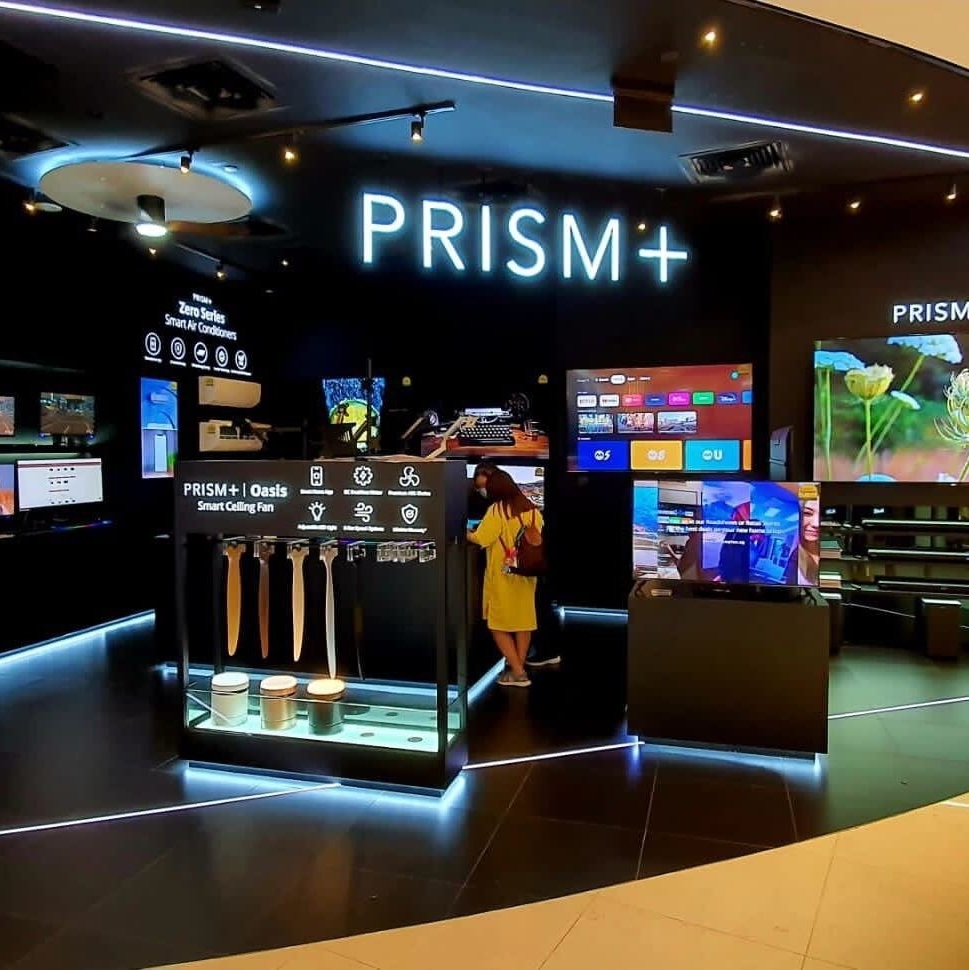 In Singapore, the brand has rolled out five retail stores in two months, and two additional stores in Malaysia not long after. Jonathan shared that this move was strategic, as the brand was launching its smart air conditioner system at the time, which allowed customers to physically experience it before making a big-ticket purchase.
As for the number of stores PRISM+ is targeting, Jonathan shared that the brand is looking at islandwide coverage in Singapore and multi-state presence in Malaysia, although the exact number of stores is unconfirmed at this time. The brand uses the same guiding principle for e-commerce, and has recently been exploring TikTok Shop as a marketplace, given the platform's large user base.
PRISM+ entered the Malaysian and Australian markets in late 2021 with an online retail store, followed by the setting up of operational capabilities.
The brand later launched an office in Malaysia and expanded its product line-up in early to mid 2022, followed closely by the launch of its first retail store in Malaysia. In the third quarter of 2022, PRISM+ expanded its product line-up in Australia with TVs, followed by the opening of its second physical store in Malaysia in the fourth quarter.
Eric Kam, PRISM+'s country director of Malaysia and Australia, explained that their Malaysia launch was driven by demand from local fans there, and the country's cultural and geographic proximity to Singapore.
According to their research, Malaysian consumers consume a lot of their content from social media and OTT (over-the-top) platforms, but consumers were often forced to pay a premium by incumbent brands back then. As such, PRISM+ saw an opportunity to disrupt the home entertainment and gaming segments with their value proposition.
On the other hand, Australia's gaming market has discerning consumers who demand high-end gear at a good value, similar to Singaporean consumers. PRISM+ believes its strong value offerings and emphasis on customer service positions them to better compete with traditional brands in Australia.
Successes and milestones over the years
PRISM+ has come a long way since its inception, achieving several notable milestones and accolades in the tech industry.
The brand has doubled its business scale within two years since the pandemic, boosting its profitability. It was ranked the #1 top-selling Android TV brand on both Lazada Singapore (for various seller categories from 2019 to 2021) and Malaysia (in 2021, the year of its launch).
Commenting on the tech landscape in Singapore, Jonathan believes that with the country already serving as a Southeast Asian hub for many global tech giants, it indeed has the potential to thrive. Furthermore, Singapore has had a history of producing some of the most innovative brands and iconic technologies over the years.
Like our home nation, homegrown success stories here often start small, but punch well beyond their weight. We plan to move into the smart home appliance industry, where we see a sizeable opportunity for disruption.

– Jonathan Tan, founder and managing director of PRISM+
He added that with the growing number of middle-class in Southeast Asia due to urbanisation, and the increased demand for convenience, the "smart home automation industry is projected to see a boost in the coming years."
The company's ultimate goal is to provide a holistic PRISM+ experience that seamlessly fits into the user's entire home or office environment, and the recent launch of the PRISM+ Connect app is a step towards achieving this vision.
Following its recent expansion into the Philippines, the brand is currently focused on increasing its market share there. Moving forward, PRISM+ intends to expand its market reach beyond its existing locations and has its eyes set on the rest of the markets in Southeast Asia.
Featured Image Credit: PRISM+