NFTs were all the rage in 2022 and Singaporean creators were quick to capitalise on the trend.
Influencer Irene Zhao made headlines as her collection raked in US$5 million last January, with single NFTs selling for as much as US$300,000. Rapper Shigga Shay debuted a new verse with his SPACEBARS collection, while entrepreneur Chanel Lee kickstarted her own lifestyle brand, Tasty Toastys.
A year on, the crypto hype isn't quite as strong as it once was. With the market crash, even the most popular NFT collections have been brought back to reality.
At their peak in mid-2022, Bored Ape Yacht Club NFTs were selling for a minimum of US$400,000. Today, that figure has come down to just over US$100,000. 
With that in mind, here's a look at how some of Singapore's top NFT projects have held out through the crypto winter.
1. IreneDAO
Irene Zhao is known to have one of the most successful NFT launches among Singaporean creators. In January 2022, she released a collection of around 1,100 NFTs as part of the IreneDAO collection. Each NFT features a picture of Zhao captioned with a popular crypto saying. 
Within a week, the collection had recorded over US$5 million in trading volume, with purchases from renowned personalities including Logan Paul.
Zhao set up a decentralised autonomous organisation (DAO) to determine how the sales proceeds would be used, in turn raising hundreds of thousands for charity.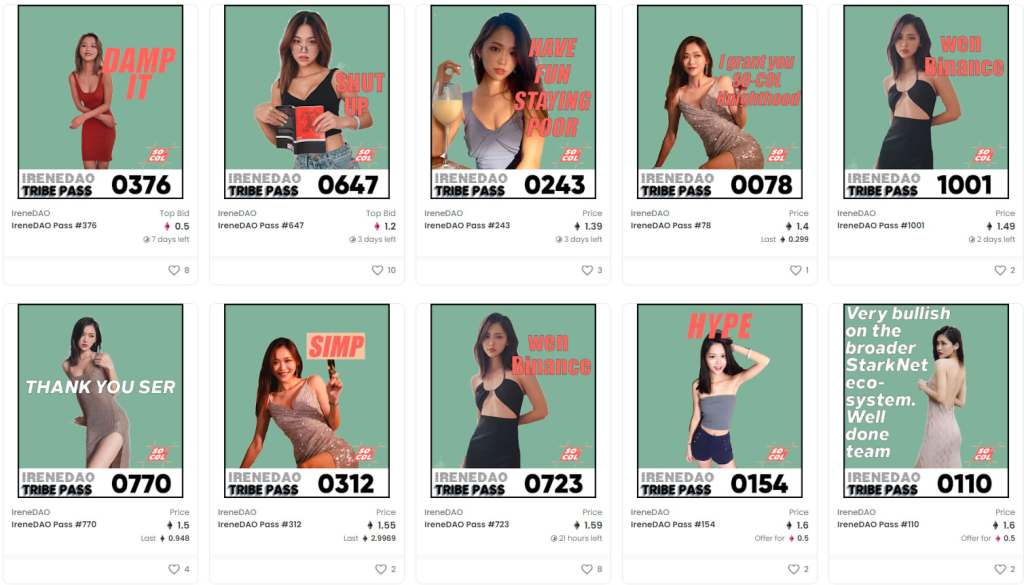 Today, IreneDAO sales have slowed down, with the average price for an NFT sitting at around US$100. Zhao remains actively involved in Web3 and has launched her own social media platform, So-Col, designed to help creators take control and ownership of their content. 
IreneDAO exists as a community on So-Col with over 8,000 members. Interested users can support Zhao by buying one of her NFTs, which then grants them access to the community.
2. Titus Low
Titus Low's eponymous NFT collection bears a striking resemblance to IreneDAO. It follows the same formula, featuring photos of the influencer with popular crypto sayings as captions. Low released his collection of 222 NFTs a month after Irene Zhao, albeit to lesser acclaim.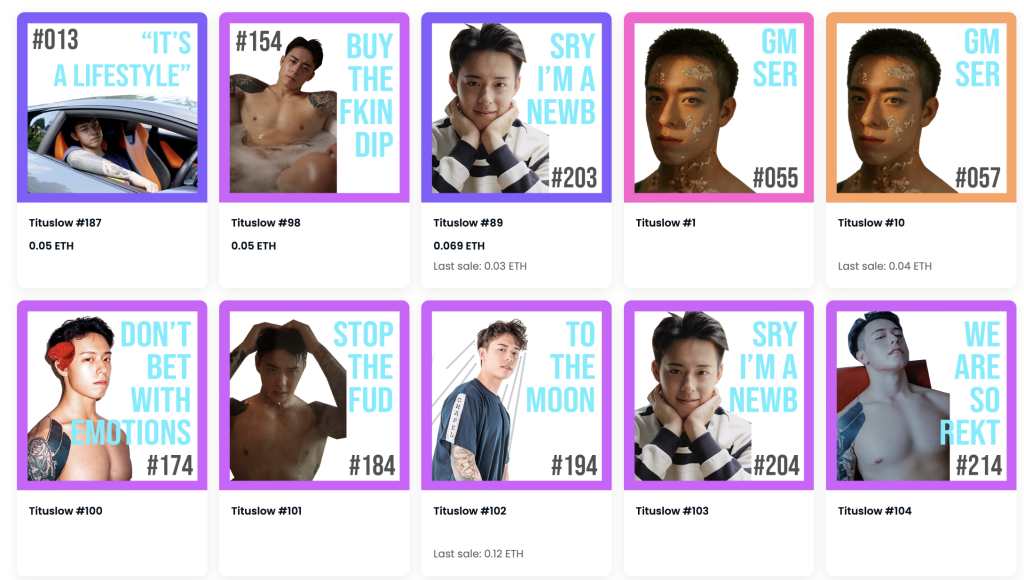 Low's collection recorded around 8ETH — US$20,000 at the time — in trading volume on the first day, and has only added 1ETH in the year that has passed since. The most recent purchase was made eight months ago for around US$40. 
The collection doesn't highlight any benefits for holders and appears to purely be an artistic endeavour. Although it is described as the "start of a non-fungible-experience shared by Titus and 222 supporters", said experience seems to have reached an end. 
3. Imaginary Ones
Imaginary Ones was one of the most anticipated project launches last year, not only in Singapore, but worldwide. Created by artist Clement Chia, the collection of 8,888 NFTs gained the attention of over 500,000 Twitter followers and sold out within four minutes. 
Over the months, the project has consistently retained its value despite the fallout from the crypto winter.
In February, the founding team announced plans to grow the Imaginary Ones ecosystem through a wellness app and a second collection of 'rides', which can now be used in a Mario-Kart-esque racing game called Bubble Rider.
During this time, Imaginary Ones has also been working in partnership with Hugo Boss to release special one-off NFTs. 
Following these announcements, the minimum price for Imaginary Ones' NFTs shot up by over 100 per cent to almost 1ETH. Currently, purchasing an NFT from the collection costs around US$1,700.
Within this list of Singaporean NFT projects, Imaginary Ones has been best able to sustain its success and is steadily building up its brand value. 
4. Tezarekt
A project founded by renowned beatboxer Dharni and entrepreneur Kenneth Koh, Tezarekt is a cross-platform digital vending machine created to offer unique social experiences.
Over the past year, a number of NFT collections have been launched on the platform by a roster of onboarded artists.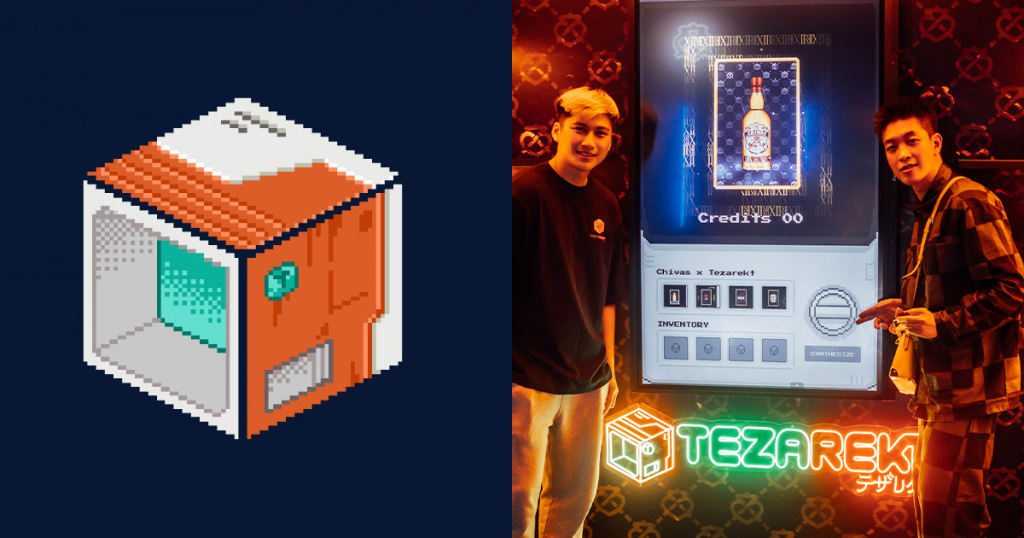 Most notably, Tezarekt offers tickets to events such as the Grand Beatbox Battle 2023 in the form of NFTs. The platform has also listed trading-card-style NFTs depicting popular figures in the beatboxing scene.
For Dharni and Koh, Tezarekt started as a way to help out artists and bring merchandise with real utility to the world of beatboxing. Since then, the concept has evolved and they aim to work on bespoke projects with other brands as well.
5. TTTreasures
Last April, Singaporean influencer Tammy Tay launched the TTTreasures NFT collection, taking a different approach as compared to Irene Zhao and Titus Low. Tay decided not to feature her own photos as NFTs, and instead used cartoon avatars with ice cream for hair. 
With 888 NFTs in the collection, Tay aimed to create a community of individuals with a shared interest in cryptocurrency, NFTs and the metaverse. Each NFT minted for 0.1ETH, which was worth around US$280 at the time. 
In the months following its launch, TTTreasures partnered with a number of events in Singapore including the Hypeworld EDM festival. Unfortunately, the efforts were short-lived and the community seems to have crumbled over the crypto winter. 
6. Tasty Toastys
Late in 2021, entrepreneur Chanel Lee left her full-time job to kickstart a business using an NFT collection.
Tasty Toastys was launched that November and got off to a less-than-ideal start. The collection of 7,600 NFTs didn't even come close to selling out and Lee was left to regroup. 
Three months on and with a new plan in hand, she gave her idea another shot. This time, whitelisted members in her community could mint an NFT for free. It was a smaller group of supporters who still remained, but they were more engaged and dedicated to the success of the project.
Today, Tasty Toastys is alive and well as a lifestyle brand and its NFTs — artwork depicting pieces of toast — now exist as plush toys too.
Most recently, the merchandise has found a home at Food Folks SG at Lau Pa Sat. The NFTs themselves haven't appreciated in value, but the Tasty Toastys community is still grinding through the crypto winter. 
7. Kong Collective
In August 2022, actor Mark Lee announced a collection of 444 NFTs titled Kong Collective, each one minting for 1.5ETH — worth almost US$3,000 at the time. Since then, NFTs from the collection have been traded for as much as 4.85ETH.
Owning a Kong Collective NFT was meant to serve as a lifetime membership pass with Mark Lee's King Kong Media Productions company. This would include benefits such as VIP tickets to concerts, movie premieres and other entertainment events.
Last November, Kong collective members enjoyed a front row view of JJ Lin's concert. 
Currently, the minimum price for a Kong Collective NFT sits at around US$1,700. As per the Telegram group, the project is still active although interest seems to have died down in recent months.
Kong Collective's last Twitter post dates back to January, and it's unclear if members have enjoyed any further benefits since. 
Featured Image Credit: Imaginary Ones / Titus Low / Irene Zhao / Tasty Toastys