Singapore-based electric vehicle (EV) charging provider Charge+ announced today (May 17) a groundbreaking plan to develop a 5,000km EV charging highway across five countries in the Southeast Asia region.
This ambitious initiative aims to address the lack of charging infrastructure for EVs — particularly for long-distance travel — and facilitate cross-border convenience for EV drivers.
The EV charging highway will span the countries of Singapore, Malaysia, Thailand, Cambodia, and Vietnam, with a total of 45 direct current (DC) fast charging locations to ensure a quick turnaround time for EV drivers.
They will be able to conveniently access these charging stations using the Charge+ app. Currently, Charge+ operates approximately 1,000 charging points.
It will be the world's longest highway of its kind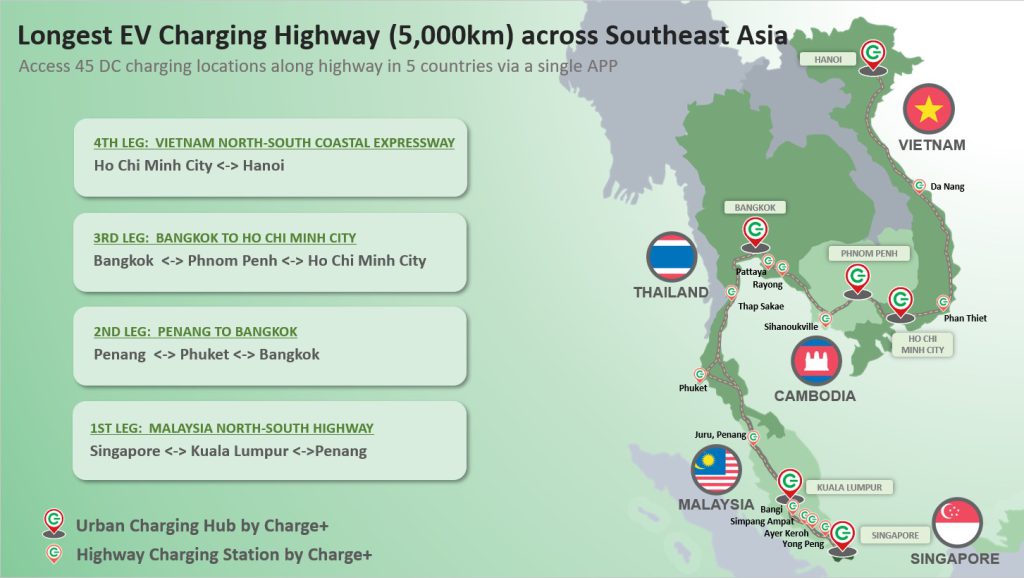 Once completed, this EV charging highway will be the longest of its kind in Southeast Asia and one of the longest in the world.
In the first phase of the project, Charge+ has confirmed 18 charging locations, including urban charging hubs in key cities such as Singapore, Kuala Lumpur, Bangkok, Phnom Penh, Ho Chi Minh City, and Hanoi.
These stations, which will be owned and operated by Charge+, are expected to be operational by the end of 2024. An additional 27 locations, owned by both Charge+ and strategic partners, will be ready by the end of 2025.
The average distance between charging stations will be around 120km, ensuring that EV drivers have access to charging facilities within a reasonable range. The stations will be strategically located either directly on the highway or within 2km of interchanges.
The project aims to alleviate concerns among prospective EV buyers regarding the lack of charging infrastructure for long-distance travel and the complexities of cross-border travel, such as registering for different apps and handling currency payments.
By providing charging stations along the highway and integrating them into the Charge+ app, the initiative aims to boost overall confidence in the transition to EVs as the primary mode of land transport in Southeast Asia.
Charge+ has also announced a strategic partnership with EGAT, the Thai state-owned enterprise responsible for energy generation and electricity sales in Thailand.
As part of this partnership, EGAT will provide a site in Thap Sakae, approximately 320km south of Bangkok, for a DC charging station operated by Charge+. Moreover, Charge+ users will be able to seamlessly access EGAT charging stations in Thailand through the Charge+ App.
The announcement of this ambitious project and strategic partnerships was made at the annual Future Mobility Asia summit in Bangkok. Goh Chee Kiong, CEO of Charge+, expressed excitement about the potential of the EV charging highway to "revolutionise societal perceptions of EVs" in Southeast Asia and provide EV drivers with greater confidence.
"Ever since the founding of Charge+ in 2018, our vision was to catalyse electric mobility across Southeast Asia and provide EV drivers with a seamless experience," added Ong Tze Boon, Chairman of Charge+, highlighting the project as a significant milestone in its journey to become a key player in the EV charging landscape of Southeast Asia.
Featured Image Credit: Sime Darby Motors