In a world where menstruation is still often shrouded in secrecy and stigmatisation, Blood is breaking barriers and transforming the period experience.
Founded by Tan Peck Ying and Caleb Leow, Blood is on a mission to provide innovative, high-performance, and body-safe solutions for menstrual health and wellness.
With a range of products designed to address pain points and misconceptions surrounding periods, Blood aims to create a more open and positive conversation about menstruation.
Peck Ying and Caleb's paths first crossed during an entrepreneurship module at the National University of Singapore (NUS). Both driven by a shared passion for innovation and technology, they joined the NUS Overseas Colleges (NOC) Program, which further fuelled their entrepreneurial aspirations.
Peck Ying had her first foray in the entrepreneurship scene during her time at NUS Enterprise, where she played an integral role in establishing and developing Singapore's entrepreneurship ecosystem. Working closely with passionate founders, she witnessed firsthand the transformative power of startups and was inspired to create a venture of her own that would make a significant impact.
Caleb, on the other hand, had nurtured his entrepreneurial spirit from a young age. During his university days, he undertook projects to streamline operations of small and medium-sized enterprises (SMEs) through technology and even taught himself coding.
Upon graduation, Caleb immediately founded pslove with Peck Ying, which was later rebranded to Blood. According to the founders, this rebranding decision was motivated by a desire to make a bold statement to convey that there is no shame in menstruation and help revolutionise the period experience.
Normalising periods, one product at a time
In 2014, Blood was born out of a personal need. Peck Ying was seeking a solution for menstrual cramps that didn't involve relying on pills.
It was during this time that Caleb, her then-boyfriend and now husband, gifted her a warmer purchased during a school trip to Taiwan. Although the warmer provided some relief, it fell short of delivering long-lasting and adequate warmth.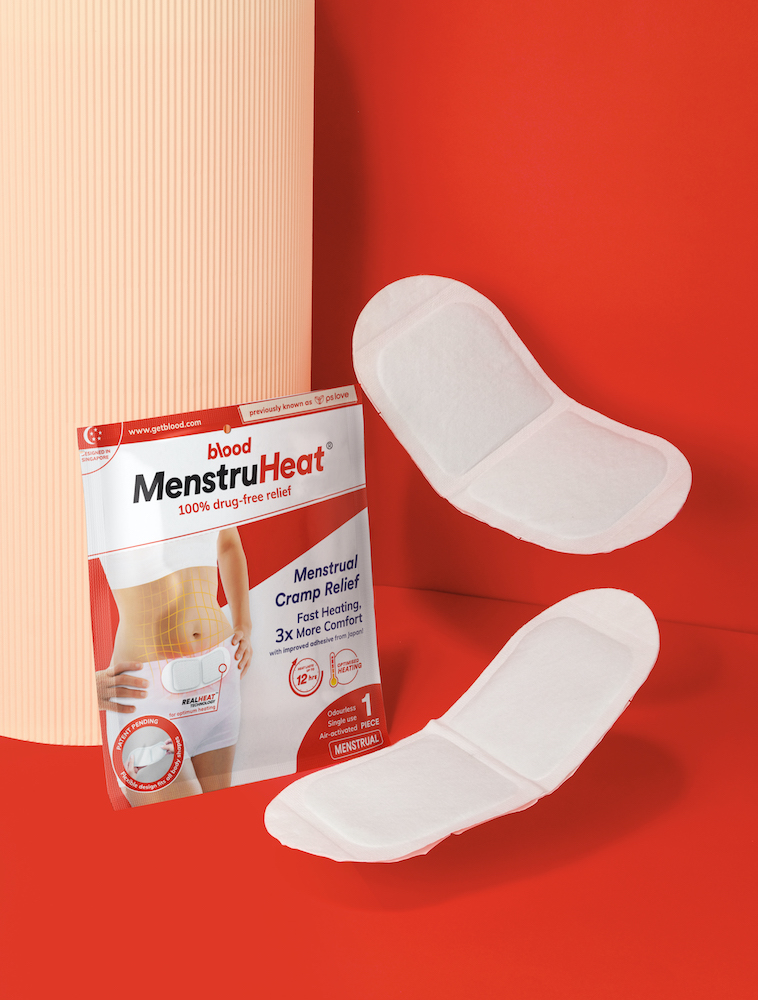 This led to our realisation that there was a significant gap in the market for effective, non-pharmaceutical period care products.

This then formed the building blocks of our first product, MenstruHeat — an air-activated, 100 per cent drug-free cramp relief patch that is discreet with optimal heat, allowing many others to combat period downtime while avoiding an over-reliance on painkillers. From there, Blood was born to bring MenstruHeat to market.

– Tan Peck Ying and Caleb Leow, co-founders of Blood
By focusing on product innovation and material design, Blood strives to enhance the period journey through essentials that are gentle on the skin, safer for the body, and overall better for women's well-being.
The company firmly believes that by providing access to quality products, addressing period needs, and offering comprehensive period education, they can contribute to the normalisation of periods for everyone.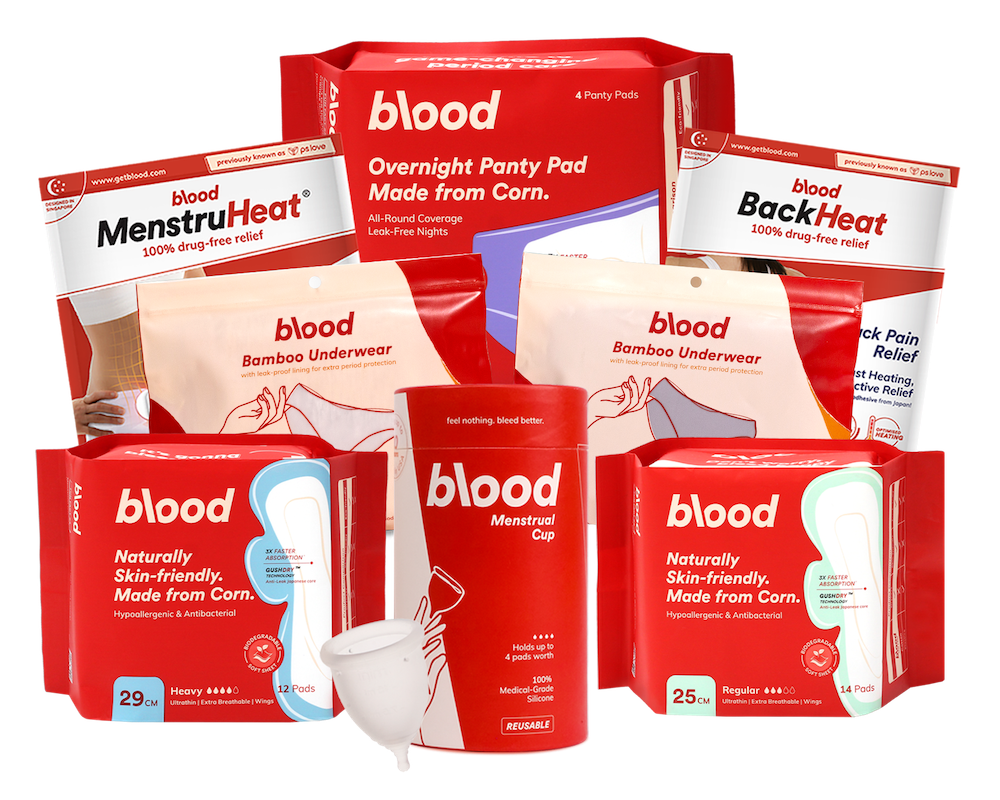 Beyond pain relief patches (MenstruHeat, BackHeat, NeckHeat, KneeHeat), the company currently offers a diverse range of other period care products, including the world's first corn-based sanitary pads, liners, overnight panty pads, menstrual cups, and bamboo Hipkini undies.
With over one million corn pads and more than five million MenstruHeat products sold to date, the company has solidified its position as a trailblazer in the period care industry.
Making sanitary pads from corns
In a quest to address the common issues of skin irritation and discomfort associated with traditional sanitary pads, the founders were determined to create a sustainable and high-performance alternative, leading them to a remarkable discovery: the use of corn as the primary material for their sanitary pads.
The inspiration to explore alternative materials arose from the realisation that despite being widely used, traditional pads lacked significant innovation in addressing skin-related concerns caused by heat, humidity, and prolonged usage.
To us, sustainability is nothing without performance. Throughout our product design process, the goal was to marry the two — a material with extremely high functional performance, that is also more sustainable than what currently exists.

It was not easy to find that special ingredient. Commonly-found materials may contain chemicals or fragrance that are rash-causing agents, or in the instance of cotton, could be hydrophilic and trap moisture on the surface, leading to the growth of bacteria.

– Tan Peck Ying and Caleb Leow, co-founders of Blood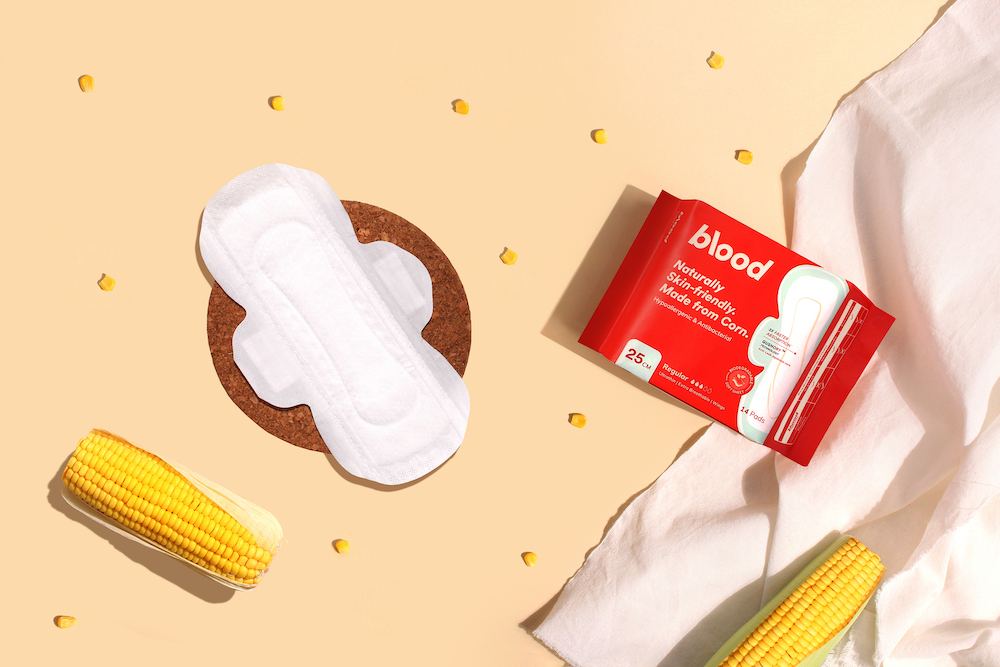 However, when the couple stumbled upon corn, they were astounded by its performance and unique qualities. Corn proved to be naturally hypoallergenic, providing exceptional gentleness on the skin and eliminating period rashes entirely.
Moreover, corn-based pads boasted superior absorbency, three times faster than cotton, while remaining dry to the touch. With a 100 per cent biodegradable corn topsheet, these pads offered a more sustainable and eco-friendly solution.
The development of the corn pads involved an extensive year-long research and development process. Designed in Singapore, they were manufactured through a close partnership with overseas factories.
The team worked tirelessly to push the boundaries, ensuring the pads' performance exceeded expectations. Crucially, Blood actively sought customer involvement by sending out production samples to gather real-time user feedback. This collaborative approach proved instrumental in creating a product that resonated with consumers and met their needs.
To guarantee the highest quality and safety standards, the corn pads underwent rigorous testing. Blood engaged third-party laboratories to conduct hypoallergenic, chlorine, phthalates, and fluorescence tests. These stringent measures aimed to provide consumers with the assurance that the pads were not only effective, but also safe for their bodies.
Breaking stigmas with period education
One of the major stigmas Blood aims to break is the silence surrounding periods in the workplace. Women often feel compelled to hide their menstrual products and face various forms of period shaming, including bullying, isolation, and insensitive jokes.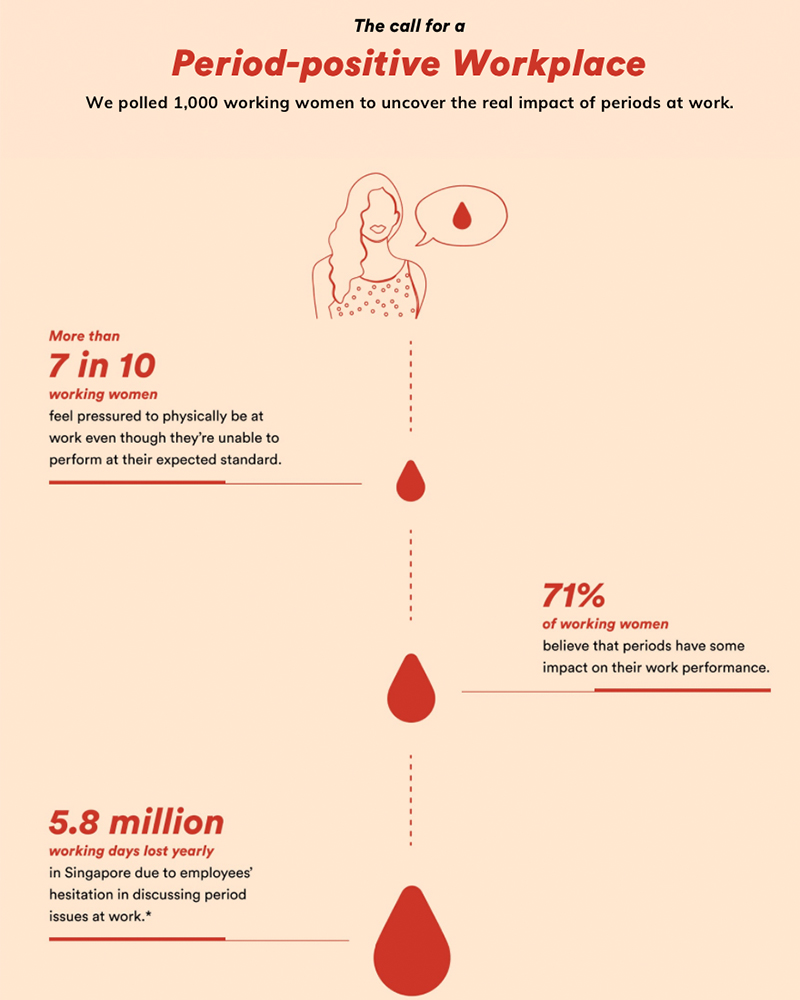 To shed light on this issue, Blood launched the "Period-Positive Workplaces" initiative last year, encouraging companies of all sizes to create supportive environments for women.
As part of this initiative, they conducted a comprehensive survey that revealed some startling statistics. Three out of four women admitted to experiencing period shaming, while a staggering 76 per cent confessed to going to great lengths to conceal their sanitary products at work.
Additionally, more than half (54 per cent) of respondents acknowledged lying about their reasons for absence to avoid ridicule or discrimination. By addressing these workplace challenges, Blood is striving to create an inclusive culture where women can openly manage their periods without fear of judgment or stigma.
Another misconception and stigma that Blood aims to challenge is the belief that women should resign themselves to suffering from "bad periods" as if severe symptoms are an inherent part of menstruation. Conditions like endometriosis, which were previously disregarded, are now being taken more seriously.
Through this, we see the need for open period education and awareness. By arming others with knowledge and creating a safe space for sharing, we believe that we can normalise these topics so that women can understand their bodies better, take charge of their health, and not be afraid to seek help.

– Tan Peck Ying and Caleb Leow, co-founders of Blood
They added that early detection and intervention can significantly improve one's menstrual health, leading to positive effects on their daily life, productivity, and emotional well-being.
Through their engaging presence on platforms like Instagram and TikTok, Blood shares interesting and relevant period health content, fostering conversations and breaking down barriers. The positive response and high engagement they receive reaffirm the hunger for knowledge and the desire to challenge societal norms surrounding menstruation.
Overcoming rejection in its early days
Blood started out with purely online sales, but the founders soon realised the importance of making their products available in retail stores to cater to customer demands for convenience.
Getting our products onto shelves of major retail chains was a whole new challenge to us back when we started, because we knew close to nothing about it. We initially faced rejection from every major retail chain we spoke to but we persevered and approached independent retail stores, slowly building up our retail store listings, one at a time.

This eventually led to sufficient brand, product and demand growth, to the point where the larger chain-retailers were ready to open their doors to us, and some even approached us.

– Tan Peck Ying and Caleb Leow, co-founders of Blood
Currently, Blood is available at major local retailers like NTUC and Watsons. The founders acknowledged that having wide availability through their retail partners has allowed the company to better reach the masses, ensuring easy access to their products.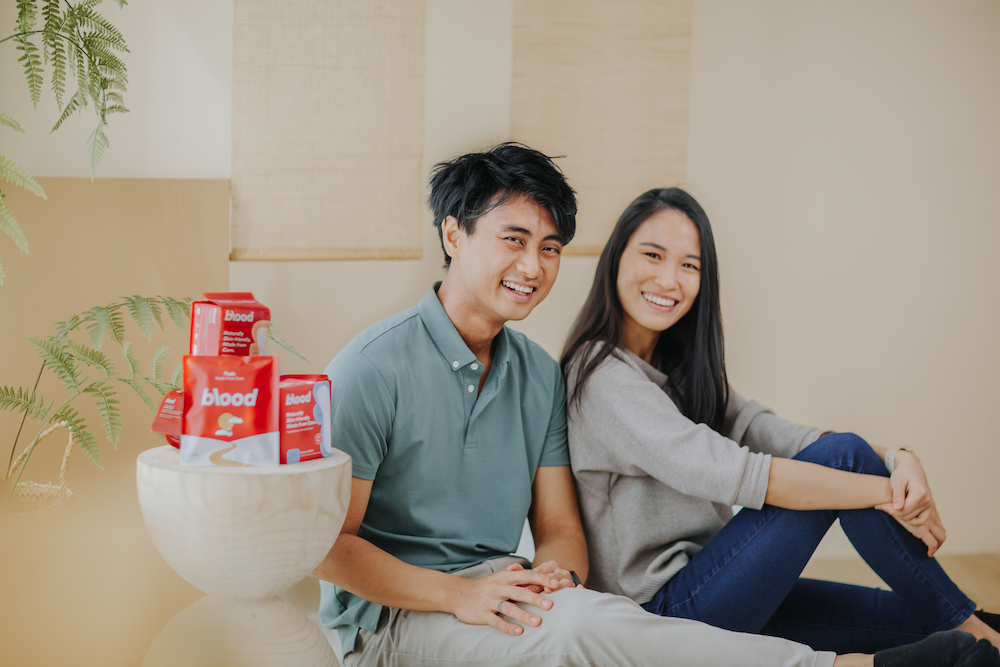 Along the way, Blood faced many other business challenges. For one, expanding into adjacent markets such as Malaysia and Indonesia posed unique hurdles, as consumer behaviours and habits differed from their home base in Singapore.
However, by having their local teams act as a "sounding board" and establishing a robust customer feedback process, Blood was able to adapt to the diverse market landscapes and tailor their approach accordingly.
In addition, the COVID-19 pandemic presented both threats and opportunities for Blood. With retail traffic slowing down during lockdowns, the company shifted its focus to online sales and digital activations, successfully transforming into an omni-channel brand. This adaptability allowed them to weather the storm and solidify their business foundation, preparing them for the next phase of growth.
From a financial perspective, Blood adhered to the principle of sustainable unit economics while reinvesting profits for growth. This approach enabled them to achieve a break-even point within the first few years, ensuring stability and allowing for measured expansion without compromising cash flow.
With the recent infusion of seven-figure Series A funding, Blood is poised to embark on an exciting new chapter as they continue to enhance the menstrual experience for women across Southeast Asia.
Their primary focus lies in expanding their regional presence in Malaysia and Indonesia, while developing new additions to their product range. In June 2023, Blood will introduce Ultra-thin Corn Pads featuring an extended length of 41cm and Overnight Panty Pads in size L-XL.
Blood's journey to date epitomises the spirit of perseverance and determination. Through their dedication to sustainable practices, customer-centricity, and continuous innovation, they have not only revolutionised the period care industry, but also instilled a sense of empowerment in women to embrace their periods with confidence and comfort.
Featured Image Credit: Blood