We're going to preface this article by saying that this was our very first time staying at Marina Bay Sands. We didn't know what to expect, but we knew it was going to be unforgettable.
When we got the keys to our rooms, we were told that the Marina Bay Sands app would grant us access to more information and features about the place. And trust, we needed it to explore this gargantuan place.
We registered for a Sands Lifestyle membership that would give us member benefits, perks and rewards when we shopped, stayed, and dined at Marina Bay Sands.
Through the app, we could view our room details at a glance, and also connect our keycard to the account for room and lift access using our phones.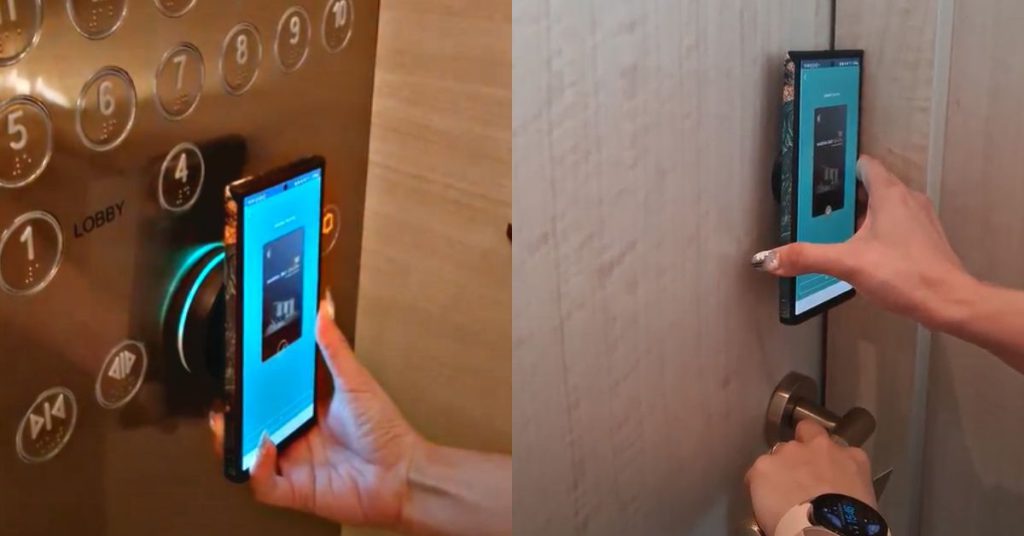 Staying at the New Sands Premier Room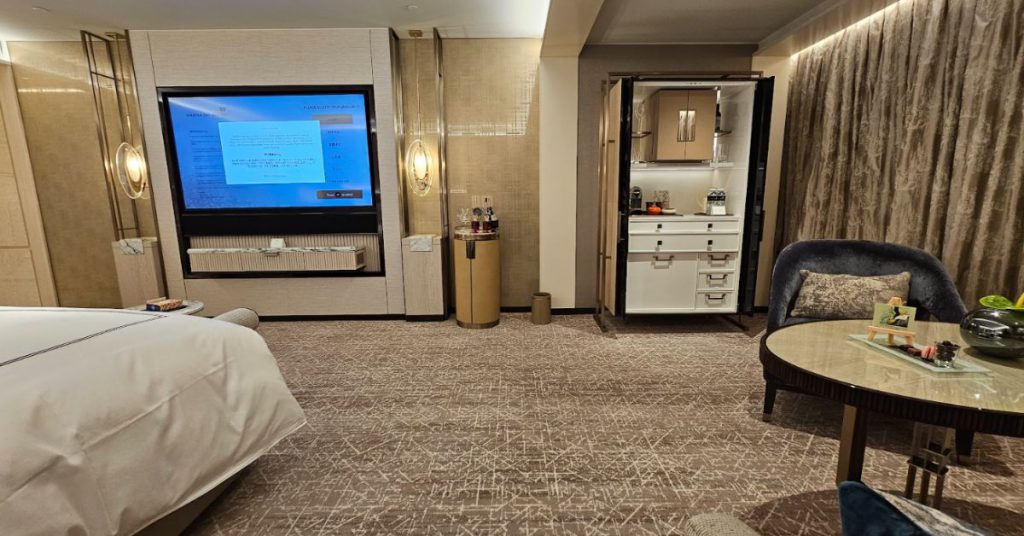 Opening the door to our rooms, let's just say we weren't ready for the welcome. The room came to life, lights slowly faded in as the automatic curtains withdrew to show us our city view.
This was just one way that the room is integrated with smart technology.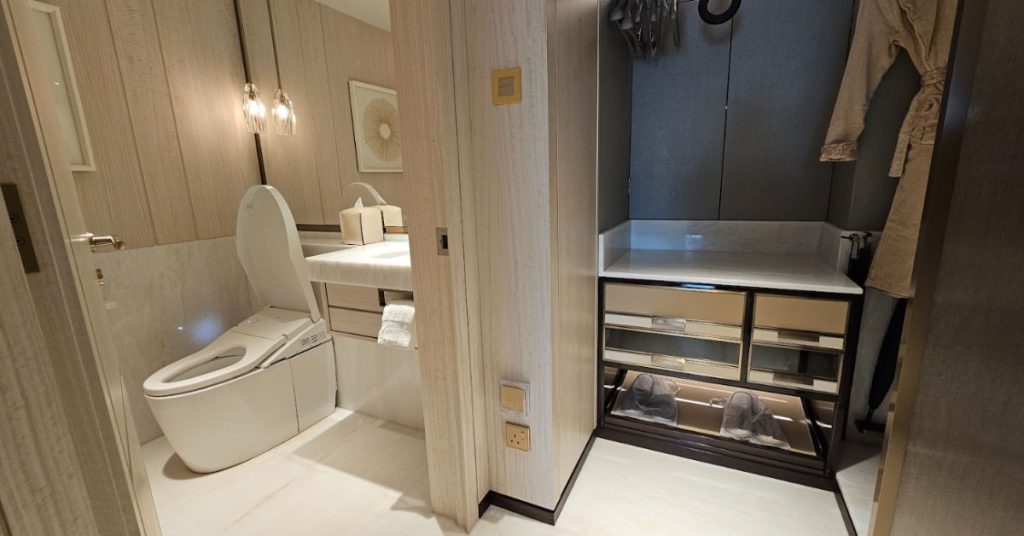 Some other notable features included the smart toilet, which would automatically open its lid when we came close, the proximity-sensitive switches that would light up before we even pressed them, and the Qi wireless chargers that were built into the marble nightstands.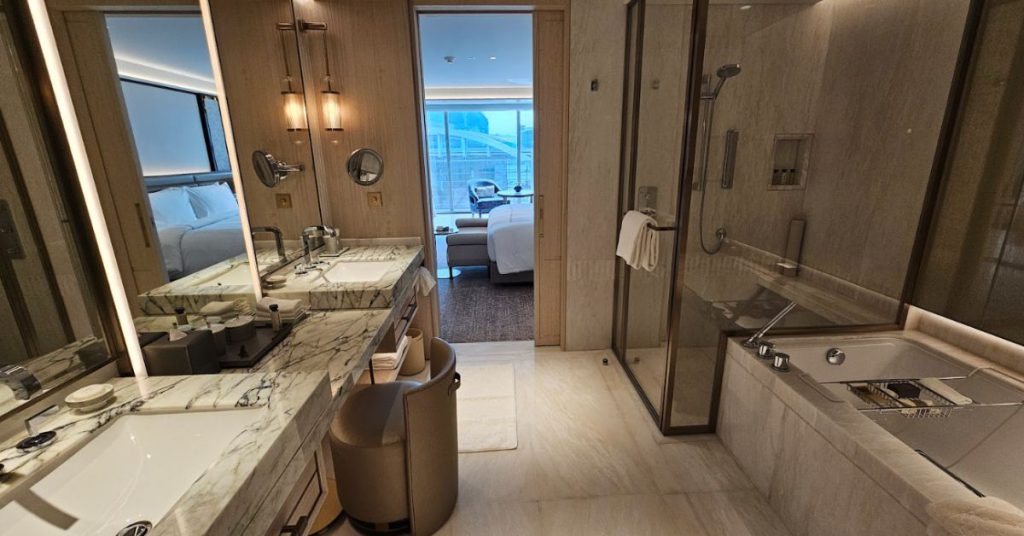 Despite the intuitive technology incorporated into the room, we struggled to find some of the simpler things, such as a plug point for a hairdryer in our bathroom. Was it simply too well-hidden, or does it just not exist?
The room is plenty spacious, equipped with a walk-in wardrobe area, separate powder room with a toilet, luxurious bathroom that had an enclosed rain shower, bathtub, and separate vanities, a King-sized bed with a bedroom bench and coffee table, a 75" Samsung TV, a bespoke armoire and a cocktail trolley (cocktails are not complementary), plus a couch area and low dining table by the floor-to-ceiling windows.
The room is decked out with familiar luxury brands, such as Rivolta Carmignani terry, Salvatore Ferragamo bath amenities, and a Bang & Olufson bluetooth speaker on the bedside table.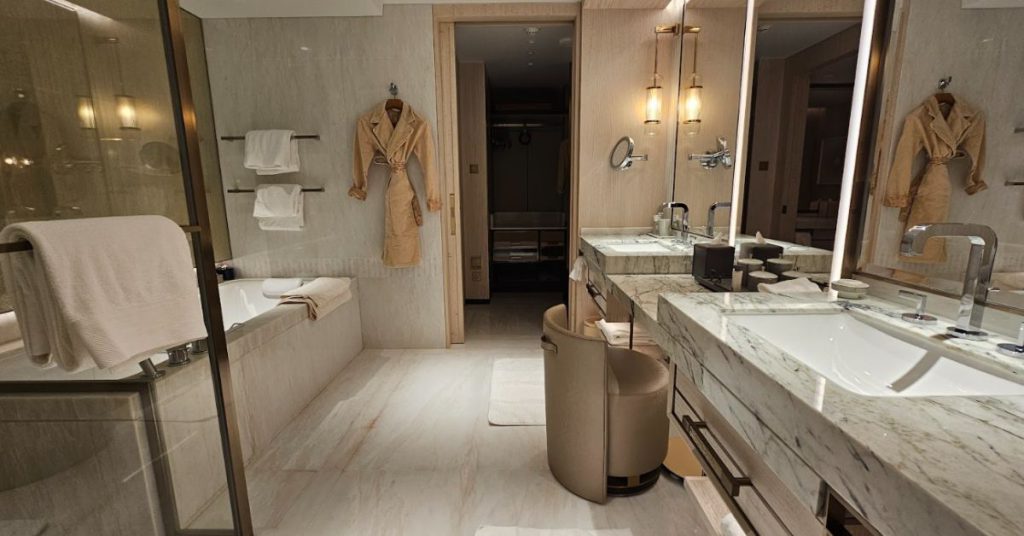 For rest, we had deluxe beds and pillows, fitted with Frette bed linen. Turns out, Marina Bay Sands has its own custom line of mattresses, called the Beautyrest by Simmons, and it's purchasable if you enjoyed your sleep in the hotel so much that you want to bring the experience home.
As though the in-room amenities weren't already good enough, the turndown service took it up a notch. Depending on what the attendant noticed in our rooms, they would thoughtfully cater to our potential needs.
For example, we had our laptop and mouse out, and the attendant helpfully tidied up the wires with a cable tie and provided a mousepad.
A glass and bottle were readily prepared on a nightstand for convenient hydration during the night, and a bathmat was laid out alongside the bathtub in anticipation for a relaxing soak later.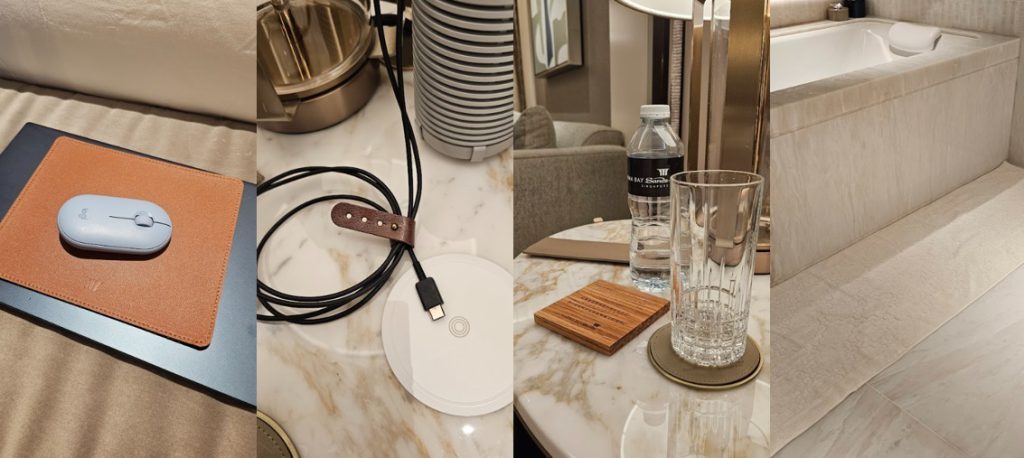 Another guest shared that because he had left his spectacles out, the attendant had provided a microfibre cloth next to it too.
These were little but significant touches that truly cemented the experience of staying at Marina Bay Sands in our minds.
Touring the exclusive Paiza Signature Suite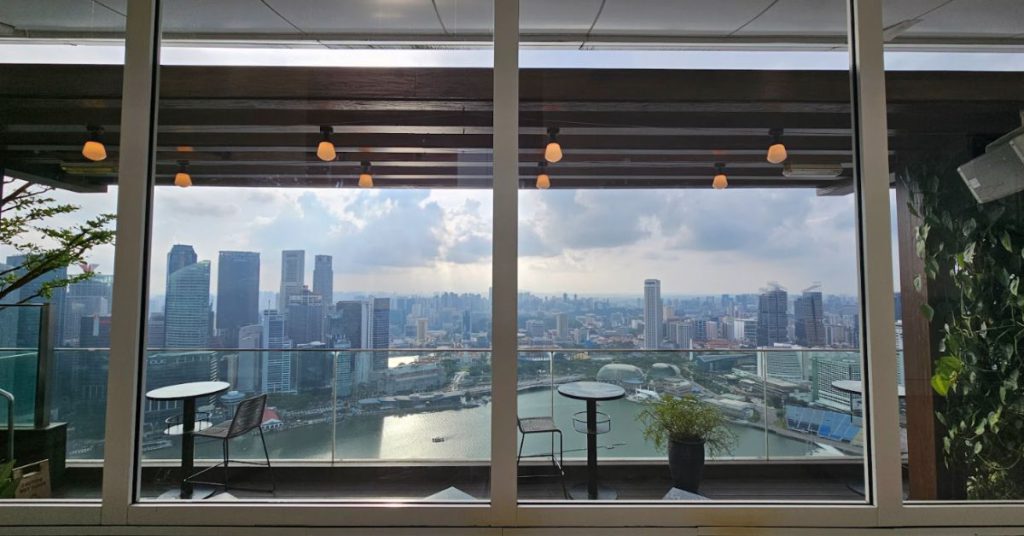 We got treated to a surprise during our stay with a first look at Marina Bay Sands' brand new ultra premium, luxurious, high-end, insert-other-similar-expensive-sounding-adjectives Paiza Suites.
Accessible through private lifts, the Paiza collection promises "unparalleled views" and next-level lavishness, we were inclined to agree.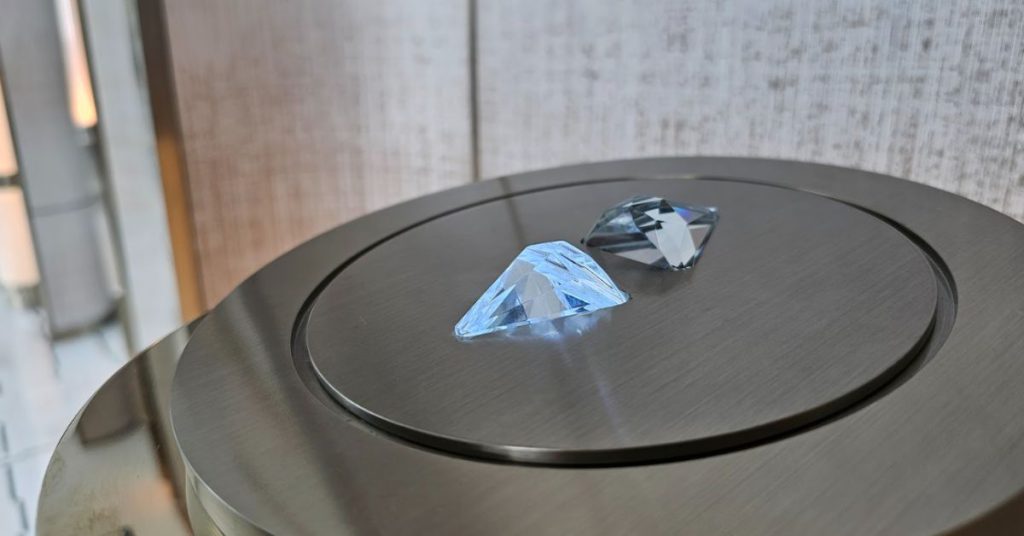 Starting from even the lobby, we could already see the opulent touches. The lift buttons were handcut crystals on a pedestal, the floor was Namibia White marble, and there was the expansive view of the bay.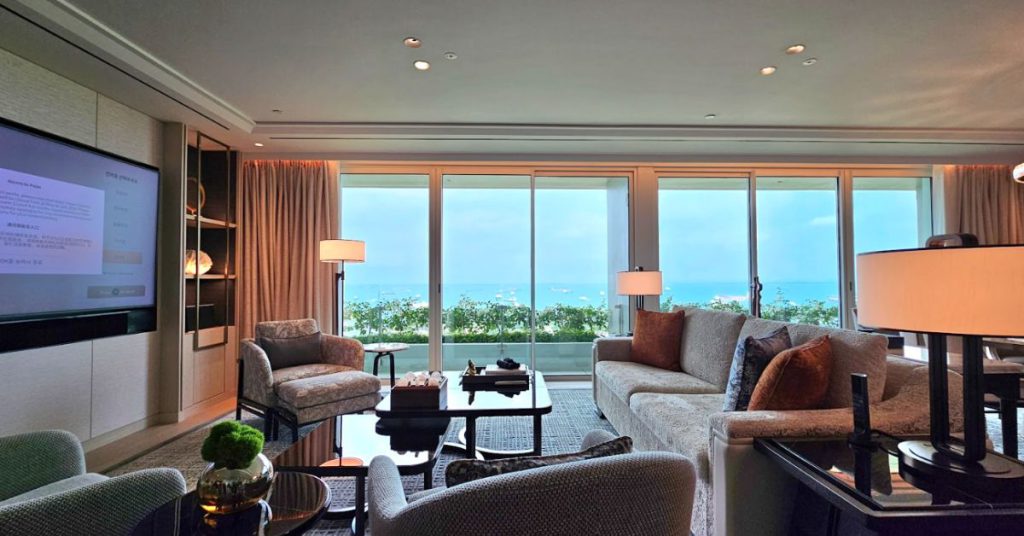 Lots of fancy terminology was used during our private media tour with Stephanie Sentell, Director of Interior Design at Marina Bay Sands, materials of exotic-sounding origins pointed out left and right as we explored the Paiza Signature Suite.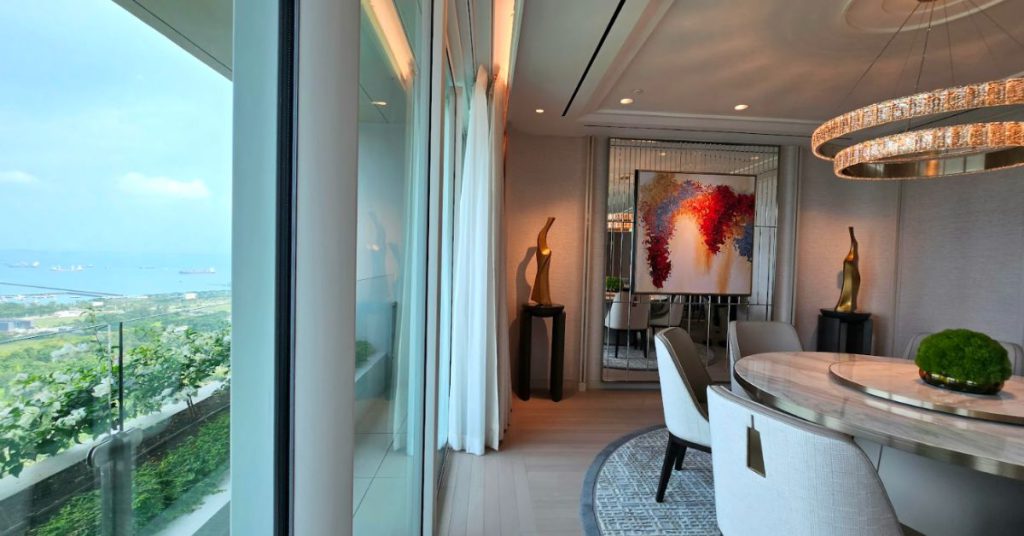 It's hard to imagine that many will fully understand the level of detail that the architects and designers put into perfecting every corner and inch of the place.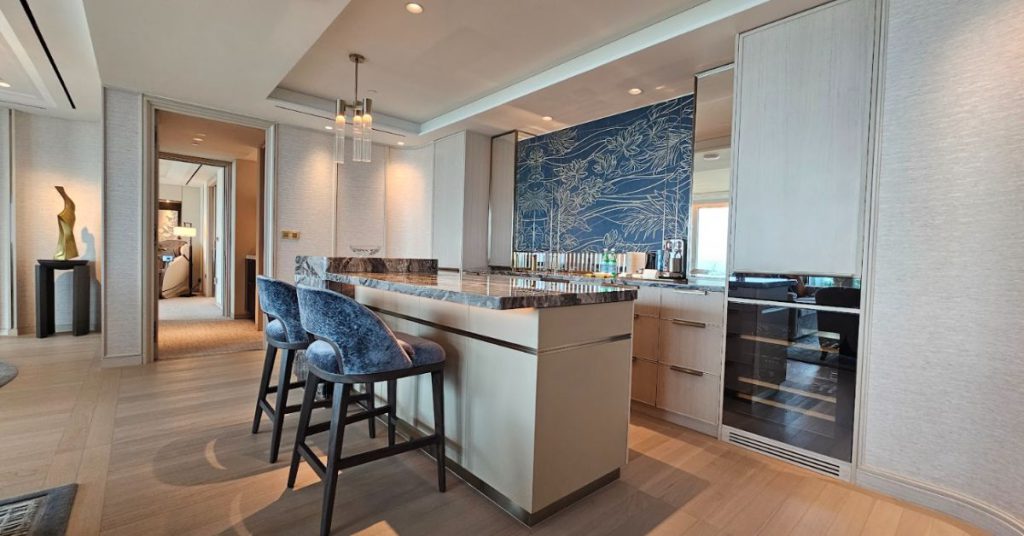 So, unless you're the kind of person who would relish the detailed backstory of how everything is handstitched, handmade, handpainted, or handcut, the specifics probably don't quite matter.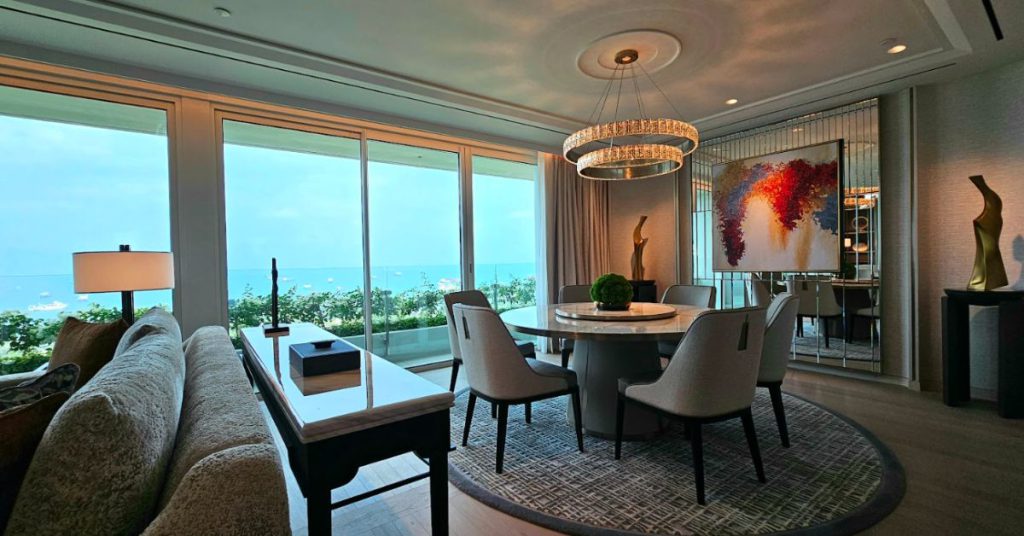 All you need to know is that everything comes together to provide an ultra-luxurious experience for your senses.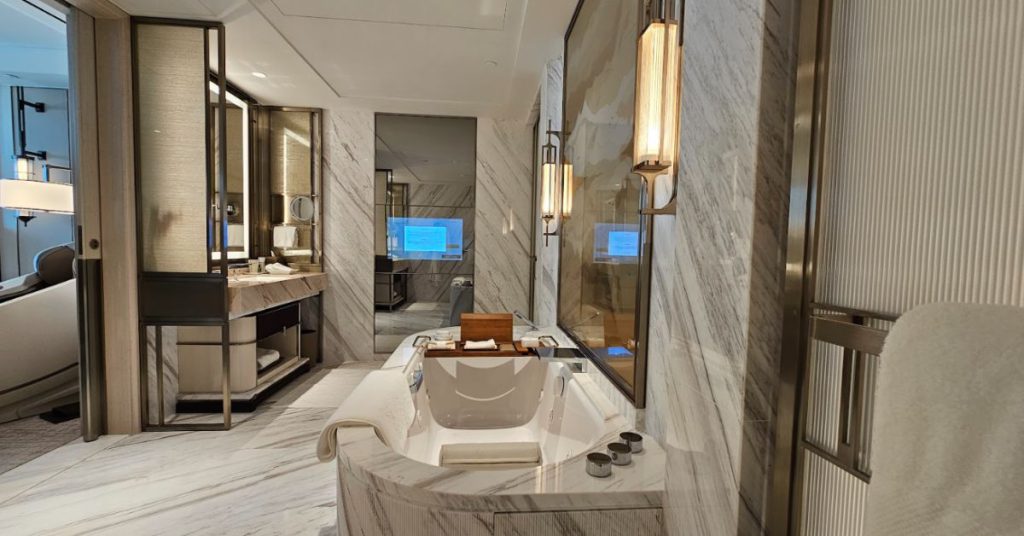 For example, the bathroom door was designed intentionally to have a gap below that's measured exactly to fit the thickness of the bathroom mat. So, when you swing the door open, the mat doesn't run or bunch up.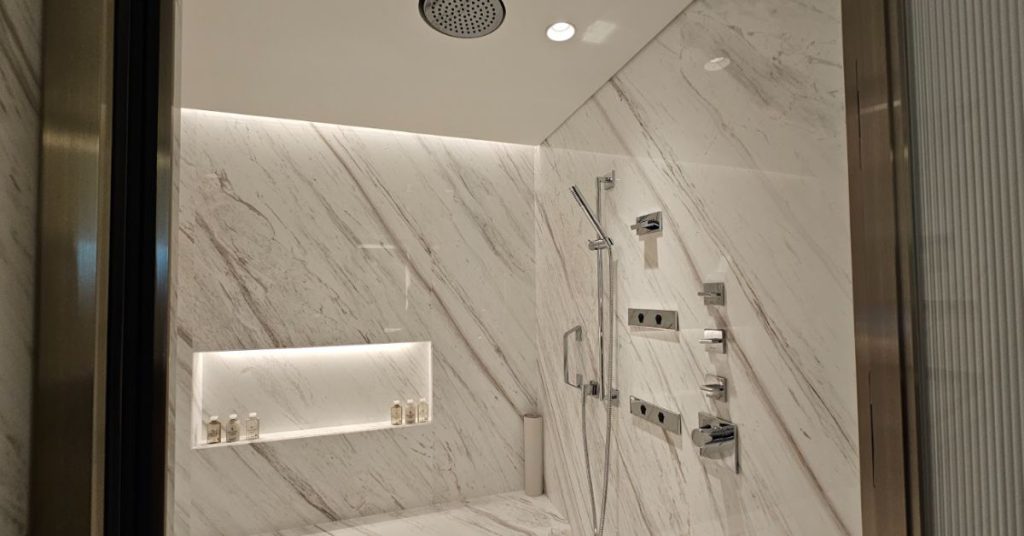 Meanwhile, the bedroom carpet was extra plush, like walking on a bed of comfy clouds, because it has been layered with over-tufting to create a cushiony texture under your feet. Every step that you take in the bedroom literally puts you into a relaxed state as you prepare for bedtime.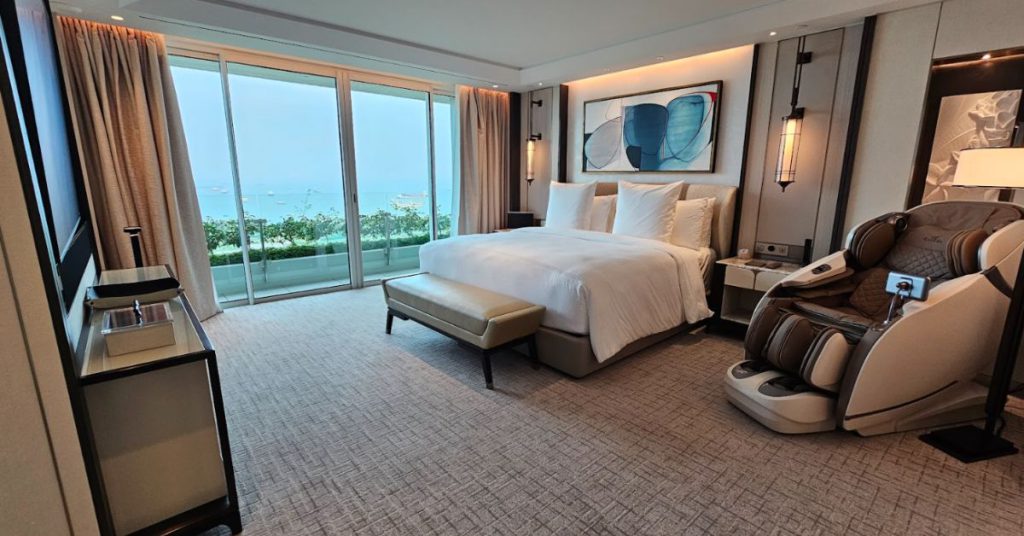 "No expense has been spared when it comes to the experience," Stephanie quipped, "It's a little bit just showing off, to be honest. It's just us saying, 'well, we can do it, and we want it to be the nicest' (to) give more of that residential bespoke feel."
And their effort certainly showed.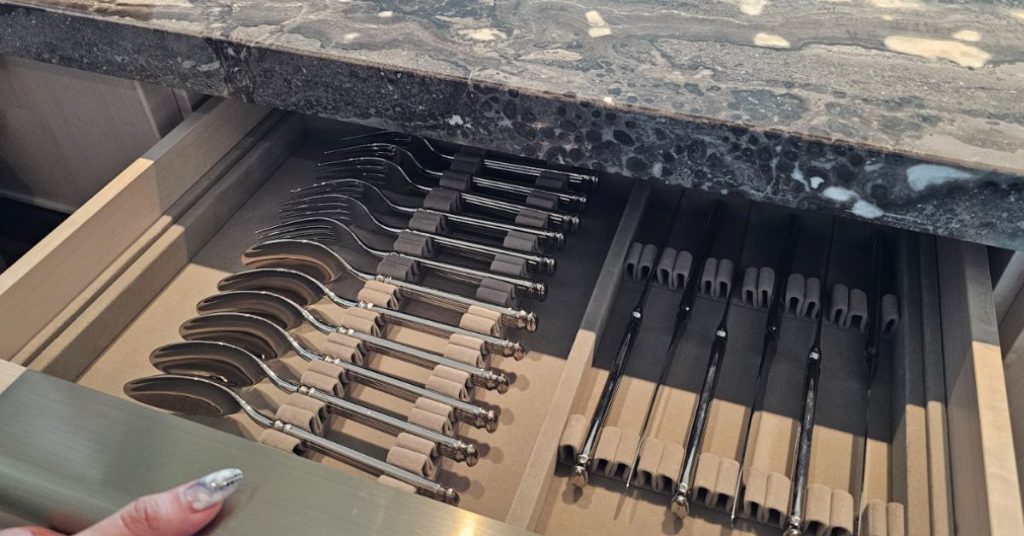 Those in the Paiza suites also get the pleasure of having Marina Bay Sands' attentive 24-hour butler team at their servic.
According to the Marina Bay Sands website, The Paiza Collection was "exquisitely designed and artfully curated with bespoke furnishings". And according to Stephanie, it's meant to feel like home.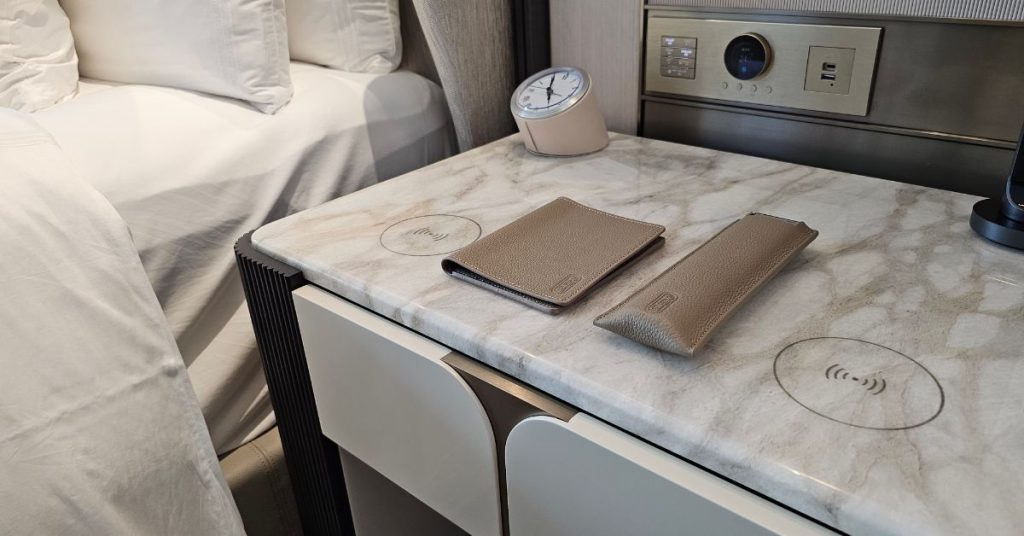 Well, our homes feel and look nothing like this, but truly, the most distinguished and discerning of guests who are their target audience will recognise the standards of extravagance. These new suites are poised to specially cater to the rising demand of luxury travel.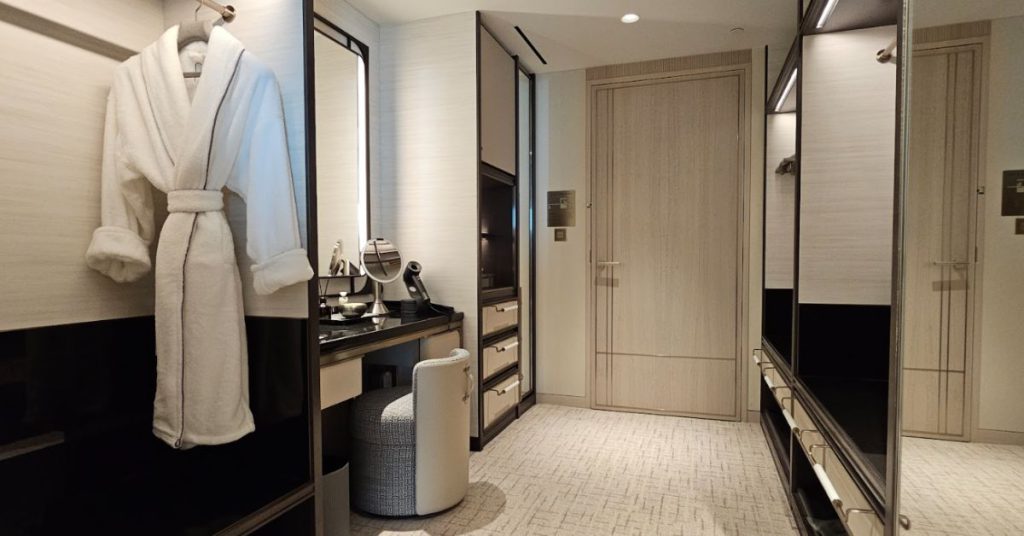 Gluttoning through the expansive dining options
We were spoilt for choice. We couldn't even try over 80 restaurants in two weeks if we wanted to (or were crazy enough to).
We could return to stay at Marina Bay Sands 20 more times and still have more F&B restaurants to patronise.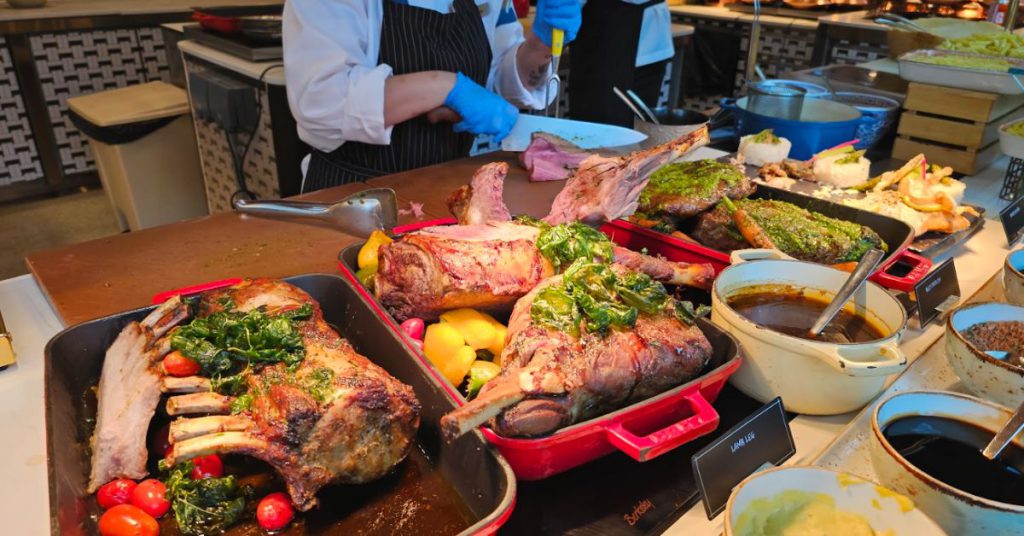 Some of the more high-tier options include Cut by Wolfgang Puck, Waku Ghin by Tetsuya Wakuda, and Ce La Vi Restaurant. None of which we got to try, unfortunately.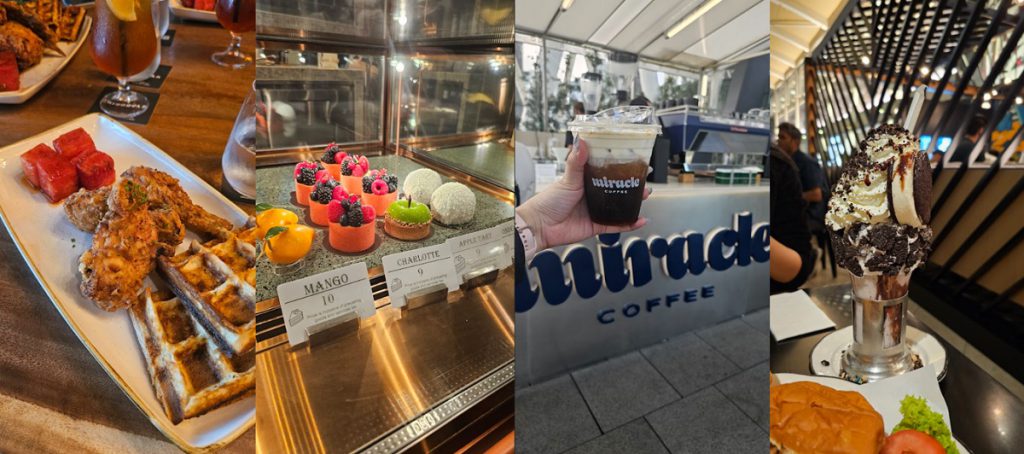 But we did stuff our faces at Black Tap Craft Burgers & Beer, gobbled up a buffet spread at RISE, nibbled on fancy looking cakes at Origin + Bloom, munched and enjoyed the view at Spago Bar & Lounge, caffeined up at Miracle Coffee, and savoured sinful Southern fare at Yardbird Southern Table & Bar.
All that in just three days.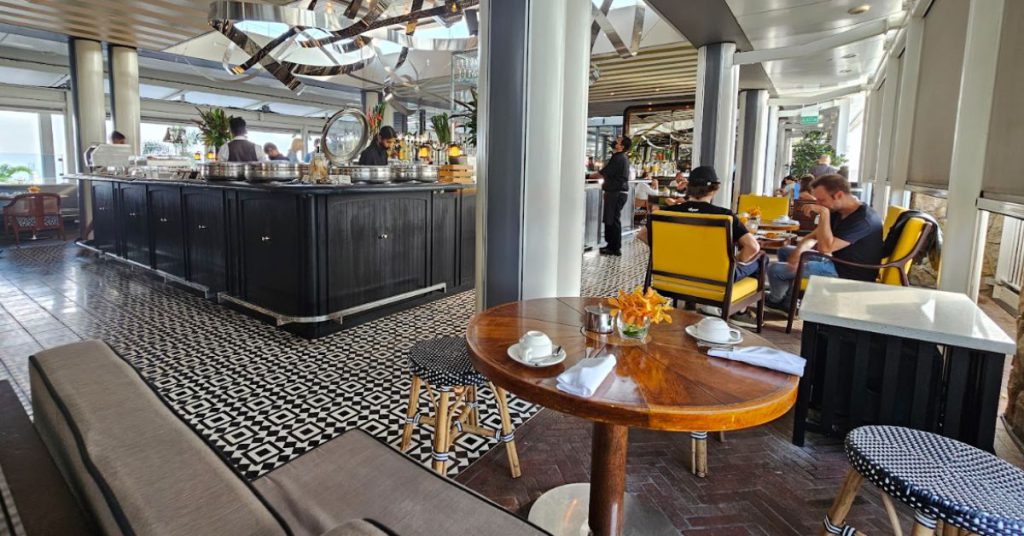 Experiencing the endless things to do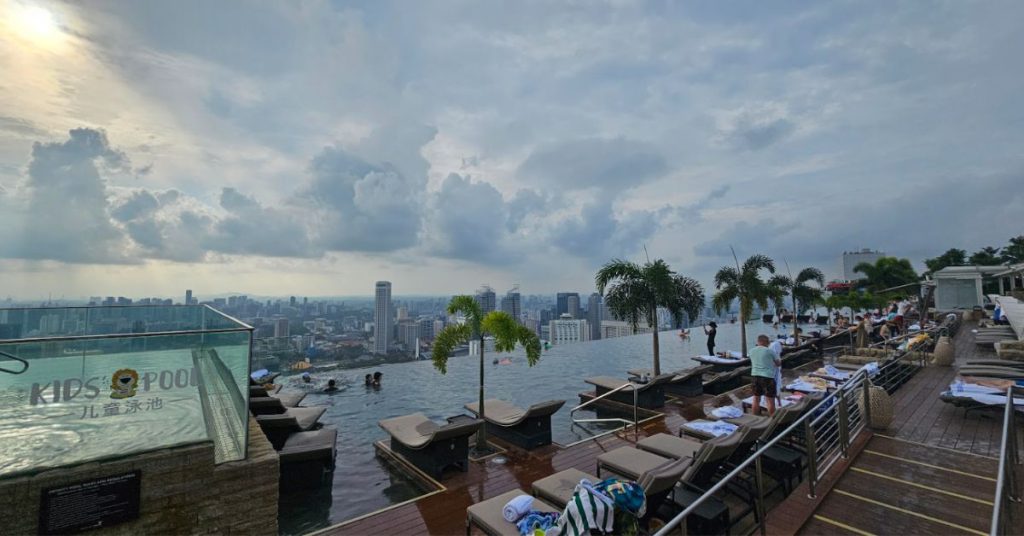 At 150m, the infinity pool at the top of Marina Bay Sands spans almost the entire length of the bridge connecting the towers. It is the world's largest rooftop infinity pool.
At 57 storeys high, the view was a sight to behold, with the horizon reaching far beyond the sea. It is the perfect vantage point to admire the sunset, with a drink in hand.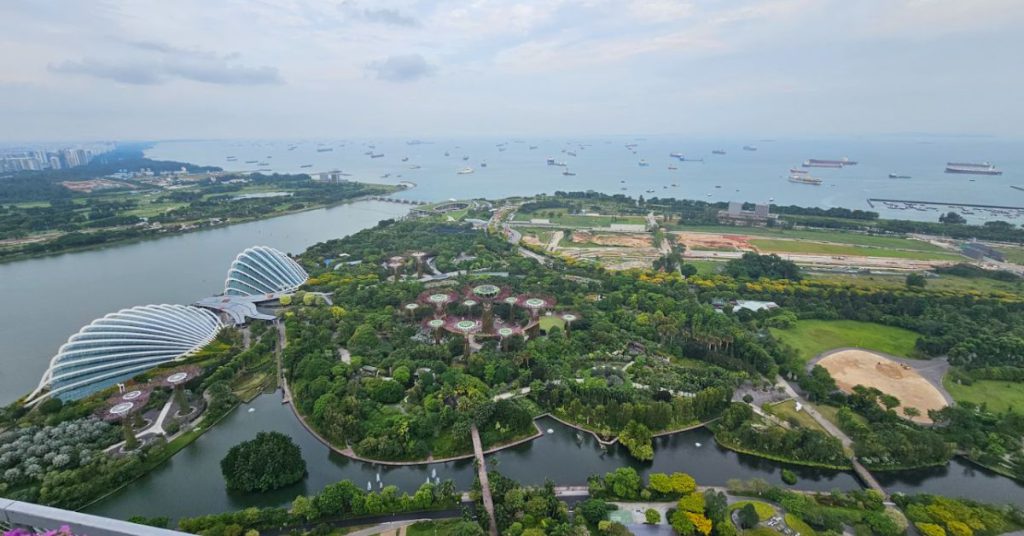 For those more adrenaline-seeking, there's a gym. Though we didn't hit the gym ourselves, pictures tell us that you'd be working out with a 5-star view.
There's also no excuse not to walk around Marina Bay Sands, because you'd be missing out on some of the biggest advantages of staying there.
You're in close proximity to not only The Shoppes mall with more F&B picks and high-end lifestyle retail stores, but also the ArtScience Museum, Gardens by the Bay, exhibition halls where certain events can be found, and the casino, if that's your thing.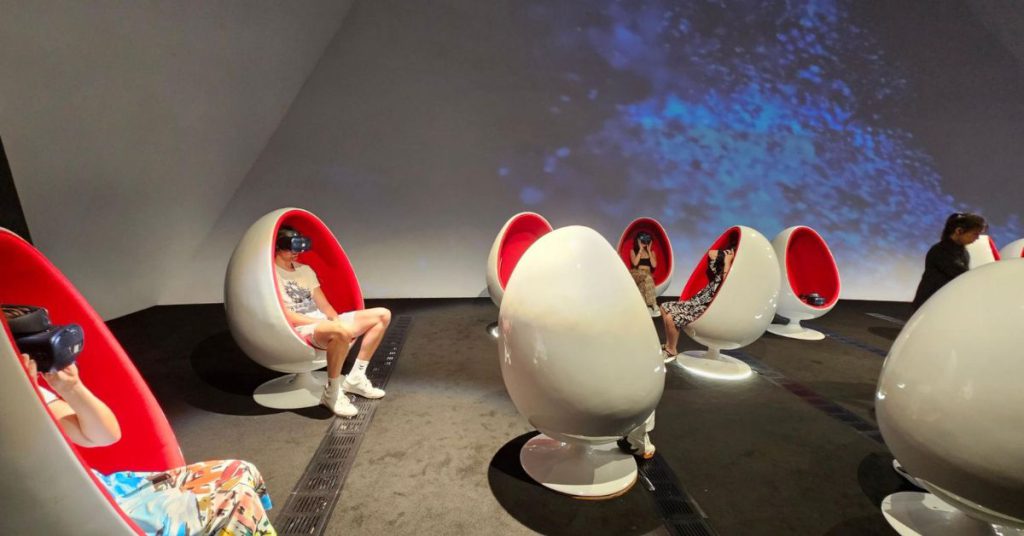 While the urge to dress to the nines and fit in with the bougie vibes of Marina Bay Sands is strong, trust us when we say, prepare a pair of comfortable (and expensive-looking, because, duh) sneakers if you're planning on really exploring.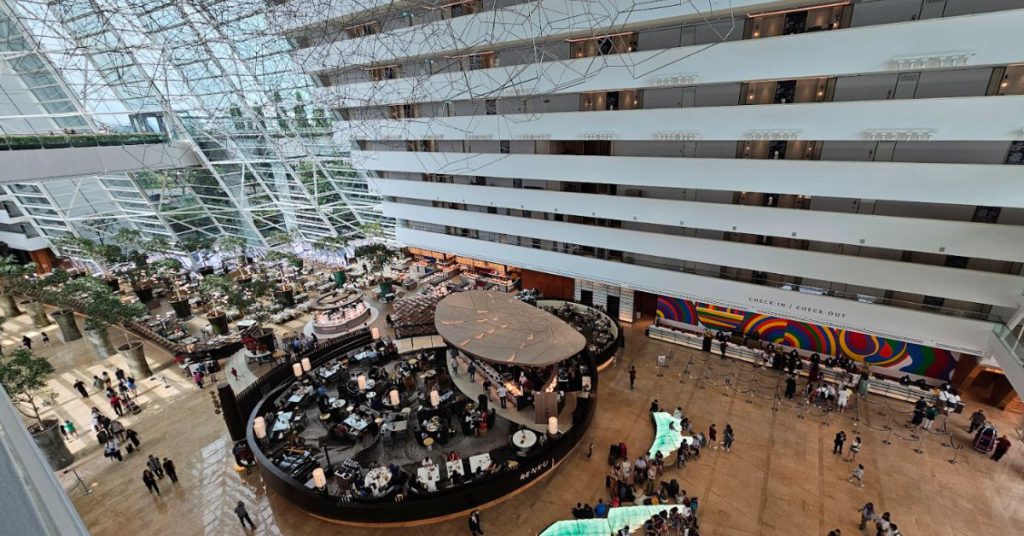 -//-
The thing to understand about Marina Bay Sands is that it isn't just a hotel, nor is it just a fancy shopping mall—it's a whole luxury lifestyle affair, packaged conveniently for your enjoyment.
This is where you will experience the most ostentatious of the nation's hospitality and retail services in even just a short duration.
You don't have to leave Marina Bay Sands to see the best of Singapore's tourism, and you probably won't want to.
Read more of our workcation content and hotel reviews here.