Metaverse technologies like virtual reality (VR), augmented reality (AR), and extended reality (XR) have long revolutionised the gaming industry, seamlessly bridging the gap between digital and physical realities. From improving realism to enhanced interactivity and social interactions, these technologies have caused a seismic shift in the gaming industry in recent years.
In 2020, the virtual gaming market size was valued at US$14.55 billion, and it has only grown incrementally in the preceding years, with the revenue forecast for 2027 standing at a whopping US$92.31 billion.
But far beyond the gaming industry, these technologies actually offer a vast array of applications that you likely haven't heard of yet — even the Singapore Civil Defence Force (SCDF) has utilised the tech to train their officers. Here are some practical use cases of metaverse technologies in Singapore:
1. Birth delivery training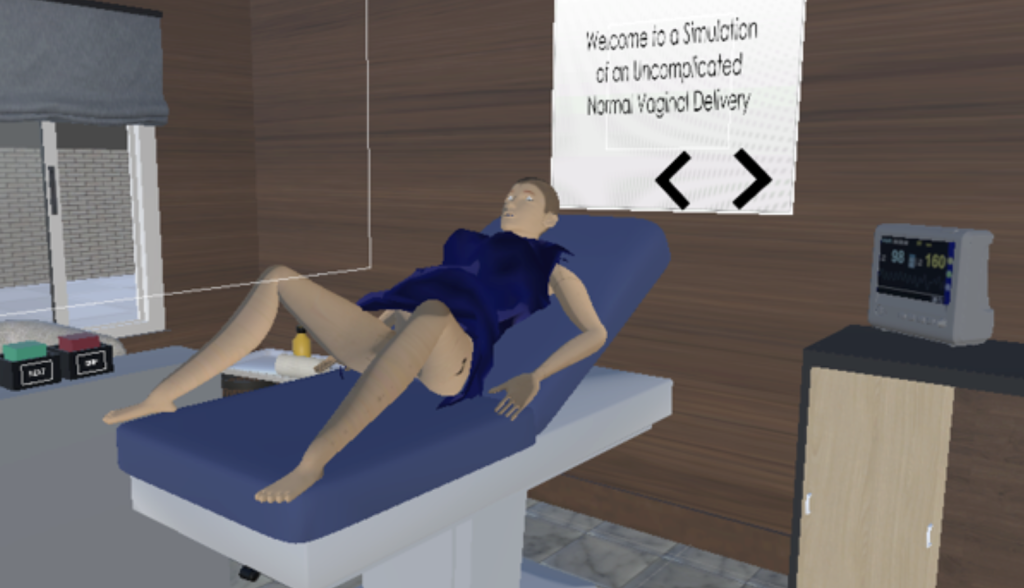 VRObs is an immersive VR training program designed to equip medical students and professionals with the skills required for uncomplicated childbirths, including learning how to deal with different positions of a baby, monitoring heart and respiratory rates, as well as practicing critical procedures, such as performing a cesarean section.
Most undergraduate medical students typically do not have the opportunity to be in a delivery suite to perform hands-on procedures and are forced to make do with a manikin for training. These manikins fall short when it comes to preparing for complications, but through VR simulations like VRObs, medical students can access a highly realistic training experience that bridges this gap effectively.
Through this cutting-edge VR simulation, students are able to learn independently while also receiving personalised feedback and guidance from a virtual instructor though visual, audio, and spatial cues.
Moreover, the simulation offers real-time performance tracking, enabling students to make immediate corrections on-the-go.
As of April 2020, 79 virtual babies were successfully delivered via the virtual simulation platform. Remarkably, 83 per cent of students who received VR training managed real-life surgeries with minimal external guidance, a stark contrast to traditional training methods where none are able to do so.
Today, over 80 per cent of medical students prefer VRObs as opposed to traditional training methods, and 70 per cent even cited that VRObs made them more confident in birth delivery.
2. Firefighting training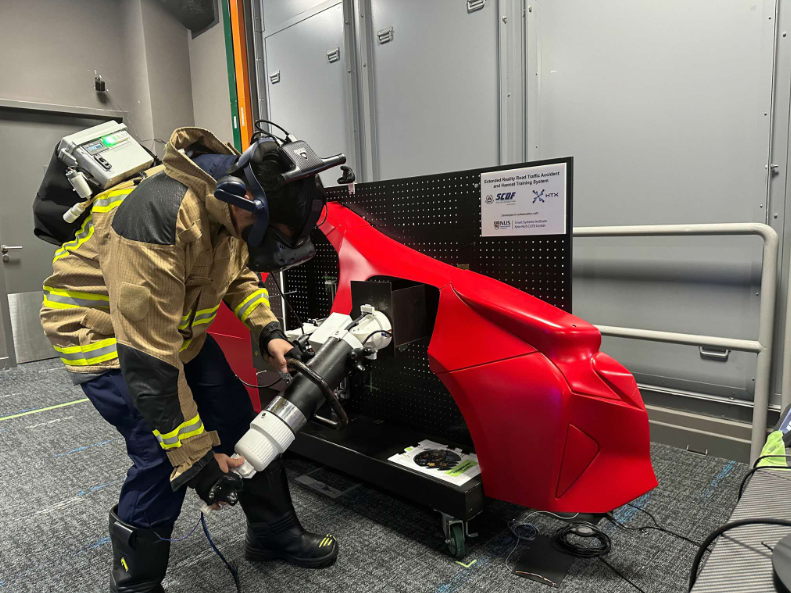 Earlier this year, the Home Team Science and Technology Agency (HTX) and the SCDF unveiled an extended reality (XR) system with immersive and interactive elements to train SCDF officers in managing Road Traffic Accidents (RTA) and Hazardous Materials (HazMat) incidents.
The XR system, which is meant to be used as a supplement to the usual theory and practical training of officers, is currently on trial and used for small group trainings. However, efforts to scale the training system for larger group trainings is underway.
The VR and XR system provides the flexibility and ease of carrying out different firefighting training with enhanced realism. As part of the training, SCDF trainees are equipped with VR headsets which immerses them in a virtual environments that engage their senses of sight and sound.
These environments can be easily adjusted, allowing trainees to be exposed to various situations with varying degrees of unpredictability and severity. For instance, instructors can decide to "plant" civilian characters in a burning building or MRT stations for rescue, or even "reignite" fires that need to be decisively put out.
On top of this, trainees are also equipped with a Multi-Sensory Suit (MAV Suit) which provides haptic feedback to officers and emits various odours, including the scent of smoke, mirroring the conditions encountered in live-fire scenarios. Furthermore, the suit's vest generates heat, providing the officer wearing it with the sensation of being present at an actual fire scene.
3. Ship navigation training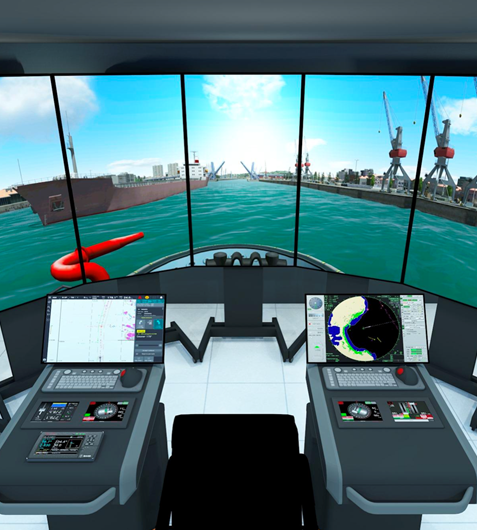 In 2021, Singapore Maritime Academy, the Centre of Excellence in Maritime Safety, and software company Kongsberg Digital unveiled a ship navigation simulator for the training of ship crew.
Housed at Singapore Polytechnic, the simulator — called Advanced Navigation Research Simulator (ANRS) — has a full mission ship bridge and a traffic service system that replicate real-life conditions, allowing trainees to practise and be assessed without having to go out to sea.
The ARNS goes beyond traditional simulated training by incorporating artificial intelligence (AI), which interprets intricate data collected by various sensors including eye-tracking glasses and headbands that monitor electrical brain activity.
Additionally, it records audio quality, including speech impediments, and the heart rate of trainees during a simulated crisis, which will offer valuable insights into their preparedness and performance.
Aside from this training simulator, the Republic of Singapore Navy (RSN) also employs various virtual simulators and systems to aid in the training of the Singapore navy. In 2018, the RSN unveiled a virtual reality simulator that cut the training time for its Littoral Mission Vessel (LMV) crew by up to 60 per cent.
The simulator replicates the LMV's integrated command centre, complete with all-round windows. Around it is a 360-degree continuous projection screen that provides the crew with a realistic view of the ship's surroundings.
Within this immersive environment, the crew can refine their navigation, technical, and combat skills, either individually or as a coordinated team, effectively simulating real-world scenarios.
For instance, when "navigating" through the Singapore straits, the crew encounters computer-generated graphics depicting container and merchant ships, alongside the city skyline in the background. They can also experience the bumpy motion of rough sea states, and even hear the roar of thunderstorms.
4. Pilot training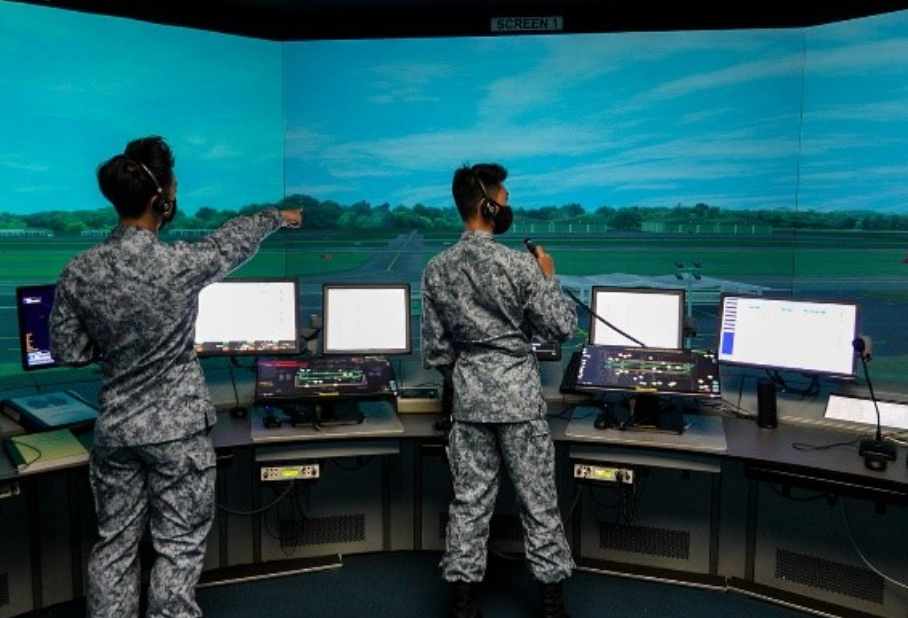 To overcome training constraints, the Republic of Singapore Air Force (RSAF) has deployed various advanced training simulations, including the Air Traffic Control (ATC) Simulator for the training of Air Warfare Officers (AWO).
The ATC Simulator comprises a virtual control tower with a 360-degree view that can project various environments including emergency situations. Every aircraft operated by the RSAF can be simulated in conditions such as day or night, and rainy or cloudy weather, allowing AWO trainees to practice the full spectrum of ATC operations required for a mission.
Much like the VR training systems utilised by ship crew, high-fidelity sensors, paired with biometric sensors, collect data such as a trainee's eye movement, heart rate and facial expressions while he is in the simulator to analyse the reactions of each pilot trainee and help them improve their flying performance.
Aside from the ATC Simulator, Air Force Engineer (AFE) trainees can leverage the Virtual Safety Behaviour Training (VSBT) tool to practise their safety habits during routine maintenance tasks.
The VSBT tool immerses trainees in VR scenarios that replicate actual maintenance activities in operational environments, and in instances where they do not follow safety protocols, trainees will encounter repercussions of unsafe situations within the simulated VR environment.
In 2021, to enhance content delivery and engagement of AFE trainees, the RSAF unveiled a VR Escape Room that simulates aircraft maintenance tasks and associated safety considerations and problems in a multiplayer game setting. It allows for collaborative learning and exposes AFE trainees to the value of effective teamwork and clear communications during aircraft maintenance tasks.
5. ICA and Prison Officers training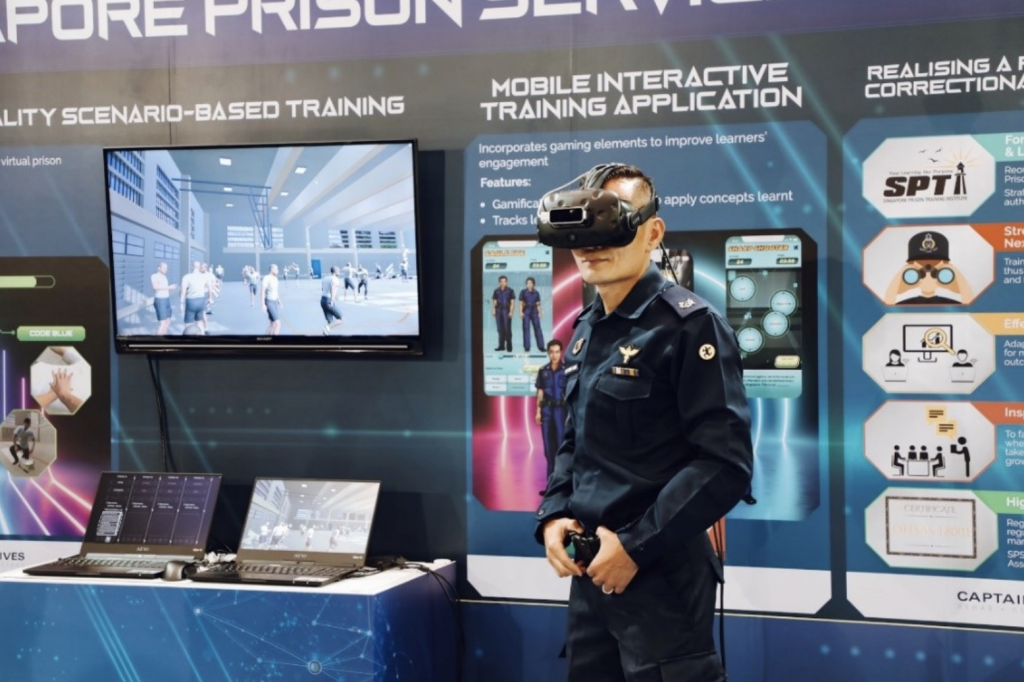 Aside from the RSAF and SCDF, the Singapore Prison Service (SPS) and the Immigration and Checkpoints Authority (ICA) utilise scenario-based VR simulations to train officers. During these simulations, officers are required to wear VR headsets and sensors on their feet as they interact with virtual prisoners in a virtual prison modelled after Changi Prison.
As the system was designed to test the decision-making process of officers, officers are put through their paces and are required to manage tense situations such as a fight in the prison yard or a medical emergencies. These simulations will then escalate or de-escalate a scenario depending on the officer's responses.
Meanwhile, seasoned ICA officers are trained using the Command and Control Training Simulation System, which prepares them for emergency scenarios. Through the VR system, they oversee a virtual Woodlands Checkpoint and are dealt with various scenarios such a gunmen attack or fire incidents. To effectively handle a situation, officers must coordinate their responses with one another.
When an incident occurs, these officers must communicate the situation to their colleagues, known as ground officers, who are situated in a separate room. These ground officers observe a simulated first-person perspective of the Woodlands facility on their computer screens, which mimic the limited view that an officer at the actual scene might have.
The ground officers then practice navigating through the virtual checkpoint with their mouse, effectively neutralising virtual threats.
6. Workplace safety training for construction sites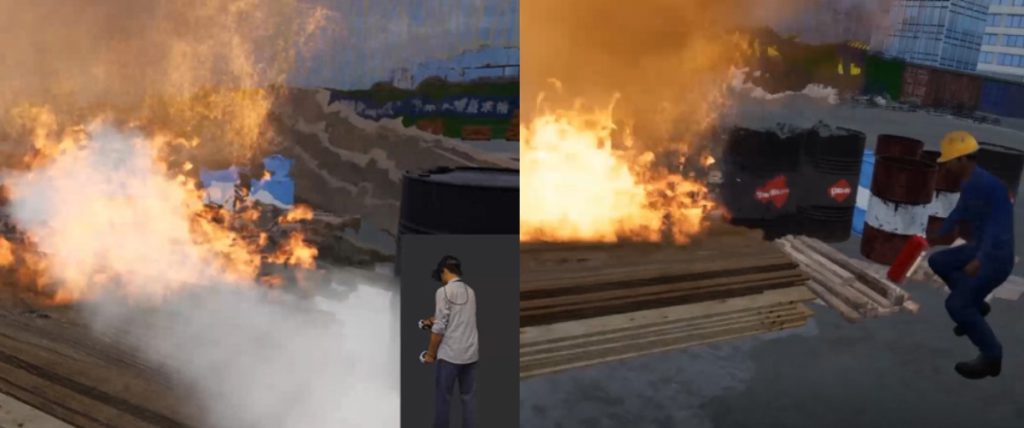 In recent years, workplace safety and health has been the primary concern of construction sites. Workplace accidents can be prevented if the workers are properly trained.
As such, aerospace firm Haite Singapore has developed VR safety training modules specifically for construction sites for trainees to acquire hands-on experience in dealing with emergencies, hazardous conditions and/or operating of high-risk equipment without being exposed to real-world dangers.
The VR training modules offered by Haite Singapore can replicate up to 24 emergency situations based on real-life accidents, including elevator falls, electric saw injuries, concrete mixer injuries, and even cable leakages, among others.
Within the simulated environment, users can collaborate with other real-life users and manipulate and interact with other objects and/or virtual avatars. They will also be presented with a set of multiple-choice questions to gauge their progress after completing the simulation within the virtual world.
7. Property viewings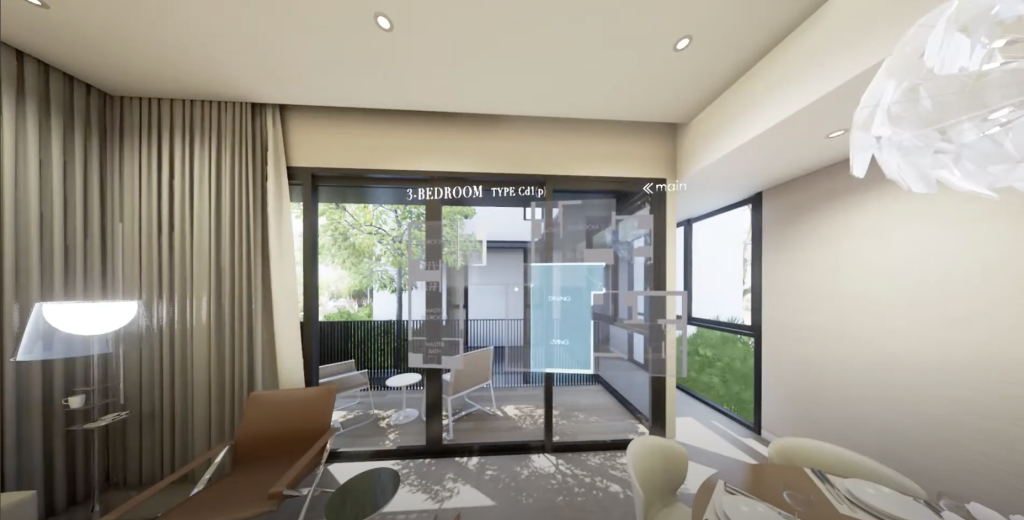 More often that not, buying and selling properties in Singapore can be both complex and time-consuming. Prior to purchasing a property, prospective buyers would often need to painstakingly visit multiple properties before coming to a decision — but this is precisely where VR can step in and simplify processes.
Back in 2016, Keppel Land, in collaboration with visualisation firm VMW Group, used VR technology to market Highline Residences, a 36-storey condo based in Tiong Bahru.
Even before the condo's completion, potential buyers got to wear VR headsets to navigate themselves around the virtual version of its three and four-room bed room units, and even explore key landmarks around the vicinity of the condo.
Each VR show suite was built to scale, giving potential buyers a comprehensive view and feel of the exact unit he/she wishes to purchase. Within the VR simulation, users can also change materials, textures, fittings and even spacial configurations to simulate their future homes.
8. Martial arts/ sports tournaments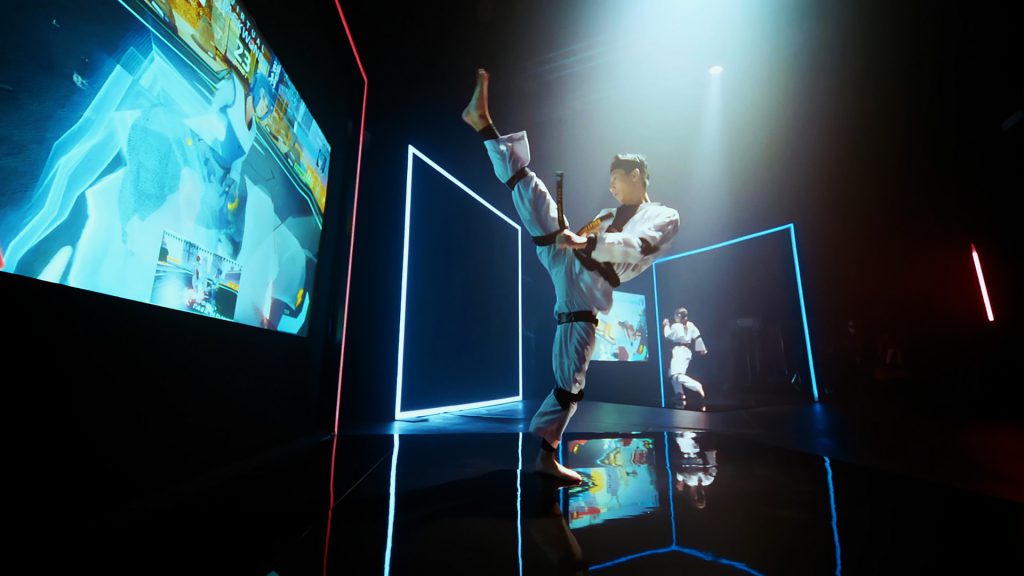 The integration of VR technologies into the sports industry holds the potential to transform the industry as a whole by bridging the gap between genders, weight classes, and age groups.
Earlier this year, the global governing body of Taekwondo, World Taekwondo, debuted the world's first virtual taekwondo tournament in Singapore during the Olympic Esports Week.
During the one-on-one virtual tournament, players don VR headsets and sensors are placed on their arms, legs, and head to capture their movements and positions. These sensors allows players maximum freedom of movement, essentially enabling them to use their bodies as game controllers.
The objective of the tournament is to contest and finish the opponent's health bar, or to have the highest health bar at the end of the 90-second round.
As the virtual martial arts tournament is non-contact, it removes physical barriers and levels the playing field, creating new opportunities for players to compete across genders, weight classes, abilities, and geographies.
9. Treatment for mental health issues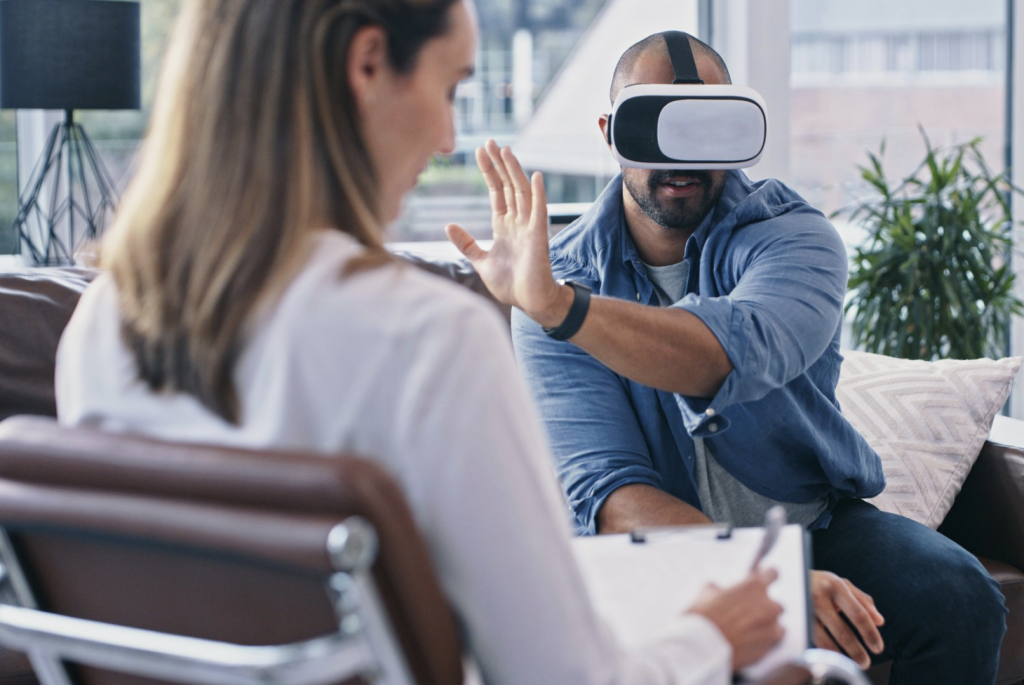 Surprisingly, VR technology can even prove to be beneficial to treat those struggling with mental illnesses. In 2020, Thrive Psychology Clinic was the first mental health clinic in Singapore to offer Virtual Reality Therapy (VRT), which utilises computer-generated virtual environments for psychological therapy and rehabilitation purposes.
Using a VR headset, patients get to navigate a variety of digitally created activities and environments. Fearful or dangerous stimulus can be introduced in these simulated environments to help them learn how to engage, confront, and process difficult situations, such as being in front of an audience for public speaking.
By applying VR technology in therapy, psychologists can establish a secure and adaptable environment tailored to each patient's specific requirements. Within this virtual realm, they can offer support and help patients build the confidence needed to confront their fears, anxieties, and traumas.
Today, VRT has been extremely beneficial for treating disorders such as Post Traumatic Stress Disorder (PTSD), phobias, anxiety, depression, and eating disorders.
For instance, VRT can be used to aid patients with eating disorders by altering one's body image and incrementally ridding the individual of the negative thought process related to eating and the body.
Featured Image Credit: HTX/ Refract Technologies/ NUS/ Mindef