[Editor's note: The article has been updated to reflect the winding up of Flash Coffee and its media statement.]
After successfully closing a US$50 million Series B funding round back in May, homegrown brand Flash Coffee has ceased operations at all Singapore outlets starting today (October 13).
According to a Business Times report, the founder and CEO of the coffee chain, David Brunier, alongside director Sebastian Hannecker have filed for a voluntary winding-up due to its liabilities on October 11.
Over the past couple of months, Flash Coffee has either temporarily or permanently closed multiple outlets across the city-state, including its outlets at One Raffles Place and Orchard Gateway.
Some of its store locations in Singapore have also been listed for sale, and some locations have been taken over by new tenants, such as the outlet at Oxley Tower, which is now occupied by F&B outlet Kebab King.
According to MSNews, Flash Coffee's exit from Singapore is part of its "renewed focus", which includes doubling down on its "most promising markets". To date, it has already withdrawn its operations from Japan and Taiwan.
Flash Coffee baristas are on strike due to late salary payments
Prior to reports of Flash Coffee's winding up, baristas at Flash Coffee Jurong Point have allegedly initiated a "strike", leading to the closure of the outlet yesterday. According to a notice posted at the location, the Jurong Point outlet will be indefinitely closed in light of several delayed salary disbursements.
In a media statement, however, Flash Coffee has clarified that its staff in Singapore are not on "strike" — instead, its baristas "simply do not have to report to work" as a result of its Singapore exit. In the meantime, it is "proactively assisting" team members affected by its outlet closures.
Most of our Singapore head office staff have been offered roles in other markets or with our regional team. Additionally, we are actively trying to connect our baristas with opportunities in other coffee chains.

– Flash Coffee
This is not the first time Flash Coffee has made headlines for labour-related challenges. Back in November last year, the company downsized its headcount across its Singapore and Indonesia markets.
According to Flash Coffee Indonesia's former Head of PR and Communications, Randy Salim, the layoffs were carried out as part of a "region-wide [reorganisation] and ongoing financing efforts".
Flash Coffee once managed close to 250 stores
At its peak, Flash Coffee's business was said to be growing as aggressively as 50 per cent month-on-month across various markets. The company claimed that it saw a 23-fold increase in year-on-year revenue in 2021, followed by another four-fold year-on-year increase in 2022, while achieving more than 100 percentage points year-on-year EBITDA improvement on a group level in the same year.
At one point, the company was opening up to three new outlets per week and managed close to 250 stores and 1,400 employees across various markets in Asia.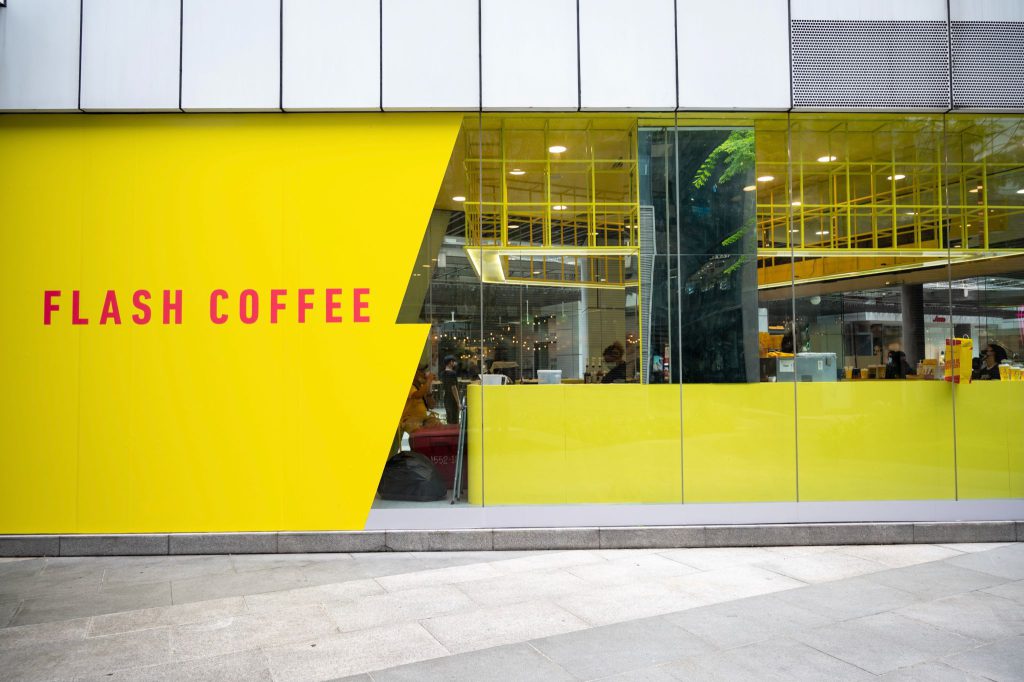 However, the company has actually struggled to fundraise for some time, with its latest US$50 million funding round representing an accumulated series of capital injections since the start of 2022.
While it has achieved breakeven profitability across several markets during the COVID-19 lockdowns, the company saw this reverse after the lockdown restrictions were lifted.
Featured Image Credit: Christopher Lim via Google reviews