Singapore-based Qosmosys has just announced securing US$100 million in seed funding for its ZeusX lunar mining vehicle, which it is developing in collaboration with Airbus.
Founded in 2020 with branches in France and the US, the company has an ambitious plan to send its prototype lander to the Moon as early as the first quarter of 2027, with a follow-up mission two years later.
"Central to our business model is lunar mining, particularly the extraction of essential resources and minerals like the helium-3 isotope (3He). As we venture into the lunar mining industry, our ZeusX spacecraft will serve as the catalyst for deploying its robotic solutions and offering services directly from the Moon's surface."
Beyond extracting valuable resources, Zeus platform is expected to provide versatility in shipping other payloads (like scientific equipment or robots) to the Moon or lunar orbits.
Comprising three segments: one Service Module (QSM), one Moon Lander (QML), one Lunar Integrated Bulk Extraction Rover (LIBER, reserved to Qosmosys lunar operations) — ZeusX is planned to carry up to 500kg of microsatellites to a cislunar orbit or 800kg payloads to the Moon's surface, fulfilling a variety of scientific, commercial or exploratory needs.
To that end, Qosmosys is working with Airbus Defence & Space, which is providing technical design and engineering services for the lander.
Europe's aerospace giant has also already participated in early tests of perovskite solar cells in outer space, powering small, nano satellite Zeus-1 launched onboard SpaceX's Falcon 9 rocket in January this year, that Qosmosys is running experiments with.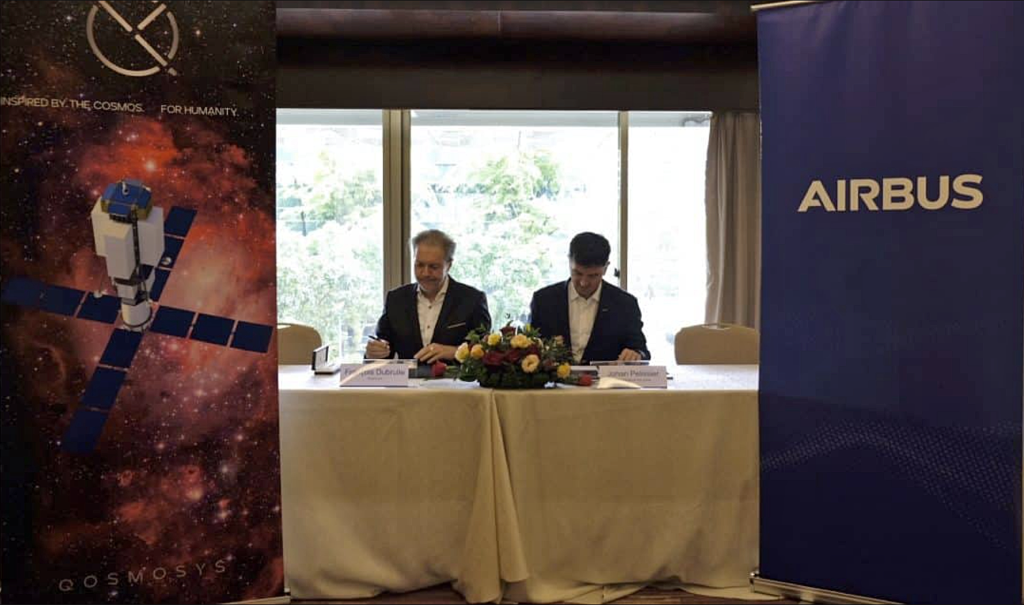 Little is known about the development process of the lunar vehicle itself, other than the company opened its space development centre, Qspace, in Toulouse, France in December 2022.
The leadership team includes several international executives with careers in the aerospace industry, as well as some with background in the VC sector.
Investors in this unusually large seed round have not been named though Qosmosys executive revealed to DealStreetAsia that the group is a pool of Western and Asian private wealth firms.
This landmark investment represents a pivotal moment for both Qosmosys and the broader space exploration sector. We are profoundly thankful for the unwavering commitment demonstrated by our investors, who align with our belief that the Moon presents boundless possibilities, not only for democracies around the world but for the betterment of humanity as a whole.

– Francois Dubrulle, CEO of Qosmosys
If all goes to plan, the company aims to raise more capital in an IPO some time in 2028, following the first mission.
I want to believe
Secrecy surrounding the deal and relative dearth of details about the ongoing work is sure to raise some scepticism, but the agreements with Airbus appear to be perfectly legitimate and the list of experts Qosmosys enlisted to help it achieve its goals looks rather impressive.
All we can do now is wait for progress updates. Given the very tight schedule of a little over three years, they should start coming rather quickly.
Assuming all pieces fall into place as expected, Singapore may have a frontline role in an international endeavour to explore and extract the Moon's surface as early as by the end of this decade.
Featured Image Credit: Qosmosys