Disclaimer: Opinions expressed below belong solely to the author and do not constitute financial advice. Author has no stake in Sea Ltd. or any competing companies.
For the third time in 2023, Sea's stock cratered following disappointing quarterly results, despite the fact that it's only the first time in a year that the company has posted losses.
This may sound like quite a paradox, considering that its value had for years rallied to stratospheric valuations (nearing US$200 billion at its peak back in 2021), when it was burning hundreds of millions per quarter.
And yet now, when it has had the first profitable year, these seemingly positive results are met with disappointment.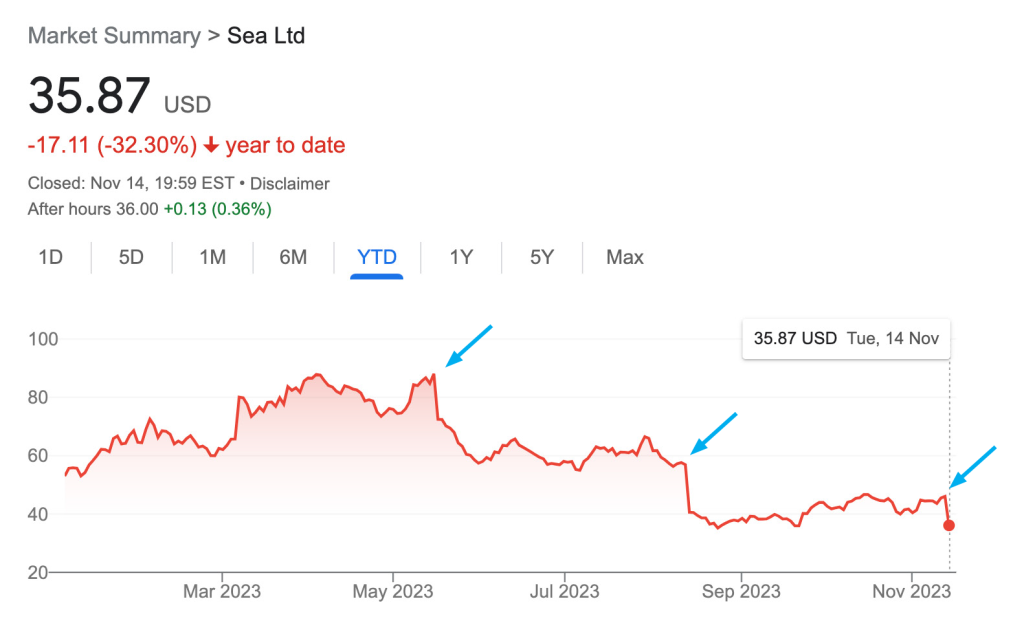 Another brick in the wall
In reality — however surprising — it's not the loss of US$144 million in Q3 (while investors expected another profitable quarter), but the paltry bump of just 16 per cent in e-commerce revenue that really soured the mood.
If you can't offer profits, you have to show growth. If you achieved neither, your valuation is going to crash.
As a group, it's even worse, as Sea reported just a 5 per cent increase year-on-year, which might as well be zero if we consider inflation figures.
For comparison, it was 17 per cent in 2022, on top of 32 per cent growth in e-commerce, not to mention 122 per cent and 134 per cent respectively the year before, when red hot Sea reached its peak valuation.
These days are now gone, unlikely to return in foreseeable future.
The COVID-19 pandemic has certainly played right into the company's hands, radically boosting demand for two main pillars of its business — digital shopping (Shopee) and digital entertainment (Garena), as millions of people were stuck at home under lockdowns.
That said, e-commerce is considered an evergreen industry. After all, the penetration of online retail is still limited and projected to increase for years to come. The pandemic was widely considered a godsend, which would simply accelerate the trends — and it has.
However, it has not been enough to meaningfully offset the inevitable drop in Garena's gaming revenue, which shrank by about 50 per cent over the past two years, from US$1.1 billion in 2021 to a smidgen under US$600 million today, as users returned to normal life.
Yes, Shopee has grown by US$800 million more in sales over the same period, but with razor-thin margins, inflation bloating the figures and pushing interest rates up, it's clear that not only has the rapid growth ended, but it doesn't seem that the company knows what to do next.
Garena has for long been a pretty successful, profitable business. Ultimately, though, it was supposed to be a springboard for Shopee into global e-commerce worth trillions (and growing). This was the big dream that made investors go crazy, valuing each share at over US$360 dollars in November 2021.
It's just US$36 today.
And while SeaMoney, the digital finance arm, is improving every quarter, it's still far from making a major impact on the results and was conceived to largely depend on the company's strength in retail. But as growth in one segment stalls, it's hard to expect miracles in the other.
Sea has hit a wall and needs to reinvent its growth engine, Shopee, in this new reality or face stagnation that it might not have enough resources to get out of.
Suffocating
It's clear that circumstances do not permit Sea to perform the best of its ability and like a struggling climber or diver, it could certainly use more oxygen now.
In the world of growth-obsessed digital business this oxygen is cheap money, which is used to rapidly conquer new markets, as was the case with Shopee in the previous few years.
During the pandemic frenzy, Sea would burn up to US$1 billion in losses per quarter, chasing market share in Southeast Asia, Latin America, and even Europe. Since then, it has withdrew from the latter and reduced its presence on the other side of the Pacific, keeping only the most promising markets in its portfolio.
Now, I don't want to discount its achievements. It may seem that spending billions is an easy, sure-fire way to grow your business — but Sea has been better at it than even much, much richer competitors like Alibaba, which took over Lazada only to lose the top spot to the Singapore-based upstart.
So, the company still has certain internal advantages over its rivals — though they require more capital to be put to good use.
Unfortunately, given the global inflation rates, the cheap money that had flooded the capital markets since 2009 is not likely to return anytime soon. At most, we might all be hoping for some relief from the skyrocketing interest rates, that central banks around the world enacted in response to the surge in prices.
That's why, despite the fact that Sea has proven itself really good at achieving rapid growth in highly diverse e-commerce markets (not something that many others in the business have accomplished) it now has to seek competitive advantages elsewhere.
Given the dearth of resources, it seems they should be qualitative, for a change.
The Clone Wars
The problem is, of course, that Shopee isn't all that much different than its competitors — Lazada, AliExpress, Taobao or the latest entrant, Temu, as well as many local and regional challengers.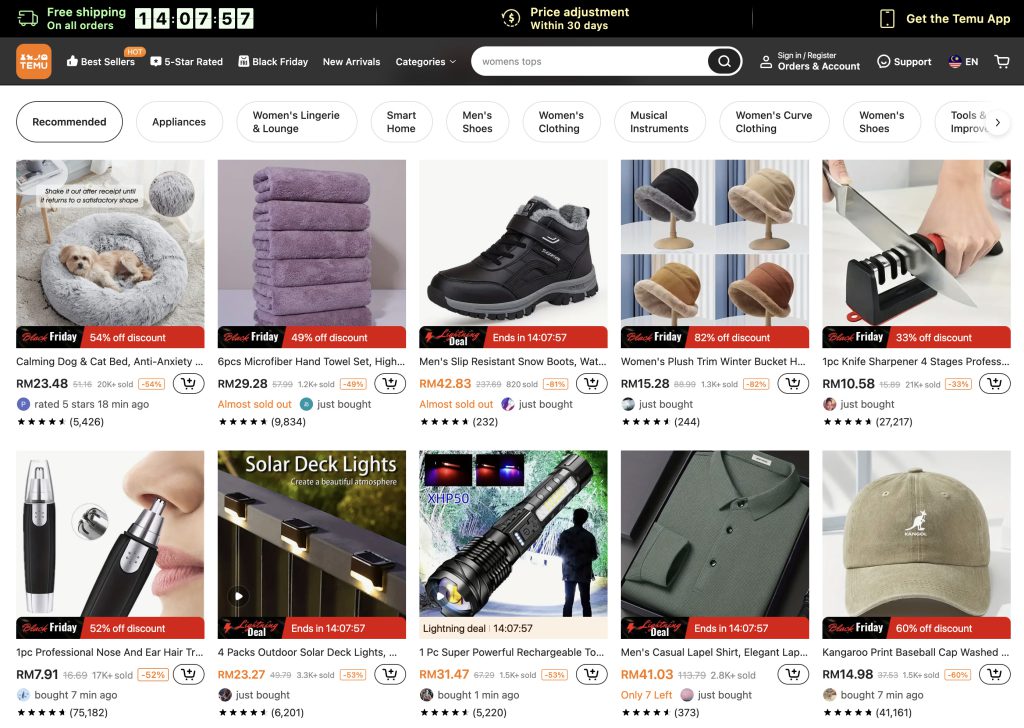 They are all mostly filled with cheap Chinese goods, with sellers competing to undercut each other by a few cents on the final price.
With time, some of them — including Shopee — were able to entice sellers of more mainstream, branded goods, to offer their wares via the platform, thus expanding their user base.
Nevertheless, that still is a service that we've long had elsewhere — be it on Amazon or directly through many age-old digital and brick-and-mortar vendors. There are hardly any differentiating characteristics between these competing apps and, ultimately, customers flow to whomever can offer the best deal at a particular moment in time.
There's no inherent reason why people would buy on Shopee over Lazada or Amazon, except for costly incentives and, at most, habit.
It's a race to the bottom that Sea can no longer finance.
The company has close to US$8 billion in the bank, which may sound like a lot, but if it was to spend like it did during its ascent to the throne in Southeast Asia, it would be out of cash in just two years. It's not feasible.
Getting more money from the stock market is also out of the question, given the current market capitalisation of just US$20 billion, already diluted between different investors.
With Garena stuck at half of its pandemic popularity and dependence of SeaMoney on Shopee's continued popularity, it's clear that Sea has to find a new way of achieving growth in e-commerce.
Since throwing money at the problem is out of the question, Shopee has to differentiate itself or risk getting squeezed by both new entrants like Temu or TikTok Shop, or veterans like Lazada, which may return for its regional crown, given the vastly larger financial resources of its parent, Alibaba.
Unless there is a sudden reversal in financial markets and cheap money begins seeking risky investments again, this is the only way for Shopee to defend its hard-won position — and for Sea to secure its future.
Featured Image Credit: stLegat / depositphotos