It's hard not to get fully immersed in video games sometimes. Especially when there's a really good plot, or great graphics, and you're feeling in control. But then sometimes when you're really in control, things can get real creepy. People die in your hands, bowels get out of control, people get assassinated because of your decisions — say what you want but it was really all your fault, you terrible person. Weird thing is, you're actually kinda enjoying it. 
Here are some games you might enjoy.
The Sims
The problem with playing God is that you will get too carried away. Building houses, making happy families, taking them away, making babies, taking them away — wait, what? Even the best of us have deliberately (or not) created the craziest scenarios in this life simulation game that revolve around drowning people, extra marital affairs, illegitimate children, wanton behaviour, killing people in fire, being bad parents…ah the horrible list goes on and on.
The Sims even makes being a terrible person quite fun, which can be quite addictive. Need a game to exorcise those demons? The Sims is the best way to.
Papers, Please
Dive into a terrifying dystopia where countries are warring and people are fleeing from their homelands to cross the border. While it sounds no different than real life, Papers, Please is a riveting point and click game where you decide who to bring into the country and who to reject.
Your decision will bring about consequences, and there will be bomb explosions and assassinations. It's thrilling and bleak, but remember, it's probably happening somewhere in the world as well — and here you are playing it on your computer.
Mister Mosquito
Perhaps the most annoying of flying insects is the mosquito, buzzing around the house and wreaking havoc on an innocent household, at times engaging in boss battles with human beings. And in this game, the mosquito is what you play as. Scary thing is, you can actually beat them — even as a tiny pesky mosquito. I mean, it's always more fun to be doing the biting than getting bitten, right?
Yandere Simulator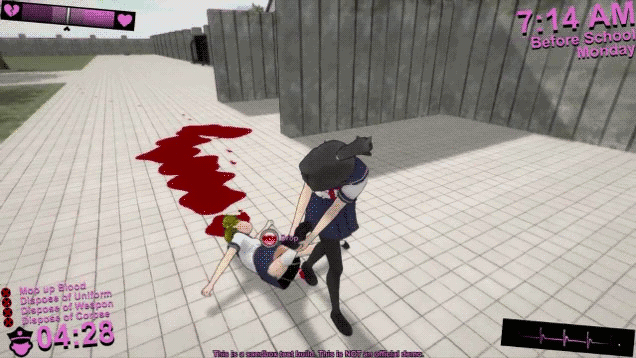 You play a Japanese schoolgirl who kills people. Yeah, you read that right. Killing for love somehow justifies why murder is all right in this game. Your character is a highly jealous and psychotic female who goes on a rampage taking down people talking to her crush, as well as people who have witnessed the murders — it's a mess.
You also have to clean up the crime scene after you've done it in case you get caught, duh.
Icarus Proudbottom and the Curse of the Chocolate Fountain
When you want to wind down from intensely disturbing games, you might want to do so with this light, but still disturbing game about a man propelled through the air by an unstoppable spray of shit from his bottom while dodging birds. It's mindless and absolutely fun. If you're not squeamish or have some toilet humour in you, here's a casual game to pass the time.
Catherine
Strange and a game about home-wrecking, first things first, this is not a game for the young. Your real girlfriend Katherine is putting pressure on you about marriage and you're just not into it. You begin to get nightmares where you meet a girl called Catherine — whom you begin an affair with.
It's essentially a puzzle game that allows you to delve deeper into your already dark and twisty life. Things get a bit complicated as worlds collide and both women want an answer — what a nightmarish game.
Elf Bowling
Sometimes, we're just not feeling the spirit of Christmas. Somehow you get annoyed by cutesy Christmas characters and this pent up anger makes you feel like you can kill. Well don't — you'll go to jail.
Instead, here's an alternative: play as Santa as you let out your frustration on elves. During the game, the elves say phrases such as "Is that all the balls you got, Santa?" How annoying is that? Knock 'em down good in the bowling alley where the elves are…bowling pins.
*Cards Against Humanity
Technically not a video game, this card game is THE game for terrible people. Described as a party game for horrible people, you should only play this game with perhaps your closest friends. Anyone outside that circle and you'll be judged forever. Cruel, and with no boundaries, Cards Against Humanity is a game of extremes. Play it at your own risk. It's also really fun.