In an interview about his role in the upcoming Ghost In The Shell, local actor Ng Chin Han related the training he had to undergo as going back to NS.
"It was very intense and challenging — we had to go through physical conditioning, military and special operations training, and learn to use weapons [and that] it has been a while since I did NS", he joked.
But aside from his upcoming role in the film, did you know that Chin Han has also starred in several other winning roles?
Although not a household name like television drama favourites Jeanette Aw and Elvin Ng, Chin Han (full name Ng Chin Han), has been making waves in the land almost every actor dreams of – Hollywood.
In June 2016, the 46-year-old Singaporean was signed on to powerhouse Creative Artists Agency (CAA), which hosts a range of popular A-list actors such as Robert Downey Jr., Jennifer Lawrence, George Clooney and Meryl Streep.
Most recently starring in blockbuster Independence Day: Resurgence, the bilingual thespian has movie credits in critically-acclaimed The Dark Knight, Captain America: The Winter Soldier, hit TV shows Fringe, Arrow and The Blacklist, and will soon make his return in the upcoming Ghost In The Shell.
The adaptation was met with controversy after Scarlett Johansson was unveiled as the protagonist, with many accusing the casting of "whitewashing".
His response to the matter?
"There are just some stories that lend themselves more easily to adaptation because they address certain universal character arcs and concerns."
He also has faith in the industry moving towards a more diverse nature, and credits it to longer-running television shows. These lend themselves to greater opportunities in the inclusion of actors from various ethnicities, ages and genders.
However, he still condemns the phenomena, listing examples of Mickey Rooney in Breakfast At Tiffany's (1961) and Marlon Brando in Teahouse Of The August Moon (1956) as "at worst offensive, and, at best, misguided".
Regardless, he feels grateful for the opportunities he had been given, stating "I can speak only from a personal point of view… but I've had the opportunity to work with great directors […] I'm happy being in smaller movies or doing roles that are ostensibly supporting roles, as long as I get to work with the directors I want to work with."
Definitely an actor to watch out for, here are 10 things you never knew about Chin Han, who's representing us in Hollywood.
1. He was on classic local melodrama Masters of the Sea
Masters of the Sea (1994) was the first full-time English drama produced by MediaCorp predecessor TCS (Television Corporation of Singapore).
Many of us would probably have been too young to appreciate it, but I'm quite sure we have recollections of it playing on a TV somewhere in our house, with our grandmothers and aunties glued to the screen.
Chin Han played the brooding grandson of the drama's feisty matriarch, played by veteran actress Margaret "I will crush you like a cockroach" Chan.
The drama wasn't received well by critics, but still remains a classic in Singapore television history until this day.
2. He clocked 5 months of kungfu training for Marco Polo
During a Reddit AMA (Ask Me Anything) for his portrayal of villain "only a mother could love" Chancellor Jia Sidao in Netflix TV series Marco Polo (2014), he was asked by a fan how long he took to perfect the mantis style kungfu, a defining trait of the character.
In spite of being trained in Tai Chi by his dad in his younger years and having dance training for his acting career, it still took him 5 months of training and over 300 hours with a stunt team to perfect his form.
Talk about dedication!
3. He can cook up a mean meal – or so he says
In the similar Reddit thread, when asked who would win in a fight, his character or his sister Mei Lin (played by Olivia Cheng), he simply states, "I don't fight with women, but we could have a cook-off. And I would win!"
This confidence possibly came from his role in food-centric movie Final Recipe (2013), in which he starred opposite acclaimed Malaysian actress Michelle Yeoh and played her husband who is a chef.
"I get to do a lot cooking in it as well which is great," he said in a Yahoo interview in 2012.
The movie premiered in 2013 at the San Sebastián International Film Festival.
4. He might have gotten too good at playing the bad guy
With his more iconic roles being ones in which he plays the bad guy (see: Lau in The Dark Knight and Jia Sidao in Marco Polo), a Reddit user has posted him a question that he couldn't help but giggle about:
"When I see your face, I get angry. Is that a compliment? Don't you ever want to be a good guy?" quipped a Reddit user.
"Hahaha! But I am the good guy! We are all heroes in our own movies!" he replies in his typical affable manner observed in the AMA.
When asked if he sees his casting as "some sort of a reflection on Hollywood's current stereotype of Asian actors", he responds that he doesn't actually see them as villains, only as characters with intentions conflicting with those of the protagonists.
He also reveals, "I am drawn to conflicts and complexities in characters (and) whether they are of a particular ethnicity is not that interesting to me."
5. One of his favourite roles is Lau from The Dark Knight
With a career spanning over 20 years, Chin Han has had the opportunity to play a large variety of roles.
One who never wants to stop improving, he states that while he hopes to be best remember by the last role he plays, he has a "fondness" for Lau, the mob boss/accountant in The Dark Knight (2008).
He revealed that while he created the portrayal of the character from scratch, his process was "definitely informed by a host of characters from the Frank Miller graphic novels".
His hilarious reason for choosing Lau out of all the characters?
"Because he's good with calculation, and it's about tax time now."
6. He is one of Asia's 25 greatest actors of all time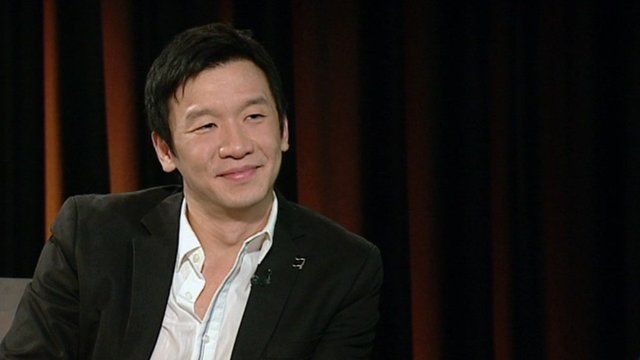 Acknowledged by both Singaporeans and the international media as the first local actor to make a splash in Hollywood, Chin Han was also dubbed one of Asia's 25 greatest actors of all time by CNN.
Seeing how the list also features other greats like Tony Leung Chiu Wai, Amitabh Bachchan, P. Ramlee and Gong Li, this was an immense honour.
7. His love for movies and acting started young
In an interview with South China Morning Post, he revealed that his interest in movies started at the tender age of 6, where revealed an adorable nugget of trivia:
"When my parents asked me what I wanted for my birthday, I would always say, "I want to go to the movies.""
He then spent the 1980s and 90s working in theatre as an actor, even skipping school to attend rehearsals for his university plays.
"We were rehearsing at night – we finished at midnight and I had to go to school at 8am. It was very tiring."
His first pay check also came from an acting stint, where he had to don wigs and costumes to recreate 17th century France for an adaption of playwright Molière's The School for Wives.
"I was very happy taking that cheque to the bank," he laughs.
8. He retired from acting in his mid-20s
With his raving success now, it's hard to imagine that Chin Han had experienced dejection in his acting career before.
He shared with South China Morning Post, "When I was doing all that theatre work, someone spotted me and asked me if I would do auditions for a TV commercial, for Citibank. I did it.
From that, the TV station noticed me and offered me a contract to do two TV shows with them in Singapore. After a few years, however, I decided to retire. I felt I wasn't going anywhere, so I thought I'd leave it to people who were still passionate about TV acting."
Fortunately, he never really gave up on the industry, and went on to production and directing for around 8 years before returning to Hollywood as an actor.
9. His Hollywood break came from 'a leap of faith'
His clinching of the role in The Dark Knight actually came more as a surprise than a calculated move on his part.
He shared on Reddit that his manager friend called him up on an "interesting project" – the sequel to Batman Begins (2005). Not knowing about the series then, Chin Han jumped onto the chance simply because he knew and liked Christopher Nolan's work.
Despite going to the auditions without knowing anything about the role, he knew his choice to show up was right, because it was a chance to work with Nolan.
"I would do it if it was one word," he shared.
He finally clinched the role of Lau, and his leap of faith turned out to be the start of even greater things to come.
Expressing his gratitude to Nolan, he states humbly, "There are so many surprises in my life; I don't take anything for granted. I enjoy every experience that comes; I don't think too far ahead."
10. Passion and never giving up are his reasons for success
Even in his extremely enviable position, Chin Han simply cites "being in the right place at the right time" and "not giving up" as the main factors behind his Hollywood break.
"I think it's a question of being passionate about it to stick around even when times were tough. So I think that would explain it.", he states in a Yahoo interview.
Now that you know how amazing our local superstar is, do catch him in Ghost In The Shell when it premieres 30 March! There's even a free ticket giveaway here so that you can #supportlocal.