What do we all know about the app Bigo Live?
Not much, other than the fact that it was thrown into the spotlight a while ago when a local Primary School girl became a victim of racist comments while live-streaming herself dancing on the app.
Adding to the mix is when a Singaporean claimed to be a member of Singaporean gang also dubbed as 3-6-9.
Some even compare Bigo Live to the ever-popular smartphone app Snapchat, and the fact that it might soon surpass it in terms of popularity and usage.
What Is Bigo Live?
Well, Bigo Live is a live streaming app that allows its users to broadcast videos of themselves doing things such as singing, cooking, and even just talking about random subjects.
What many might not know, is that the app was actually created right here in Singapore!
The free app was one of Apple's top five downloaded apps until Pokemon GO clinched the number one spot. As of today, though, Bigo Live has crawled back up to the top of the Apple Store and Google Play charts in Singapore:
It is currently available in Asia, from Singapore and Thailand to China and Vietnam. It is also available in the United States, Brazil and Russia.
How Does Bigo Live Work?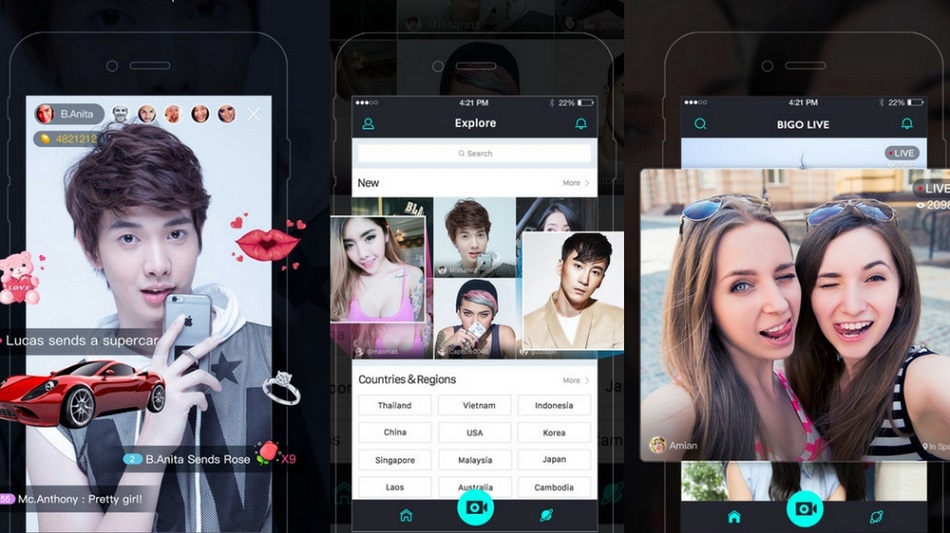 Bigo Live lets users broadcast videos anytime and anywhere, and they are also able to follow other broadcasters they enjoy watching.
User can also send rewards and gifts such as lollipops, hearts and tiaras to their favourite broadcasters in real time. These gifts are paid for by diamonds which are purchased by cash.
These rewards are then turned to beans which can then either be exchanged for diamonds, or be cashed out for real dollars.
For those receiving rude comments, News How To also discloses that there is a mute button available for those who want to shut these trolls off.
Shady Business
While Bigo Live might have been created with the purpose of entertaining people and bringing people closer through their app, it's unfortunately being used for other purposes.
Many of the users live stream more sexually-explicit types of videos. An instance of this would be when a girl nicknamed Trang offered up her flashing if she reaches seven thousand views. She did of course did not go back on her word, and showed about 7,234 of her viewers her bare chest according to Tuoitre News.
Being that this video stream is popularised by young adults and teenagers, it's very likely that many users use it as a platform to groom these young ones into performing sexual acts in front of the camera.
According to the Straits Times, when such users ask the younger streamers to pose and perform who later then get praised, it will only make them want to do more.
Said Dr Lim Boon Leng, a psychiatrist at Gleneagles Hospital, "Young streamers could try to get likes, to see if people like them enough to get them gifts, and that the monetary rewards may entice young streamers."
In other words, this might put a large number of youngsters in a case of sexual abuse even though there might not be any real physical touch.
The young aren't the only one susceptible to these types of behaviour.
Older girls are also putting themselves out there by exposing their bodies on live stream in order to get gifts or are blatantly asked to by viewers according to The New Paper.
The Reason Behind Bigo Live's Popularity
According to The Tribune, the performance of the app is a selling point.
"The app performs well and all streams load fast and are generally of good quality. Given the breadth of markets and internet connections it has to work with, it's no small feat."
Tribune explains that the nature of Bigo Live, as well as their gift and currency features are a big traction for users. Bigo Live keeps its users engrossed with different features and the payout system, and in that way, differentiates itself from other live streaming apps.
This allows them dominate the game.
The Unexpected
Not many would expect that a Singapore-based company would develop a live streaming app that people make use of to post explicit content.
Even though it has clinched the top spot in Apple and Google Play's top downloaded apps, Bigo Live has been running into trouble one after another.
With it already being under hot water with Vietnamese law for violating regulations of Internet services and online information, Bigo Live isn't up for a great start. Adding in the racist comments to the young Indian girl and overwhelming explicit content, Bigo Live is getting a name they wouldn't have predicted.
Unless Bigo Live tries to clean up the mess they created , they might not be able to stay at the top of the ladder in the long run.
Feature image credit: Hardwarezone, Google Plus & downloadplaystoreterbaru