The weekend has come and gone, and many of us have already ditched our elaborate Halloween costumes and gory make-up for the dreary work attire.
2016 has been a great year for clever costumes, with some of the best ones coming from our more enthusiastic counterparts in the US. Here are some ingenious costumes that are not only hilarious, but perfectly sum up the year's trends and news too.
Samsung Galaxy Note 7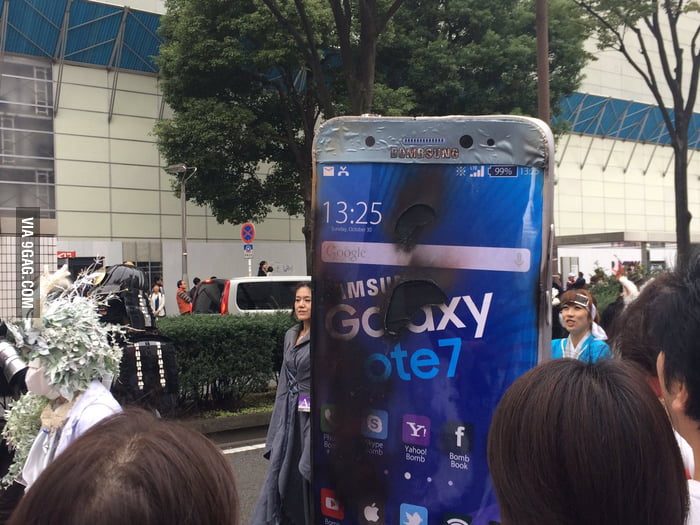 The explosive news of the Galaxy Note 7 was the definition of "FML" for Samsung this year.
And so in this year's edition of tech-related costumes, it comes as no surprise that there were a few cheeky individuals who decided to capitalise on the tech giant's misery. I mean, just check out this guy's costume that's literally 'smoking'!
If other companies are not careful, they could be the Halloween costumes of next year!
Bottle Flip
In May this year, the bottle flip phenomenon took the Internet by storm after a high school student in the US was filmed displaying his water bottle flipping skills during a school talent show.
And as with many things these days, the video went viral, even bringing about its own hashtag #flipheardaroundtheworld. Following that, the Internet started seeing many others also uploading their own versions of the flip.
Why, and how, this got so big is still a mystery to me, but it looks like someone has used his backflipping skills to create a costume which has also gone viral in its own right.
Donald Trump
Donald Trump has always been a popular Halloween costume (mostly thanks to his TV show The Apprentice). But this year, Trump-mania has hit even harder due to his running for US Presidency.
There have also been reports of the rise in demand for Trump masks this year, most of which are unflattering. Even Hollywood actor Orlando Bloom has hopped onto the bandwagon, all the while doing a plug for his new movie Trolls.
Trumpkins (pumpkins carved in Trump's likeness) have also been popping up over the Internet, no thanks to the candidate's much-teased-about skin tone.
And in another pop culture reference, a Reddit user did a Wonka Trumpa Loompa, which really needs to be seen to be believed.
Blue Screen Of Death
Halloween is a time for all things scary, and for computer users, there's really nothing more horrifying than experiencing the dreaded "Blue Screen of Death".
This Reddit user decided to take the online offline, while adding in a touch of Grim Reaper to fully realise one of our greatest fears in the digital age.
Amazon Prime
Costumes that make insider references are the best, and this Redditor won the Internet (and his office's Halloween costume contest) with his very clever Amazon Prime x Optimus Prime crossover.
For some background, Amazon Prime is e-commerce giant Amazon's membership programme, and Optimus Prime is a popular fictional character from the equally popular Transformers franchise. Amazon Prime recently made the news again for its latest attempt in entering the Chinese market with its free, international shipping.
The combination was pretty much a match made in pun heaven. And it certainly did not hurt that Amazon Prime's boxes managed to adhere to the boxy structure of a Transformer.
Pokemon GO
Pokemon GO claimed the title of National Past-time back in August when it was first launched. But since then, it has seen a dip in popularity as players filled up Pokedex-es and got sick of encountering spoofers at Gyms.
Although Niantic has since launched a Halloween special, it is uncertain if the same amount of hype can be generated.
Regardless, this didn't stop Halloween celebrators from dressing up like their favourite Pokemon, some even getting the whole family involved.
The game received flak for the bad behaviour of some players. But it has also managed to encourage the concept of community like nothing else has. And just like Halloween, it is something that has brought everyone together for a single, simple purpose – to have fun.
Snapchat Filters
Snapchat was the app among millennials this year, and not a day of swiping goes by without a contact putting on a filter – especially the infamously basic dog one.
Cue tutorials on how to recreate the looks offline, and the simple execution has become unsurprisingly popular for those with neither the time nor money for elaborate costumes.
Bonus: Bob Ross
Last year, streaming site Twitch started a Bob Ross Joy of Painting marathon on his 73rd birthday on October 29th.
While out of place on Twitch, which tends to focus on gaming streams, the marathon received amazing response, and it seemed that the late artist's gentle demeanour and unreal painting skills could somehow hit the soft spot of users, some of whom can be rather toxic.
According to Twitch, "5.6 million viewers watched 545,880,000 minutes during the Ross marathon, and sent 7.6 million chat messages, using 3.8 million 'KappaRoss emotes'".
In fact, it was so successful that the site has once again started the marathon. So for those of you who are curious, go check it out!
Which One Was Your Favourite?
In spite of the surge of Harley Quinns at both Halloween and comic book festivals this year, many still managed to create costumes which are both cleverly original and relatable.
Which one is your favourite? Let us know!
Feature Image Credit: 9gag, caronarnold on Reddit, Taylor Smith