It's nothing new that retail is suffering greatly in the face of changing consumer behaviour.
E-commerce is the new norm, and consumers are turning to online platforms – both local and international – to get their clothing, gadgets, and even groceries.
Late last year, Bloomberg revealed figures from the Urban Redevelopment Authority (URA) about the state of retail in Singapore, and it found that vacancies in malls are at an all-time high since 2006.
This is in spite of the decline of rental rates by 1.5%.
And this isn't simply affecting those in prime shopping districts (i.e. Orchard Road), the bug has also spread to suburban retailers which were once thought to be less affected by the slump.
The F&B industry is also not spared, with the slowing economy having consumers less likely to spend on more expensive dining options.
In a comprehensive report by TODAY, they found out that the landlords of real estate investment trust (Reit)-owned malls such as Jurong Point, Nex in Serangoon and AMK Hub have been desperately resorting to measures such as promotions and loyalty programmes in hopes to retain their customer base.
Data from property firm Jones Lang Lasalle also reveals a doubling of vacancy rates from less than 1% in 2013 to 2.4% in the fourth quarter of 2016. This is also in spite of a fall of rental rates by 7.1%.
However, among the gloom, there are a few names which have emerged from the dust, and seem to be going strong. Some of those mentioned in the TODAY article include Muji, HP, Uniqlo and Michael Kors.
Let's take a look at some of these brands which have not only survived, but bucked the trend and are flourishing amid the bleak landscape.
1. Miniso
With a logo looking pretty similar to Uniqlo's and price points pretty alike to Daiso, Chinese brand Miniso is fast becoming a common sight in malls both downtown and in the heartlands.
And it's not surprising, given that the company had opened over 20 stores islandwide within a year of landing on our shores. Not just in Singapore, the company has opened over 1,400 stores in more than 40 countries and regions, and reported a global revenue of US$719 million in 2015.
Not shabby at all, for a company that's just over 3 years old.
Last year, co-founder Ye Guofu was in town for a conference in Singapore, and revealed the brand's big plans to open a whopping 6,000 stores worldwide by 2020.
Global co-founder and chief designer Miyake Junya, who was also present, offered his view that the brand was successful because of "its powerful brand, its high quality, creativity and low price, the special experience if offers shoppers, and its efficient and reliable supply chain".
Unlike many other retailers who have cited the rise of e-commerce as brick-and-mortar's kryptonite, Ye also stated his belief that "there is no essential difference between online and offline", and that "the traditional retail industry must undergo transformation, not only because of the impact from eCommerce, but most importantly because of consumers' ever-growing cleverness".
2. Toys "R" Us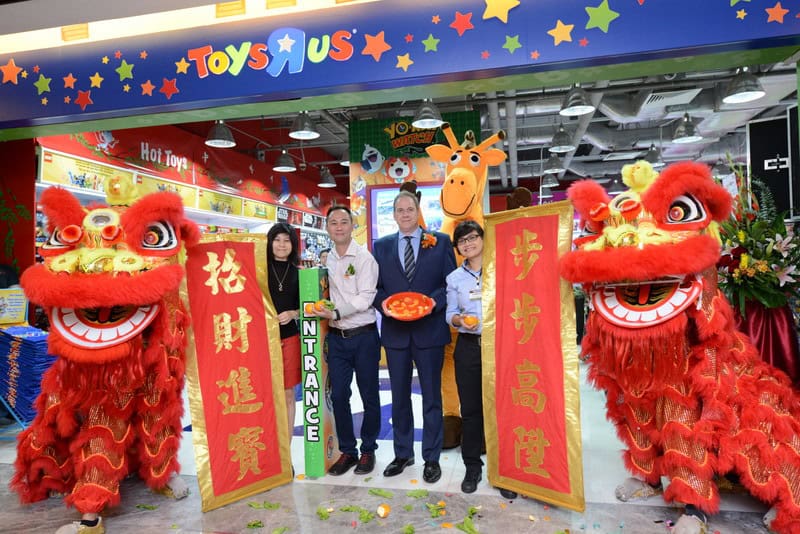 A haven we all loved with a burning passion at one point of our lives, Toys "R" Us revealed its plans to open two more stores in Singapore back in November, bringing the total number of local outlets to 11.
At the launch of its newly-refurbished flagship store at VivoCity, APAC president Andre Javes said that the company has "no issues in putting in further investments in the local market" in spite of the bleak retail outlook and slowing economy.
In addition, he gave the vote of confidence that the toy market is "recession-proof" with demand for certain categories such as educational toys holding up, especially during festive seasons like Christmas.
Having been in Singapore over 32 years now, the recent expansion seems to have the brand set to delight Singapore children for many more years to come.
3. Muji
In spite of its relatively pricey items, Japanese lifestyle brand Muji isn't doing too shabby.
July 2016 marked the opening of its 10th Singapore store, the result of a close to $2 million investment. Selling Muji regulars like snacks, clothes, household and lifestyle items, the 10,600 sq ft store in Raffles City also houses its second Muji cafe.
The first cafe was opened in 2015 at the Muji outlet in Paragon.
Said Mr. Satoru Matsuzaki, president and representative director of Muji's parent company Ryohin Keikaku, the new store is "a turning point" for the company which is anticipating more growth to come.
Citing the common traits of Japanese and Singaporean consumers as its key to success here, Matsuzaki has confidently stated that the company plans to open 2 new stores a year, till it reaches its "ultimate goal of 15".
4. Uniqlo
Yet another Japanese brand, Uniqlo has been providing Singaporeans with a reliable source of good quality basics, work outfits, jackets and innerwear for all those winter holidays.
With 25 stores islandwide presently, it created much needed buzz in the retail scene with the opening of its first Southeast Asian flagship store at Orchard Central.
Spanning 3 levels, the chief executive of Uniqlo SEA Mr. Taku Morikawa reveals that Singapore was chosen because they see it as "the centre of Asia", and will look to explore markets like India and Vietnam if the flagship store is well-received.
"Since we opened the first store eight years ago, we've been warmly welcomed here. And we want to give the new experience as a thank you to the Singapore market."
The brand was introduced to us almost 8 years ago in 2009, with its first outlet gracing heartland shopping centre Tampines One, and from the look of things, we're going to have many more holidays fully decked out in Uniqlo clothing.
5. Apple
Back in July last year, Singapore Apple fans marked November as the time when their collective dreams come true with the impending opening of the first Apple store right in the heart of Orchard Road.
In spite of the excitement among consumers, its opening also spelled darker days for some other retailers.
The space it was due to take up was originally occupied by Pure Fitness Gym, which had to move out "as part of a reorganisation plan for the site", and the new store also posed as a threat to Apple's authorised resellers Nübox and EpiCenter.
However, it does seem like the worries of these resellers have been postponed alongside the pushing back of its opening date.
As November came and passed, we were left wondering about its progress, and found out that the expected date of completion (as stated on the information board at the site) was now missing.
A check with workers on-site by The Straits Times revealed that the delay was unavoidable, due to its three-week stop-work order by the Ministry of Manpower after working conditions were found to be unsafe.
But it's always better late than never, and honestly, we can't wait till the store opens and makes shopping at Orchard Road great(er) again.
6. Michael Kors
Yet another Southeast Asian flagship store, American fashion brand Michael Kors placed its trust in Orchard Road with the September 2016 opening of a 2-storey, 7,000 sq ft outlet in Mandarin Gallery.
Graced by the founder himself and Hollywood actress Kate Hudson, the shop is also the first in Asia to feature a full-scale shop for its men's collection.
Opened by retail and lifestyle group Valiram Group, which has 55 stores from different brands locally, it secured a long-term lease of 7 years with Mandarin Gallery for the flagship.
Executive director of the group, Mukesh Valiram, reveals in an interview with The Business Times that they have plans to open up to 100 new stores in Singapore this year across various verticals, to "play in different price points [with a] key focus [on giving] consumers what they want", so we could potentially see more Michael Kors outlets coming soon.
7. Urban Revivo
Topshop and H&M watch out – there's a new fast-fashion competitor in town.
Popular Chinese label Urban Revivo opened its first international store at Raffles City earlier this month, with its vice-president Mr. Raymond Ngoh revealing that Singapore was chosen due to its reputation as "a financial centre" and "one of the most reputable free-trade zones in the region".
Acknowledging that there's a potential hurdle that comes with the "made-in-China" label, Ngoh assures that the label doesn't compromise on quality, and the stereotype does not apply to his brand.
Price-wise, a cotton-blend embroidered A-line skirt will cost $89.90, and an off-shoulder denim top will set you back by $59.90.
With intentions to use Singapore as an inroad to other SEA nations like Malaysia, Thailand and Indonesia, the 7,330 sq ft outlet is just a teaser to what the company plans to have here.
A new store, slated to be twice as big as the Raffles City one, is due to open in Orchard Road in Q3 2017.
8. Ramen Keisuke
In recent years, Japanese ramen has become a favourite among Singaporeans, and among the plethora of shops peddling their version of the noodles, Ramen Keisuke is one of the more prominent names among them.
Opened by Japanese chef Keisuke Takeda, the Keisuke footprint in Singapore has expanded to 8 highly popular outlets around the island, since the first store was opened in 2010 with an investment of $650,000. The Singapore store was his first overseas outlet.
Not a one-trick pony, each store features different variations of the dish and a signature ramen, so customers have a different experience at every outlet they visit. Keisuke also owns a gyoza shop and a sake bar.
Boldly opening 2 of his stores mere weeks from each other last year, Keisuke justifies his risky decision: "Sometimes, when you feel the urge to go (open a restaurant), you need to. Even if it's not good timing, you need to be firm, like a mountain."
Expansion plans are still under wraps, but Keisuke reveals that he wishes to open outlets in heartland areas "when the time is right".
9. Imperial Treasure
We end off with another F&B company. This time, it's Chinese fine-dining giant Imperial Treasure Restaurant Group.
Last month, the group introduced its newest addition to its now 24 outlet-strong presence in Singapore – a Fine Teochew Cuisine restaurant in ION Orchard. This is alongside the opening of a steamboat restaurant at Great World City.
This month, two of its Fine Chinese Cuisine restaurants were also opened in Guangzhou and Hong Kong.
Overseeing the group's expansion and strategy is Mr. Alfred Leung, who founded the group in 2014 in Singapore. He revealed during an interview with The Straits Times that expansion is due, following the investment boost it got in June 2015 from the sale of a majority stake to Malaysia-based private equity group Navis Capital Partners.
The sum was reported by Bloomberg to be between $60 million and $80 million.
In the next two to five years, there are also plans to launch more outlets in Singapore, and also food capitals of the world – including Paris, London, Tokyo and Seoul.
When asked if he feels like the bleak economy will have an effect on business and the fine dining vertical, Leung said: "Even if the economy is bad now, it won't be bad forever. What's most important is to continue offering good food and service. There will be a market for fine dining and people will still come."
What Are Their Secrets?
A common thread that runs through the examples seems to be that instead of cowering in the face of the disruption from e-commerce, these brands have made bold, yet clever moves to enhance their brand's presence.
Banking on features that can only be executed offline, these companies have also used them as selling points to get consumers out and shopping again.
Perhaps with these businesses as an example, this is how brick-and-mortar owners should go forward from now on.
Featured Image Credit: Miniso