An unassuming toy, as compared to the more obnoxious ones like the very popular Nerf Guns, LEGO has been a mainstay in many of our childhoods, reminding us of times where we learnt, firsthand, about the principles of creating and building up structures (however wonky) through hours spent with the colourful bricks.
There was no limit to what we could create with what we had, and this is echoed by LEGO historian Kristian Hauge, who says, "It is not the brick that sets the limitations, it is your own imagination."
But perhaps it's because of how unassuming both the toy and the company is, that many might not know about the company's almost-downfall back in the late 90s and 2000s.
Channel NewsAsia recently broadcast an episode of their series Inside The Storm, featuring the Danish company, and it thoroughly documented how it had braved years of losses and defeats, before finally re-emerging, successful and still true to its vision of 'Inventing the future of play' .
There is much to be learnt from the episode, and we have distilled some of the main pointers that would be useful to any business.
1. Don't Blindly Follow Trends
The 50s, 60s and 70s were considered to be the heyday for LEGO, with the company seeing a doubling in size every 5 years.
By the 1980s, 70% of children in the world owned LEGO bricks and they were among the top 10 manufacturers in the world. Its magic then was similar to what it has now – as Anne-Valerie Ohlsson-Corboz, Professor of Strategic Management at SMU put it, "It was a toy you could continuously reinvent and invest in."
Perhaps the company had taken the bit about reinvention a bit too seriously, and in the 1990s, they started venturing into the production of not just their signature bricks and play sets, but also the making of merchandise, publishing books, and launching their theme park, Legoland, in the UK (1996) and the US (1999).
And this was all in a bid to capture the trends they thought children were now interested in.
"[…] They overreacted to trends and started over-diversifying. And they did what many other brands did – they expanded from their core, and like many other brands, they lose their heart [as a building toy]," said Ohlsson-Corboz.
"They expanded [into] a whole new set of products they had no experience with, but which they think will help them capture more of the market."
However, while that seemed like a 'logical expansion' to take on, it was more of a decision driven by fear that they would lose their appeal.
Said Hauge, who also works at LEGO to preserve its history and culture, "We lost confidence in the brick, and we asked ourselves, 'Do children want to play with lego bricks in 10, 15 years from now?"
This was echoed by another interviewee Henrik Andersen, a senior designer who joined LEGO over 20 years ago.
"I think LEGO lost confidence in children. There was a feeling that children changed from where we came from in the 80s. Kids wanted to be more cool, and play video games, and be outside on a skateboard [and] didn't want to play LEGO anymore."
2. Growth =/= Success
The detrimental effects of the switch in direction was swiftly seen with the US$28 million loss that they experienced in 1998, and it was also the first time in 80 years that they did not turn over a profit, and had made almost 1,000 employees redundant.
This was mostly due to the fact that LEGO was never a merchandising or entertainment company – and their new ventures, which being pushed more into the public eye, were draining a lot of resources from the core of the business, which was creating building toys for children.
A check on their annual report of 2000 had also showed that they had experienced a loss of US$120 million that year:
By 2001, a company report had even suggested that US$330,000 was being wiped from its value every day.
"LEGO had either expanded too much, or expanded too much, too fast. And with that, comes the confusion of what the brand is all about," said Jorgen VigKnudstorp, now ex-CEO of LEGO, who joined the company in 2001 as a junior consultant.
"The company just sort of lost the plot. The identity is no longer strong, the understanding of this company and what it is all about is less clear."
3. Never Lose The 'Heart' Of Your Brand
In spite of the seeming enlightenment in the above screenshot from their Annual Report in 2000, the company had committed one more boo-boo, and this was embodied by the launch of the Jack Stone series.
Introduced to the world in 2001, it aimed to showcase a more 'masculine' side to LEGO, and helm its comeback in the face of competition from video games and toys which naturally oozed the 'cool' factor.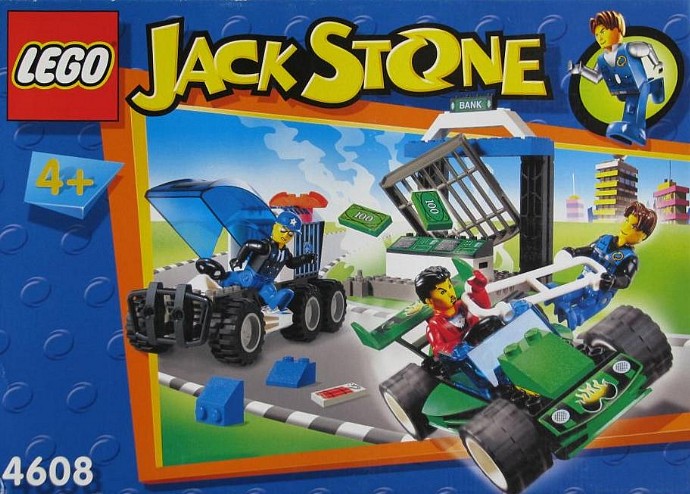 "The biggest mistake was replacing the mini figure with a new figure which was bigger, and less versatile," said Andersen. "It was so far off the design principles that I believe were the right ones for LEGO."
Singaporean LEGO fan Ivan Ho, who was interviewed, revealed that he never bought any of the Jack Stone sets.
"The main reason was that I really couldn't connect with the sets. They do not focus on the brick itself. LEGO is really about the building blocks, but during that period of time, they actually created a lot of new parts which weren't what fans were used to. This was why there was a huge gap between fans and the sets they designed."
The Jack Stone collection was discontinued in 2003.
4. "The important principle of business is to face reality and to see it as it really is."
By 2003, sales had dropped 35% in the US and 29% worldwide, and this led to the annual loss of almost US$280 million in 2004 – the largest in the company's history.
In October 2003, Knudstorp, still in his consultancy role, was due to present his findings about what was wrong with the company, and was filled with trepidation to reveal the bad news –  that LEGO's economic circumstances was a lot worse than it had been before.
However, in spite knowing that he faced imminent termination by being the bearer of the bad news, he knew that "The important principle of business is to face reality and to see it as it really is." – and this line was what he started off his presentation with.
As expected, some of the top management weren't receptive to the news, and "said that this was not how [they saw] things, and [they thought] that the predictions of the future are wrong."
Gearing himself to lose his job, he was, in turn, promoted to take on the position of a CEO in October 2004, and thus became 'the man chosen to save LEGO'.
5. Your Saving Grace Might Come From The Most Unexpected Of Places
While taking on a C-suite role might seem like a glitzy appointment, Knudstorp, 35-years-old then, had no experience in spearheading a global brand, and was also the first non-family member appointed to such a position.
It was, in a way, a risk, with Knudstorp holding the reins of a potentially rocky journey.
However, he cited that his eventual success came from the fact that because of his young age, he was more willing to take big steps to change things.
"On hindsight, it looked so clear what we needed to do, but we were working on all of it concurrently – it's a messy process, you make mistakes [but] being young I had nothing to protect, I had no career to protect, I could go to other places."
LEGO designers, as Andersen admitted, were initially skeptical about his appointment, but after working with him, realised that he could be the change the company needed.
"There was of course some pessimism in the beginning, because who was this guy and where did he come from [but] I remember at the first meeting [that] he was much more down-to-earth. He was talking to us like we were humans, not as employees."
6. Get Out Of Your Comfort Zone
Since his appointment, Knudstorp started by throwing LEGO employees out of their comfort zone.
"The culture had become such that they were not close enough to market reality. LEGO had its own corporate jets, it had an environment with plenty of space, and while it created a great work environment, it didn't create a sense of urgency about survival."
"We actually pushed people together on a smaller amount of space just to create […] an atmosphere of, 'This is not a rich company, this is a company trying to survive.' And we started putting data on the walls, and suddenly the rooms were all about 'How is this company doing?', and nobody could escape the fact because they were right there in front of you."
Next, he looked at how the manufacturing plants were working, and while the processes were efficient, and not an issue, there were too many bricks to be produced – 14,000 unique pieces, to be exact. This resulted in very high manufacturing costs, which were eating into profits.
Knudstorp then slashed the number to just 5,000 within a year.
Lastly, to address the asset which was draining the most human assets and finances – Legoland.
In 2004, they made the big decision to sell off their controlling stake, and kept a mere 22% share so that they can control the quality, stating clearly that running amusement parks wasn't their core business, and thus weren't going to concentrate on them anymore.
7. Survive First Before Thinking Of Growth
It's a common wish of entrepreneurs and business owners to grow their company as rapidly as possible, but many forget that before that, having a strong survival strategy is more pressing.
Having undergone the wrath of financial hell, Knudstorp reveals that the goal of LEGO was first to survive, before even thinking of growing again.
"Many economies and many companies think that survival is intrinsically tied to growing, [but] we decided to hardly grow for 5 years while we were fixing the business. So in that way, you can say that it was somewhat like someone who wants to win the Olympics first going into intensive care because you're really bleeding. And then you spend 3 years in rehab where you're gaining fitness, and training [non-stop], but only after that, do you come out and try to compete on a global stage and see if you can actually win an Olympic gold medal."
And survive, and later grow, LEGO did.
As seen from the graph we created above, the net profits were soon seeing an increasing trend, as the company regained its rigour and was soon reinstated to its former glory.
8. Your Fans Are Your Greatest Resource
Growth was the next step after the company got out of the red, and Knudstorp turned to the advisors who knew best – the children and adults who played with their bricks.
Said Knudstorp: "One of the very impactful ways for me to rediscover our ultimate purpose was talking to 'superusers' of the brand, and spend days talking to them about it […] that's where you learn you are all about, and that feedback helped me articulate the direction together with my colleagues for the future innovation of the brand."
According to the documentary, he had even brought in psychologists to observe the children and see how they play with the bricks, and even had designers go live with families with children for a week to see how and what they played – eventually bringing back all of the findings back to the design process.
In fact, the LEGO HQ in Denmark is filled with letters from children all over the world, to remind them about why the brand ultimately exists.
LEGO's Rise From The Ashes
The story of LEGO is an inspirational one, and there is much to be learnt from both its mistakes and its victories.
In just 8 years, LEGO's revenue tripled, and with offices in every region, its ultimate goal "to reach every child in every country, all over the world" is, following the path Knudstorp recreated, far from being a pipe dream.