Condominiums in the Philippines are without a doubt, one of the most efficient properties people can buy, especially for those who lead a fast-paced lifestyle.
It's usually located in a central location, features many amenities, has 24-hour security, and is easier to maintain than other real estate properties.
But although condominiums have brought about a comfortable lifestyle to its owners, it also has its fair share of downsides – and one of them is its limited storage space for your belongings.
Condominium owners don't have the luxury of hoarding items in their homes because of the lack of space, which results in many problems such as contract issues, wasted goods and unsatisfied tenants.
With the continued progress of Philippine tourism, more people are increasingly visiting the country. This leads to a higher demand for real estate rentals, and condominiums especially, are rising day by day.
Consequently, the demand for storage are also rising to keep up with the pace.
Two Filipino brothers, Carlo and Macky Coronel, have decided to take on this challenge and established SafeHouse Storage, a revolutionary way of self-storage.
They claim to be one of the largest storage businesses in the country today, and they plan to "place branches on the busiest cities in the Philippines to be able to help more people on the larger scale".
Turning An Idea Into A Business
Some properties are even smaller than 19 square metres (sqm) and both brothers noted the demand for storage due to shrinking condominium sizes.
"Condominium developers are slowly expanding, and it has a strict correlation to the market we want to capture," said Carlo in an interview.
It is expected that the country will experience an economic boom due to the Generation X entering the workforce. Together with this phenomenon, the country will also undergo massive real estate demand that is expected to increase by more than 50 percent.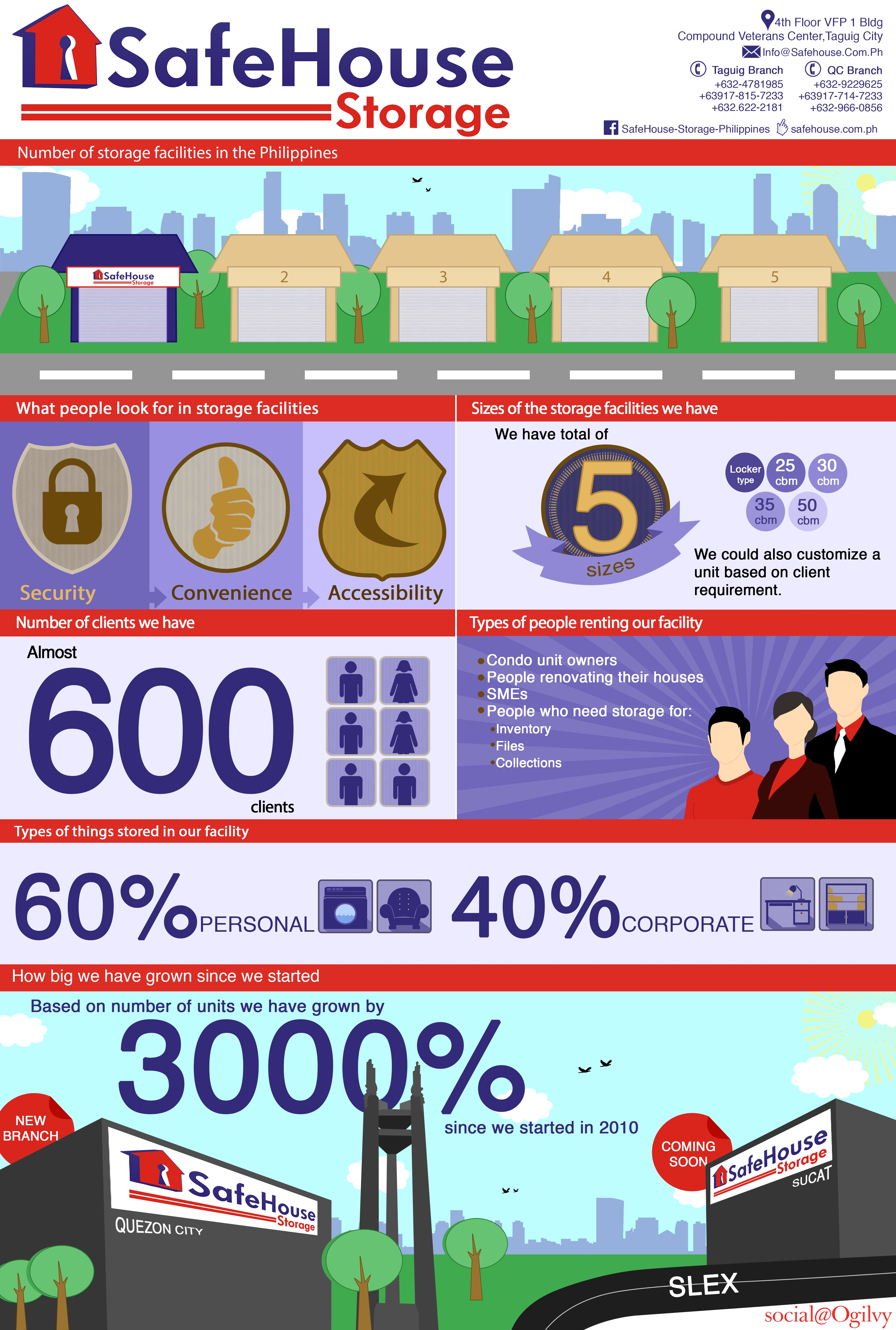 Researchers suggest that the demand for residential condominiums will bring about 140,000 units by 2020 from only about 91,000 in 2016; which presents more ground for the Coronel brothers to cover.
"About 60 percent of our clients need storage for personal reasons so these are homeowners looking for space. The rest are business owners," Carlo added.
Modern Day Revolution
As of now, SafeHouse Storage has over a total of 800 units with each unit having a measure of 6 to 16 square meters (sqm).
Rental prices for the units ranges from PHP2,000 – PHP10,000, depending on the size of the client's desired unit.
Right now, they currently have 3 branches, one in Taguig and two in Quezon City. And they are also looking to open another one in Makati by the end of this year.
"We've always wanted to be there," Carlos said of the Makati branch.
With the condominium industry rapidly increasing in growth, the two brothers are forced to keep up with the pace. Since the self-storage industry is still in the midst of a breakout, the Coronel brothers are driven to expand as much as possible to get ahead of upcoming competitors.
"The market is still at its infancy stage. In the US, there are more self-storage facilities than McDonald's branches. So there's still a lot of room for growth," Carlos said.
"I'd like to think we can build at least a total of 20 branches around Metro Manila. There have also been invitations to bring it to Cebu."
The Coronel brothers were exposed to the business at a pretty young age. Since their father also has a business similar to what they have right now, they have the experience and instincts to guide their company through the market.
"The self-storage business was purely accidental. There was one company who needed some storage for their files. Since we were already in the warehousing business, we had one room that was vacant, so we started to rent it out to them. Then we started to advertise it online and the reception was great so we continued it," Carlo said.
When they created SafeHouse Storage, they had the end in mind and established many benefits in order to set them apart from other potential competitors.
They offer packaging services together with their moving in service. Their storage is also accessible to their clients 24/7 and they have roaming security inside the property to make sure everything will remain as it is.
It's one of our advantages from the others. It's not just self-storage facility, we also move stuff for you. It's really an end-to-end service, like a one-stop shop," Macky said.
"Other competitors want to position themselves, in terms of hotels for example, as five-star. We want to be, at least, the businessman's hotel. We're the most practical choice," Carlos explained.
Featured Image Credit: Town & Country