There is no denying that Filipinos are ranked as the biggest social media consumers in the whole world.
Wherever you go in the country, you're bound to always see someone holding a phone and checking out their Facebook. In fact, it is estimated that over 60 million of our population engage the most in social media platforms and other websites.
That's why it was hard for Kristian Salvo, the CEO of Pound it, to capture the hearts of Filipinos since almost everyone in the country already have access to electronics.
Salvo's team decided to take advantage of this huge growth for electronics in the country, and went on to introduce an e-commerce company that focuses on marketing exclusive factory electronics to major companies.
Over the past years, Pound it has partnered several major brands in the country like GoPro, Sony, ASUS and many more. They aim to become the biggest electronics provider in the Philippines, and are "close to achieving it," said Salvo.
"Pound It helps customers save time, save money and avoid headaches when shopping for their favourite electronic brands," said Salvo in a media roundtable last September 14.
"We took the branded retail store experience and brought it online."
Before he began his e-commerce company, Salvo was formerly a country manager for Blackberry, a Canada-based phone developer that once had a high place in the smartphone industry.
But it consequently failed miserably, losing market shares to more competitive rivals. But even with the downfall of the said electronics company, this ex-manager managed to stockpile his savings in order to fund his dream startup.
Bad Days Gone Good
He created Pound it in the early months of 2014 together with co-founders Rodolfo Amorsolo (R.A.) Rivera and Mark Reyes.
The e-commerce company first made its debut in the news when they won the Retail Startup of the Year award. This took place at the ASEAN Rice Bowl Startup Awards in 2015, which is an annual celebration that promotes and rewards the best startup of the year in Southeast Asia.
More recently, Pound it has raised capital worth PHP 32.4 million (S$850,000) thanks to a Singapore-based venture firm Cocoon Capital, raising the company's total value from PHP 94.8 million (S$2.5 million) to PHP 189.7 million (S$5 million).
According to Salvo, all of the profits will be reinvested to make sure their services will provide utmost customer support.
He also confirmed that a part of the revenue will be equally distributed to the marketing department in order to improve their leads generation and brand reach.
"E-commerce is undergoing massive growth here (in Southeast Asia) with a transition to more professional, customer-centric players that make sure customers have an excellent journey from browsing to unboxing," said Will Klippgen, managing partner of Cocoon Capital in a statement.
"Pound it is one of the most impressive startups we have seen in Southeast Asia since we started investing."
In the statement, Klippgen also magnified that it was the deluxe customer treatment that made Pound it a huge success.
Unlike other e-commerce companies, Pound it focuses on great customer service and additional features for offline and online merchants.
He said that he once brought a mobile phone online but was disappointed with the poor customer service and the unexpectedly bad product. But Salvo assured him that the system and the objective of Pound it ensures that no customer will ever feel cheated on after using their service.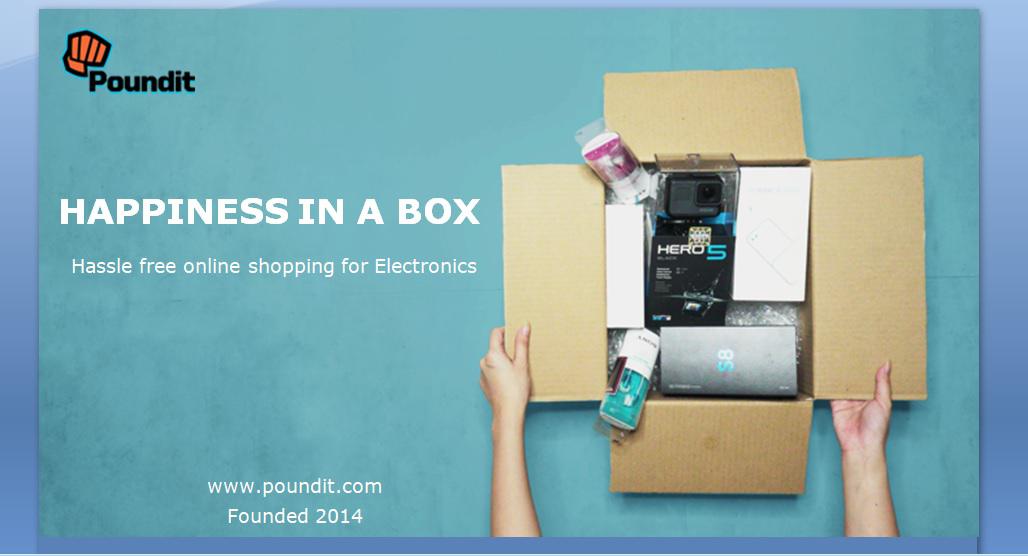 "Our goal is to be the most customer-centric e-commerce electronics site in the country. We provide the customer experience and service across pre-purchase and post-purchase, just like what you would get if you walked into a branded store in the mall," said Salvo.
That said, the company has received numerous positive feedbacks and are flooded with website traffic.
Salvo estimates that their e-commerce website has over 3,000 to 4,000 visitors a day. He also disclosed that the annual revenues of his three co-founders were close to seven digits over the past 3 years.
While it may only be a small fraction compared to the country's biggest e-commerce giant, Lazada, Salvo is highly determined that it can escalate the ranks and may even replace the latter company in the future years to come.
"If you look at other more developed markets, there's room for a very professional and formal niche player in a vertical," said Salvo.
Comparing Poundit to Zappos, a US-based e-commerce site that solely focuses on shoes that thrived amidst the presence of Amazon, he said, "I think the market's big enough for everyone to thrive."
Featured Image Credit: Entrepreneur Philippines