Another year has flown by, and the best season is fast arriving.
Yes – we're talking about Christmas and the sales that come with it!
The annual Christmas sales period is a great time to shop for presents, but it's more often than not that panic hits you in the face when you realise that the things on sale are either 1. not appropriate, or 2. too generic (hand cream sets, anyone?).
Worse still, when the gift is meant for your boyfriend or husband.
But there's a solution for everything and in this case, the proverb 'the early bird catches the worm' will be your go-to phrase if your peers call you out on how kiasu you are.
As ironic as it's going to sound, the upcoming 11/11 sale season is one you're not going to want to miss out on when gift shopping for your partner.
11/11, better known as Chinese Singles' Day, has its roots in celebrating #singlepride, but has since taken on a new definition – 'the largest online shopping day in the world' – thanks to Alibaba shoppers generating an epic US$17.8 billion sales on the fateful day last year.
If you're not one to shop on Alibaba, many other e-commerce sites also offer great (and very competitive deals) on the day too.
For example, popular online shopping site Lazada has some great deals coming up for 11/11, but for the ease of reading, let's narrow the significant others in the world down into some rock band stereotypes.
Let's also link them up with some speakers and headphones because hey, who doesn't love music right?
'The Guitarist'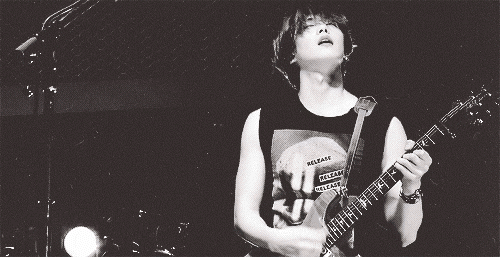 Referred to as the prima donna of the band, 'The Guitarist' is actually a misunderstood soul under his flashy equipment and fashion choices.
While there's no doubt that he loves to show off, the quieter side of him, the one that spends hours composing riffs and nursing the callouses on his fingers, is often overlooked.
That's not to say that he's not the stereotypical 'bad boy' though.
Often getting into trouble with friends, acquaintances, and enemies with his loud mouth comments and late night jamming, some girls envy how cool your man seems, but it's in the private moments where you see how hard he works, and how passionate he is about his craft (and also you).
An unabashed music lover, we recommend that you get your 'guitarist' boyfriend a Marshall Kilburn.
Weighing in at just 3kg, the Kilburn is a portable speaker – but much cooler (and louder) than your average bluetooth option.
Coming with a guitar-influenced leather strap and analogue knobs reminiscent of an actual guitar amplifier (what else would you expect from Marshall, right?), the Kilburn will allow your man to adjust to the smallest degree how his music sounds – just like how he has perfected his personal guitar sound.
It also comes with a built-in battery life of up to 20 hours, so you can expect him to be bringing it around to all your picnics in the park and outdoor gatherings with friends.
Get the Marshall Kilburn at $549 here!
'The Bassist'
Just like his role in the band, 'The Bassist' is an often overlooked fella.
But being one who doesn't crave for attention, he's completely chill about that – in fact, he's completely chill about almost everything in life.
More than happy to play the supporting role, he's a quiet, low maintenance type of guy that finds simple joys in perfecting his skills and also complementing the rest of his social groups and relationships.
While he might get some flak for too relaxed, especially when it comes to making big decisions and settling down, he's actually being careful and not rushing into situations lest anything goes out of beat.
Pun intended.
For your 'bassist', we recommended the Marshall Mode EQ.
Offering "huge sound in a small package", the Mode EQ earphones are as unassuming yet impressive as your man.
Equipped with a microphone and remote so that he can answer calls while jamming to his playlist, using it for work and play is as fuss-free as he is.
For the times when he wants to fully enjoy warmer, more bass-heavy tones, the Mode EQ lets him opt for that with its 2 different EQ settings. For other times, its other setting lends itself better to 'brighter' tones, emphasising more on the mids and highs.
Get the Marshall Mode EQ at $139 here!
'The Drummer'
An energiser bunny with seemingly endless stamina, 'The Drummer' is always up for an adventure.
His upbeat (pun intended) nature makes him very popular in his social groups, albeit friends needing to shush him up when he gets too carried away with being louder than the average human being.
A sweetheart with an infectious energy, he's not without any faults.
To him, anything and everything can be a drum set, and you often hear him clanking away before you see him. He can also be more rash than his other bandmates, and it's this impatience that can make him quite a handful to deal with.
For the one who seems to have trouble keeping still, we recommend the Marshall Major II Bluetooth.
The Major II Bluetooth headphones aren't just cool, they're perfect for those who are always moving and on the move.
With over 30 hours of play time on a single charge, it promises CD-like audio quality, meaning that your man can feel like he's in the middle of one of his gigs even if he's in a crowded shopping mall.
Just like its speaker counterparts, the headphones also have an analogue control knob you can play, pause, shuffle, and adjust the volume. Phone functionality is also included so you can answer, reject or end a call with a few simple clicks.
Get the Marshall Major II Bluetooth at $259 here!
'The Lead Singer'
Ah, we've come to the 'diva' of the band.
An extrovert who thrives being the centre of attention, conversations never die when he's around. He's also always up for karaoke, where his mic-hogging ways have annoyed his friends for years now.
But beneath all of the dazzle that seems to surround him in social situations, he's never afraid to be the one who stands up for his band and friends first.
While his confidence has scored him an above average number of girlfriends and exes over the years, once he finds a mate (and band) that truly syncs with both his flamboyant and quieter moments, he's loyal for life.
For 'The Lead Singer' in your life, Marshall's new wireless multi-room system speakers are a perfect fit.
With the tagline 'Come Together', Marshall's new wireless multi-room system lets your man play different songs in each room or bring it all together and play the same track throughout the entire home.
Yes, that means that he'll be able to belt out the tunes playing on his speakers even as he moves to different rooms!
With the smallest speaker in the range, the Marshall Acton, starting at $589, it might be a stretch to get one for each room at the get-go, but the speakers allow you to build the Multi-Room system seamlessly over time.
Fine-tune your audio preferences with the Multi-Room app, or if you prefer the more manual approach, with the analogue controls on the speaker.
If you're a fan to keep music running in the background as you do various tasks on your phone, you'd also be glad to know that the speakers will allow you to receive calls, texts, or browse video clips without any break in the current playlist.
Pre-order the Marshall Wireless Multi-Room Acton here, Stanmore here, and Woburn here!
Marshall x Lazada On 11/11
In case you haven't noticed, we've exclusively featured Marshall products – and for great reason.
A cult brand among musicians, Marshall is best known for their electric guitar amplifiers over their 55 years in existence, and count rock stars like Slash of Guns N' Roses, Jimmy Page of Led Zeppelin, Kurt Cobain of Nirvana, and perhaps most significantly, Jimi Hendrix, as loyal users.
Famous for its much sought-after 'crunch', its founder, Jim Marshall, is also known as the 'Father of the Loud'.
Marshall has since diversified from just catering to musicians, and has released headphones, speakers, and even sunglasses for those who want to have a taste of the Marshall brand even if they're not musicians.
And we bet you already know that.
But did you know that Marshall has an official store on Lazada, and they're holding an 11/11 sale too?
From bluetooth headphones to portable speakers, items are going for up to 43% off on 11/11, and there's even a surprise box option that contains a product worth up to $799!
With 11/11 happening this weekend, get your credit card and fingers ready for some intense shopping, and we hope that the list has helped you narrow down the present for your man this year!
This article was written in collaboration with Marshall.