Last week, we were treated to another gift-wrapped box courtesy of Sudio, this time featuring their first-ever wireless earphones designed for people with an active lifestyle, the Sudio Tre.
We've taken the Sudio Regent headphones for a spin before, and we concluded they would be more appealing for EDM hitters and bass fans. We've also given the wireless Sudio Vasa Blå a go, but they weren't meant for exercising either.
Since this was the first time I had ever heard of Sudio, I was pretty excited to try out the Sudio Tre. I've also never used wireless earphones before.
What Was In The Box
The Tre come in four different colours: a calming pink, slick white, dark navy blue and the classic black.
The box comes packed with:
The earphones themselves
Three pairs of differently sized wing-tips
A leather carrying case
An owner's manual and a quality assurance card
A metal clip
A charging cable.
You can swap the wing-tips of different sizes for the most secure fit. If you feel that the size is uncomfortably big or too small, you can switch it out until it's just right.
Weighing a mere 35g, you can barely feel them in your ears when you put them in, if you choose the right fit.
Maintaining Sudio's forte for design and minimalism, the Tre feel very chic for what are essentially earphones for exercise.
The main body of the earphones is rubbery, with metal finishings and buttons that are tinted either gold or silver.
Since the Tre are specially made for sports, water-resistance is one of the key features because sweat is likely inevitable.
Setting Them Up
The instructions are pretty straightforward: press and hold the middle button to turn them on.
A blue light indicates they're on, and a red light indicates they have been paired successfully.
When I switched on my laptop to pair it with the earphones, they connected instantly. They required a pretty standard set up; anyone who has used a bluetooth device before can get it right.
The earphones are labelled accordingly for each ear. When I first tried them on, it was a bit of a struggle trying to get them in—I then realised I had to switch the wing-tips out for the smaller size.
Using Them: The First Impression
Once they were in, I experienced the magic of not having them fall instantly from my ears—perhaps a GIF will better illustrate that.
Before I get to the technical part, as someone who has been tied to a wire all my life, the fact that they are wireless is mindblowing. No longer do I have to struggle with the restrictions of movement while being plugged to a immovable laptop, or a phone that will get tugged along accidentally when I move.
The cord connected the earbuds is short enough that it doesn't get in the way, yet long enough to reach both ears. The freedom of movement makes me feel like I can do multiple twirls and still hear the music. I have reached an epiphany—why didn't I go wireless before?
(My colleagues have also pointed out that the cord is probably supposed to go behind my head, not in front.)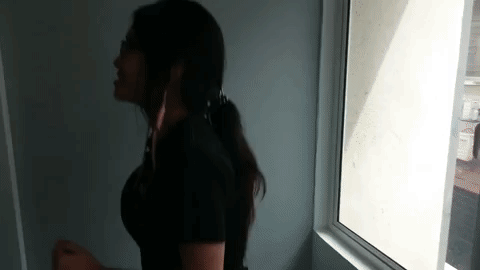 Designed for the active lifestyle, the TRE operate under Bluetooth 4.1 and have 9 hours of battery life with Siri voice control. The Tre offer a 15.2 mm dynamic speaker and can respond to frequencies between 20 Hz–20 kHz.
Compatible with Android and Apple, it takes up 120 minutes for a full charge, but you can opt for a 10-minute quick charge if you want go for a quick sprint outside.
They have a 15m range, and Sudio reports a 9-hour active battery life, which can last 10 days on standby.
When it comes to comfort, like I said earlier, the fit is snug, and they didn't budge despite all the motion I put them through. I did find that after an hour or so, the wing-tips did start to get uncomfortable, so I don't think they're meant to be worn for so long a period.
Using Them: For Actual Exercise
The sound quality is pretty impressive. I could hear my music clearly and it was better channeled than the average earphones.
I took them for a test run on my commute to work and found that I could still hear the music reasonably well—unlike my normal earphones, where I always struggle to find the right balance of hardly hearing anything and increasing the volume.
With the Tre, it was just right.
The bass, in my opinion, was full and solid, which was quite unexpected in earphones. I did find the treble rather elevated, which was good for me considering I enjoy slower ballads.
Ultimately, this boils down to your own personal preference. I found the music played along the entire frequency range without crackling up, making it suitable not only for gym sessions but also other occasions.
They also have full sound transparency which allows you to hear what else is going on around you as you listen to your music. This was a little distracting for me as I could hear less desirable sounds (drilling, car honks, etc) on top of my music.
It wasn't that hard for me to tune out the distraction, though it would have been nice to block out the outside world completely. But then, the Sudio Tre aren't designed for noise cancellation like the Regent is—they want you to be aware of your surroundings so that you don't get into accidents on the road.
You might lose a little sound quality overall because of the audio transparency, but it's the price you pay for being safe during your workout outdoors.
The Price Point
The earphones retail at RM409, but Sudio are currently running their Black Friday sale with 25% off site-wide. Right now, the earphones are available for RM306.75 until the promotion ends.
Update: You can use the promo code vulcanpost for a 15% discount.
Overall, if you're an avid jogger or just love the feel of being tangle-free, these might be the pair you're looking for.
As we've mentioned before, the Sudio brand isn't the cheapest on the market, but they've consistently delivered on the look and feel of the product. If you're willing to pay the price for these wireless earphones, you do get compensated by the aesthetics and sound quality they offer.
As for me, I'm definitely a convert now. The Sudio Tre probably won't replace my regular earphones when I'm working in the office, but they're a huge upgrade for my exercise routine and commute.
You can find the Sudio Tre earphones here.