My memories of growing up in the '90s was a static-filled one.
I spent a lot of time watching the television – so much that I could remember the theme songs to most of the Channel 8 shows and the programme lineup on Kids Central.
Now that I'm older and have (sort of) weaned off television, I sometimes wonder what former TV stars are doing now.
While we can 'stalk' celebrities on the various social media platforms, there are many others who have chosen to go under the radar to pursue other passions after stepping out of the limelight.
Like Cheryl Chin.
Does her name ring a bell?
She was the first-runner up after Felicia Chin in Star Search Singapore 2003, and she was named by FHM Magazine as one of the 100 Sexiest Women in the World in 2003 and 2004, according to her Wikipedia page.
$275Image Credit: Cheryl ChinSince her last acting stint in 2010, she has been managing Damn F'in Good Noodles – her cool food truck business, better known as DFG Noodles based in Austin, Texas.
From Movie Trailers To Food Trucks
This former actress is a familiar face to Singaporeans, having acted in Channel 8 dramas, like An Ode To Life and popular Channel 5 comedy, Under One Roof.
But she left four years after winning Star Search in 2003, according to Straits Times, to "further her acting career" in the States.
She admitted that she "was fearful" when she made the decision to leave Mediacorp.
"Who does that?! Most people will never ever have that opportunity, yet here I was saying 'no thanks' after filming four television series in a year. That took guts," she told me.
At that time, I did not know if it was the right decision but I knew I wasn't happy with my life and I needed to reconnect with myself again. That meant I had to step away from being a public figure in order to realise, once again, who I really am, and what I really want.
According to this list, the last Singaporean production that she was a part of was The Best Bet directed by Jack Neo.
She also acted in the American action blockbuster film, Machete, alongside Danny Trejo, Jessica Alba, and Robert De Niro.
At the premiere of Machete, she found herself "cringing" at her own acting when she realised her "acting abilities were not going to get [her] anywhere in the US".
She had her son just one month before the Machete premiere, then spent one year at home with him before going back to work doing marketing.
"I was making fantastic money but it didn't fulfil my innermost desires and goals. Having a kid also made me realise I wanted to spend as much time as possible with him and a 9-5 job wasn't going to give me any time at all," she said.
The turning point came when someone told Cheryl that she was "really good at cooking noodles".
She slept on it and the next day, decided to stop everything she was doing and dived headlong into that idea.
It was the Universe calling out to me and I cannot ignore messages like that. Three weeks later, DFG Noodles was fully operational.
Life As A Towkay Neo In America
However, starting up wasn't all that glamourous.
The mother-of-one used her own savings and crowdfunded USD$29,000 to get her first food truck.
I asked her if she ever felt pressured to want to return the money to those who contributed or felt the need to work harder because the money wasn't hers.
She answered, "Yes, I did feel like I owe them, and that is why I created those rewards but no one has ever claimed any of it. Probably because most of [the contributors] are from Singapore."
The crowdfunded sum only bought her through one week of operations, which makes the responsibility on her shoulders even heavier.
If I didn't turn a profit in my very first week, I would have to shut down and file bankruptcy. Therefore, failure was not an option. I had to make it work from Day One.
"I could not lose everyone's money and also lose the roof over my son's head. This fear is what drove me to give everything I never knew I was capable of."
It's not everyday we get the chance to speak with Singaporean entrepreneurs who are based overseas, so I asked Cheryl about her experience.
She said work ethics in the US and in Singapore is contrasting.
From her personal experience, she has came across employees who arrive at work with a sense of entitlement.
She could understand why many companies in the US "hire foreigners and outsource their work to Asia" because it is not easy to find good employees.
"As their values are different from mine, it requires quite a bit of strategy to get everyone on the same page," she added.
Cheryl likens it to a game of chess.
It's not always easy, but this astute entrepreneur manages her business well.
She now has two food trucks that open for lunch only four days a week; one of the food truck goes to locations with 80-160 tickets per lunch, and the other goes to locations with 70-80 tickets per lunch.
DFG Noodles also has a catering division and an events division, and they receive about five to six catering orders a week and take on an average of two events per month.
The astute towkay neo (lady boss in local dialect) told me she read an article some time ago that reported the best food trucks make more than $275,000 a year.
DFG Noodles reached that figure one-and-a-half years ago and has made 200 per cent growth since.
Checking Off Her Bucket List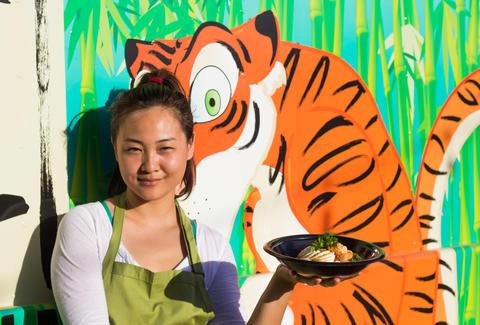 Cheryl has four things on her bucket list, they were: to be an actor; to open a restaurant; to open a chain of boutique hotels; and to write a novel.
So far, she is about halfway through her list.
But maybe a food truck isn't exactly a restaurant, because the hot-blooded entrepreneur is constantly looking out for a space to build "Noodle Street by DFG".
She described it as a "mini food court serving all the Singapore favourites" that reminds people of the "kampong days".
"I want to make this a nationwide chain and solidify our leadership in making Southeast Asian food the next top Asian cuisine in USA," she declared.
Retaining The Flavours Of Southeast Asia
They say you can take a Singaporean out of Singapore, but you can't take the Singapore out of the Singaporean.
KF Seetoh wrote that when he visited the Austin F1 grounds, he heard a loud "ho seh bo" ('how are you' in local dialect) coming from a food truck, and said Cheryl admitted that she wasn't really sure how to cook so she "just hantam".
Perhaps she thought she wasn't a fantastic cook – but she sure knows how to innovate.
Cheryl told me that one day she was experimenting with a teriyaki sauce recipe for their braised pork belly, and after a few changes, she decided to try it as a marinade for fried chicken.
"Our first batch was mindblowing. We put it on the menu as a special. It shot to the top and has stayed at the top ever since," she said.
That was the birth of 'The Golden Nuggets'.
Her version of our char bee hoon (fried bee hoon) is called 'The Scholar' and it has spam, pork belly, onion, and bok choy.
While she confessed that she doesn't stay on top of food trends, she makes sure our "traditional classic dishes are a hit" with the Texan locals, and revealed she is very appreciative of our local dishes when she comes back.
I mean, who can deny our delicious char kway teow and laksa, right?
She raved to me about her "amazing customers" who visit DFG Noodles every week at least once a week for years.
One of them is from Singapore and will bring back dark soy sauce when he comes back. Others will bring us goodies and even alcohol. We are very blessed to have developed such relationships and realise that these customers and friends are what makes it worthwhile.
Cheryl has lived in the States for over 28 years now and said it is "as easy as breathing" to make friends and have "deep connections" in Singapore, so she misses her friends a lot.
I asked her if she misses acting, and she replied she did, for many years, but it's more a feeling of nostalgia.
She doesn't miss it that much now, but when she sees entertainers on stage enthralling the crowd, she wished she could be there with them "feeling the energy of the people".
"It's like a steaming pot of herbal soup for my soul. Those memories, I'll never forget, and I'll never stop missing," she said.
Starting up overseas can be a big challenge, and most people might give up their dreams of becoming their own because they do not know what's it like out there.
"Someone once said to me, 'Do you want to be a big fish in a little sea or a small fish in a big sea?' It's very hard, in my opinion to make it big in Singapore. Food is everywhere and everything is so darn delicious and cheap!"
She went on to say that it is very different in the States, and there is a lot of room to grow in the food industry.
But you have to have the courage to take the leap of faith in whatever you do. Follow your guts. Listen to the Universe. Pursue your dreams and the world will conspire to make it happen.
Well, the next time I plan a trip to my alma mater in Oklahoma City, I'll be sure to include a short getaway to Austin, Texas to check out the "Best of the City – Food Truck" voted by Austin Monthly!
Check out DFG Noodles website here to find out more about them. Follow them on Facebook here to get updates!
Featured Image Credit: Cheryl Chin