In 2017 and the early months of 2018, whenever I was just relaxing and scrolling through WeChat, I'd sometimes get these messages from a friend, or maybe a relative – typically, someone from a small city or the rural areas of China.
The message would contain a link that advertised an extremely cheap product, such as a box of tissue papers, or it offered you some cash if you downloaded an app. My friend, mom, dad, or aunt would excitedly invite me to buy this product with them because it's "such a good deal!"
"That's fake! It's bad quality. They're just cheating you to get your personal information, like your phone number and home address," I – the city dweller–lectured them over the phone.
After this happened several times, it occurred to me that those links all led to an app called Pinduoduo, a company I had barely heard of at that time.
Soon after, Pinduoduo was listed on the Nasdaq. That was in July 2018.
It dawned on me that what I initially dismissed as a scam was a company someone had built from zero into a publicly listed entity worth billions of US dollars in less than three years. In China's sink-or-swim business environment, this means its founders have crossed hundreds of hurdles and fended off multiple competitors in order to get where they are. I was impressed. How did they do it?
The Cost Of Acquiring More Than 400 Million Users
Simply speaking, Pinduoduo is an app where you can buy cheap goods. How cheap? Here's an example.
One day, when I opened the Pinduoduo app in May this year, it made a recommendation for me to buy a batch of tissue paper, which contains six-packs of tissues, enough to last one household for a while.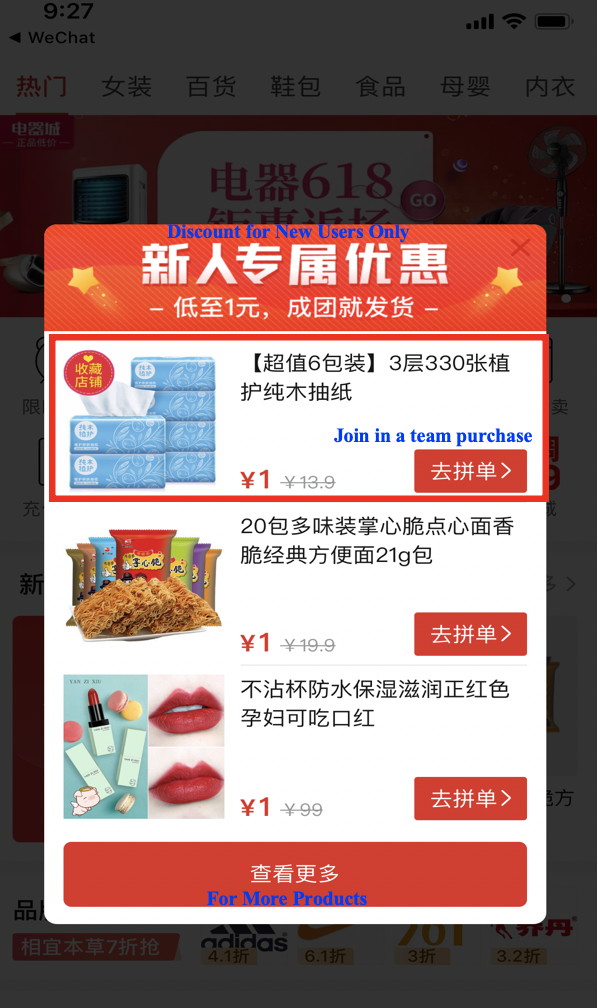 [Tissue paper is an often-used tool to transform a beholder into a buyer as it is necessary to everyone but each packet can be used up quickly].
It cost only RMB 1 (USD 0.15) for first-time users like me, and it would be delivered for free, like all other products on Pinduoduo. Similar products of various brands on other e-commerce sites cost around RMB 20.
This price difference is what it cost Pinduoduo to add me to its user base. The company was set up in September 2015. Active buyers on its platform in the twelve-month period ended March 31, 2019 were 443.3 million.
Pinduoduo's meteoric rise was phenomenal, leading many to scratch their heads trying to understand how it could crack China's seemingly mature e-commerce sector in such a short time.
Chinese entrepreneur and popular business coach Liang Ning was one of them. In one of her live pay-to-view video lectures—which first appeared on Dedao, an online learning app, and was later transcribed by news portal Ifeng—she talks about the factors leading to Pinduoduo's growth.
In Liang's opinion, Pinduoduo provided a channel for low-end vendors to sell goods to those who lived in China's third- to sixth-tier cities and had just learned to communicate and do business transactions via WeChat.
She explained that by mid-2015, Alibaba's Taobao intensified its crackdown on knockoff goods. In July the same year, JD.com decided to shut down its consumer-to-consumer e-commerce site Paipai. Both events led to an exiling of vendors who were familiar with online retail, but now no longer had a portal where they could sell their goods. For them, Pinduoduo filled a crucial vacuum, so they flocked to the platform.
Meanwhile, people living in smaller cities and rural areas were gradually spending more time online than before, aided by China's cheap smartphones and 4G wireless network. They were very price-sensitive and less brand-conscious—and they were accumulating disposable income.
Pinduoduo's low price strategy lowered the barrier for them when it came to online shopping. And it was coupled with a clever social strategy that doubled as a user acquisition mechanism: discounts were given to groups of at least two buyers, a requirement that incentivized shoppers to share links with their social connections, fueling Pinduoduo's viral growth.
On top of that, Pinduoduo promised to ship free merchandise to all users and also doled out cash to those who logged in each day. These measures and others helped the company grow at an exponential pace.
Team purchases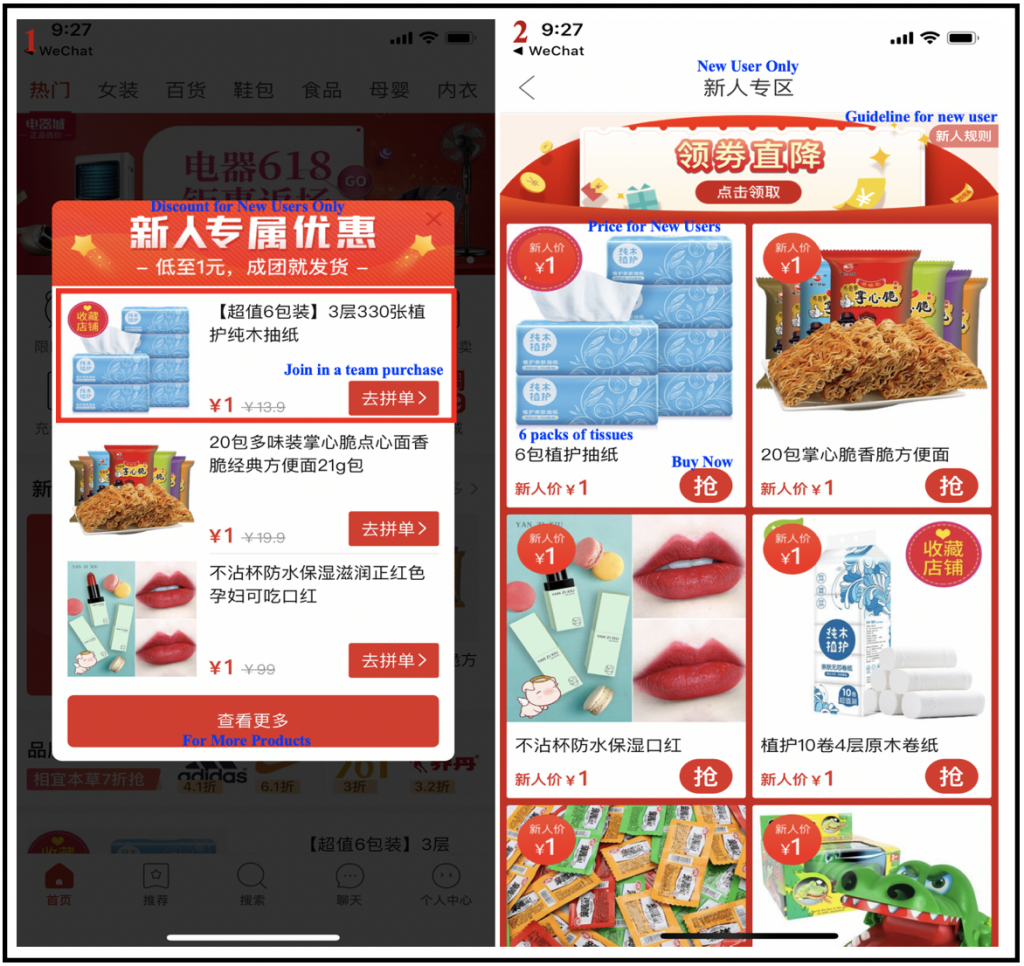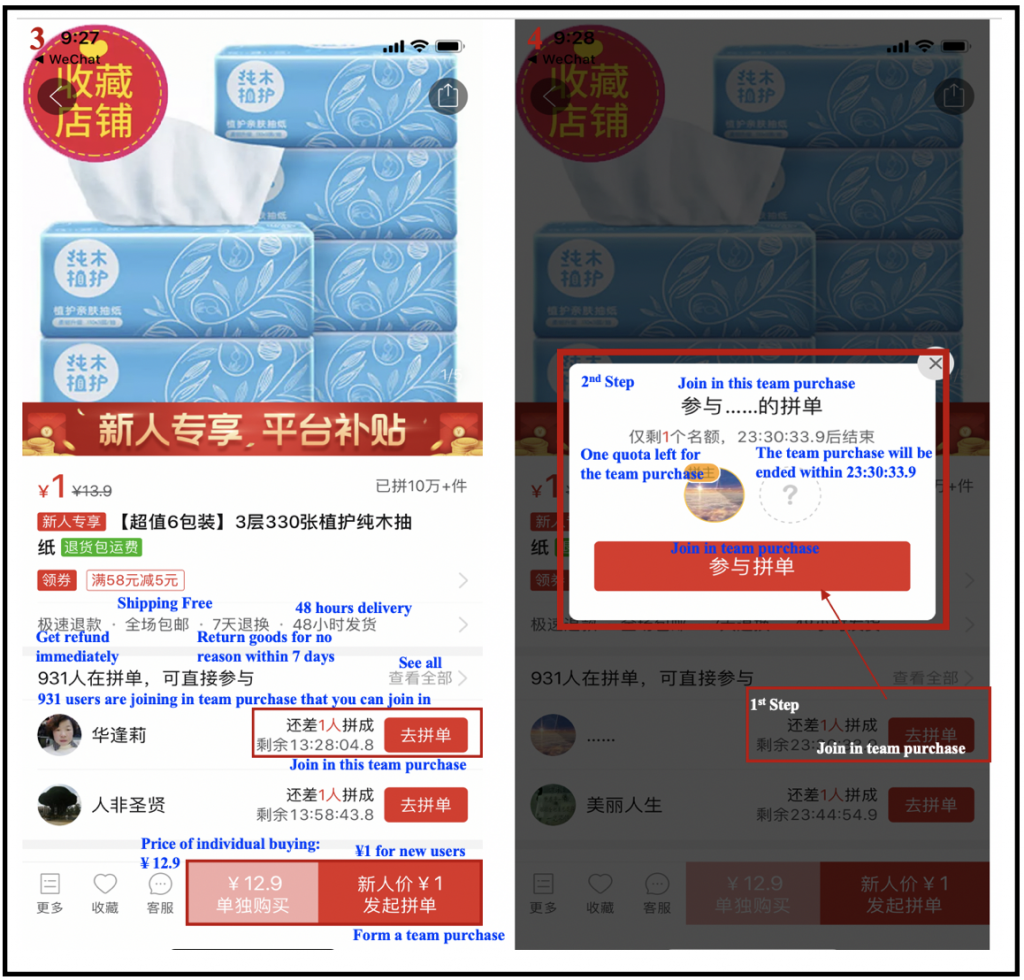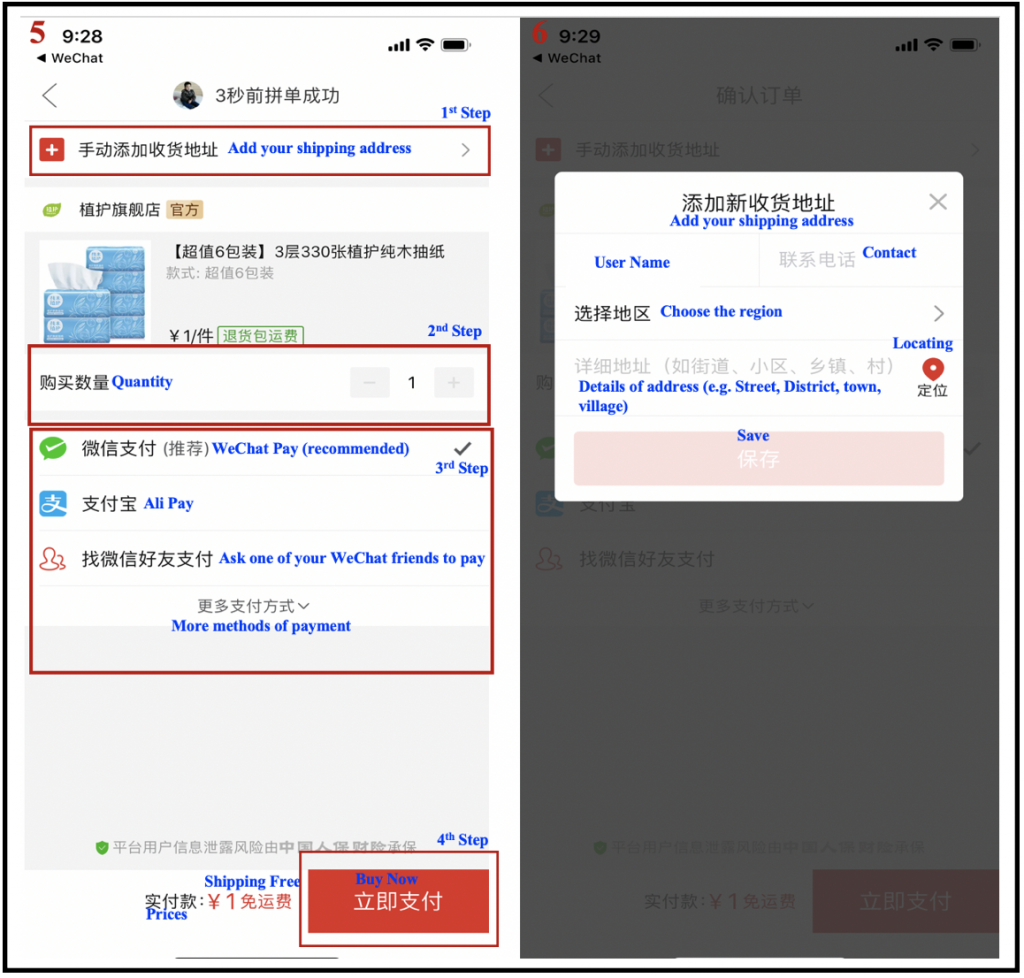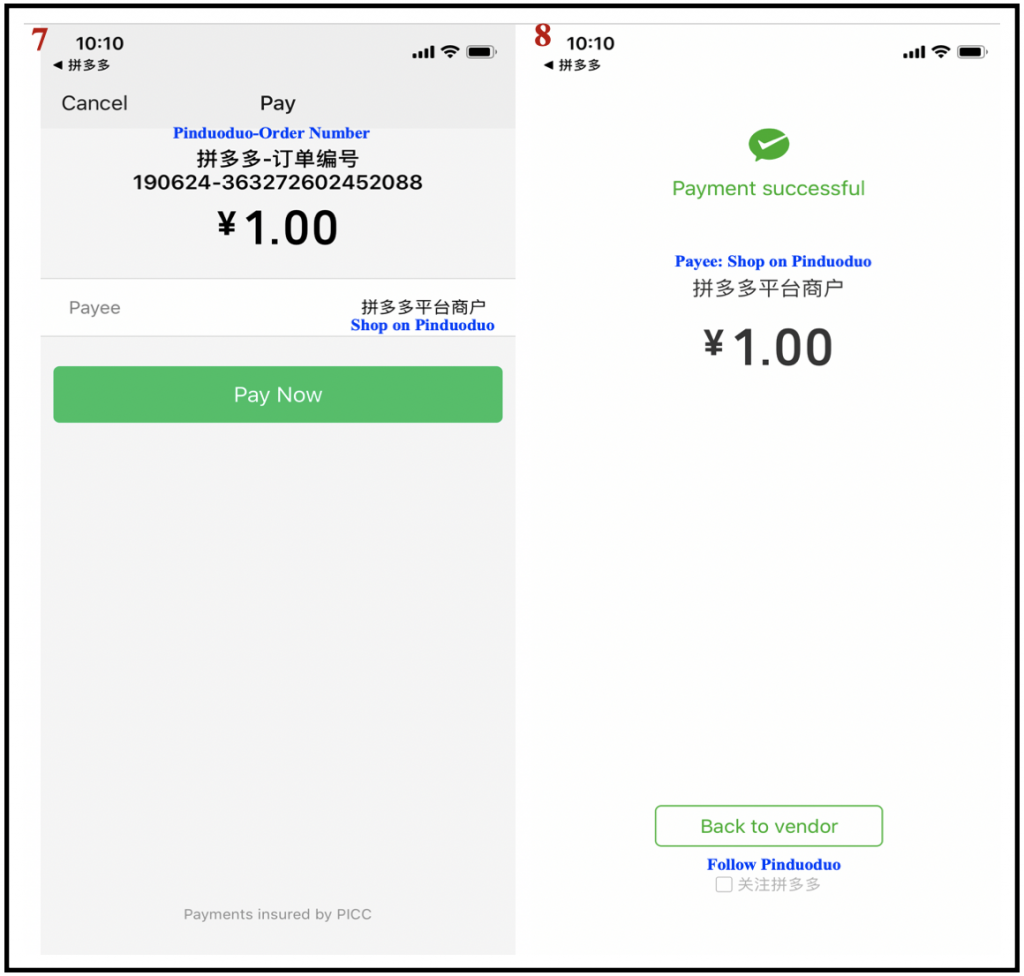 Officially, Pinduoduo calls itself "an innovative and fast-growing 'new e-commerce' platform that provides buyers with value-for-money merchandise and fun and interactive shopping experiences."
Although it features "group buying" functions, Pinduoduo has never used the phrase in any of its IPO documents or financial reports.
It coined the word "team purchase" instead. To be privy to a discount, you must form a team of at least two; otherwise, the product is priced normally.
That brings us back to the one-yuan tissue batch. To get that deal, I needed a teammate.
The one yuan price tag, by the way, was a one-off for me as a new user. If I wanted to buy another batch, it would cost pretty much the same as on other sites (about RMB 15). But if I doubled up with another buyer, it would cost about RMB 8.5—still significantly cheaper than in most other places. Also, Pinduoduo offers free shipping.
With hundreds of millions of users on the platform, it's now no longer necessary to invite people you know to sign up to join your team. The matching of "teammates" is automatic and happens almost instantly. Prices do not fall further when a team consists of more than two members; all it takes is two to get the discount.
The "invite your friends" feature proved successful as a user acquisition strategy in Pinduoduo's earlier days but it's now no longer a key component of shopping on Pinduoduo, making the app simply an e-commerce platform featuring some group buying elements.
A Tough Time For Group-Buying
Pinduoduo came into being in the second half of 2015, just as the first wave of group buying startups came crashing down. Only several players out of thousands at peak time were still in the market.
Group buying websites, which started to become popular in 2010 in China, listed diverse services—meals at fancy restaurants, swimming lessons, or sessions with a professional photographer—with the expectation of introducing these to new customers. The websites acted as intermediaries that aggregated bargains offered by vendors. But in many cases, consumers would snap up the deal and never return, because the restaurant they tried was too far away to go to regularly, or the service was too expensive without a discount. This business model proved to be unsustainable and many of these sites soon went under.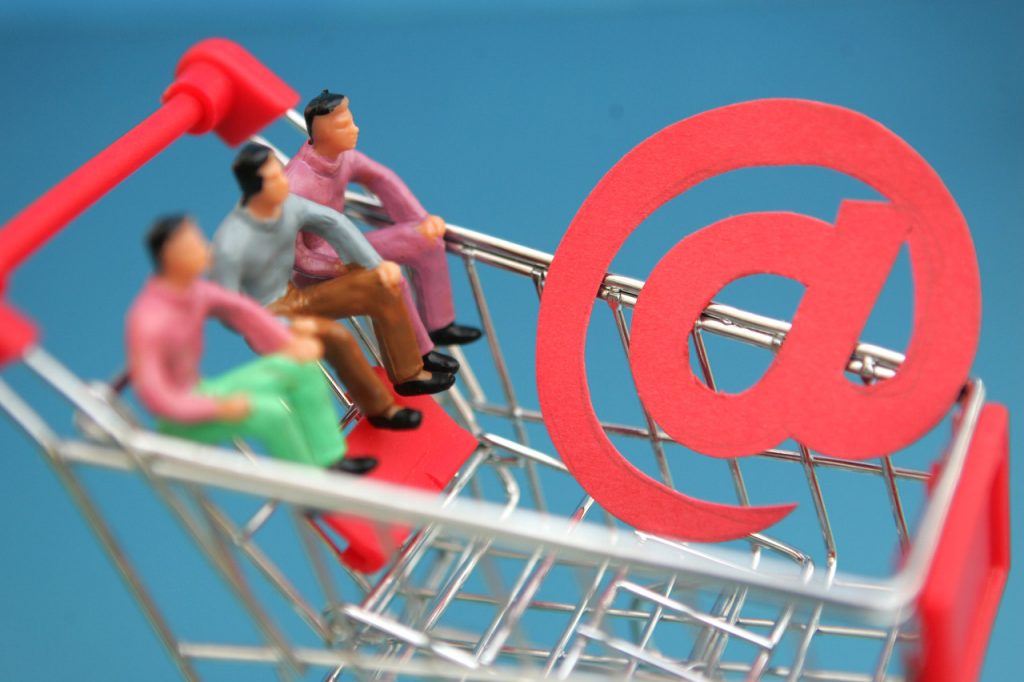 By October 2015, Meituan, one of the remaining firms had amassed a 57% share of the group buying market in China. However, it chose to merge with rival Dianping, which had secured a 24% share.
This ended their costly war to gain customers but also put an end to the group buying era. Meituan-Dianping, with their combined user bases, transformed into an on-demand, online-to-offline service provider and went public in Hong Kong in 2018. The platform is now particularly well-known for its food deliveries.
Other firms carved out different paths. WoWo, which ran group buying site 55tuan.com, managed to find an exit via its debut on the Nasdaq in 2015. It was the only Chinese company among hundreds with the same business model that made it to the US capital markets then. Even so, before its IPO, it pivoted away from the group buying model to become a Software-as-a-Service company for all the merchants it once served. It later ditched its name WoWo and rebranded itself as JMU, leaving the group buying business forever.
The high failure rate applied mostly to service-focused group buying sites, which were dominant at that time.
One product-focused group buying site survived. Juhuasuan, whose name means "extremely cheap" in English, was incubated by Alibaba when the group buying concept was all the rage. It was first managed under Taobao, Alibaba's marketplace for smallervendors, and later moved to Tmall, where it offered special deals on higher-end products.
In her analysis of Pinduoduo, Liang Ning said Juhuasuan's move to Tmall in 2016 was significant because it opened a door for Pinduoduo. It meant nobody was applying the group buying model to low-end products anymore, and the ambitious startup saw its chance to crack that market.
However, given the overwhelming evidence that the group buying business model, at least when applied to services, isn't viable in the long run, it's reasonable to wonder whether Pinduoduo's product-focused group buying business can be sustained.
Right now, Pinduoduo is burning money. The firm's annual reports showed that sales and marketing expenses had ballooned from RMB 169 million (USD 24.5 million) in 2016 to RMB 13.4 billion (USD 1.96 billion) in 2018, as it "invested in cultivating greater user recognition through online and offline advertising campaigns and promotions."
Just recently, Pinduoduo ran a month-long mega promotion, in which 10,000 products priced "even below the industry-wide bottom line" were rolled out with the goal to attract 10,000 buyers for each product.
The sales and marketing expenses in 2018 were even slightly more than its total revenue in the same year, which amounted to RMB 13.1 billion (USD 1.9 billion).
The Google Inside Pinduoduo
So how does the company make money?
Over Pinduoduo's short history, it has tested two business models. One was called its online direct sales business, which ran under the name Pinhaohuo. The company acquired products, such as fresh produce, from suppliers and sold them directly to buyers. In the first quarter of 2017, Pinduoduo scrapped this direct sales model, only keeping its other segment, an online marketplace. Under this model, merchants simply opened online stores on Pinduoduo to sell their goods.
Pinduoduo no longer had to acquire and manage its own inventory, and the company focused on merchant and user acquisition. By the end of 2018, 3.6 million merchants were on board.
The company sometimes points out that it was conceived in China's mobile internet era, in a "mobile-first" world, claiming that it's different from "search-based" era platforms where consumers type in keywords to find the products they need. Pinduoduo aims to "display and recommend" products to shoppers before they even know they need them, aided by technologies including big data analytics and machine learning.
Despite the firm's jab at the search-based model, interestingly enough, Pinduoduo earned 88% of its RMB 13.1 billion (USD 1.9 billion) revenue in 2018 from its "search" business, or what it calls "online marketing services."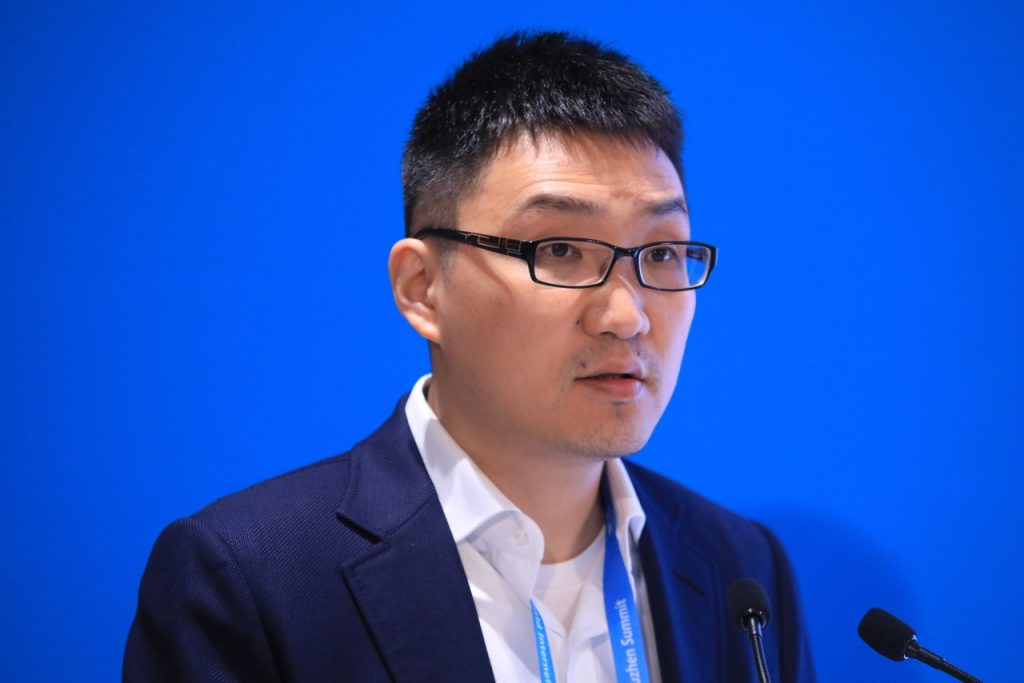 "We provide online marketing services to allow merchants to bid for keywords that match product listings appearing in search results on our platform and advertising placements such as banners, links, and logos. The placement and the price for such placement are determined through an online bidding system," said Pinduoduo in its 2018 annual report.
It's a concept not unlike that of Baidu's or Google's classic search business. And as Pinduoduo's marketplace gets increasingly crowded, merchants who want to stand out shell out for exposure.
Only 12% of revenue came from "transaction services," which are fees that merchants pay on their sales. Pinduoduo says it has "preferential fees" for merchants who sell high-quality products and provide superb service.
That a sophisticated key word marketing mechanism would come to form the core of Pinduoduo's revenue stream is perhaps no surprise. Pinduoduo's founder Huang Zheng, also known as Colin Huang, was an engineer at Google between 2004 and 2007 and became one of the founding members of Google's China office before starting out on his own.
Huang is a serial entrepreneur who, after his Google years, started several companies in China before Pinduouo. His credentials may be part of the reason why investors buy into Pinduoduo's vision, despite its worrying financial performance.
I already mentioned that in 2018, the company spent slightly more on sales and marketing alone than it made in total revenue. Let's break it down further. Of course, the company also had server costs, staff salaries, and other expenses to account for.
The year, with its RMB 13.1 billion (USD 1.9 billion) overall revenue, ended in an overall operating loss of RMB 10.8 billion (USD 1.6 billion).
In 2017, Pinduoduo's revenue reached RMB 1.7 billion and its operational loss amounted to RMB 595.7 million.
In 2016, its revenue was RMB 504.8 million while its operational loss was RMB 286.2 million.
To put it simply, in the past three years, as Pinduoduo brought more users into its network and bumped up revenue, operating losses also skyrocketed.
"We have incurred net losses in the past, and we may continue to incur losses in the future," the company's management wrote in its 2018 annual report.
Pinduoduo tells its investors that its ability to achieve profitability depends on, among other things, whether it can continue to increase the number of active buyers, grow and diversify the merchant base, and optimize its cost structure.
For now, the company has to keep spending profusely to improve on all those fronts, but financial analysts still believe the company can turn it around.
Merrill Lynch says that Pinduoduo's monetization is very conservative and projects that the company will be profitable in the second half of 2020 for the first time, and could even book RMB 10.4 billion (USD 1.5 billion) in net profit in 2021.
To reach that point, Pinduoduo would have to crank up its existing monetization channels, trim its marketing expenses and charge higher commission fees from vendors, considering metrics like gross merchandise volume (the total value of products sold via the platform) are still growing fast.
In many ways, Pinduoduo is a typical internet company in China—go all in and burn money to expand, then, once a critical scale has been achieved, make money by raising prices and finding new monetization revenues. If it succeeds and starts posting profits, it may come to stand as living proof that this big gamble can pay off.
I, for one, have changed my mind about Pinduoduo as I use it more. After making several purchases on the app, I have found that the products are just as good as what I could get on Taobao, but cheaper. Who isn't after a good deal?
This article is written by Song Jingli (edited by Nadine Freischlad and Brady Ng), and was first seen on KRAsia.