[This is a sponsored post with Watsons.]
Family gatherings can sometimes test the limits of our endurance. There's the constant barrage of deeply personal questions from family such as: "When are you getting married?", "Where's your bf/gf?", or even "How much is your company paying you now?".
But at the end, family is still family, and love or hate them, we can't help but relate to these following family interactions, brought to life in Watsons' Raya video.
1) Greeting A Relative Cooking In The Kitchen—And Getting Chased Out
Picture this: the main chef is cooking in the kitchen and we go to greet them, only to be chased out of the kitchen as we're in the way.
2) Sitting In Awkward Silence
Some relatives, we only meet once a year. Cue the awkward silence and cricket sounds in the living room, until someone breaks the ice.
3) Judging & Rating Our Relatives' Outfits
As someone who never really dresses for the occasion, I often get the brunt of my family's judging looks. To keep things fair, I also do my own share of internal judging.
4) Having Embarrassing Past Stories Dug Up Again & Again
Most relatives are experts at pulling out those old stories from days past, complete with each embarrassing detail I still try to forget on sleepless nights.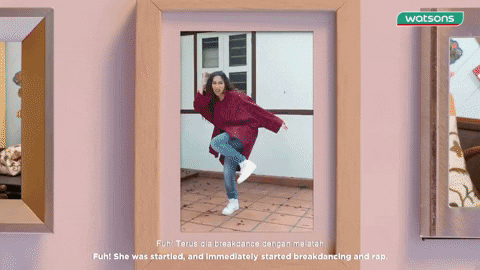 5) Acting Too Cool For The Family Home
There's always one person who's trying to rebrand and refresh their image. We're not ashamed to admit we've tried it too. At least Loca B legit looks cool here.
6) Calling Everyone To Eat Way Too Many Times
Though we love our food, sometimes we get too caught up in the catching up, leaving the poor cook from scenario one to demand that everyone gets up to go and eat the meal they painstakingly worked on.
7) Having A Family Pet As The Favourite Child
Not as awkward as the rest because we're also guilty of the same behaviour. This was just an excuse for us to put another gif of the adorable cat.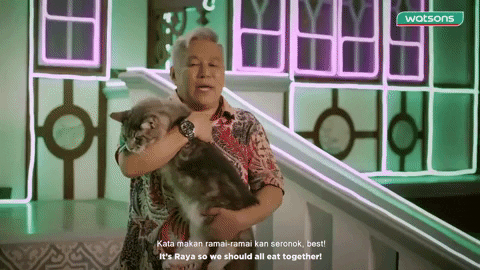 Watsons' Raya Promotions & Deals
Aside from Watsons' Raya video, the brand is running a few promotions so you can shop for skincare, makeup, and daily essentials deals during Raya, with added bonuses if you are a Watsons member.
1) Spend & Win
By spending a minimum RM80 in any Watsons physical store on a single receipt and paid with a MyDebit ATM Card (a debit card that displays the MyDebit logo) you stand a chance to win one of the following prizes: 10x Grand Prize of a 75-inch Android TV, 10x 2nd Prize of a 2-in-1 Front Load Washer Dryer, 20x 3rd Prize of a Cordless Stick Vacuum Cleaner, and more.
There's plenty of Watsons vouchers up for grabs too.
Note: You get 1 entry if you're a non-Watsons member, spending more than RM80 on a single receipt. If you are a Watsons member and spend more than RM80 on a single receipt, you get 2 entries into the contest.
2) Grab RM10 Promo
While the first contest is only for in-store customers, this promotion is available to both online and in-store shoppers. By using GrabPay for your transaction of at least RM100, you can get a RM10 instant discount which is applied immediately.
3) Watsons Raya Ikonik Sale
To celebrate Raya in style, Watsons is having a sale with up to 50% off for both their online and in-store products.
4) More Vouchers For You To Spend
On top of the discounts you get from the products in-store, you can also use these vouchers to get more off your purchases.
5) Watsons E-Bazaar
If a 50% sale is not enticing enough for you, Watsons is also running their E-Bazaar this year, with discounts of up to 75% on a wide range of products. If you are using GrabPay, you are also entitled to the RM10 discount when you checkout with a cart worth more than RM100.
But if you're not sure what to buy, Watsons has got you covered. Watch the videos below for more information:
For more info on Watsons' Raya Promotions, click here.
Watch the Watsons Raya video again here.
Do note that you'll need to be a Watsons Member to enjoy the most out of the promotions. Click here to register as a Watsons member.